Samsung has suddenly become a lot more adventurous of late. There's been a flurry of launches over the past few months, and it looks like the Korean giant is catching on to the fact that it needs to innovate and jump on board with trends as they happen. We usually see new top-end features debut with the flagship Galaxy S and Galaxy Note series, and then trickle down to the mid-tier A-series and youth-focused J-series. For example, Samsung was one of the first to introduce tall, narrow Infinity Display screens, but it took ages for this well-received feature to show up on lower-tier offerings. Competitors caught on much sooner, and began selling low-cost phones that looked much more modern and sleek than Samsung's own.
Now, with the Galaxy A9 (2018), Samsung is showing that it can anticipate trends — or at least keep up with other companies that do. It's quite a surprise that Samsung's first quad-camera phone is an A-series model, which makes current flagships including the very recently launched Galaxy Note 9 (Review) look a bit out of date. We're eager to see whether Samsung can excite buyers once again with this headline-grabbing new feature. Read our Samsung Galaxy A9 (2018) review to find out.
Samsung Galaxy A9 (2018) design
The Galaxy A9 (2018) has a few striking design touches that show that Samsung is now willing to lead with its current models rather than wait for the next Galaxy S flagship to roll around. It comes in three distinct looks, one of which is just plain and simple black, while the other two are uncharacteristically exuberant for Samsung. Multicolour gradients are clearly the latest design trend, with Huawei, Oppo, and most recently OnePlus getting in on the action. Our Galaxy A9 (2018) review unit is the Lemonade Blue version, with a light yellowish green spot at the top fading into a rich, deep blue on the bottom. The last option is Bubblegum Pink, which is a light blush fading into a much deeper pink. Either of these would be sure to grab a lot of attention, so we're glad that Samsung is offering a plain black option for those who have subtle taste.
It isn't just the jewel-tone colours that stand out — the finish is very shiny and there's a faint grainy texture that gives it depth and catches light as the phone moves. The quad-camera module and fingerprint sensor of the Galaxy A9 (2018) are outlined in bright blue. The metal frame of the phone is blue as well, and it matches the bottom of the gradient but stands out sharply against yellowish-green at the top. The contrast is very noticeable because of how the back of this phone curves to meet the sides.
The front of this phone isn't half as attention-grabbing as its back. Samsung clearly doesn't think much of current-day notches — we'll have to wait a while for displays with camera holes to arrive. The Infinity Display screen does not curve at the sides and there are relatively chunky borders above and below it. We don't think there's anything wrong with this, but the Galaxy A9 (2018) doesn't look as modern as some of its competition.
The four cameras are arranged in a narrow vertical strip, similar to what we first saw on the triple-camera Galaxy A7 (2018) (Review). Going from the top to the bottom, we have an ultra-wide 8-megapixel camera with a 120-degree field of view; a 10-megapixel telephoto camera with a 2X zoom lens; the 24-megapixel main camera that boasts of an f/1.7 aperture, and a 5-megapixel depth sensor to assist with focusing and portrait shots. Unfortunately, we often had to adjust our grip to avoid covering the ultra-wide lens when holding this phone horizontally.
There's a dedicated physical button on the left of the Samsung Galaxy A9 (2018) for the Bixby voice assistant, and it can't be reprogrammed — at least not without a third-party app. The power and volume buttons are on the right, and the sheer size of this phone means that they won't always be within reach. There's a tray at the top, and thankfully it can accommodate two Nano-SIMs as well as a microSD card. A single speaker, USB Type-C port, and 3.5mm audio socket fill out the bottom of this phone.
With a 6.3-inch screen, there's no denying that this is a bulky phone. We found it awkward in our pockets, especially with the included plastic case making it even thicker. It weighs 183g* and is unwieldy in day-to-day use. The glossy rear is not too slippery but you'll definitely need two hands for most tasks.
Samsung Galaxy A9 (2018) specifications and software
Rather than using one of its homegrown Exynos processors, Samsung has gone with the Qualcomm Snapdragon 660 for this phone. In predictable Samsung fashion, it's a processor usually found on phones that cost a lot less – around half as much as the Galaxy A9 (2018), in fact. It might not be as good as the Snapdragon 845 used by the OnePlus 6T (Review), but we think it could be a reasonable tradeoff if this phone's cameras are very good. The Snapdragon 660 is no slouch. With eight CPU cores and integrated Adreno 512 graphics, it can deliver a premium experience on par with what flagships of a few years ago felt like.
Samsung has decided to sell two variants of this phone, but curiously, the only difference is that one has 6GB of RAM while the other has 8GB. The price difference between the two is Rs. 3,000, so you can decide whether you want to save a little money or be somewhat more future-ready. Both options feature 128GB of storage. MicroSD capacity support goes up to 512GB. Our review unit is the lower-priced one with 6GB of RAM, and we didn't find it lacking in any way.
The 6.3-inch Super AMOLED screen on the Galaxy A9 (2018) has a resolution of 1080x2220. It's pretty vibrant, and if you can control reflections it looks great from any angle and under any kind of light. You can not only tweak the colour profiles and temperature, but also individually adjust red, green, and blue levels in the Settings app. This panel supports an always-on mode that shows you the time, date, battery level, and essential notification icons whenever the phone is in standby (or as per your preferences). Always-On Display styles are now a component of Samsung's UI themes, so you can download many more styles, including full-colour ones.
The Samsung Galaxy A9 (2018) packs a 3800mAh battery, which is a surprisingly low capacity considering the bulk of this phone. There's also Bluetooth 5, dual-band Wi-Fi 802.11ac, NFC, GPS and GLONASS, and of course 4G LTE on both SIMs. This phone has a geomagnetic sensor that acts as a compass, as well as a gyroscope, Hall sensor, proximity sensor, ambient light sensor, and accelerometer.
Our review unit was running the Samsung Experience UI version 9.0 with Android 8.0 as the underlying base. While those are a bit behind the curve, we did receive an update that included the November 2018 Android security patch within a day of using this phone. There are loads of Samsung apps, several of which duplicate or replace Google's apps. As usual, you'll also find Microsoft Office apps and some third-party ones.
Samsung had a brief period of clarity when it ditched most of the bulk of its TouchWiz UI and created the Samsung Experience UI. While the experience isn't laggy, and a lot of the customisations are helpful, the annoyance has crept back in. This is mostly in the form of spam alerts. We received a constant barrage from Samsung's own browser, a Device Maintenance app, My Galaxy, My Galaxy Widget, Samsung Cloud, and Samsung Themes. There were regular "offers" and blatant ads for third-party media and services, which we found infuriating.
On the positive side, the UI on the Galaxy A9 (2018) is very visually polished and there's a seemingly endless list of useful settings. You can flip the order of the on-screen Android navigation buttons, choose whether or not to auto-hide them, or ditch them entirely for swipe gestures. There's a game mode and a one-handed mode. You can run some apps as floating windows and have two instances of supported messaging apps. One very neat little touch is that if you take a screenshot, the name of the running app is appended to its filename.
There are loads of shortcuts and accessibility options as well. You can even tweak system sounds and audio quality settings on a very granular level. Samsung Pay Mini is available for UPI cash transfers, but not the full Samsung Pay for point-of-sale transactions, which is disappointing on such as premium device. S-Bike Mode and various other Samsung features can be added through the My Galaxy store, but aren't available by default on the Galaxy A9 (2018).
Bixby requires a Samsung account, but it hasn't proven to have any killer feature yet. It displaces Google Lens in the camera app. You have to agree to dozens of privacy and terms-of-service agreements from multiple third-parties without ever seeing them, in order to even sign in to your Samsung account. There are even more permissions and disclaimers if you activate Bixby Voice. At least Bixby Home warns you in advance that it can send you marketing spam regardless of your privacy settings elsewhere, and you can opt out, but the Bixby Home screen has some promotional content too.
Samsung Galaxy A9 (2018) cameras
Of course what everyone wants to know about is the quad-camera module on the rear. Samsung claims that the Galaxy A9 (2018) is the world's first phone to ship with four cameras on the rear and it might seem like a gimmick, but the reasoning for having four cameras is pretty solid. There has never been a standard for dual-camera phones. There's usually one ordinary primary camera, but the other might have a zoom or wide-angle lens, a specialised low-light sensor, or just a depth sensor. We've always had to choose between phones that offer any one of these capabilities, and now Samsung is offering multiple in a single device.
The camera app shows a set of three icons just above the shutter release. Switching between the wide, standard, and zoom cameras takes a second or two. The camera switcher is only available in the Auto and Scene Optimiser modes — we can understand the Live Focus, AR Emoji and Panorama modes having trouble, but to not be able to use Pro mode is disappointing. When shooting video, you can start with any of the three cameras active, but be warned that if the zoom camera is selected and you tap the record button, you'll actually begin recording through the standard camera with 2X digital zoom applied. This lets you switch between standard and zoomed-in views instantly while recording, but the icons don't change at all. There is no indication that the actual zoom camera is not being used. On the other hand, you can begin recording with the wide-angle camera, but then you can't switch to any of the others while recording.
The standard, zoom, and wide-angle cameras are also not evenly matched. The primary one has a 24-megapixel sensor and f/1.7 aperture which is great for low light. The zoom camera has a 10-megapixel f/2.4 sensor, and the ultra-wide camera gets only an 8-megapixel sensor with the same f/2.4 aperture. You shouldn't think that you finally have the equivalent of interchangeable lenses on a smartphone. In practice, there's a huge difference in quality in photos that we shot while standing in exactly the same spot, with all three cameras in turn.
Tap to see full-sized Samsung Galaxy A9 (2018) photo samples. Top to bottom: wide-angle, standard, zoom.
The wide shots are the grainiest, with immediately noticeable barrel distortion. Zoomed-in photos are actually quite good, but some of our samples looked a bit over-sharpened. When you switch to the zoom camera in the dark, the Galaxy A9 will first activate it, but then in a moment switch right back to the standard camera and show you a digitally zoomed frame. You can clearly see a dark frame on screen at first, which then suddenly brightens. This also happened sometimes during the day, under bright sunlight. Just like with video, physically placing a finger over each lens in turn confirms which camera is active.
This obfuscation can be misleading to users. We forced the Galaxy A9 (2018) to take the same shot with its zoom camera and with digital zoom on the primary camera, and the difference in quality was plain to see. Manually checking which camera was active soon became annoying. Ultimately, we didn't get much use out of the wide-angle or zoom cameras at night, and we felt a little short-changed. We think that there are times when each one might come in handy, and they might be good for novelty value now and then, but users are much better off sticking with the primary camera most of the time.
Other features of the camera app include a Depth mode that works well enough, a Beautification mode, and AR Emoji stickers. For video, there are slow-motion, superslow-motion and hyperlapse options. You don't get optical image stabilisation, but there is electronic stabilisation except when shooting at 4K, wide HD (2224x1080) or 1:1 (1440x1440). Bixby Vision lets you identify landmarks, food, wine bottle labels, and text. You can run a Web search or try shopping for something you take a photo of.
Tap to see full-sized Samsung Galaxy A9 (2018) photo samples. Top to bottom: wide-angle, standard, zoom.
The front camera on this phone isn't to be forgotten. It's a 24-megapixel, f/2.0 unit with a fixed focus. Shots are decent for a phone at this price, but not exactly spectacular. Full-HD videos looked good, but there was a little bit of focus hunting.
Samsung Galaxy A9 (2018) performance and battery life
Given its price, the Samsung Galaxy A9 (2018) will be competing with several phones based on the Snapdragon 845 or equivalent flagship-class processors. In particular, the OnePlus 6T (Review), Asus ZenFone 5Z (Review), and LG G7+ ThinQ (Review) come to mind. The good news is that day-to-day performance is completely faultless and you'd be hard pressed to identify any situations in which this phone isn't as smooth or responsive as its counterparts. Apps load quickly, and multitasking is easy.
Benchmarks of course do reveal differences in the raw power of these two processors. The Galaxy A9 (2018) scored 140,275 points in AnTuTu, and Geekbench's single-core and multi-core tests gave us 1,608 and 5,779 points respectively. The GFXBench T-rex gaming benchmark scene ran at 47fps and the heavier Manhattan 3.1 scene ran at 14fps.
The screen is very well suited to watching videos and playing games. Everything looks vibrant, and motion is very smooth. The built-in speaker is loud and pretty clear, but we would really have liked proper stereo sound.
We got through a full day, starting at 9am and ending nearly midnight, without needing to reach for a charger. During this time, we played some games for about an hour, streamed a full-length movie, browsed through apps and websites, and kept on checking our messages. When left playing an HD video loop, the phone lasted for 12 hours, 57 minutes.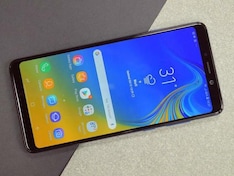 Samsung Galaxy A9 (2018) in pictures
Verdict
Samsung has certainly made a splash, and is showing a creative new side while beating all its Chinese competitors to market with the next big feature. It found a niche that was just waiting to be tapped, and dove right in. Others aren't far behind, but we hope that this is the beginning of a strong new phase of innovation. If this is what the mid-range A-series is going to look like, the next S-series flagship is sure to be a force to reckon with.
With that said, we'd say that the Samsung Galaxy A9 (2018)'s four cameras don't amount to a whole lot just yet — you get a little versatility and they might occasionally come in handy, but we wouldn't call this an absolute must-have for photographers. Cameras aside, this is a competent phone that delivers strong performance and looks good doing it. If you're looking for a big, bold style statement, you've found one.
What it all comes down to, though, is price. We would be a lot more forgiving of the camera quirks and software headaches if this phone was priced under Rs. 30,000, but Samsung is trying to take on the OnePlus 6T, and that doesn't quite work out in its favour. If you don't care about raw performance and really want to show off, you'll be happy with the Galaxy A9 (2018). Those who prefer an all-rounder have plenty of better choices.
*Editor's note: The review has been updated to reflect the fact that the Galaxy A9 (2018) weighs 183g and not 210g, as originally published.