Oppo made a bit of a splash when it entered India with the N1, a relatively premium phone with a unique swivelling camera, but it will take a lot more than one model and a few splashy ads for the company to establish itself in India. As an unknown brand with an unproven after-sales service track record, Oppo has a tough fight ahead of it - but if it does manage, the rewards of success in India's booming smartphone market will be rich.
Besides the N1, the second prong of Oppo's attack is the new R1. This model is quite different from its predecessor, and will probably appeal to a wider section of buyers. It's a simple, sleek slab of a phone but promises quite a few features that should make it stand out.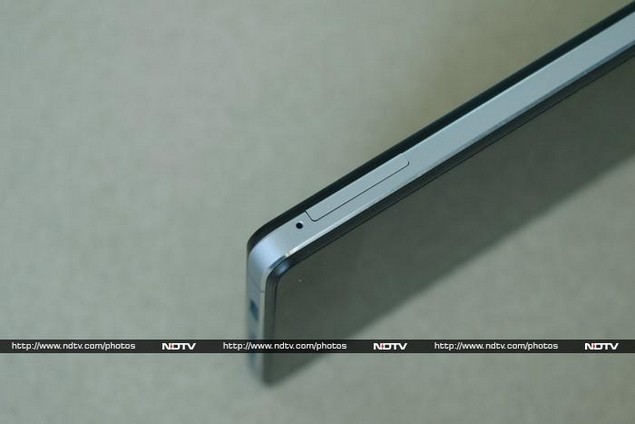 Look and feel
The Oppo R1 has a definite iPhone 4 vibe. The proportions are different, but the overall look of the front, back and sides are more than a little inspired by Apple's previous-generation design style. The front and back are sheer glass, and are in fact so reflective that even though they're black, you could easily use either as a mirror and clearly see every pore on your face.
This also makes the phone extremely slippery. More than once, we caught it sliding around on various surfaces we left it on, and on one occasion a gust of wind actually managed to nudge it a little way when it was lying on a table. This is definitely not the easiest phone to hold, and you'll want to be careful if you have sweaty hands.
The high-gloss surfaces don't get scratched during everyday usage, but they definitely do pick up smudges and fingerprints like crazy. The R1 comes with a snap-on plastic case which helps with the grip and smudges, but covers probably the most attractive parts of the phone.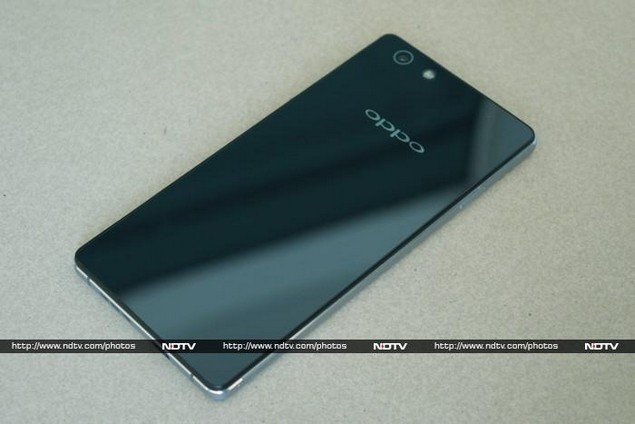 The front has no visible markings except for very faint icons beneath the screen where the capacitive buttons are. They light up a little when the screen is on, but you'll be tapping them more by memory than by sight. There's a silver Oppo logo on the upper back and a silver ring around the camera lens, but the rest of the rear panel is quite blank.
The power button is on the upper left with the volume rocker opposite it on the right. Towards the lower left corner is a neatly designed SIM card tray that sits perfectly flush with the phone's exterior, but actually has cavities for two Micro-SIMs. There's no microSD slot though.
The design is very slick, and the R1 feels rather premium. Unlike our stereotypical ideas of Chinese-branded phones, this one definitely doesn't feel as though it might break or fall apart in a few months' time.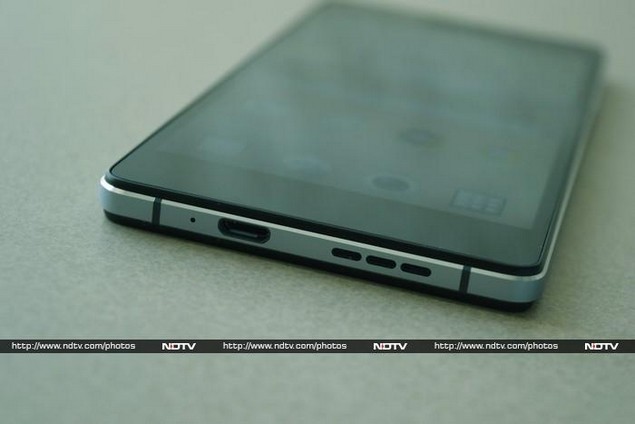 Features and software
The R1's interiors definitely aren't as premium as its exterior. The processor is a relatively weak MediaTek MT6582 with four cores running at 1.3GHz and a Mali-400. There's 1GB of RAM and 16GB of internal storage space, which is divided into "system storage" and "phone storage". Around 11GB is available to the user in total.
The screen is bright and crisp, and although we've seen full-HD resolutions at this size, 720x1280 should be sharp enough for most people. Everything else is fairly standard, though Bluetooth is strangely stuck at version 2.1, which won't play well with many of today's popular low-energy accessories.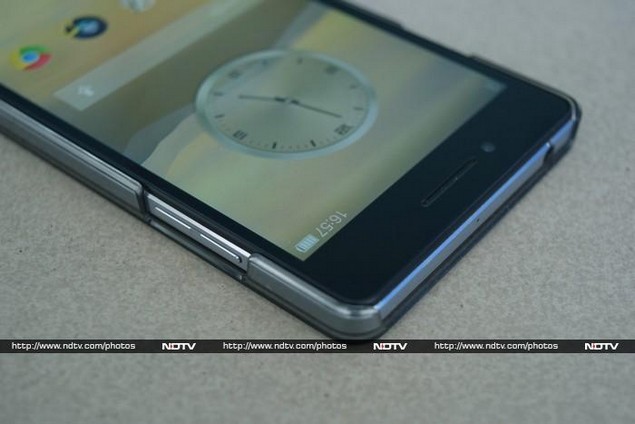 The bigger story is the software. The R1 runs Android 4.2.2 but comes with Oppo's fairly extensive skin, which for some reason is called ColorOS. Unlike most third-party skins, this one is actually quite well designed. We wish the underlying version of Android was more modern, but there's nothing wrong with the skin itself. It's easy enough to find your way around if you have even a passing familiarity with Android.
You can have a number of home screens and populate them with icons and widgets as usual, but you can also turn on the Photo Space and Music Space, which then live to the right of your home screens. Photo Space contains a large camera widget which acts like a mini camera app when tapped, and lets you take photos right then and there without even launching into the camera app. The rest of the screen is a timeline of photos you've already taken. Music Space only displays a turntable-styled music player which you can tap to begin or pause music playback, or swipe to move between tracks. Both "spaces" have a row of shortcut buttons to related apps and actions, as well as a row of four additional configurable shortcuts.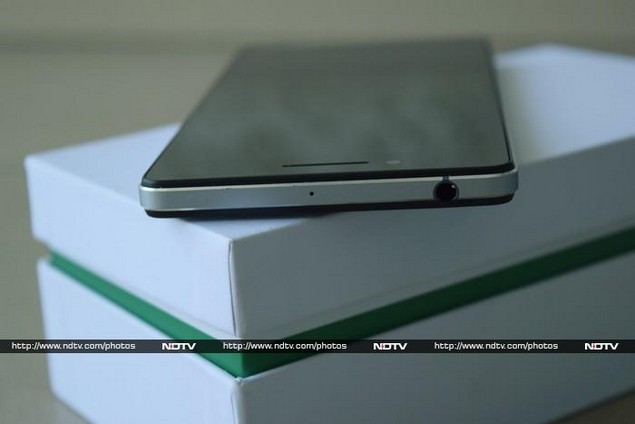 The home screen customisation menu promises that more such "Exclusive spaces" are coming soon. Here you can also find options for live wallpaper which can change as per the current weather. These are extremely gimmicky; for example icons flash when there's a random lightning strike on the "Thundershowers" wallpaper.
The rest of the UI is clean and sensible, with surprisingly little junk. There are a few pointless apps such as Lock Now which does nothing but lock the screen, and Power Manager, which duplicates the Battery page from the Settings app. Data Saving is potentially more useful, allowing you to track and block apps that use your 3G or Wi-Fi connections in the background. Guest Mode lets you hide contacts, photos, videos and apps, and Holiday Mode disables notifications for incoming calls and messages except those from contacts you whitelist.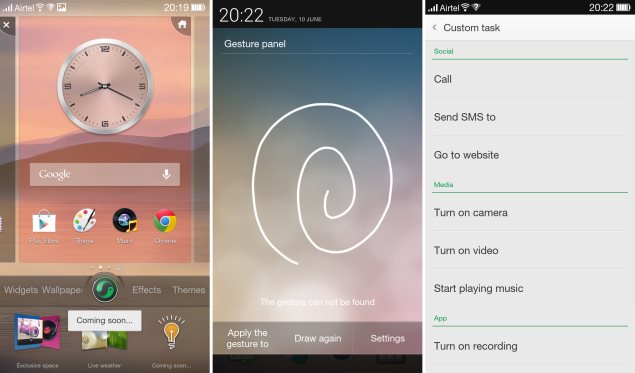 There's also O-Cloud, a backup service for contacts and messages that you can register for, and the handy Kingsoft Office suite. Chrome is the default browser.
Oppo includes a number of tweaks, such as gestures that you can make to trigger screenshots, adjust the volume and jump to the camera app from any part of the OS. When the R1 is in standby mode, you can double-tap to turn the screen on, or draw gestures to trigger the flashlight or camera app.
The gestures idea carries over to a dedicated panel that you can pull down from the upper left corner of the status bar at any time. Here you can even configure your own shortcut gestures for things such as calling a particular contact, launching an app, loading a website, etc.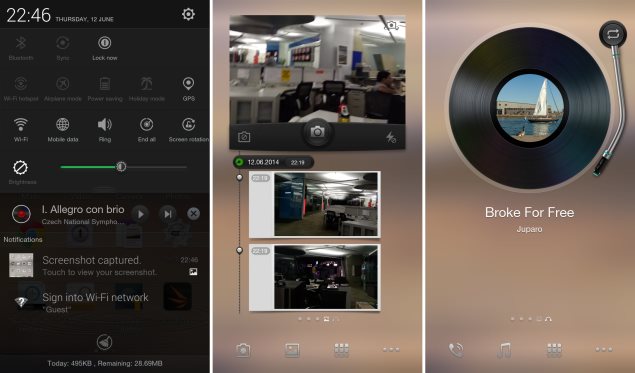 Camera
Oppo is seriously hyping the R1's camera, especially its capabilities in low light. Its website boasts that the camera sensor measures 1/3.2 of an inch, which is characteristic of a few older high-end phones which are still fairly premium today. Combined with the f/2.0 aperture and back-side sensor illumination, this should allow for fairly decent low-light shots.
The camera app is fairly well designed, and you get basic options for things such as the photo and video resolution, timer, location tagging and white balance. There are a few "scene modes too" - landscape, sunset, night, sports, and portrait - but no HDR.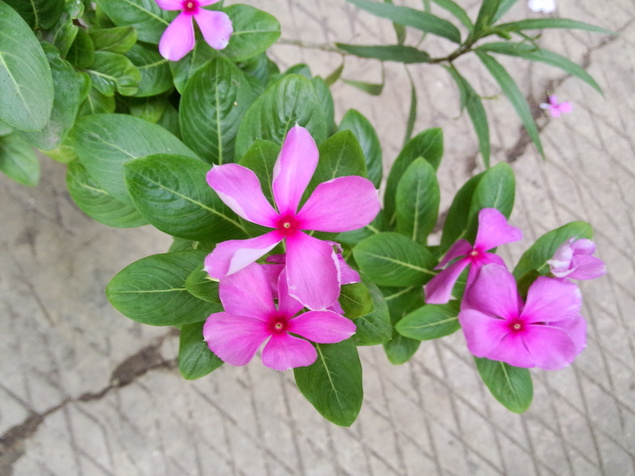 (Click to see full size)

Photos came out with mixed results. We noticed some odd behaviour when trying to focus, when the camera simply refused to focus on what was in front of it and instead decided that the background needed to be sharp. Other times, we were impressed with the clarity of subjects, especially finer details such as the veins in leaves.
The much-touted night photography abilities also turned out to be something of a mixed bag. While photos definitely had a lot of detail, they also had way too much noise. Subjects close at hand and lit by artificial light fared better, but there was still much more noise than we would have liked.
We took some video at night as well, and found that it was surprisingly clear. Moving cars were well defined and noise was manageable.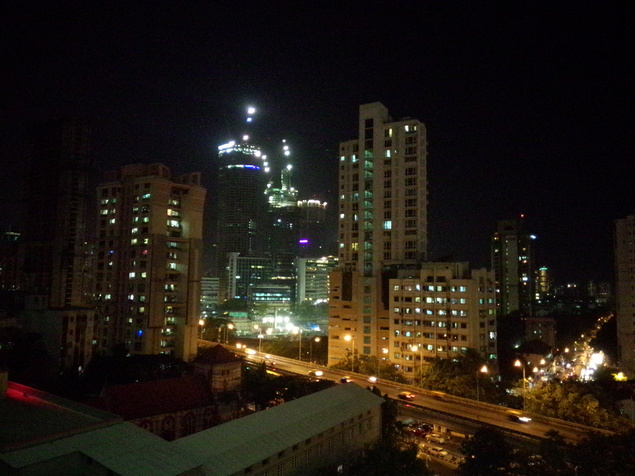 (Click to see full size)

Performance
We had no problem with lags in everyday usage, but this phone definitely wasn't meant to handle full-HD video. Some of our clips played with occasional stutters, but the heavier ones didn't even load. Similarly, gaming is restricted to casual titles only. Games like Temple Run 2 look fantastic, but that's as good as you should expect things to be.
Call quality is perfectly acceptable and we were also pretty impressed with the built-in speaker when playing music and watching video clips. The R1 is one of the better-sounding smartphones though of course that isn't saying very much. The battery lasted 6 hours, 12 minutes in our video loop test, which is acceptable but not very reassuring.

Benchmark scores were mostly predictable. The Oppo R1 managed to post some of the lowest scores we've seen in a long time when it came to the graphics test, but did manage to hold its own in CPU-bound tests. You can definitely get better raw performance at this price point, so you'll have to seriously consider whether your priority is a phone that looks good or one that has more muscle.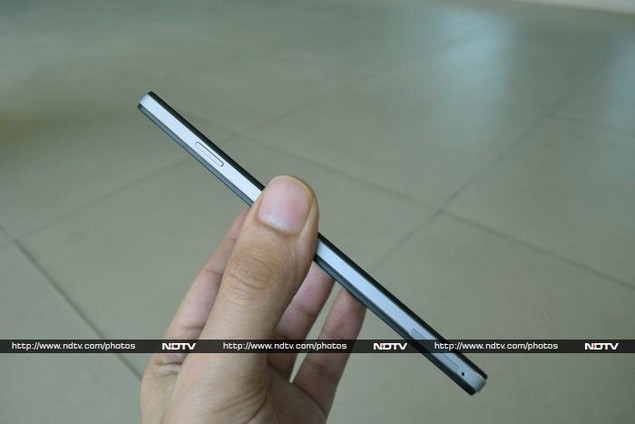 Verdict
The Oppo R1 looks great, and if you don't see the appeal in running lots of apps or carrying a lot of media around with you, then you'll probably like it. You can do all the basics, including surf the Web and use as many messenger and social networking apps as you like, but you won't get far if you try gaming or doing any serious work.
At this price level, the Oppo R1 competes with several strong devices such as the Motorola Moto X (review), Samsung Galaxy Grand 2 (review), HTC Desire 816 (review) and Sony Xperia T2 Ultra (review). The R1 might be the best looking of this bunch, but it definitely suffers in terms of features and flexibility. There's also the fact that Oppo doesn't have the kind of brand pull that any of these competitors do, and its service network is not yet proven.
Oppo might have to drop prices to be competitive in this context. The R1 is much more reassuring than many of the phones sold by Indian brands which are of unknown origin, so maybe that's where the company should focus its attention rather than the premium segment.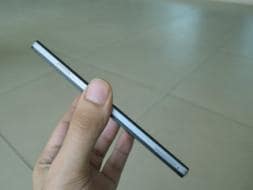 Oppo R1 in pictures