The Oppo F9 Pro is a phone for those who want to be noticed. In a world of increasingly generic-looking phones, and manufacturers all racing to copy the same design cues, Oppo has decided to be a little different. The F9 Pro is instantly noticeable and recognisable, no matter which of its three very different finishes you choose - and no, there is no sober, low-key option. If you want something that will work unobtrusively in a corporate environment, or if you don't like getting curious glances when you're out in public, there are plenty of other smartphones that will suit you better.
While looks will be the primary consideration for buyers, Oppo is prioritising fashion as well as features. There's a new, more subtle notch; the promise of excellent battery life plus quick charging; and of course Oppo's usual emphasis on selfies. All these things combined might earn the F9 Pro a few fans - and it needs to play up every advantage it can draw on, now that the Poco F1 (Review) has completely rewritten the rules of the Rs. 20,000 - 30,000 price bracket.
Oppo F9 Pro design
Unlike most phones these days, the emphasis here is on the back. Oppo has come up with three extremely eye-catching finishes for the F9 Pro, all of which are multi-coloured, patterned, and shimmery. The Sunrise Red finish, which you can see on our review unit, has a gradient of rich, deep crimson and violet, with a swirly diamond pattern. The Twilight Blue option has a similar pattern but the colour runs from dark navy to light blue - it's amusing to think that this is the most low-key. Finally, Starry Purple has a mangenta-indigo gradient with light speckles scattered randomly across it.
All three have an iridescent metallic finish, and at least on our Sunrise Red unit, the colours look different depending on the light and the angle you hold each phone at. The diamond pattern isn't always visible, but as you turn this phone in your hand, or if light happens to hit it in just the right spot, it will suddenly pop out. Oppo includes a completely transparent rubber case in the retail box, so you can show your F9 Pro off even if you like having some extra protection.
That isn't all though. Oppo has managed to tone down the notch that we've all now gotten used to, and so instead of a 'tab' shape with 'ears' to either side, there's only a slight rounded dip in the centre of the top of the screen to accommodate the front camera. Oppo calls this a 'waterdrop' shape, and while it is definitely more organic (and, to many people, stylish) than what we're used to, it's no less distracting. Interestingly, while you can still force apps to block off the top of the screen in order to prevent content from being gouged out, there's no way to camouflage the notch within a black bar on a system-wide level.
One of the ways that Oppo managed to reduce the notch was with a clever bit of design. It might seem like the borders on the top and sides of the screen are extremely narrow, and in fact Oppo claims a 90.8 percent screen-to-body ratio. However, the frame of the phone bulges slightly outwards around the front panel, masking about 1mm of space on all sides. The earpiece is designed into this margin, right above the front camera. This also means that the multi-coloured body is visible all around the black front, even when looking at the phone head-on.
The frame of the Oppo F9 Pro isn't metal, and the company hasn't specified whether it has used reinforced glass for the front and rear, which is quite disappointing at this price level. Oppo has stuck a scratch protector onto the front of the F9 Pro, and it says that third-party ones might interfere with the hidden ambient light sensor. The film doesn't extend till the edges of the F9 Pro's front face, creating a distracting border around the screen and diminishing the smooth curve of the waterdrop notch. Our review unit's film got scuffed badly within just a few days of use, and the harshest conditions we exposed it to were the insides of our pockets.
The dual camera module on the rear sticks out a little and there's a rough lip around the front face, but otherwise construction feels solid. This is a reasonably easy phone to hold and use, and at 169g, it isn't too heavy. You'll still have to stretch your thumbs to reach all corners of the screen though.
There's no dust or splash resistance. The power button on the right and volume buttons on the left are within easy reach, as is the fingerprint sensor on the rear. We were surprised to see a Micro-USB port on the bottom rather than a more modern Type-C port, but this is required for Oppo's VOOC rapid charging system. There's also a 3.5mm headset jack and a single speaker on the bottom. The tray on the left has individual slots for two Nano-SIMs and a microSD card, which is always nice to see.
Oppo F9 Pro specifications and software
As we stated earlier, Xiaomi's Poco F1 has upset the applecart in the price band that Oppo has targeted for the F9 Pro, and its hardware will not seem impressive now. There's an octa-core MediaTek Helio P60 processor (incidentally, the same one that Oppo used on its own disruptively priced model introduced under a new sub-brand, the Realme 1 (Review), not too long ago). This SoC has an integrated ARM Mali-G72 GPU and boasts of AI processing and power efficiency enhancements.
Oppo sells only one version of the F9 Pro, with 6GB of RAM and 64GB of storage. However, the company has taken the unusual step of also announcing the Oppo F9, which is identical in every way other than having 4GB of RAM instead of 6GB. This model isn't available in stores yet, and the company has not said when it will be. We're quite surprised that there's a Rs. 4,000 price difference between these two models. (Update 27 September: While Oppo had said at the launch event that the F9 and F9 Pro are identical in all aspects other than the RAM, it has now come to light that the F9 has a 16-megapixel front camera instead of 25-megapixel on the F9 Pro, and the F9 also does not have VOOC rapid charging.)
One of the F9 Pro's headlining features is its 3500mAh battery and support for Oppo's VOOC rapid charging standard. All the required circuitry is built into the charger rather than the phone, which Oppo says prevents the phone from heating up too much. You'll have to use the charger and modified USB cable that come with the phone, both of which are bulkier than usual. Oppo claims that being plugged in for five minutes will give you two hours' worth of talk time.
Oppo has also used an LTPS (low-temperature polysilicon) LCD panel, which consumes less power but is expensive to manufacture. The panel measures 6.3 inches and has a 19.5:9 aspect ratio with a resolution of 1080x2340. The rest of the F9 Pro's specifications are pretty standard: Wi-Fi 802.11ac, Bluetooth 4.2, GPS, and VoLTE.
Oppo's ColorOS skin is now at version 5.2, and is based on Android 8.1. Our review unit had the July 2018 security patch, and Oppo hasn't committed to any schedule for future patches or Android updates. To say that ColorOS is heavily customised would be an understatement. There isn't an app drawer, and the icons on the homescreen are all comically large. There's a 'Smart Assistant' screen to the left of the first homescreen with widgets for app shortcuts, the weather, step tracking, events, etc. You can pull downwards to perform a systemwide search, just like on iOS. A floating panel gives you quick access to app shortcuts as well as screenshot tools. If you use it while watching a video in landscape, some apps can launch as floating windows.
The settings app has a number of options to discover. You can swap around the on-screen navigation buttons or disable them and use gestures instead. There are assorted gestures and shortcuts. A Smart Driving mode can block notifications and calls, but you have to either turn it on manually or set it to trigger when your phone is connected to your car using Bluetooth. An interesting privacy feature is that you can choose to spoof your call history, contacts, messages and events if apps try to access them. Face recognition is supported but you have to wake your phone and then swipe upwards to trigger the front camera, which is an annoying extra step.
There's a fair bit of bloatware, including UC Browser and Amazon Shopping. We were prompted to install more during the initial setup process, through an Oppo AppStore, and also through a 'Hot Apps' panel on the home screen that looks deceptively like an ordinary system folder. Oroaming is an app that claims to let users buy cheap roaming plans in multiple countries without needing a local SIM, but how this works is never really explained. The Theme Store has quite a few free themes and wallpapers.
Oppo F9 Pro performance and battery life
The F9 Pro's full-HD+ resolution is enough to keep everything on screen looking crisp even at 6.3 inches. Colours are bright and vibrant, and viewing angles are also very good. We were able to use this phone outdoors without any trouble. The notch and rounded corners do result in quite a bit of cropping when watching videos full-screen. Unfortunately the built-in speaker is quite awful. Everything is screechy and distorted, and most of the music we tried listening to was not enjoyable at all.
If you judge the Oppo F9 Pro only by its performance in benchmarks, it will come out looking quite weak. Setting aside the obviously more powerful Poco F1, this phone still doesn't compare favourably against similarly priced models such as the Honor Play (Review) and Huawei Nova 3i (Review). It's also outperformed by the lower priced Xiaomi Mi A2 (Review) and is of course on par with the even more affordable Realme 1. We got a score of 137,739 in AnTuTu, and Geekbench's single- and multi-core tests managed 1,348 and 5,305 respectively. Graphics test scores were disappointingly weak, with this phone scoring only 1,078 in 3DMark's Slingshot Extreme scene, and pushing out only 34fps in the basic GFXBench T-Rex test.
Casual games seemed to run fine, but Asphalt 9:Legends struggled. Gameplay was a bit too choppy to be enjoyable, and even the UI and menus were sluggish. We tried PUBG and had a much better experience. It ran without any stutters using the Balanced preset. We also noticed that the upper rear of this phone got warm almost instantly when a heavy game loaded, and remained warm enough to be distracting throughout. It's safe to say that this phone isn't your best bet if you're serious about current-gen games.
On the other hand, this phone's battery life is quite remarkable. With just a 3500mAh battery, the Oppo F9 Pro managed to run for 13 hours, 12 minutes in our HD video loop test. That's thanks to the low-power LTPS screen, the Helio P60 SoC's efficiency, and optimisations built into ColorOS. With ordinary use including some gaming, video streaming and plenty of time spent online, we easily sailed through a full day and didn't have to worry about the battery level till the next morning. The VOOC charger is enormous and will be a pain to carry around, but it works brilliantly. A 10-minute charge from zero took us up to 19 percent, and we were able to get to nearly 75 percent in just 40 minutes.
Oppo F9 cameras
Oppo's camera app is somewhat like the iOS app, just with a lot more going on. The main mode ribbon at the bottom includes Timelapse, Slo-mo, Portrait, Sticker, Pano, and Expert modes along with the standard Photo and Video. Portrait mode was pretty fussy about prompting us to move closer to or farther away from our subjects. There are also "lighting effects" which are little more than mild filters. The Slow-mo and Timelapse video modes didn't have any options at all for us to tweak - not even the resolution. You get Google Lens integration in the standard Photo mode, along with beautification, filters, and a choice of aspect ratios.
You can simulate a depth effect with the front camera, but it isn't very natural. The beautification mode is set to 'AI' by default, and we found it to be way too aggressive, making us look almost like cartoon characters. Selfies taken indoors weren't very impressive. In daylight, we found the app to be responsive, locking focus quickly. Our sample shots looked crisp, with good colours and adequate detail. In portrait mode, the app often took a few moments to settle the difference between foreground and background objects, but we were able to see the effect on screen and decide when to capture our shots.
Tap to see full-sized Oppo F9 Pro camera samples
At night, there was quite a bit of focus lag. Shots came out with murky details and a lot of blurring when dealing with even slightly moving objects. Most of our sample photos were very well lit, but strong post-processing appeared to have taken its toll on overall quality. These shots looked fine on the phone's screen, but weren't suitable for use at full size.
The front camera is usually one of Oppo's biggest highlights, but in this case we weren't terribly impressed. Faces looked sharp, but background details were completely lost. The depth effect made backgrounds look a little cartoony, which might not be a bad thing, and edge detection was fairly good. Selfies taken at night were grainy and we wouldn't want to show them off on our social media.
You have a choice between 720p and 1080p for video recording with the rear cameras, and there are no settings to play with. We saw a lot of focus shifting, and the lack of stabilisation was evident throughout our sample clips. Overall, we're somewhat disappointed with the Oppo F9 Pro's camera capabilities.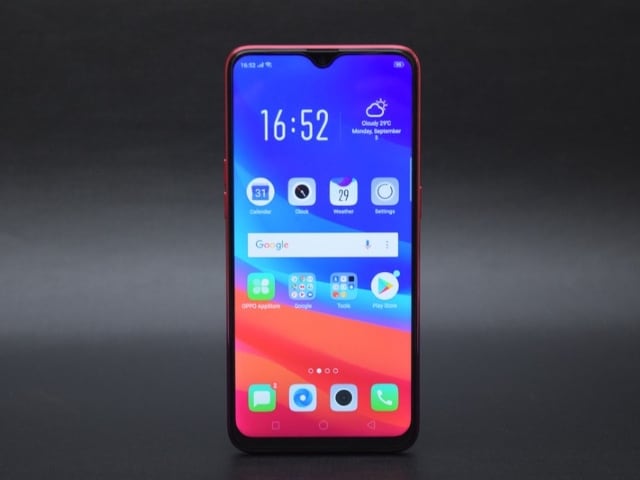 Oppo F9 Pro in pictures
Verdict
The Oppo F9 Pro reminds us of the early 2000s when Nokia, Samsung, Sony Ericsson, and others used to come up with wildly imaginative designs all the time. Very few phones these days take any risks with colours, patterns, shapes or materials. The ones that do are usually trying to be high-end and sophisticated, leaving no room for edgy or whimsical options. Oppo obviously knows that the F9 Pro's aesthetic won't be for everyone, but that's okay. People who are most concerned with practicality have plenty of other choices anyway. If a bright red and purple phone makes you happy, then by all means, go for it.
Our biggest question is whether buyers will be willing to prioritise this design over performance. The Oppo F9 Pro does deliver great battery life and a reasonable overall usage experience, but it isn't the best you can get for your money by a long shot. We would have at least liked a metal body, weatherproofing, and basic video stabilisation at this price. Better cameras would also have made us more forgiving.
The Oppo F9 priced at Rs. 4,000 less comes across as much better value for money. Most people can live quite happily with 4GB of RAM rather than 6GB, and if you're most concerned about Fortnite gaming performance for example, you should be looking elsewhere anyway. (Update 27 September: You will, of course, also lose out on VOOC fast charging if you buy the Oppo F9.) Also, while the base variant of the Poco F1 is a clear outlier in this price band (and will be difficult to buy for the foreseeable future), we can't ignore how much value it offers.