Oppo debuted its camera-centric F-series at the beginning of this year with the launch of the Oppo F1 (Review) in India. Shortly after, we got the F1 Plus, which was a more premium model. The company has been marketing this new series aggressively, especially in offline retail channels.
It's been more than six months since the launch of the F1, and to be honest, it feels a bit dated today given how the competition has marched forward. The F1s is a much-needed upgrade, in terms of both design and features, in order to give it a fighting chance. The focus however, continues to be on the front-facing camera. Let's see how it fares.
Design and build
It would be easy to mistake the F1s for the F1 Plus since they look virtually identical from the front. The mildly curved edges of the display offer a pleasant feeling when you hold this phone, and the slim bezel adds a bit of style. The phone has a pre-installed screen guard which attracts scratches fairly easily, and we think this could have been done away with since there is Gorilla Glass 4 for protection.
The 5.5-inch IPS display produces rich colours, and the maximum brightness level is much better than the Oppo F1 could manage. We had no trouble with the display under direct sunlight. Even though the panel is good, we're not happy about the HD resolution, which is a bit too coarse for a screen of this size. Even though pixellation isn't all that apparent, it would have been nice to have text and icons just a bit sharper, and that isn't asking for too much considering this phone's price point.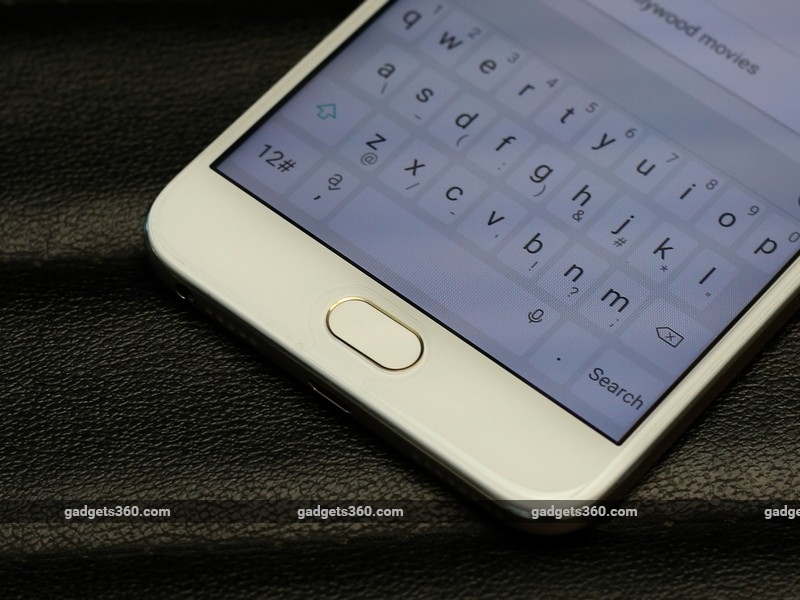 The F1s gets a fingerprint sensor, which was missing on the F1, and it works very well. Just like the F1 Plus, the screen unlocks instantly. The sensor is flanked by two backlit capacitive buttons. Oppo also throws in a notification LED near the top. The all-metal body looks really good and the glossy gold trim that runs along the edges of the phone adds to the device's premium aesthetic.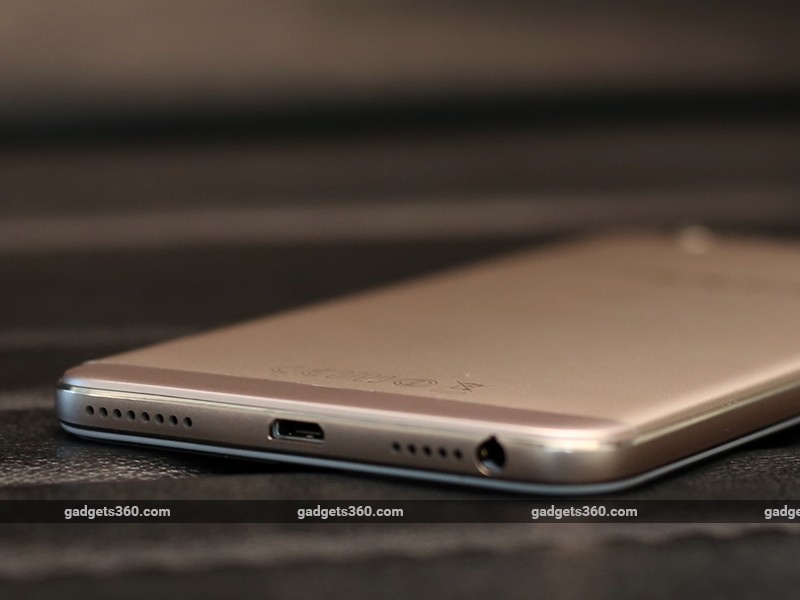 Button placement is ergonomic although we would have liked better spacing between the volume buttons so we could distinguish them better. The headphones socket is on the bottom, along with a Micro-USB port and mono speaker. Once again, the headphones socket would have been better on the top as cable tend to get in the way while you're trying to type.
Around the back, we have the 13-megapixel camera and LED flash. The battery is sealed inside and is non-removable. The SIM tray sits on the right and we appreciate the fact that it's not a hybrid Dual-SIM solution. Along with the two Nano-SIM cutouts, you also get a dedicated microSD card slot which can accommodate a 128GB card.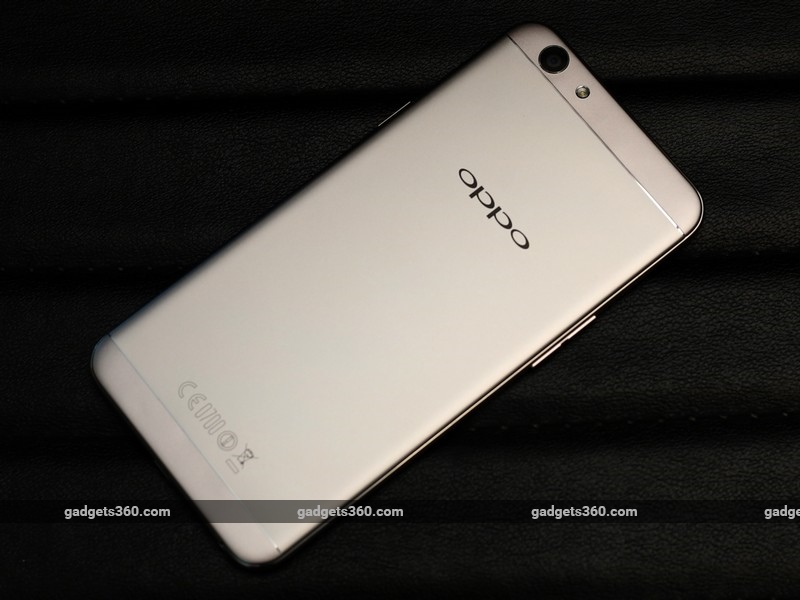 The package includes a 10W power adapter, data cable, silicon case, SIM ejector tool, headset, and some reading material. Overall, the F1s gets a much-needed cosmetic upgrade, which makes it feel relevant among the competition. The fast fingerprint sensor and dedicated microSD card slot are added bonuses. It doesn't feel too heavy at 160 gram and is fairly slim at 7.3mm.
Specifications and features
Oppo has gone with MediaTek's MT6750 octa-core SoC which features eight ARM Cortex-A53 cores running at 1.5GHz. This chip is part of MediaTek's new entry-level lineup with integrated LTE which was announced earlier this year. We got 41,244 points in AnTuTu and 21fps in GFXbench.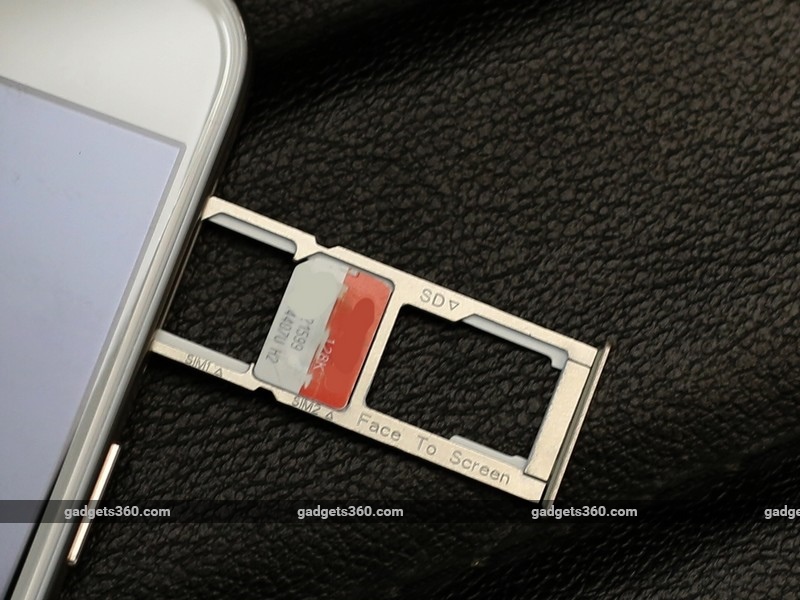 Other specifications include 3GB of RAM, 32GB of storage, dual-band Wi-Fi b/g/n, Bluetooth 4.0, USB OTG, GPS, and FM radio. There's no NFC or Wi-Fi ac. The F1s supports 4G LTE on Indian bands along with VoLTE support.
Just like the F1 Plus, the Oppo F1s runs on Colour OS 3.0, which makes Android look somewhat like Apple's iOS. This is fine by us, but what we don't like is that fact that OEMs are still serving up Android Lollipop today, which is now almost two generations old. We might see Marshmallow as an update down the line but it's always nice to have the latest version at launch.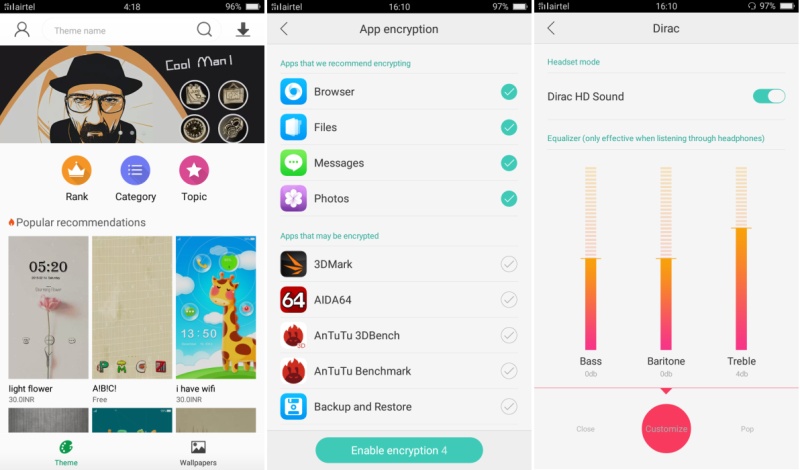 We did find a few kinks in the software that need ironing out. Notifications from some third-party apps, especially Telegram, would intermittently refuse to show up in the notifications shade even though we would hear the alert. Barring this, the interface is quite smooth and relatively lag-free for the most part. The recent apps are displayed as stacked cards, which you swipe up to dismiss.
Oppo has added some tweaks of its own to the settings app. The display submenu gets a blue light filter whose intensity can be varied; Lockscreen Magazine changes the lock-screen wallpaper each time you unlock the phone. You also get a bunch of gestures including one-handed mode, however this didn't work well in our experience.
The phone comes with Google's suite of apps along with others like Theme Store, Kingsoft Office, Security Centre, File Manager, and a video player. O-Cloud is also present, and lets you back up your SMS messages and contacts to Oppo's cloud.
Performance
The Oppo F1s is a very good phone to live with and after using it for more than a week, we did not find any glaring problems. It handled most tasks that we threw at it easily, including 3D games, and didn't heat up too much either. There were instances where it got a bit warm but nothing too alarming. 4G connectivity was good and the earpiece was sufficiently loud even during a chaotic commute. There's only the TouchPal keyboard installed, which works well. This is one slippery device, though.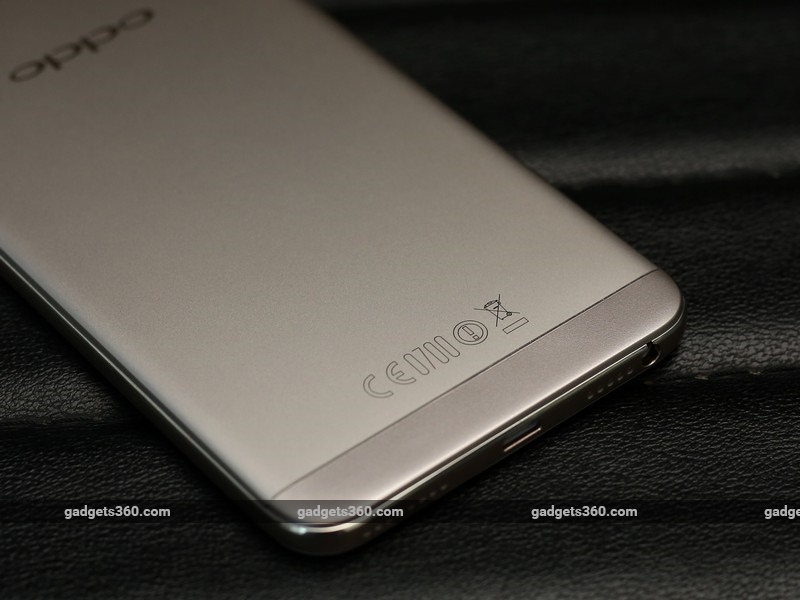 The phone handled HD media files well, including some of our high resolution test files at up to 1080p resolution. Oppo also adds its Dirac software enhancement for the speaker and headphones, which does a fair job at boosting the lower frequencies. The mono speaker gets quite loud for alerts, but the effect isn't that good when watching media.
One of the reasons you'd pick this phone over the more obvious choices is its camera performance. We begin with the front camera, which is the highlight of the phone. You get a 16-megapixel sensor with an f/2.0 aperture that manages pretty detailed selfies in even less-than-ideal lighting conditions. Beautify 4.0 software lets you get rid of any 'blemishes'. You can vary its effect on the final picture or not use it at all.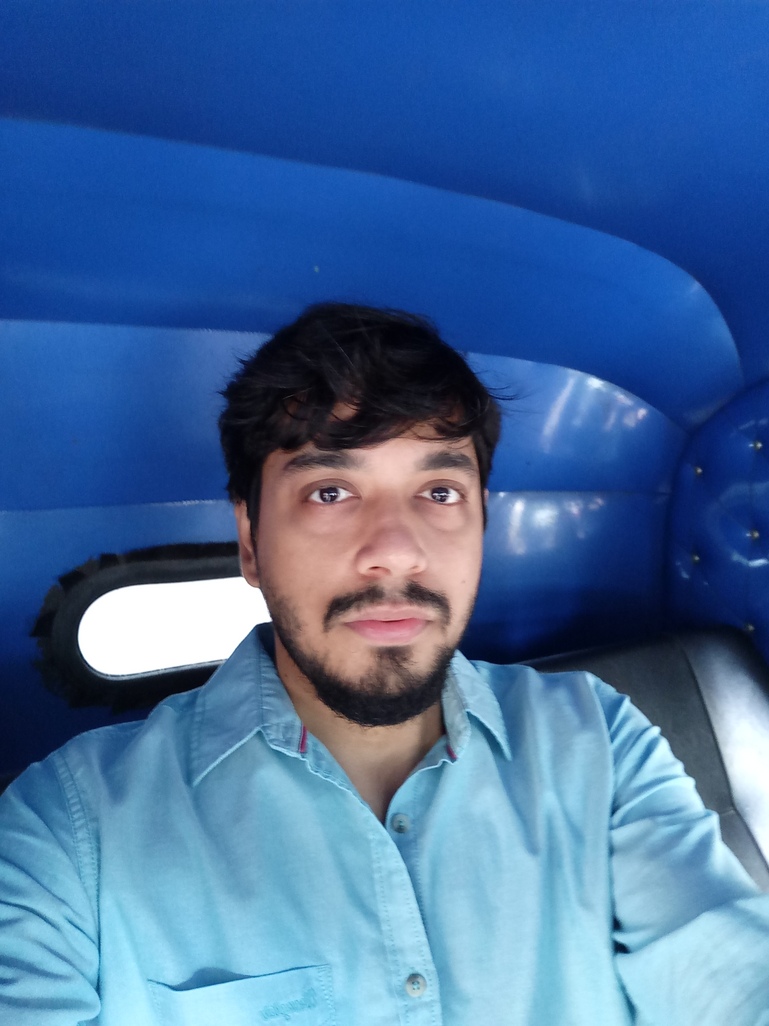 (Tap for full size Oppo F1s sample image)
Like earlier F-series phones, you can take a selfie with a palm gesture or a voice command. Thanks to the brighter display, the screen flash is a lot more effective. However, it's still a bit weak in pitch darkness. The front camera can record 1080p video and there are some additional shooting modes like gif, filters, and double exposure.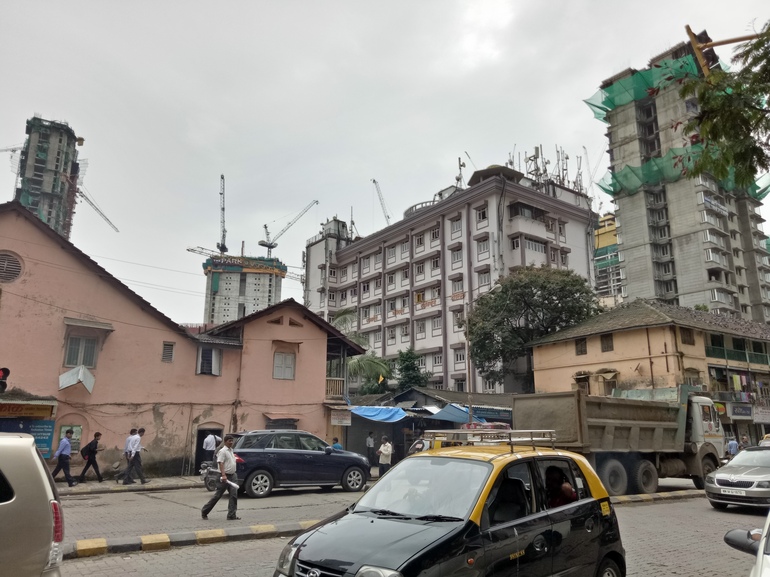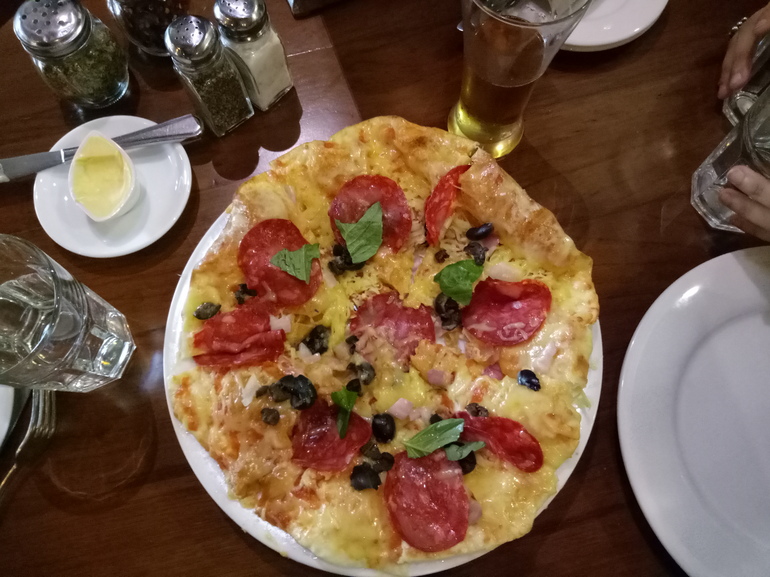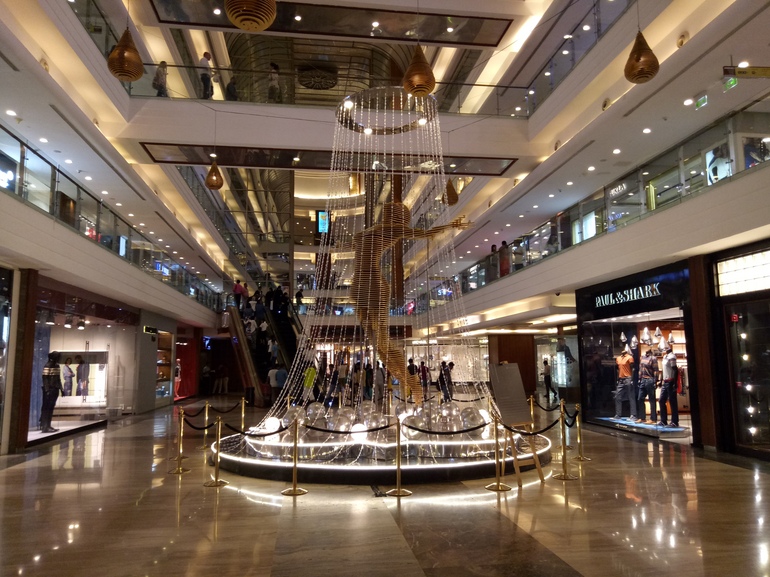 (Tap for full size Oppo F1s sample images)
The 13-megapixel rear camera also gets the same shooting modes, along with additional ones like Expert mode. The latter lets you control the shutter, ISO, exposure and white balance, and even save in RAW format. We would have liked better controls though, for instance, you can't select a fast shutter speed other than Auto. You only get to choose from 1 second to 16 seconds. Image quality is pretty good for landscapes and macro shots. There is slight artefacting in the dark areas of shots taken in low light, but not too much colour noise, which is good.
The rear sensor gets phase detection autofocus (PDAF) which helps in locking in on your subject better. We like the simplicity of the camera app and the placement of the toggle switches.
Battery life
Coming to battery life, we managed to get 10 hours and 11 minutes of continuous video playback from the 3075mAh battery. Under regular use, we found ourselves going a little more than a day before reaching for the charger. However, we wish the F1s had the VOOC fast charging feature that its bigger brother does, as even with the 10W adapter, it takes a painfully ling time to fully charge the phone.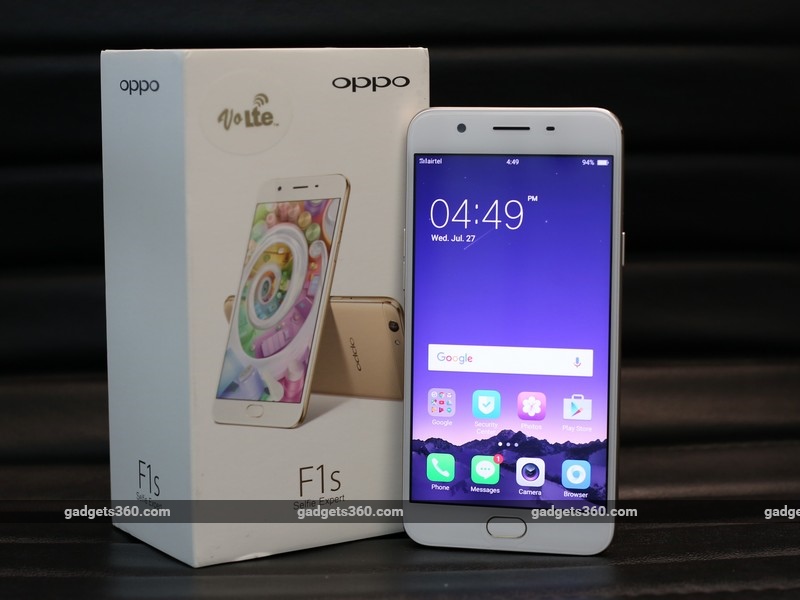 Verdict
The F1s is yet another good product from Oppo but we really wish the company had paid a bit more attention to the little details, which could have made it really competitive. We're talking about things like fast charging, Wi-Fi ac and NFC, which probably won't be missed by many but are features we've come to expect in this price range.
The F1s does have a charm of its own and we can see why some would opt for it over the usual suspects. It has a classy design, is built very well, and offers quite a few modern features. The display is also good (although full-HD resolution wouldn't have hurt) and the cameras tend to deliver on their claim.
The launch price is currently this phone's biggest problem. The original F1 has no place in the market anymore, so the most logical thing would have been to swap the F1s in at the same price, which would be the right price segment to be in. However, Rs. 17,990 isn't competitive enough given the phone's specifications, as there more powerful and feature-rich smartphones available for under Rs. 15,000 these days