Despite being only as old as a human toddler, OnePlus has come a long way in a very short time. It's generated enough buzz the world over to make it one of the most eagerly tracked smartphone makers in the world. And it's done all of this with a roster that now has a total of four smartphones. How has OnePlus done all of this, you ask? By striking at your value-for-money chords. The company offers its trademark flagship smartphone experience at prices that are decidedly nowhere near flagship-level.
Although its phones have managed to attract the attention of many smartphone buyers in the last two years, they haven't been quite the 'flagship killers' that they were touted to be. The OnePlus One (Review) offered great performance but fell short in the design, battery and camera departments. With the OnePlus 2 (Review), there were bugs in the software and fingerprint sensor, amongst other quirks. The OnePlus X (Review) is still the company's most affordable phone, but we had some issues with build quality and the camera. And above all, the cursed invite system made it difficult to buy any OnePlus device until well after all hype around these phones had died down.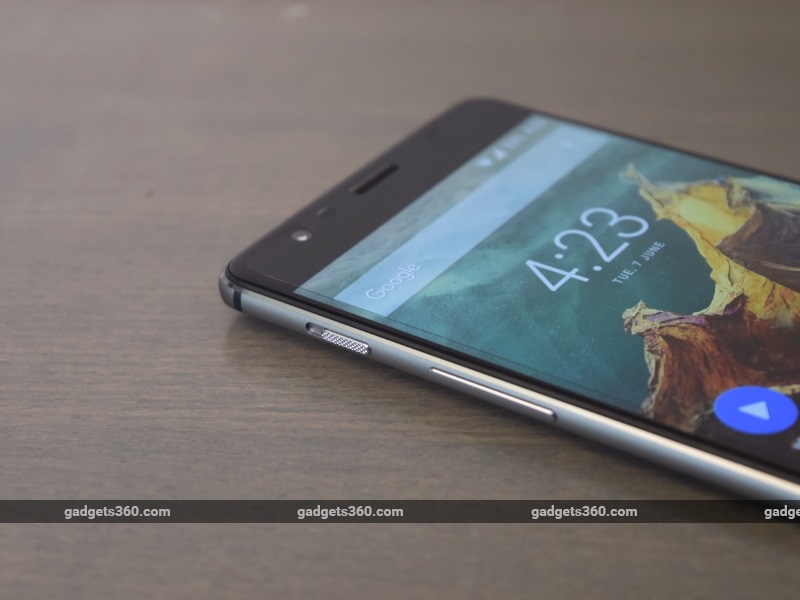 It turns out OnePlus has been listening to us. The company recently announced the end of its highly-criticised invite system, and has now launched the phone that it hopes will take it into a new future of easy availability of its affordable flagships, the Rs. 27,999 OnePlus 3. On paper, this phone is an absolute beast, and appears to have what it takes to challenge the set conventions of flagship pricing. However, it faces tough competition from another smartphone that has already succeeded in defying those conventions: the Xiaomi Mi 5 (Review). Does the OnePlus 3 have what it takes to succeed? Find out in our review.
Look and feel
The OnePlus 3 implements one big change that makes all the difference in lending an air of quality to the phone; the plastic rear panel with sandstone finishing is gone; replaced by cold, hard aluminium. Furthermore, it's a unibody with a dull metallic finish, and reminds us a little bit of the HTC One M9 thanks to its antenna lines and bulging rear camera. It's beautiful, well-built, and finally brings OnePlus into the big leagues of design.
The front gains a bit of style too, thanks to the use of Corning Gorilla Glass 4 which curves at the edges of the screen and offers a fair bit of protection against accidental scratches and damage. Also at the front is a capacitive home key with a fingerprint sensor built in, along with two more capacitive buttons on either side. These are usually invisible but a small backlight is activated when the buttons are touched. The software allows you to deactivate them and switch to on-screen keys if you prefer. Our review unit came with a preinstalled screen protector film, but it doesn't completely cover the front and got scratched rather easily. We would have preferred to receive the phone without it.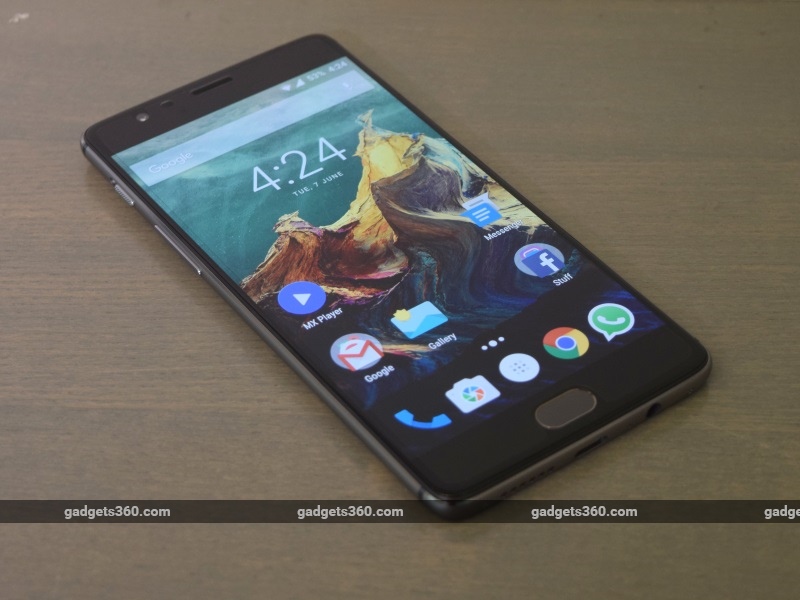 The fingerprint sensor is a huge improvement over the one on the OnePlus 2. It's slightly recessed, and unlocks the phone even from standby mode without first needing to wake the device. This makes it a little bit quicker than many other devices, including the Mi 5 which first needs to be woken by pressing down on the physical home button. It's also incredibly accurate and registers with even a gentle tap of the sensor. Up to five fingerprints can be stored, and the sensor can also be used to authorise purchases and control access to certain apps. OnePlus claims that the sensor will continuously improve and learn your habits and ways as you keep using it, thereby making it more accurate over time.
The sides of the phone are well laid out, with OnePlus' signature alerts slider and volume buttons on the left, power button and dual-SIM tray on the right, and speaker, USB type-C port and 3.5mm socket at the bottom. Although the phone isn't particularly slim at 7.35mm, it's a lot slimmer at the sides because of the curved back, and feels great to hold. However, it's worth noting that the primary camera bulges out a fair bit, and could potentially be damaged if you use the phone without a protective case. There are five optional plastic cases that you can buy along with the phone with different looks and finishes: Karbon, Bamboo, Apricot, Rosewood and Sandstone (the last one is in case you're feeling nostalgic). The texturing on the cases is beautiful, and the phone feels as good with a case as without.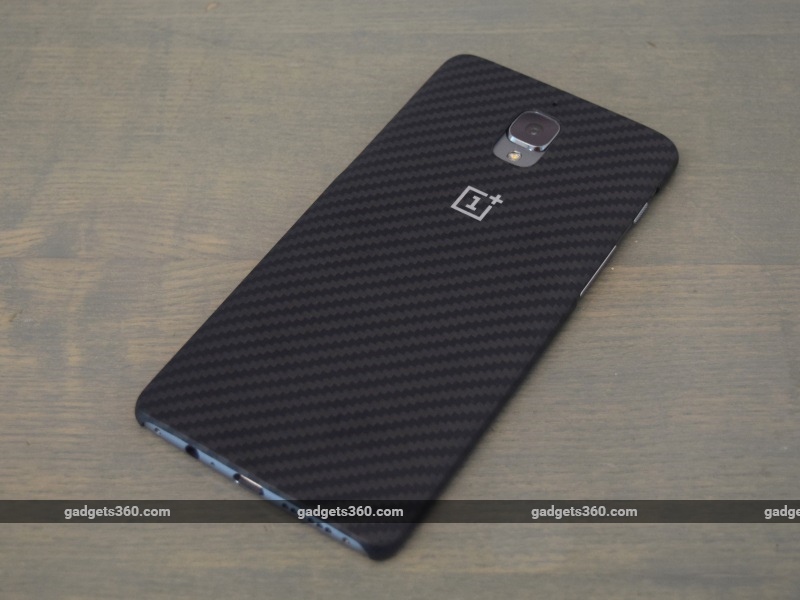 The OnePlus 3 sticks to the same display size and resolution as its predecessors, with a 5.5-inch 1080x1920-pixel screen that has a pixel density of 401ppi. However, OnePlus has decided to go with an Amoled screen this time around, similar to what we saw on the OnePlus X. Amoled screens typically aren't as bright as IPS LCD screens, and that remains the case even with the OnePlus 3. There is however a polarising layer that assists legibility under bright sunlight. Although it isn't as crisp as the 1440x2560-pixel screens on many flagship phones these days, it's suitably sharp and will give you an excellent picture.
The use of an Amoled screen does have its advantages, particularly when it comes to black levels, contrast ratio and accuracy of the colour gamut. The ability to switch off individual pixels makes for some of the deepest and most beautiful blacks we've seen on a phone, and the colour range is unbelievably accurate and clean. You can also modify the colour temperature of the screen to suit your preferences, and activate a 'night mode' which makes it easier on your eyes at night by reducing blue levels. All-in-all, this is among the best full-HD smartphone screens you can buy.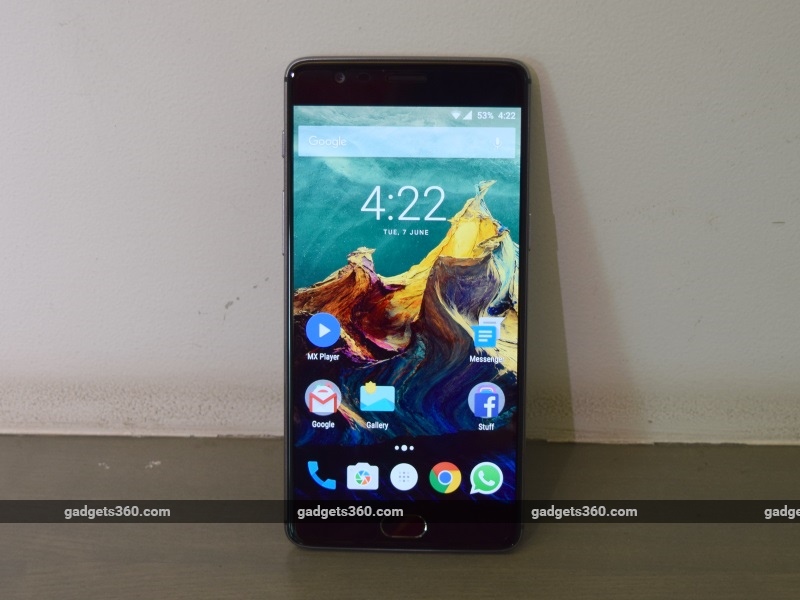 Specifications
The Qualcomm Snapdragon 820 SoC is finally picking up some steam, and is now on a handful of devices available in India. With the exception of the LG G5 (Review), all models are priced under Rs. 30,000, including the recently launched Rs. 22,999 LeEco Le Max 2. Not only does the OnePlus 3 have this SoC clocked at 2.2GHz for two cores and 1.6GHz for the other two cores, but it also sports a colossal 6GB of LPDDR4 RAM and 64GB of internal storage (non-expandable).
Apart from this, there's also dual-SIM 4G connectivity with support for both FDD-Band 3 and TDD-Band 40, Wi-Fi a/b/g/n/ac, Bluetooth 4.2, and NFC. The phone has a 3000mAh non-removable battery, and is the company's first device to feature some kind of fast charging technology. It comes bundled with a 20W Dash Charger, which charges the phone up to 60 percent in 30 minutes. About an hour's charging should fully top up your phone even from near zero.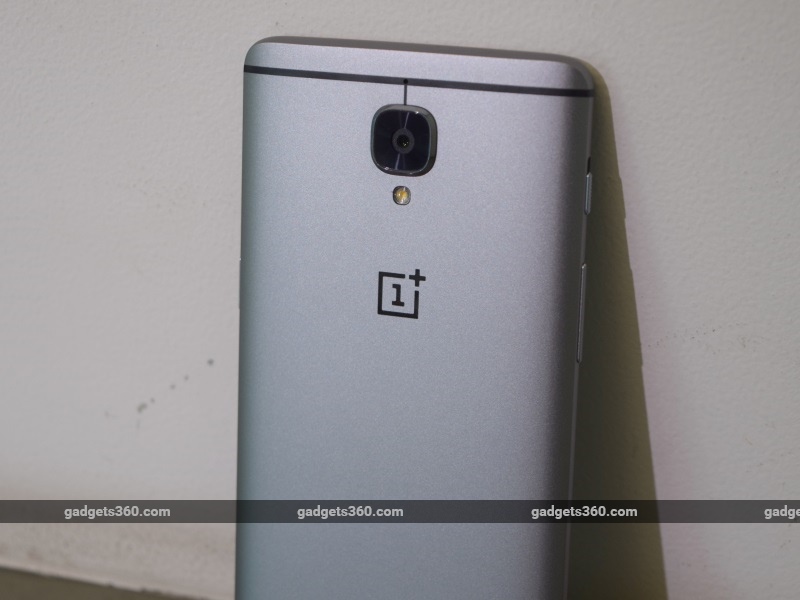 The technology shifts power management from the device to the charger, which ensures that the phone doesn't heat up too much while charging. We tried it, and it worked like a charm. This also means that it's possible to keep using the phone while it's charging without slowing down the charging process too much. Charging and connectivity are through a USB 2.0 Type-C port, and the cable included in the box allows for ordinary connectivity with most computers and chargers thanks to one end being a standard USB Type-A plug.
It's interesting to note that OnePlus will also be selling a Dash Charger for cars, which plugs into a standard 12V car socket. We tried it with the phone, and although charging is expectedly not quite as fast as with a standard wall-socket charger, it's still a fairly quick and will be a useful accessory to buy if you spend a lot of time on the move.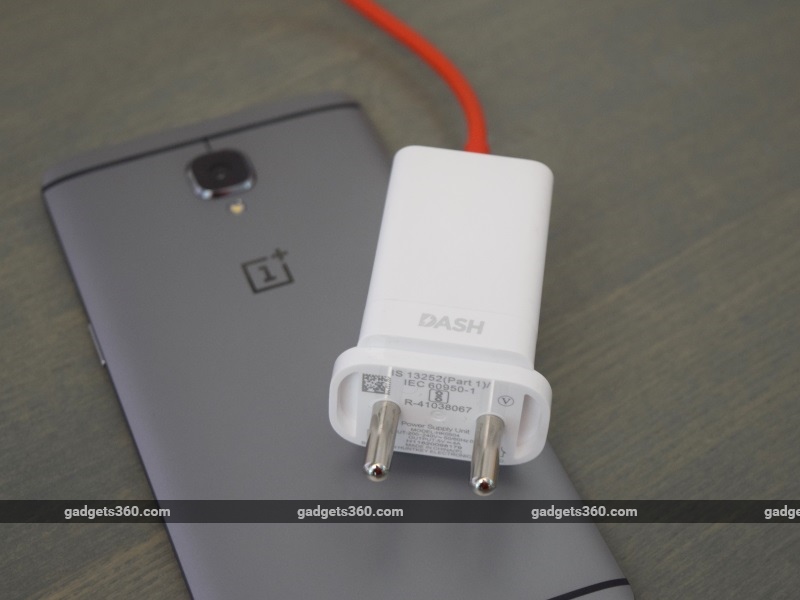 Software
On the software front, the OnePlus 3 is powered by OxygenOS 3.1.1, based on Android 6.0.1. OxygenOS is visually and functionally very similar to stock Android Marshmallow, with a few useful additions. Despite not being quite as light as stock Android, it still retains the same level of ease and snappiness across the system. Additions come in the form of customisation options, while most of Marshmallow's standout features have been maintained. This includes the revamped app permissions system, Now On Tap, and Doze Mode. OxygenOS also lets you quickly unlock the bootloader, which will then allow you to root your device or flash new firmware if you choose to.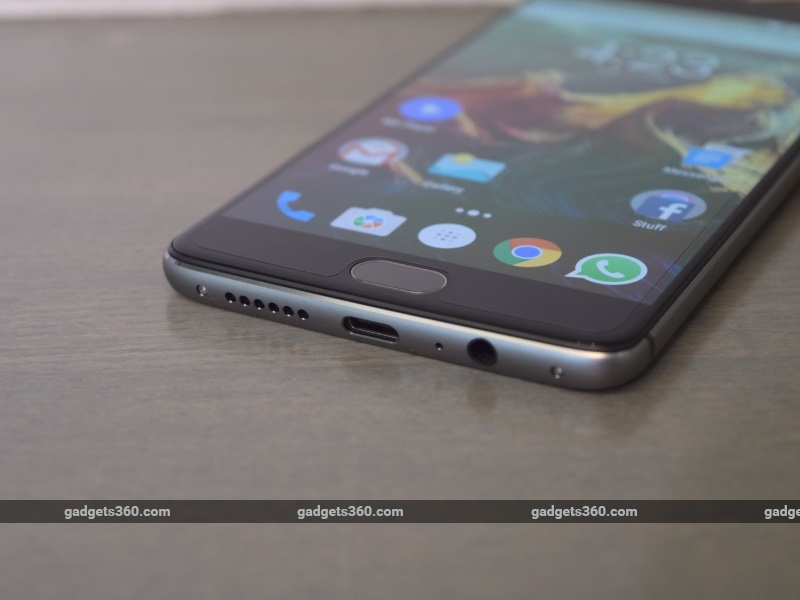 One of the system's key features is a tool called Shelf, which can be accessed by swiping right from the home screen. This gives you quick access to weather information, frequently used apps, widgets, and contacts. The settings menu gives you access to adaptive brightness, colour temperature settings, the ambient display mode, and more. Ambient display uses the proximity sensor to give you basic information without waking the phone. There is also the option to use SwiftKey as your default keyboard.
Some interesting customisation options include the ability to activate a 'dark mode' which changes the colour of the menus to dark shades, custom LED notification light colours for different functions, and button customisation controls. It's an excellent set of options for power users, combining all the goodness of stock Android Marshmallow with some of the customisation smarts that aftermarket firmware such as CyanogenMod gives you, and we absolutely love it.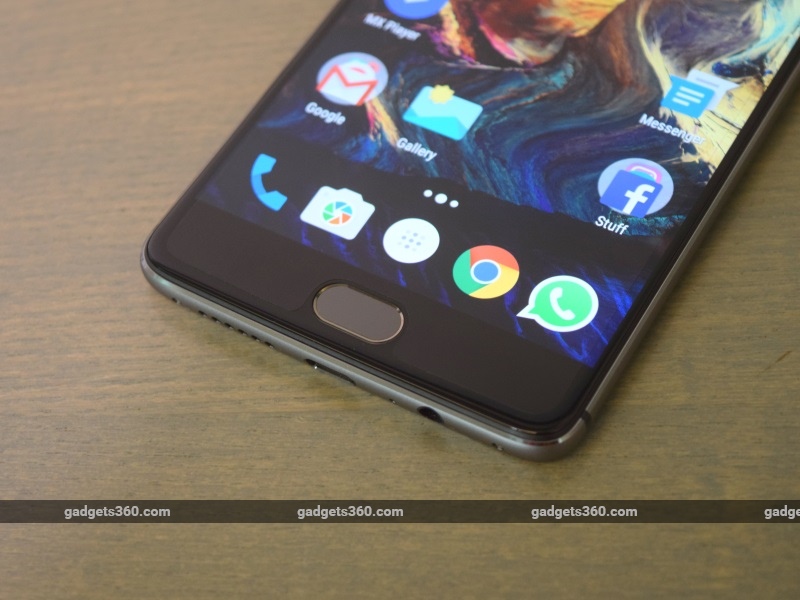 Camera
The primary camera of the OnePlus 3 is a 16-megapixel Sony IMX 298 sensor, while the front camera has an 8-megapixel sensor with 1.4-micron pixels. The rear camera can shoot video at up to 4K and can also shoot slow motion video at 120fps, while the front camera can shoot video at up to 1080p at 30fps. Additionally, the rear camera features optical image stabilisation, phase detection autofocus and RAW image format support.
The camera app is Google's stock app which you'll find on Nexus devices. It's designed around simplicity and maximising screen space for the viewfinder. Because of this, there's only a single shutter button for capturing stills, and recording video is a two-step process. Camera modes such as time lapse, slow motion, video, manual and panorama can be reached through a small toggle in the top-left corner that's easy to miss.
(Tap to see full-size images)
The settings menu controls specific settings related to only the mode that you're in, so you will have to switch modes to modify settings such as video resolutions and grid toggles. While shooting stills, you can change the aspect ratio or toggle the self-timer. There are also small controls for the flash, HD shooting, HDR mode and the camera switcher. It's fairly simple and easy to use, but we've seen better apps on other devices which offer more control.
The camera itself is particularly good when shooting outdoors in good light, producing pictures that are sharp and detailed, with very little noise and grain. Colours are vibrant, and pictures are bright and good to look at. Autofocus can occasionally be a bit slow, but once it locks onto a subject or scene, pictures are generally well composed and properly rendered. Optical and electronic image stabilisation both help in producing good stills and videos. The only weakness is low-light shots, which tend to oversaturate whatever light there is and become grainy.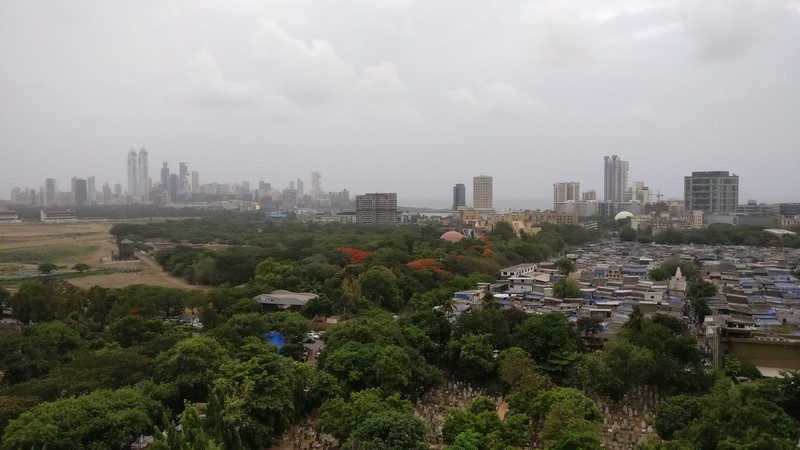 (Tap to see full-size image)
Videos are excellent and detailed even at full-HD resolution, and you always have the option to go up to 4K if you want them sharper. Slow motion and time lapse modes produce interesting results, but more control over both of these, and possibly the inclusion of 240fps shooting, would have been great additions to the camera. The front camera takes surprisingly sharp pictures as well, producing much better results than what we're used to seeing from typical smartphones. On the whole, the camera is more than adequate for ordinary smartphone shooting.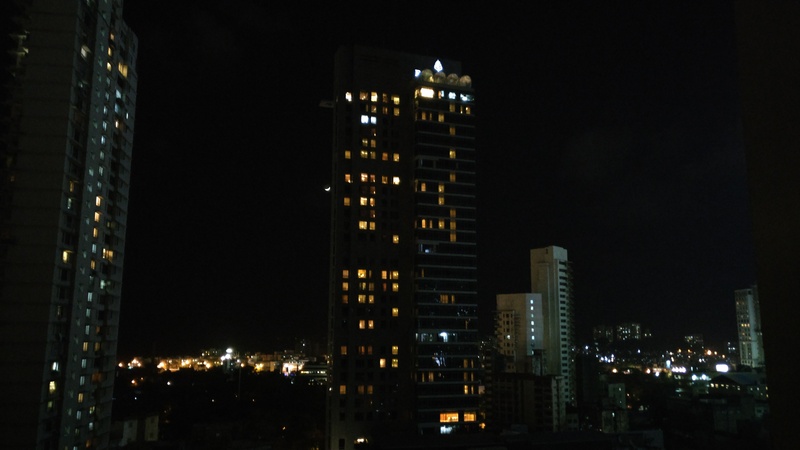 (Tap to see full-size image)
Performance
As has been the case with the two Snapdragon 820-powered smartphones that we've reviewed so far this year, the OnePlus 3 is an absolute powerhouse. From playing games to loading Web pages; from starting up apps to taking pictures; everything just works well. It's helped along no doubt by the generous 6GB of RAM. There's practically no delay or loading times, and we found it hard to go back to a lower performing smartphone after our time with the OnePlus 3. Furthermore, heat issues and performance throttling are practically non-existent, with the phone running smoothly even under heavy use.
When it came to benchmark scores, the OnePlus 3 broke a few of our records, thereby underlining its superior performance. AnTuTu produced the highest score we've seen yet from an Android device, with 142,674, while the Quadrant score was a respectable 44,490. GFXBench and 3DMark Ice Storm Unlimited produced scores of 30,276 (again, the highest we've seen) and 59fps. Essentially, this is hands-down the most powerful Android smartphone we've used so far.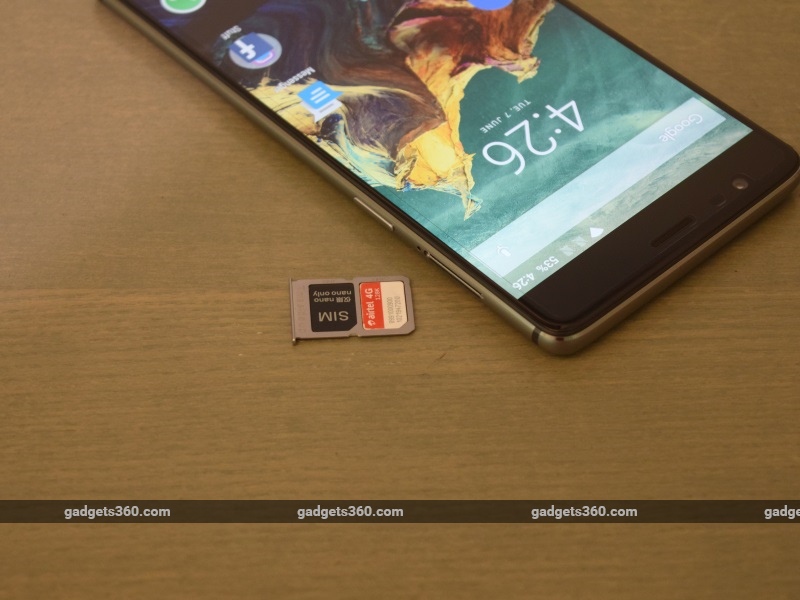 Reception on cellular networks was excellent for us, with the phone practically always managing to hold onto strong 4G and Wi-Fi connectivity. Call quality is decent as well, and voice transmission is helped along by an excellent dual-microphone setup on the device. Battery life is fantastic, with the phone running for 16 hours, 45 minutes in our video loop test. This phone will easily last through a full day even with constant 4G connectivity and heavy use thanks to the combination of an efficient yet powerful SoC, a full-HD Amoled screen which requires less power to run, an efficient operating system, and Android Marshmallow's excellent Doze Mode.
We also tried the phone out with the Loop VR headset. Although we had some initial problems with setup and gyroscope calibration, we eventually figured it out and had a good time playing VR games and watching 360-degree videos on the headset. The headset itself is comfortable, but is purely optical and has no controls on it, relying entirely on your phone for control.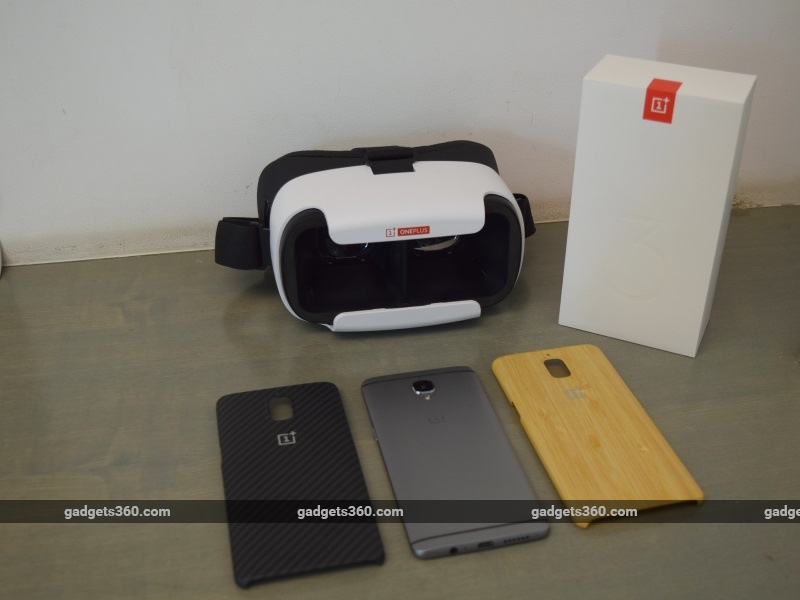 Verdict
After three previous attempts, OnePlus has finally managed to get everything right with the OnePlus 3. This is a phone which excels in every department, and OnePlus has even fixed the issues we had with reliability and build quality on some of its previous devices. The inclusion of important features such as NFC, an accurate fingerprint sensor, an excellent Amoled screen and fast charging also finally means that this is a phone that checks all of the boxes.
However, the OnePlus 3 isn't completely perfect. Although 64GB of internal storage will in all likelihood be enough, a lot of people will have an issue with the fact that storage cannot be expanded. The single speaker is a bit weak, and there were some file format recognition issues which prevented us from running some video and audio files on the phone. Pictures taken in low-light weren't quite as good as we'd hoped. But all of these issues are minor, and take very little away from the fact that the OnePlus 3 is a fantastic smartphone. With these capabilities, and at Rs. 27,999, it finally has what it takes to be a true 'flagship killer'.

OnePlus 3 in pictures