The OnePlus One was one of the biggest success stories of last year, if not in terms of sales numbers, then at least in terms of the recognition the phone gave to a fledgling startup that didn't even exist 20 months ago. The company set out to make a 'flagship killer' that offered high-end specifications at half the usual price, and delivered on that promise - at least on paper.
(Also see: OnePlus 3 Review)
The OnePlus One's modest success was helped by Google's decision last year not to subsidise Nexus phones anymore, which meant the Nexus 6 didn't get the kind of patronage from geeks that its predecessors had received. Combined with some clever marketing - most notably the invite system - it's no surprise that the One found its share of admirers, despite some long-term reliability issues.
The OnePlus 2 aims to build on that success, and even though it sports a price tag that's greater than the One's, there's enough to keep the specifications-obsessed happy. For a smartphone that's clearly targeted at technophiles, the OnePlus 2 has some notable omissions: the lack of a microSD slot, NFC, and fast charging come to mind. However, the addition of a second SIM slot will be welcomed, especially in markets like India where the OnePlus One developed a bit of cult following.
The other big change with the OnePlus 2 is a switch from CyanogenMod to company's own Oxygen OS- something that happened mid-way through the life of OnePlus One - essentially stock Android with some additional features thrown in. While we are fans of the customisability that Cyanogen brought, the fact is it was never as stable on the One as it has been on some of the other devices we've seen. In that sense, the move is a positive change, and, in theory at least, there should be fewer software bugs with the OnePlus 2. But is that really the case? Let's find out.
Design and display
In terms of design, the OnePlus 2 looks a lot like its predecessor, but with enough tweaks to keep things fresh. The highlight of the device is still the Sandstone Black finish on the rear, which people either love or hate, and we firmly belong to the latter camp. But that's purely a matter of taste, and if you loved the One in terms of design, you will find the OnePlus 2 right up your alley. If not, you can choose from Bamboo, Black Apricot, Kevlar, and Rosewood official back covers that are separately available at Rs. 1,699 from Amazon India.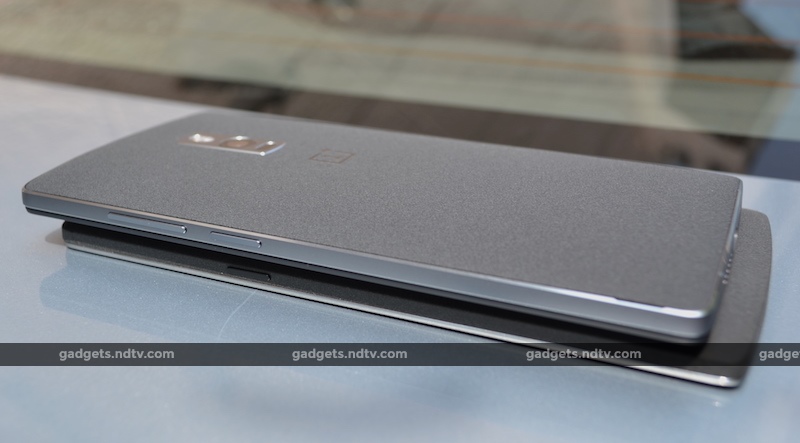 While the edges and the back were made out of a single piece in the OnePlus One, the OnePlus 2 features a metal frame with a distinct, removable back cover. The speaker grille at the bottom has a more modern look, similar to the ones seen on Apple and Samsung's newest flagships. The bottom also has the new USB Type-C port. The back is devoid of any kind of branding except the OnePlus logo, another marked change from the OnePlus One. The left side has the Alert Slider that we'll get to in a bit.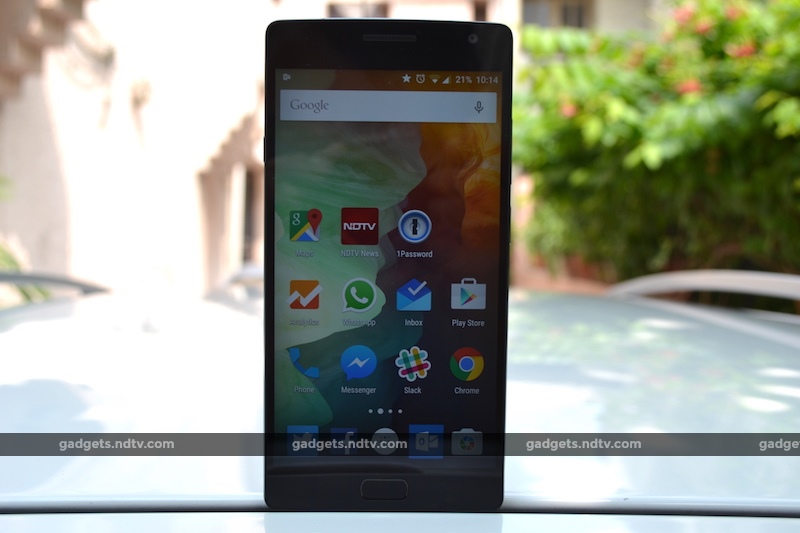 The OnePlus 2 comes with a 5.5-inch full-HD display that offers good viewing angles if perhaps the brightest display we've come across. OnePlus has played really safe with the colour gamut, and the colours have a natural, almost washed-out look. We prefer this to oversaturated panels seen on some other smartphones, but some may consider it to be a bit too dull for their taste.
Software and performance
The OnePlus 2 comes with the company's Oxygen OS 2.0, which is essentially stock Android 5.1.1 Lollipop with minor additions. The launcher is similar to what we saw in the recent Moto G (Gen. 3) (Review) and as fans of stock Android, we are quite happy with that. During setup, you have the option of enabling a feature called Shelf, which then becomes your left-most home screen.
OnePlus says Shelf is an experimental feature and it doesn't seem very useful at this point as it only offers three modules - a weather display, frequently accessed apps, and frequent contacts. We like seeing Google Now when we swipe left from our home screen, and of course this is easily fixed by downloading the Google Now launcher. It will be interesting to see if Shelf evolves into something more useful in the future.
Unlike the newest Moto G, the OnePlus 2 comes with support for multiple users and a guest mode. The smartphone also features an app permissions manager which lets you see and toggle the resource permissions of each app, something we've also seen in other smartphones by the likes of Xiaomi. This is a very useful feature as it gives you complete control of your smartphone, and if you find an app has access to a resource that it really doesn't need - such as your contacts or messages - you can quickly stop it from reading that data. Do remember that doing this arbitrarily can mess with some apps' core functionality.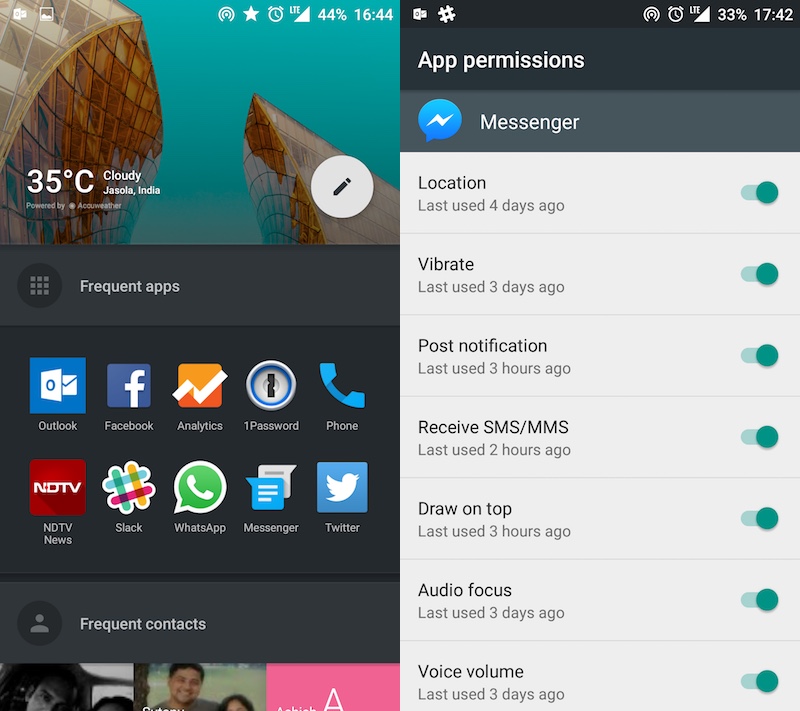 Shelf (left) and App Permissions (right)
The OnePlus 2 has two hardware features that are closely tied in with the software: the fingerprint scanner and the alert slider. The fingerprint scanner works seamlessly for unlocking the device, though it takes some getting used to, especially if you are accustomed to Apple's Touch ID. The way we are used to unlocking our iPhone - and we didn't realise this until we paid close attention - is to press the home button (some people prefer to use the power button) to wake up the display, and then keep our thumb (or another finger) touching the home button for Touch ID to do its magic.
Since we are creatures of habit, we tried doing the same with the OnePlus 2 and it didn't always work as we expected. That's when we stumbled upon the fact that you can simply press your thumb - or finger - on the OnePlus 2's fingerprint scanner and it will unlock the device without you have to power on the display first. A long press on the iPhone does unlock it, but also triggers Siri, which we almost never want to do. Since the fingerprint reader on the OnePlus 2 isn't integrated into a physical button, you don't trigger any accidental inputs even you keep your finger pressed.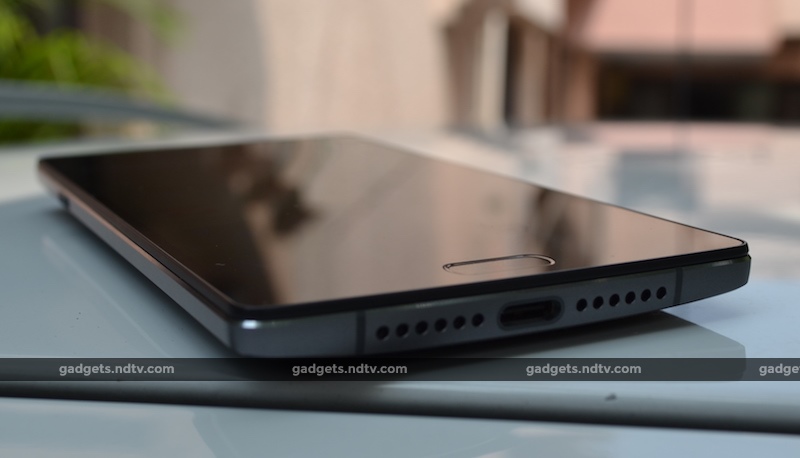 This also makes it responsible for some less-than-ideal behaviour. Though you expect the fingerprint reader to behave like a physical button, there's no button like travel or feedback, which means you soon teach yourself to treat it like a capacitive button. However, it isn't as sensitive as the buttons on either side, which means you find yourself pressing it a little harder than you really want to. Perhaps this is why OnePlus allows you to enable on-screen buttons, but doing that means you are constantly jumping between the on-screen buttons and the capacitive fingerprint reader.
The on-screen buttons also allow us to circumvent our other problem with the capacitive buttons - the lack of any kind of markings. While we have used enough Android phones to know that the left button is typically used for Back and the right one is usually an application switcher, it would have been nice to have had visual reminders nonetheless. The lack of labels means that OnePlus could let you do custom mappings for buttons in the future without muddying things up. Or maybe OnePlus knows you may want to flash a non-Android operating system on your OnePlus 2 in the future, who knows!
Finally, if you want the fingerprint reader to work reliably, make sure you clean it every once in a while. If you can see visible prints on top of the button, chance are you'll have to try a couple of times before you can log in, a problem we can't say we've really faced with our iPhone. There were other occasions when the fingerprint reader wouldn't work no matter what we did, and we had to unlock the phone by entering the PIN.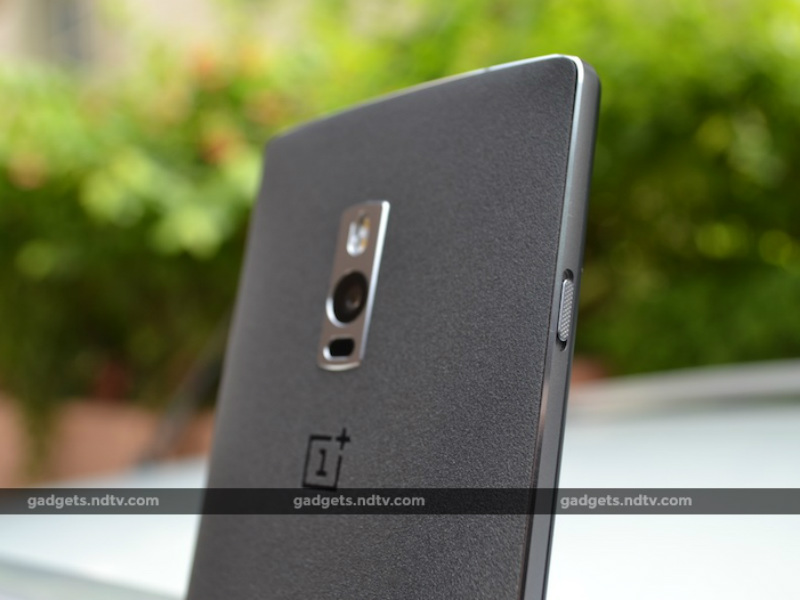 The second noteworthy hardware feature is the alert slider (pictured above), which is just a clever name for a button that lets you toggle between profiles. Think of the bottom-most position as the General profile, under which you receive audible alerts for all notifications - or Interruptions, as OnePlus calls them. If you move the slider over to the middle, you will receive audio alerts only for priority notifications; you can define what counts as a priority notification at a very high level (see screenshot below). Slide it all the way to the top and you won't be disturbed at all by audible alerts, though notifications still show up on your screen.
The OnePlus 2 rocks a 64-bit Qualcomm Snapdragon 810 SoC with 4GB of RAM, and as you would expect, it handled all everyday tasks without trouble. Multitasking and switching between apps was smooth, and we did not experience any kind of lag at any point. Games like Asphalt 8 ran without any problem, though we noticed that the phone became considerably hot during one of our gaming sessions that lasted for about 20 minutes.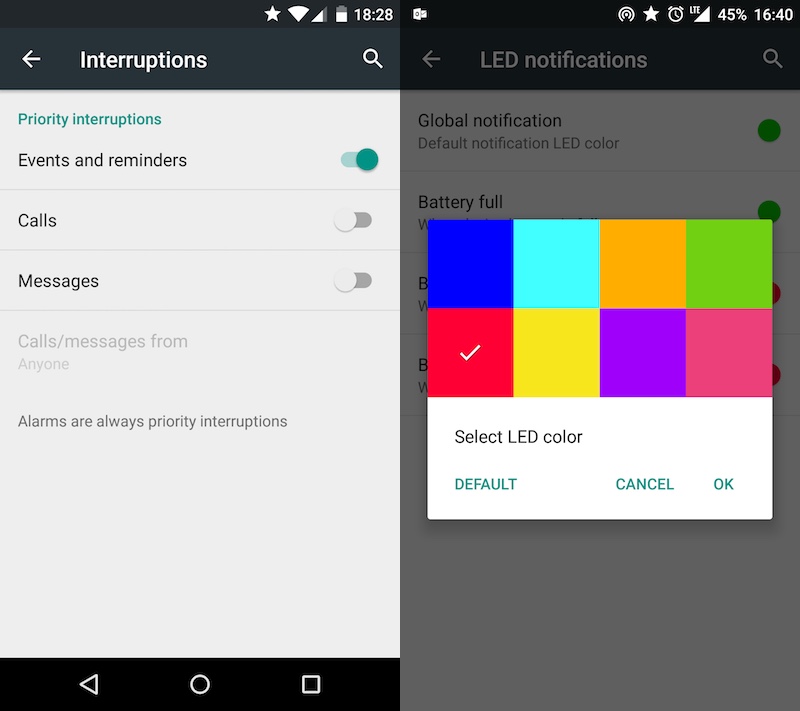 You can define priority interruptions at a very high level (left) and various colour you can choose for the notification LED (right).
There are a few niggles with the phone. Some apps just won't run and others would always crash at the same point. There were occasions when we would get a call but we couldn't see the answer/ reject controls over the notifications on our lock screen - we had to unlock our phone and then use the 'back to call' option to answer the call. There were accelerometer-related problems as well - a video just wouldn't switch to landscape mode until we restarted the phone, and we also experienced a noticeable lag when switching orientation in some apps. At one point, cellular data stopped working out of the blue, and after trying various things for a couple of days, we had to factory reset the phone for it to start working again.
Another problem we experienced was regarding software updates - we received an update notification when we first booted the phone, but since we were on a slow Internet connection at the time, we decided not to install it right away. Turns out that was a big mistake, because we never saw that update notification again no matter what we did, including a factory reset. Yes, you can manually flash an update, but that's not something most users will want to mess around with.
The OnePlus 2 has a notification LED, which can customise to light up in different colours depending upon the kind of notification it's displaying. The phone comes with SwiftKey enabled by default, in addition to Google's keyboard, and you can of course download any other third-party keyboard from Google Play.
As far as call quality is concerned, the OnePlus 2 worked fine in areas with good network strength, but in areas with weak connectivity, it performed noticeably worse than our iPhone 6, which itself sets no high benchmark in this area. The loudspeaker on the OnePlus 2 is loud enough for pretty much anything you'd want, and the phone also comes with an audio effects engine, which works only with the headphones plugged in.
Battery life and camera
When it comes to battery life, the OnePlus 2 proved to be a bit two-faced. While it was an average performer in our video loop battery test, we observed excellent performance in everyday use, even when using 4G networks. If our usage patterns are any indicator, the smartphone should have no trouble lasting through a full day of use and still have some amount of juice left. We've seen phones recently that do well in battery benchmarks, but not so much in everyday usage, so this is indeed a welcome change.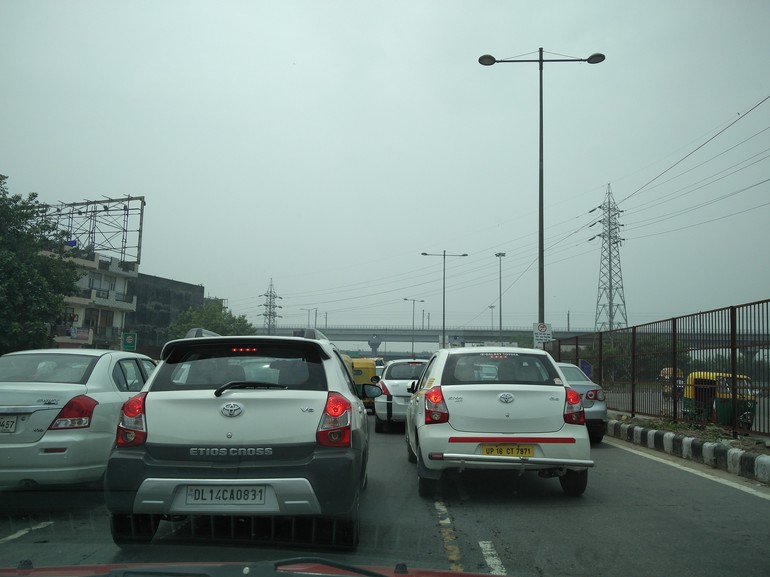 OnePlus 2 camera sample shot - click for full size
The OnePlus 2 comes with a 13-megapixel rear camera that captures excellent detail in well-lit conditions. However, if you use the tap-to-focus feature, the camera takes some time to find its bearings, which can slow down things considerably. The low light performance is pretty good as well - see a side by side comparison with the iPhone 6 below - but when it gets darker still, the OnePlus 2 does worse than Apple's flagship.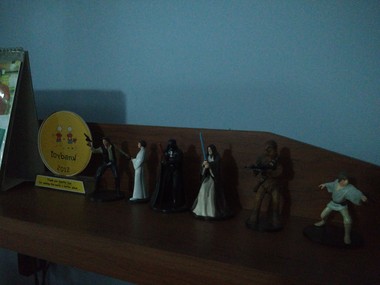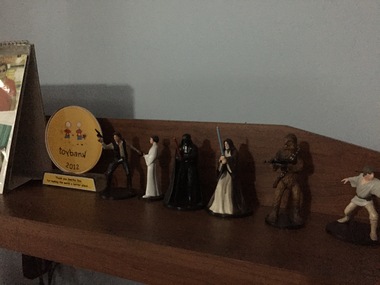 Low light shot - OnePlus 2 (left/ above) vs. iPhone 6, the former reflects the actual colours more accurately in this case. Click for full size.
The front camera is more than adequate for its intended purpose. The Camera app is pretty basic in terms of the options it offers, though you do get support for slow motion video. However, the slow motion videos we captured looked dull even when there was adequate lighting. With regular videos, the autofocus struggles to stay up to speed as you move the frame around. The phone also heats up if you shoot 1080p videos for any decent length of time. It also supports 4K video capture, limited to 10 minutes per clip.
Overall, the OnePlus 2's camera ranks isn't quite at the same level as the Samsung Galaxy S6 and the S6 Edge, or even the iPhone 6 and iPhone 6 Plus. These phones admittedly cost a lot more, but when you label yourself '2016 Flagship Killer', comparisons are fair game.
Verdict
Overall, the OnePlus 2 is an improvement over its predecessor in many ways, but it retains quirks that feel all too familiar. The battery life and software are big improvements, though there are still some issues that need to be ironed out with the latter. We hope the company has also improved upon its quality processes, since we know a few too many people who had issues with their OnePlus Ones' screens or got a unit that stopped working completely after a few months.
To be fair, the company has stepped up with after-sales in most of these cases, and provided repairs and replacements as needed. We also know just as many - if not more - OnePlus fans who absolutely love their phones, but the complaints we have heard have been a bit too frequent for our liking. Unfortunately, these kinds of issues cannot be identified by using review units for even a couple of weeks, and that is a challenge we reviewers face when recommending devices.
So, in summary, should you buy the OnePlus 2 or not? If you are looking for a dual-SIM Android smartphone with decent battery life and near-stock Android at around the Rs. 25,000 mark, we say go ahead, but be prepared to live with a few quirks. If you liked the One - which had more rough edges than the 2 - you will surely love OnePlus' newest flagship. However, if you are someone who values reliability over bargains, and wants a smartphone that's as stable as some of the bigger name flagships, the 2 isn't quite there yet. Either way, just don't ask us if we have an invite (spoiler alert: we don't).