The Lumia 720 is bang in the middle of Nokia's line of Windows Phone 8 offerings. It aims to offer some of the premium features found in the Lumia 920 (Review | Pictures) and Lumia 820 (Review | Pictures) at a price that's pocket-friendly like that of Lumia 520 (Review | Pictures) and Lumia 620 (Review | Pictures).
Does the Nokia Lumia 720 deliver on its promise or does it end up being a confused offering? Let's find out.
Build/ Design

It's easy to fall in love with the Lumia 720. Industrial design has always been Nokia's strength, and with the 720, the company seems to have outdone itself. The 720 takes Lumia 920's solid build and packs it in a smaller package that fits perfectly in the hand.

The Lumia 920 was ridiculed for being too heavy - and rightly so - and even though the 720 is no 920 replacement, we can't help but feel that, at least as far as design is concerned, this is the phone that Nokia's previous flagship should've been. We much prefer the matte finish on our Red Lumia 720 to the glossy Yellow 920 we got. Fingerprints are no issue with the 720, with the body as well as the screen remaining practically smudge free. The button placement on the Lumia 720 is similar to other recent members of the family. The right edge has the volume rocker, the power/ lock button and the dedicated camera button towards the bottom. The top edge has the microSIM and headphone jack, while the left and bottom edges feature the microSD slot and Micro-USB ports, respectively.
The front features much thinner bezels on the side, again, compared to the 920, which had a display that looked bigger than it really was, due to the wasted space on all four sides. While the Lumia 720 display isn't exactly edge-to-edge, it makes much better utilisation of the space.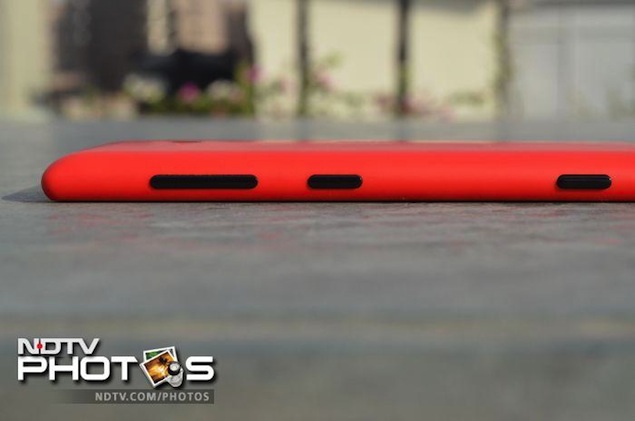 Below the screen are the three standard Windows Phone buttons: Back (which doubles up as an app switcher on long press), Windows/ Home (long press for Speech) and the Search button, that continues to be as useless as ever even for Bing users like us, as it just brings up a Bing search box. We really wish Microsoft offered a unified search instead, or let us configure this button to launch something else entirely. Just above the display we have the Nokia branding and ear piece grill, with the front-facing camera just to the left.The back of our Red Lumia 720 has the rear-camera lens in the centre right next to the LED flash and Carl Zeiss branding. A NOKIA logo sits back in the middle, with the bottom part having three wireless charging pins and barely legible certification info as well as the text Made in China embossed. A speaker grill sits on the bottom left corner.
All in all, we'd go so far as to say that the Lumia 720 is our favourite Nokia phone till date, at least as far as industrial design is concerned.
Display

Nokia Lumia 720 comes with a 4.3-inch display of 480x800 pixels resolution, translating to a density of 217 pixels per inch. While that doesn't sound impressive, the real life experience is quite good.
Colour reproduction on the ClearBlack LCD is quite accurate. The viewing angles and outdoors visibility are as good as you'll come across. Like the Lumia 920, you can operate 720's touchscreen while wearing gloves.
Overall, while we sure wish the 720 sported a higher resolution display, there's no doubting the quality of this one.
Camera

The Lumia 720 comes with a 6.7-megapixel rear camera with Carl Zeiss optics that is a solid performer overall. The camera takes good photos outdoors when there's plenty of light. The colours look natural and don't appear saturated or artificial in any way. However, pictures clicked under bright artificial lights appear a little washed out.

In low light conditions, the Lumia 720 shines bright (pardon the pun). The LED flash works surprisingly well, and illuminates the subjects within its range uniformly. Even when you choose to disable the flash, the 720 delivers good results - not quite the 920 low-light image quality, but then this is a phone that costs half as much, which makes it especially great.
The camera software lets you tweak a few settings for still pictures like Scenes (Auto, Close-Up, Night, Portrait, Night Portrait, Sports, Backlight), ISO, Exposure Value, White Balance, Aspect Ratio, and Focus Assist Light.
The bundled Smart Lenses like Smart Shoot, Cinemagraph, Nokia Glam Me, Panorama and Bing Vision. We had mixed results with these. Cinemagraph (create GIFs from images) and Nokia Glam Me (add effects to images) are gimmicky at best, they work as advertised. However, when you come to Smart Shoot and Panorama, things get a bit rough.
Smart Shoot is Nokia's much advertised feature that detects faces - and other objects - and lets you do things like removing unwanted things from a photo and/ or mix and match 'faces' from a series of photos taken in the same setting. While this makes for a great demo, real life results leave a lot to be desired, as the phone failed to detect many faces in a group photograph.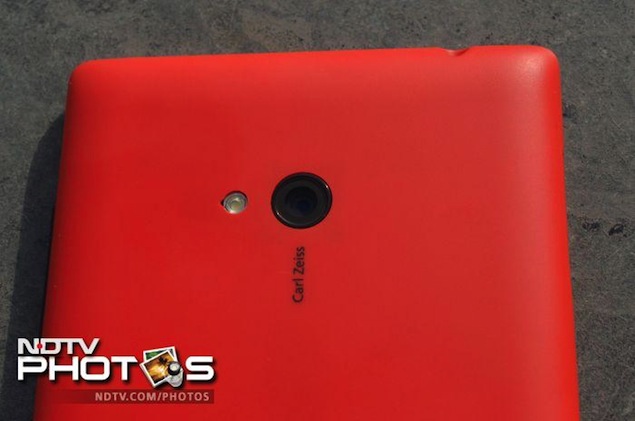 Similarly, Panorama is a horrible implementation of what has become a standard feature in most phones. Instead of holding up your phone and just moving it around to take a Panorama, NOKIA chose to go a peculiar way. Click a photograph and watch it appear on the left most corner of your screen and stay there. You are then expected to align this picture with the real world view that you see on your screen, and when the two are perfectly aligned, click another one. And so on, so that the phone can 'stitch' these photos together. This definitely feels like an implementation from a bygone era that people are unlikely to put up with to click Panoramas from their Nokia Lumia 720.
Of course, the 720 is not the only phone that suffers from these drawbacks, as the other Windows Phone 8 members of the Lumia family use the same lenses.

In case you are wondering, Bing Vision can be used to scan QR codes and Microsoft tags.
The Lumia 720 is capable of recording only 720p video, which may disappoint the spec crazy, but is unlikely to be missed by most. There's no fancy stuff like image stabilisation - as found in the Lumia 920 - still, the smartphone is capable of taking decent videos. The built-in mic does a capable job of picking up the sounds, and the audio quality is good as well.
The 1.3-megapixel front camera can record 720p videos. Like most front cameras, it does a good job for video chats, and still photography in well-lit conditions, but leaves a lot to be desired in dim lights.
Software/ User Interface

Nokia Lumia 720 runs on Windows Phone 8, which means there isn't much room for customisation, other than preloading certain apps. Similar to its other Windows Phone 8-running Lumia cousins, the 720 comes with a host of pre-installed apps like BIGFLIX (entertainment), BookMyShow (booking tickets), Cosmopolitan (lifestyle magazine), HERE Drive, HERE Maps, Hike (messaging), Nokia Music, TripAdvisor (travel), and Zomato (food/ restaurants guide).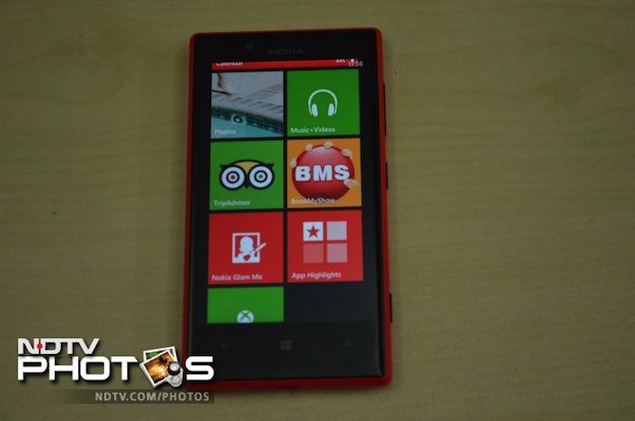 Standard apps like Internet Explorer, Office, One Note, Wallet, and the experience is no different than any other Windows Phone 8 device. As mentioned in the Camera section, the phone comes with some lenses, which also show up as stand-alone apps. These are Bing Vision, Cinemgraph, Nokia Glam Me, Panorama and Smart Shoot.PhotoBeamer is another interesting app that lets you beam your photos to any computer over Wi-Fi, providing an instant, wireless slideshow you can see over a large screen. During our tests, this worked as advertised.
Xbox games is your gaming hub, where most games get installed by default. You can maintain your profile and do other related activities.
We are big fans of the Transfer My Data app, which imported contacts and messages from our old Nokia phone over Bluetooth with minimum fuss. Another one of our personal favourites, the Drive app performs great as ever, and it remains our preferred navigation app on any platform, even above Google Maps. Nokia Music - with free, downloadable, DRM-free music for a year, is always well received as well.
Performance/ Battery Life

The Nokia Lumia 720 handles pretty much everything you throw at it without any hiccups. Yes, there's no quad-core processor, but you are unlikely to miss that in every day activities. From browsing, to playing music, to emails or editing Office files, everything goes off smoothly.
One area where we were keen to put Lumia 720 under the test was gaming. We installed quite a few games on our 720, including popular titles such Angry Birds, AE Bowling 3D, Ice Age Village, AE 3D Motor, 3D Brutal Chase, and AE Fruit Slash. We were able to play all these games without any hiccups.
One disappointing aspect of the Lumia 720 is the 512MB RAM, which means we couldn't even install games like Temple Run that need 1GB RAM. While we are disappointed with Nokia's decision to ship with half the RAM of what many cheaper Android phones are shipping with, we hope developers of games such as Temple Run can optimise their apps not to be so resource hungry. Perhaps that is an issue for Microsoft to address as well, as devices with much lesser RAM are able to run these games fine on other platforms.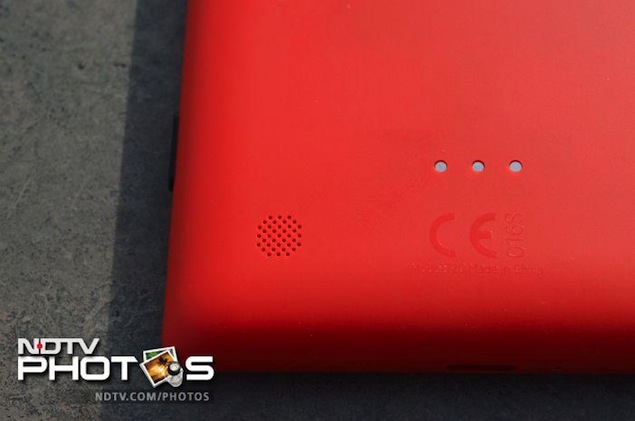 Call quality on the Lumia 720 is rock solid, like most other Nokia phones. We are no fans of having loudspeaker on the back of the phone, since the sound gets muffled when the phone is lying face up, and, sadly, the 720 suffers on that front. The loudspeaker output is otherwise quite good. The phone takes a Micro-SIM and comes with expandable storage via a microSD card.
The Nokia Lumia 720 is unlikely to need a bail out in the middle of the day as far as battery life is concerned. On a full charge, we were able to get more than 26 hours before reaching for the charger, with the phone on 3G all the time and the screen set to full brightness. We also had three email accounts, two Twitter accounts and one Facebook account configured with notifications enabled, along with some amount of browsing, checking & sending emails, Twitter & Facebook usage, clicking pictures, and listening to our favourite songs on Nokia Music - or as we call it, just another day.
Verdict

At Rs. 18,999, the Nokia Lumia 720 is a really attractive proposition. The phone checks all the right boxes, from great looks, to a camera that performs quite well, and hardware that handles pretty much everything you throw its way. Yes, Windows Phone still has a long way to go before it can begin to compete with Android and iOS, but unless you are someone who must have access to the latest apps, it will do the job for you, since most popular titles, barring a few high-profile exceptions (like Instagram) are already here.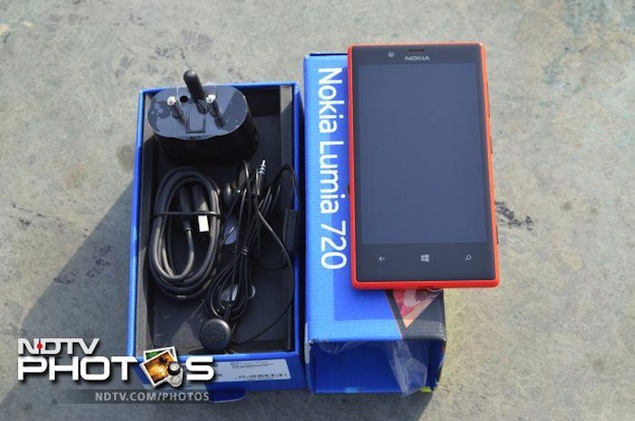 In terms of pricing, the Lumia 720 is sandwiched between the Micromax A116 Canvas HD (Review | Pictures) and Samsung Galaxy Grand Duos (Review | Pictures), but we recommend the Nokia, since it delivers a great design and a better camera, while maintaing a real-world performance that is at least comparable to its Android-based rivals.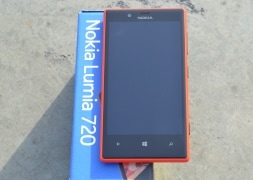 Nokia Lumia 720 in pictures
Price: Rs. 18,999