It's a time of change. The Nokia we've known ever since mobile phones first appeared has finally been acquired by Microsoft and is now officially a subsidiary of Microsoft's Devices Group, which handles the Xbox and Surface product lines. The Lumia 630 is the first new phone out the door since the deal went through, but it's obviously been under development for quite a while. Still, it's obvious that things have changed - subtly but surely, this is the start of something new.
The dual-SIM version of the Lumia 630 has launched in India, and it's the first device to run the new Windows Phone 8.1 update. Interestingly, it isn't a clear replacement for the Lumia 620 - it's a bit cheaper than the 620 was at launch, but is also in a lower segment.
With new hardware and new software to boast of, the Lumia 630 could be quite potent package. Let's take a closer look.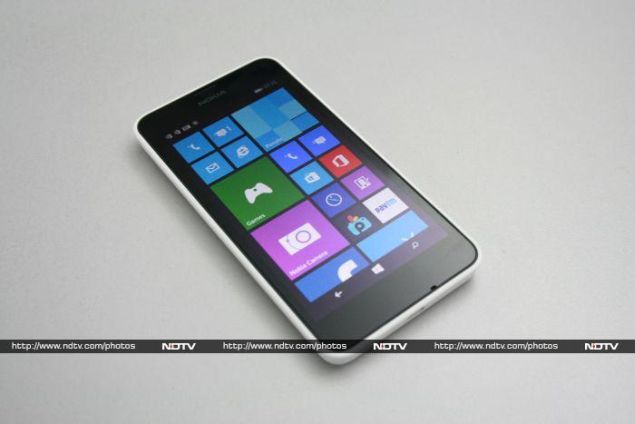 Look and Feel
Nokia seems to have been able to come up with dozens of variations on the same theme: colourful polycarb shell, black front face, buttons all on one side, and simple lines, but different shapes and curves. The 630 is no exception, although this time the shape is more flat and blocky than usual. It's a clean rectangle with sides that taper towards the back, making it fairly easy to grip. The rear bulges only very slightly.
Our review sample had a matte-textured white shell. It's definitely nothing like the high-gloss finishes we've seen on some other Lumias, and unfortunately it began picking up dirt and scuffs from almost the first time we set it down on a table.
The front face is blank apart from a Nokia logo up top, since navigation is taken care of by on-screen soft keys now. The power button and volume rocker are on the right edge, but there's no camera shortcut key now. The left edge is totally blank, and the top and bottom have only the headset jack and Micro-USB port each. The back is almost completely blank, with only the camera lens and a round speaker hole to be seen, apart from a faint Nokia logo in the middle.
We don't usually concern ourselves with the boxes that phones come in, but we have to note that Nokia (rather, Microsoft Devices), has switched to a flat, white design, ditching the blocky blue rectangles we've seen with every Lumia release so far. More to the point, the Lumia 630 does not come with a headset or even a USB cable. The charger has a fixed wire with a Micro-USB plug, and we really have to wonder how much money the company will save by not shipping a standard charger head with a removable USB cord.
Features and specifications
The Lumia 630 has a powerful enough processor, the trusty Qualcomm Snapdragon 400. It's a 1.2GHz quad-core system-on-a-chip with integrated Adreno 305 graphics. There's only 512MB of RAM which is a significant step down from the 1GB found in the cheaper Lumia 525.
As other manufacturers have done recently, Nokia has used a dedicated processor for sensor input which allows the main SoC to power down and save battery life. The SensorCore, as it's called, ties in to the Bing Health and Fitness app which can act as a pedometer and activity tracker. This won't be a big feature for the Lumia 630 considering it lacks advanced sensors, but higher end devices such as the upcoming Lumia 930 will take better advantage of it.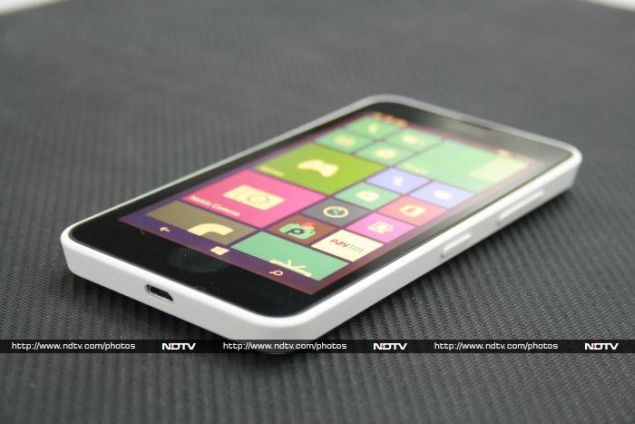 You get 8GB of built-in storage space, which is somewhat offset since Nokia says up to 128GB microSD cards are supported. The screen is 4.5 inches diagonally, but has a lowly resolution of 480x854 pixels. This is by far the lowest pixel density we've seen in a long time, and it's very evident at first glance that this is not a premium quality display at all. It's duller than we've come to expect from Nokia, with less-than-impressive colour accuracy and poor viewing angles. The Windows Phone interface isn't terribly grainy, but text in apps and on websites reminds us of what used to be considered high-quality a decade ago.
The screen is proportionately a bit taller than the one on the Lumia 525, and its resolution is very slightly greater than 16:9 which is a good thing because a bit of vertical space is lost to the on-screen buttons (which are almost permanently visible).
Wi-Fi and Bluetooth support is up to date, and there's also GPS. The only sensor seems to be an accelerometer - there isn't even an ambient light sensor to help adjust screen brightness automatically. All in all, the Lumia 630 has a somewhat unbalanced list of features - it's outclassed in some areas by other phones in its price range.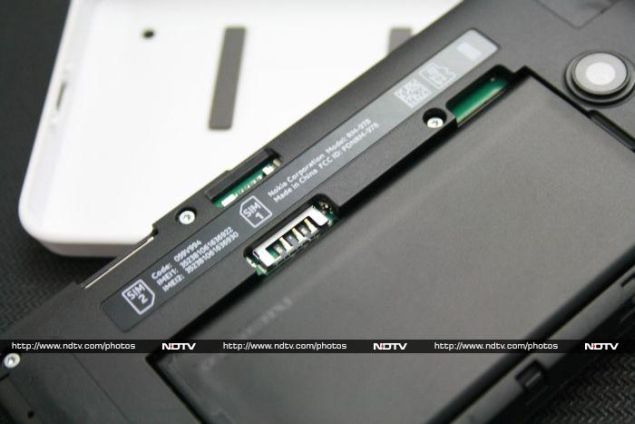 Software
The biggest story of course is Windows Phone 8.1. Microsoft's update is fairly significant, with plenty of improvements both major and minor. The one thing Microsoft can boast about abroad is Cortana, its version of a voice-based intelligent assistant, but that it doesn't work in India. Tweaks to get it running do exist, but for all practical purposes, this isn't a feature to take into consideration yet.
The other visible change is - finally - the addition of a notification shade, which Microsoft has named Action Centre. Just like in Android and iOS, you can swipe downwards from the very top of the screen to pull down an overlay which displays notifications you haven't dealt with yet. When you pull down the Action Centre shade, you'll see expanded information about your notification bar icons, such as the battery level in percent. There are also four handy shortcuts: Wi-Fi, Bluetooth, Camera and Brightness, and you can swap these out for other choices, but can't have more than four.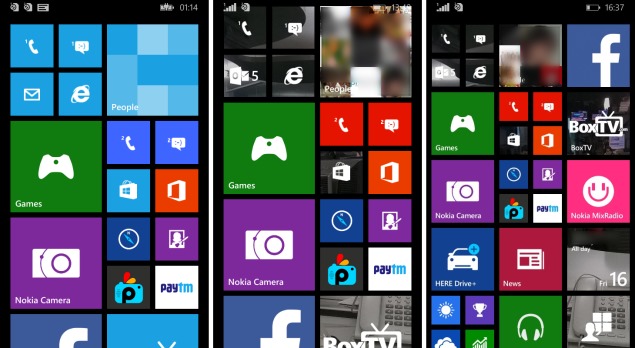 The brightness control is handy since the Lumia 630 doesn't adjust it automatically, and the camera shortcut somewhat makes up for the loss of the dedicated physical button. We would have liked to have had more shortcuts, but have to make do with clicking through to the Settings app.
The much-publicised background photo option only works well with some photos, and if you arrange your Start screen tiles carefully. Simple patterns work better than actual photos. You can also fit a third column of large tiles, but this looked terrible on our Lumia 630 thanks to the low-res screen.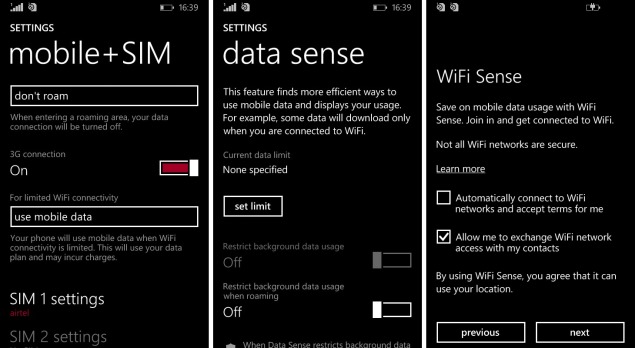 The Lumia 630 is the first dual-SIM Windows Phone, so there are a few unique touches in this regard. For starters, there are two distinct phone and messaging apps, which is a very odd and potentially confusing way to handle things. The icons for each SIM card are only slightly different in colour (and the first set goes transparent if you use the new background photo option). You'll have to deal with fragmented call history lists and inboxes, although the contact list is shared and you can choose to send a message or make a call from a different SIM even from the other SIM's apps. This could help keep work and personal communications separate, but not everyone will like this approach.
There are a new few apps and tweaks too - Battery Saver does exactly what it sounds like and lets you check which apps have been draining your battery the most. Data Sense allows users to define cellular data usage limits, and Wi-Fi Sense is a unique tool that can automatically sign you in to password-protected Wi-Fi hotspots that your friends have used in the past. Yet another tool called Storage Sense lets you manage apps, clear caches and swap things around between the internal storage and microSD card.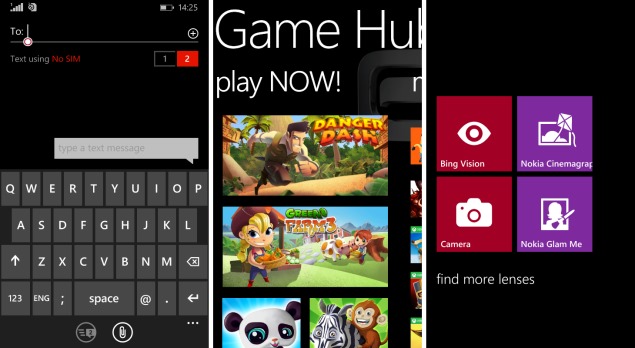 Less visible are tweaks to the keyboard, which now lets you drag a finger between letters, Swype-style. Skype and OneDrive are more deeply integrated, and Internet Explorer has received a few improvements under the hood. While a lot of common complaints have been addressed, the Windows Phone experience is still not without its own unique problems. The on-screen buttons are visible even when playing video full-screen, the Back button still behaves illogically, and the Marketplace is still highly lacking, compared to the Google Play store and iOS App Store.
Nokia had a proud tradition of improving upon Microsoft's work even further. The Lumia 630 comes with a set of additional features collectively known as Lumia Cyan, which includes an extended set of photography apps. Also present are Nokia's other trademark features, Here Maps, Here Drive+, and Nokia MixRadio. Surprisingly, the highly useful Glance screen, which in other Lumia models lets you see notifications while the screen is off, has been cut out.
The Lumia 630 comes with a lot of third-party apps too: BoxTV, Evernote, Facebook, Flipkart Ebooks, Gameloft Gamehub, Line, PayTM, and Zomato.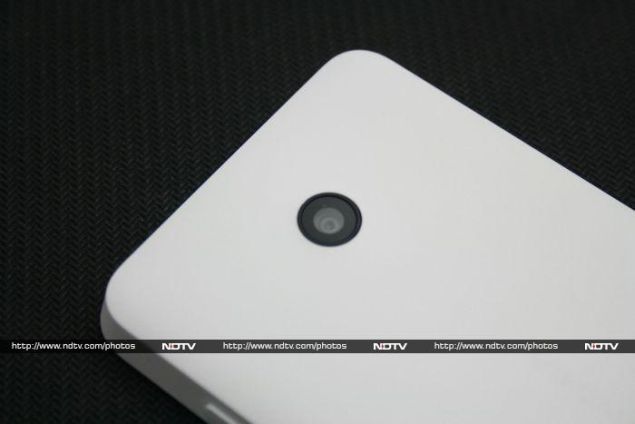 Camera
Nokia always throws in a lot of camera apps, and this time we have Cinemagraph, Creative Studio, and Glam Me for a variety of effects ranging from animation to face enhancement. Options in the Nokia Camera app include shutter speed and manual focus, and you have quick access to ISO and white balance settings.
We were very impressed with the photos we took in daylight. The details and clarity were good enough to make us think our test shots had been taken with phones which cost twice as much. Things weren't as great indoors, and we saw noise increase drastically even in pictures of our well-lit office floor. Photos taken at night were full of noise and lacked detail. Video was blocky and compressed, with an artificial quality to it.
We would have been grateful for a flash, but we didn't miss having a front camera as much. At this price point, a front camera would be so low quality that we'd rarely use it anyway.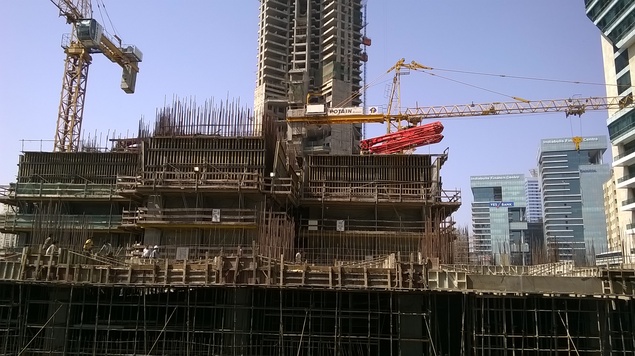 (Click to see full size)

Performance
As expected, Nokia and Microsoft's curious decisions regarding the Lumia 630's configuration made a big impact on the device's performance. The biggest issue we ran into was that some tests, such as GFXbench, simply could not be installed thanks to the low amount of RAM. Users will face this problem with other apps as well. The two companies might have decided that 512MB was enough for WP8.1, but again, we wonder how much it would have hurt to go with 1GB.
Benchmark scores in other tests, such as SunSpider and the Windows Phone version of AnTuTu were slightly higher than or at par with those for comparable WP8.0 phones, such as the Lumia 525, but well below those of the mid-range Lumia 1320.
The interface feels smooth enough, but Web browsing was a bit laborious and even non-HD video clips often felt jittery. We aren't confident that the Lumia 630 will hold up for more than a year or two, especially if you load it up with apps, and if future OS updates require beefier specifications.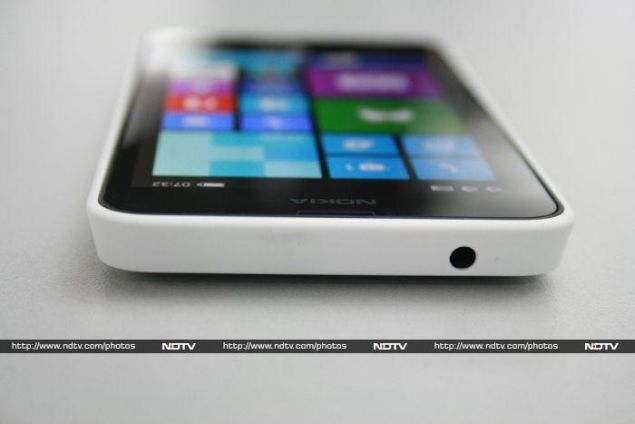 The screen's low quality was very apparent when watching videos. It isn't completely terrible, but we're now used to at least 720x1280, and there is a perceptible difference.
Battery life was impressive at just a shade over 11 hours in our video loop test. We're confident that we could use this phone intensively through a full day of work and not be left scrambling to find a power outlet.
Verdict
We're happy with most of the improvements we've seen in Windows Phone 8.1, but there is still work to be done. We hope minor issues such as the always-on soft buttons are taken care of soon, and we look forward to spending more time with the Sense tools. That said, we have a few reservations when it comes to the Lumia 630 itself.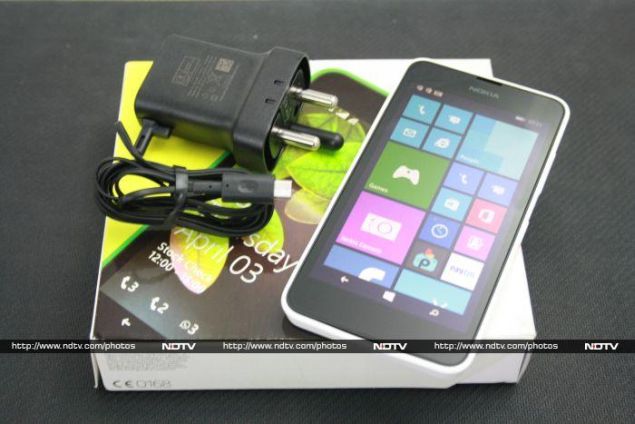 It's a solid workhorse phone with good construction quality and phenomenal battery life, and of course the assurance of Nokia's brand name and dealer/service network are big plusses. It's also stylish, and some people do respond very well to Windows Phone's unique look. What it comes down to is the Lumia 630's fairly unique combination of capabilities - if you like Windows Phone and need a dual-SIM device with a large screen, you'll be happy with it. If you care about gaming, movies or longevity, you should seriously think of spending just a little more money for a better device.
The step down to 512MB RAM and the absence of a flash are inconvenient, not dealbreakers, but customers who choose Android phones in the same price band won't have to make similar compromises. Moreover, there are also far better phones such as the Moto G which cost only very little more. We feel as though the Lumia 630 will be more competitive once its price drops by around Rs. 1,000 - 2,000.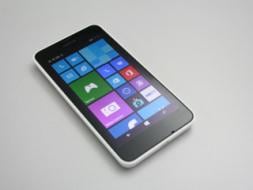 Nokia Lumia 630 Dual SIM in pictures