Motorola, now completely under the control of Lenovo, launched its Moto Z platform and Moto Mods accessories just over a year and a half ago. At the time, we were promised that at least three generations of Moto Z phones would be compatible with the original mods. The company hoped that customers would get on board if they had some assurance that their investments would last longer than the lifespan of the average smartphone.
That's a legitimate concern for buyers, given that previous experience with modular devices or dedicated accessory ecosystems hasn't always worked out - the prime example being LG's ambitious G5 in 2016. Moto's mods are all single-purpose devices with no external connectivity that would allow them to be used with other phones. In our review of the Hasselblad True Zoom camera, JBL Soundboost speaker and Moto Instashare projector, we pointed out that each one of them was more expensive and less versatile than a fully functional standalone equivalent.
Motorola needs to keep up its end of the bargain, and it's about time that it released a new flagship model to replace the original Moto Z (Review). It's called the Moto Z2 Force, and we're going to check it out from the perspectives of new buyers as well as those who might already have invested in the Mods ecosystem.
Moto Z2 Force design
Because of the magnetic snap-on design that Motorola committed to with the original Moto Z series, the company is constrained in terms of what it can do with its successors. The new Moto Z2 Force has almost exactly the same height, width and curvature as its predecessor. It's just 6.1mm thin and weighs only 143g without any mods attached.
Another thing this phone has in common with the original Moto Z is that there are thick borders above and below the screen. If these were noticeable before, they practically scream for attention now in the era of borderless screens. The lack of an 18:9 panel also puts this phone at a disadvantage compared to its present-day competition. Previous Moto phones have used the Force suffix to signify physical resilience, and with this one, the company is boasting of what it calls ShatterShield glass which is meant to be super-tough. We didn't try dropping this phone to see how well it would hold up, but we could see and even feel dozens of scratches all over the front face after just a few days of perfectly ordinary use.
There's a big front-facing flash above the screen. The fingerprint sensor wakes the phone when it's in standby but also does the reverse. We had to train ourselves not to tap it as if it was a Home button, because that just turned the phone off when we were trying to use it.
This phone is only available in black, and unlike with the original Moto Z, there's no Style Shell mod in the box. These are simple, snap-on cosmetic panels that cover up the magnetic contact points and camera bump. The black brushed metal finish of the phone looked good to us, but not everyone will be happy with the exposed gold Moto Mods connector and the enormous camera bump. You'll be able to feel the protrusion when the phone is in your pocket, but on the other hand, the resulting incline when it's resting on a table is quite handy. Thankfully, it isn't hard at all to grip this phone without any mods attached.
The power and volume buttons are on the upper right, but they're way too stubby and are positioned too close to each other. Using them to take a photo or screenshot is pretty inconvenient. At least the power button has a bit of a texture so you can distinguish it by touch alone, but this shows a surprising lack of attention to detail. There's a hybrid dual-SIM tray on the top, and a USB Type-C port at the bottom. The regulatory text is also on the bottom and it's unusual to see it printed so prominently, which we didn't like at all.
There's no 3.5mm audio socket but the wired headset that Moto includes with this phone has a 3.5mm plug. You'll have to use it with the included USB Type-C adapter which feels unnecessarily awkward. You also get a relatively compact 15W TurboPower charger, a USB Type-C cable, and two pairs of rubber eartips in different sizes in the box.
Overall, this is a well-built phone, but it falls short of the slick, premium feel that we expect at this price level - and that's without bulky mods attached to the back. It claims to have a water-repellent nanocoating, but lacks an IPxx rating for water and dust resistance. If you don't need the functionality of the Moto Z ecosystem, you might find that you're happier with a OnePlus 5T (Review).
Moto Z2 Force specifications and software
The Qualcomm Snapdragon 835 is just weeks away from being dethroned as the processor of choice for flagship phones, but it's still a powerhouse. According to Motorola, it's augmented by additional chips to accelerate natural language and contextual processing. There's 6GB of RAM (as opposed to 4GB in other countries) and 64GB of storage. You can use a microSD card of up to 2TB though you'll be sacrificing the second SIM slot to do so. On the bright side, you get free unlimited cloud storage for your photos at their original size for two years.
The 5.5-inch screen is incredibly sharp thanks to its QHD (1440x2560-pixel) resolution. There are two 12-megapixel rear cameras with a dual-tone LED flash, and a 5-megapixel front camera with its own flash. 4G and VoLTE are supported, along with dual-band Wi-Fi ac, Bluetooth 5.0, NFC and GPS, but there's no FM radio. The battery is relatively small, at just 2730mAh, which explains the slim body.
We're happy to see Android 8.0 here. Moto phones used to be known for embracing stock Android, but that isn't entirely true anymore. The first thing we noticed was custom home screen icons with a prism effect that clashes with the minimalism of Google's own designs. There's a Google Feed screen to the left of the main homescreen, which you can turn off if you like. Interestingly, the home screens all rotate when you turn the phone 90 degrees, which is not something we see commonly.
You get Android 8.0's notification dots feature as well as contextual action menus and notifications when you long-press on any app's icon. The quick settings panel has shortcuts for the projector and battery Moto Mods front and centre, displacing potentially more useful ones (though you can rearrange these at will). The Settings app also has provisions for the Mods, and when using the Turbopower Mod you can check its charge level just as easily as checking the phone's own battery.
The Moto app shows options for a few customisations that we would have expected to find within the main Settings app. There are gestures for things like launching the camera app and triggering one-handed mode. Night Display is a simple blue light filter, while Moto Display shows notifications on the standby screen which you can reply to with text or even voice dictation.
Finally, Moto Voice is a voice command feature that lives alongside Google Assistant. It responds to "Show me..." commands even if the phone is in standby or you're running an app. It shows information on screen rather than reading it out to you, and people might find this preferable to the usual conversational voice assistants. You need to train the phone to recognise your voice, and it shouldn't respond to anyone else. You can also allow it to bypass your screen lock code, though a popup warns you that a recording of your voice could be used to reveal private data.
There's a Device Help app with a user manual, simple diagnostics, a warranty status checker, and support links; Wallpapers, which offers up a selection of images for you to use; and Moto Z Market which is like a catalogue of Moto Mods and other accessories, though there's no way to buy them directly through the app and no links to other stores which seems like a missed opportunity for the company. You get all the usual Google apps but thankfully there's no third-party bloatware.
The Moto TurboPower Mod
Adding a projector, speakers or DSLR-quality camera to your smartphone might sound like fun, but we found each of the Mods we've reviewed before to be clunky and unlikely to be useful enough to justify their cost. However, the TurboPower pack is completely different. This Mod is slim enough to stay permanently attached to your phone, and has a distinct, clear purpose that everyone can immediately see the value of. Most importantly, it comes with the Moto Z2 Force at no extra cost.
It snaps onto the back of the phone like every other Mod, and the hold is secure enough that the whole thing felt like one single unit. It more than doubles the thickness of the phone, swallowing up the camera bump, but the combined weight shoots up to 238g. Still, that isn't too bad compared to walking around with your phone inside a bulky battery case, or worse, trying to balance a phone plus power bank and wire in one hand.
There are four LEDs on the back to show you the battery level, and a USB Type-C port on one side for charging independently. The only thing we didn't like is that the ribbed rubber coating diminishes the premium feel of the Z2 Force's metal body, and gives the phone a split personality.
Using the TurboPower Mod isn't like plugging your phone into a power bank. The Z2 Force recognises it, and there's a level of integration that we've never seen before. There are two modes that you can choose from using the modified Settings app. Turbo Mode is for when the phone battery is running low and you want to pop the Mod on for a quick boost, just like plugging in a Moto TurboPower charger. Efficiency Mode is for when you want to leave the Mod attached all the time. It will kick in when your phone's battery dips below 80 percent, and will then trickle-charge the phone so that it stays at that level until the Mod runs out. In practice, this essentially feels like you have one massive battery.
Unlike the Incipio Offgrid Mod which is also a snap-on battery, this one doesn't support wireless charging. You can charge the Mod separately though its own Type-C port, but it will also be topped up if you plug the phone in with it attached, which means you have one less thing to worry about. This accessory alone could seal the deal for travellers or people who need to use their phones heavily with little downtime for days at a time.
Moto Z2 Force performance, cameras, and battery life
As expected, given its high-end hardware and lack of a bloated UI skin, the Moto Z2 Force is pretty snappy in day-to-day use and we didn't feel it lagging or slowing down in any situation. However, the rear of the phone did get warm when we were doing pretty much anything more intense than typing a text message. Benchmark tests and games caused the rear to heat up to the point that we had to shift our grip now and then - that might be the price to pay for having such a thin body.
Speaking of benchmark tests, the Moto Z2 Force gave us some pretty impressive scores. We got 210,171 points in AnTuTu 7, as well as 799 and 2,474 respectively in GeekBench's single-core and multi-core tests. PCMark Work 2.0 gave us 6,756 points and Basemark Web returned a score of 116.18. 3DMark's Ice Storm Unlimited test managed 19,406, while the Sling Shot test score was 4,960. GFXBench's T-Rex scene maxed out at 59fps and the Manhattan scene ran at 25fps.
The screen is crisp and bright, but colours are a little too saturated for our liking. Large areas of red in particular, such as the title bar of the Gadgets 360 app, can overwhelm any other content on screen. The overall tone is a bit warm, but this pOLED panel doesn't suffer from the same colour shifting issue that we've seen on the Google Pixel 2 XL (Review) and the LG V30+ (Review). You can switch from the default Vivid colour profile to Standard. It seemed to take things too far in the opposite direction when we first switched, making everything look dull and washed out, but we got used to it pretty quickly.
The earpiece doubles as this phone's sole speaker, and it's pretty loud and powerful. The positioning works well for video clips and games, and there's actually a depth and richness to the sound it produces. A second speaker below the screen for front-facing stereo, like on previous Moto models, would have been brilliant here. The bundled headset is also quite good for music and is very comfortable to wear.
The secondary rear camera allows for some tricks that are unfortunately buried in the camera app's menus and post-processing options. Shots taken in Depth Mode can be given the standard bokeh effects or selective colour, which means you get a monochrome frame with only elements that you choose retaining their colour. The camera also has a monochrome mode which uses the secondary sensor.
We were extremely impressed with the quality of photos that the Moto Z2 Force takes. Our sample shots had a brilliant amount of detail and held up extremely well under scrutiny at full size on a large desktop monitor. Colours were natural, and exposures were balanced nicely. Interestingly, we were able to get shots with impressive depth of field without the Depth Mode, and they looked much more natural.
As happy as we were in the daytime, it's night photography that truly takes the Z2 Force to another level. Many of our tests shots came out looking like we had used artificial lighting, and there was barely any grain even on fine textures. We were able to discern objects in dark corners where many other phones have produced only black frames.
You're limited to 30fps for video captures at 4K. 1080p goes up to 120fps and 720p goes up to 240fps in Slow-mo mode. There's no stabilisation, but there is an "anti-shake" toggle which seems to help. Our test results were predictably crisp and we had no complaints. The front camera is also good though the front flash can be absolutely blinding.
Tap to see full-sized Moto Z2 photo samples
Despite its relatively low capacity, the Moto Z2 Force's battery lasted a respectable 10 hours, 52 minutes in our HD video loop battery test. We were able to go from morning to night with regular use plus some light Web surfing and casual games, but noticed that the battery level would drop quite a bit when playing 3D games and streaming video. Quick charging is always good to have and this phone can go from zero to 20 percent in roughly ten minutes, though it gets uncomfortably hot in the process.
With the Mod attached and running in Efficiency Mode, our video loop test ran for an incredible total of 25 hours, 4 minutes. Over the course of a full day, with roughly the same amount of time spent playing games and streaming media, we were able to exhaust the TurboPower Mod. The phone's own battery still had 78 percent remaining to take us through most of the next day.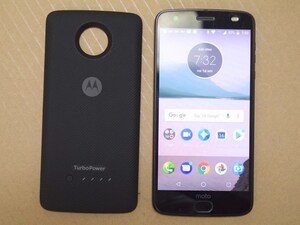 Moto Z2 Force and Moto TurboPower Mod in pictures
Verdict
On its own, the TurboPower Mod is priced at Rs. 5,999, and would suffer from exactly the same problems as the rest of the Mods since you could buy a power bank with thrice the capacity for well under Rs. 1,000. However, the combined cost of Rs. 34,999 for the Moto Z2 Force plus this Mod makes for a compelling package deal that seriously one-ups the OnePlus 5T (Review). Many people have been saying for years that they'd choose a thicker phone if they could have multi-day battery life, and now, in a sense, you can get the best of both worlds.
Our Battery Life and Value for Money ratings reflect the fact that you get a TurboPower Mod effectively for free when you buy the Moto Z2 Force in India, and the two halves work really well as one single device rather than a phone plus accessory. Motorola is calling this a "limited edition" launch so watch out for changes in pricing and bundles down the line.
With or without the TurboPower Mod, the Z2 Force is a great phone with only a few flaws. It doesn't look as slick as its competition, and it gets warm when stressed. The ease with which the glass front picked up scratches was our biggest concern. On the other hand, we were more than impressed with this phone's cameras and general performance.
If you're looking to replace a first-gen Moto Z or Moto Z Play and have invested in Mods already, you won't be disappointed at all with the Z2 Force. In most ways this phone matches or exceeds what the OnePlus 5T offers.