Motorola seems to be targeting the price-conscious smartphone market with a vengeance. We already know that the budget Moto G has set cash registers ringing around the world, but Motorola hasn't taken its eyes off the mid-range smartphone market either.
Less than two months after the release of the Moto G, comes the company's flagship, the Moto X. The newest member of the Motorola family is squarely aimed at delivering more in terms software, camera, and design without compromising on performance.
When Motorola first announced the Moto X in August last year following its acquisition by Google, it seemed as though the company wanted to position this mid-range device as a premium offering, relying more on design than hardware specifications.
The Moto X has only now made its way to the Indian market, while people overseas are talking of its successor. Thankfully, Motorola has priced it quite reasonably. If it wants to win back any of the market share it has lost in recent years, this is a good way to begin.
Motorola was once known for its ability to churn out solidly built handsets that performed and did not cost the Earth. The Moto X is a blast from that glorious past, with some neat OS features thrown in as well. Will the Moto X be able to revive the mid-range segment? We try to find out.
Look and feel
There's clearly a family resemblance between the Moto X and Moto G. The Moto X isn't a successor or variant, however, and was actually the first new device launched by Motorola under its new leadership; months before the Moto G. In our case, the G came first, so we inevitably wind up comparing the X to it.
The Moto X certainly has a premium look, when compared to the Moto G which has a thicker profile.The Moto X features a body made out of PET composite, a durable plastic; although feels rugged and is surprisingly lightweight.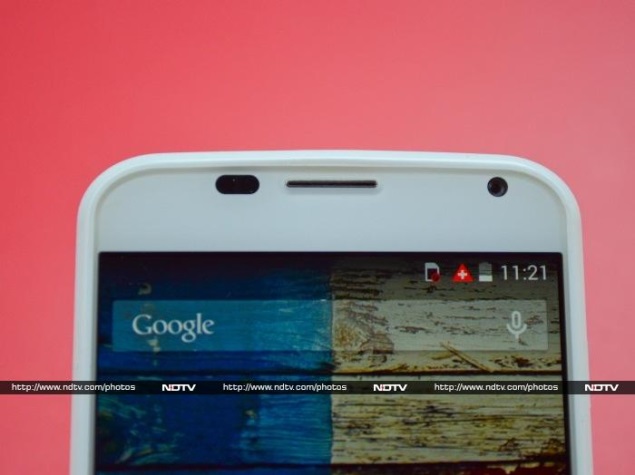 Our review unit was white, but this handset is also available in Black, Red, Royal Blue, and Turquoise. It's worth mentioning that Flipkart, the exclusive e-commerce partner of Motorola in India, is also selling the Moto X with two wood finishes: Teak and Walnut.
The Moto X set a new standard and identity for Motorola's design, which was followed by the Moto G. However, the Moto X is different from its cheaper sibling in a few ways. It's definitely sleeker, measuring 129.3x65.3x10.4mm compared to 129.9x65.9x11.6mm for the Moto G. At 130 grams, the Moto X is also lighter than the Moto G (143 grams).
The front face is almost completely bare of any physical buttons or branding. With the screen off, you can just about see the edges of the screen that dominates the front panel. Above the screen, there's a rather prominent earpiece grille alongside the regular assortment of sensors, and a clearly visible front camera.
The Moto X's front panel is dominated by a 4.7-inch screen, which is only marginally bigger than 4.5-inch one on the Moto G. The front panel features a strip of glass around the screen that visually differentiates the plastic front and rear panels.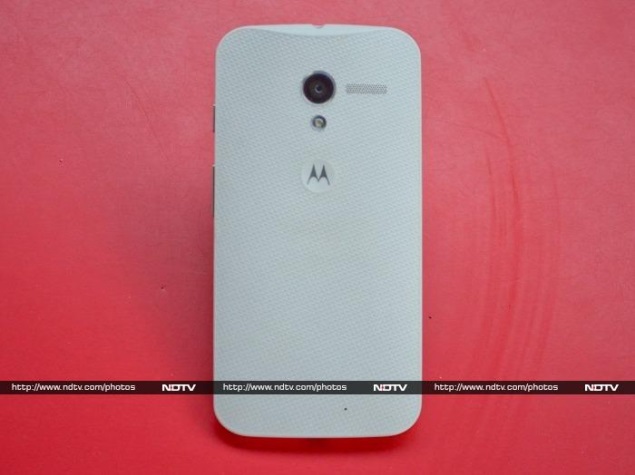 Unfortunately, the back panel on the Moto X is not swappable, as it is on the Moto G. The curved rear panel is made of a polycarbonate material, and is comfortable to hold. Notably, the rear panel has a pattern to it, though it is not actually textured.
The rear panel houses the primary camera accompanied by an LED flash and the loudspeaker grille. A Motorola logo is also embossed in the middle.
The key advantage here is ergonomics-the Moto X is easy to hold and use with a single hand. The volume and power buttons are all in same configuration as on the Moto G. The former Google-owned company seemed to have focused more on the device's width rather than its height, thanks to which the Moto X is actually easier to hold one-handed and it's also possible to reach most of the screen with just a thumb.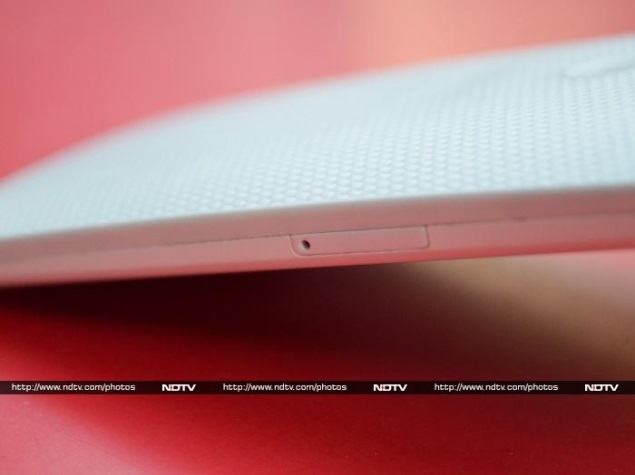 Much like the Moto G, the Moto X has also used a nano-coating that acts as light water repellent. This does not make the Moto X a waterproof device, but it does protect the smartphone from light splashes of liquids, which is an interesting touch for a smartphone in any segment. The sides have the Nano-SIM slot, volume rocker, and power key.
The Moto X impressed us with its slim, compact body. You get a feeling of awe when you hold the Moto X in your hands. This phone radiates understated class.
Features and software
The most interesting thing about the Moto X is that despite using an out-of-date Qualcomm Snapdragon S4 Pro SoC, the device manages to chug along just fine. This 1.7GHz dual-core CPU is coupled with a quad-core Adreno 320 GPU, and what Motorola calls a 'natural language processor' and a 'contextual computing processor'. Motorola calls this combination the X8 Mobile Computing System.
The purpose of these dedicated application processors is to allow the Moto X to constantly listen for voice commands and manage notifications without wasting power. The Moto X is thus definitely an example for those who have the wrong perception that more cores are better.
It comes with 2GB of RAM onboard, and there is 16GB of inbuilt storage, out of which only 11GB is user-accessible. Sadly, like most Google devices, the Moto X does not support expandable storage. Considering that the Moto X comes at a mid-range price, the limited storage on the device is definitely a major gripe for us.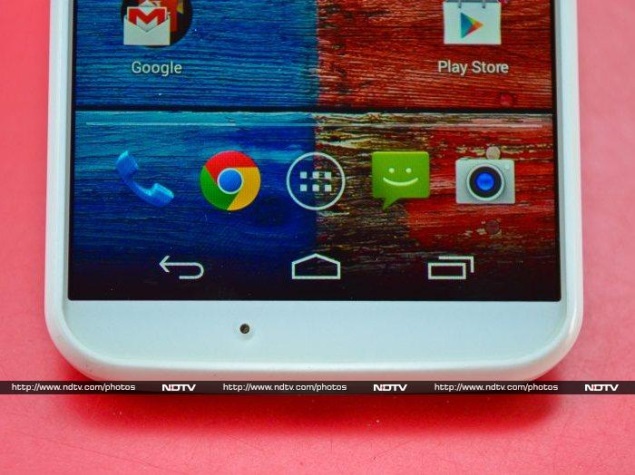 Motorola is offering 50GB of Google Drive space free for two years; however, cloud storage requires a fast Internet connection with a generous download limit, so this doesn't impress us much.
The Moto X features a 4.7-inch AMOLED display with resolution of 720x1280 pixels and offers a pixel density of 316ppi. The company has also used Corning Gorilla Glass on the device to give it strength.
The AMOLED screen on the Moto X was able to show full colours and deep blacks like many of Samsung's high-end Galaxy smartphones which also have AMOLED screens. Colours on the Moto X are quite vibrant and consistently reproduced well. Thankfully, viewing angles are never a problem. The display is not very reflective and visibility under the sun was acceptable.
Text on the Moto X was always crisp and clear against white backgrounds. Typing on the 4.7-inch touchscreen would be comfortable for most people, and there's always Swype for those with extremely large hands. After using the device for some time we feel that although it doesn't comes with a full-HD display, 316ppi is more than enough for a screen of this size.
The Moto X is a single-SIM phone with 3G but no LTE support. Connectivity options include Bluetooth 4.0 LE, Wi-Fi 802.11a/g/b/n/ac, GPS/AGPS, EDGE/GPRS and 3G (HSPA+).
One of the highlights of the Moto X when it launched abroad was its customisability. Buyers could choose from up to 18 rear panels, different colour accents for the ring around the camera lens, accents around the volume and power buttons, and have a personal message etched at the back of the phone. However, this option is not available in India. You'll have to choose from a few basic colour combinations offered by Flipkart.
The Moto X comes running Android 4.2.2 Jelly Bean; however the company rolled out an update to Android 4.4.2 KitKat in November last year. Much like Google's Nexus devices, the Moto X uses a stock build of the operating system, without any additional UI skinning. Notably, the Moto X features on-screen keys for Back, Home and Recents.
Thanks to the Android 4.4 KitKat, the Moto X features a number of visual changes including a new launcher, making the interface even more minimalistic. The first noticeable change in the UI is the transparent status bar and navigation key area at the top and bottom, which is reminiscent of the Nexus 5. The Moto X's lock screen features a small camera button that can launch the camera app directly.
Unfortunately the Moto X ships with an older app drawer that shows a second tab for widgets, unlike the new launcher on Nexus 5, which only features app icons.
Notifications on the Moto X can be expanded by pulling down with two fingers. There are also quick shortcuts for brightness, Wi-Fi, network, battery status, airplane mode, Bluetooth, and location settings.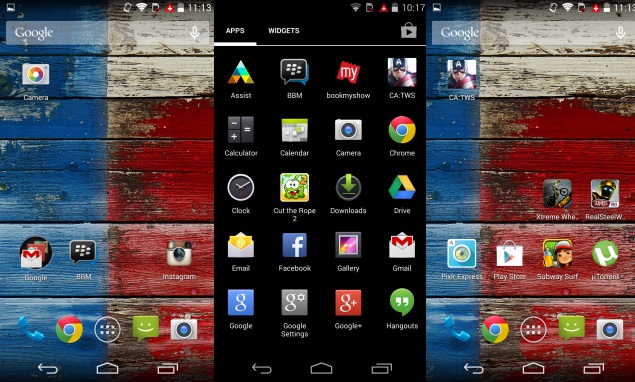 The Moto X features the revamped Phone app that now automatically prioritises contacts based on how often you talk to them. The Moto X also includes a new Photos app that lets you to see and edit local and Google+ images. The new Photos app features deeper integration with Google+ and can be used to enable tagging in photos. The old Gallery app is still included as well. The Email app on the Moto X is an overhauled version, which now displays the pictures of contacts for emails.
The Moto X also features Google Now, which can be launched by swiping up from the home button. For those unaware, Google Now is voice-based information assistant and an extension of Google search. It shows cards, which are essentially small boxes, which show different sets of information like a weather forecast, directions, traffic information, scores, appointments, currency conversions, etc.
Some of the Google apps that come preloaded on the Moto X include Google Drive, Keep, Play Games, Play Movies, Play Music, Play Books, Play Newsstand and Quickoffice for creating and editing documents, spreadsheets and presentations. Android 4.4 KitKat has also added the Print option to the Moto X. You can print documents through the Google Cloud Print plug-in, or via apps made by printer manufacturers.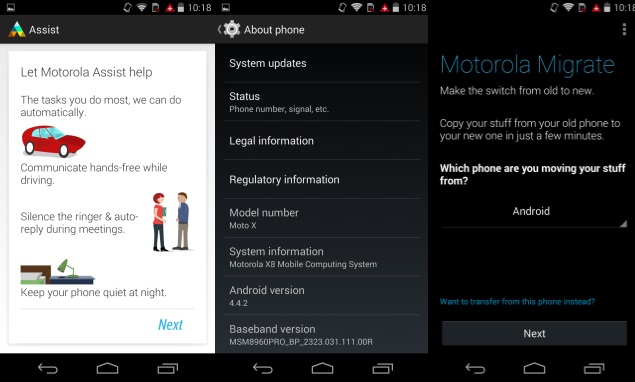 In addition, Motorola preloads two other major apps on the Moto X. Motorola Migrate can help move the contents of an old Android phone to your new Moto X. Motorola Assist allow users to silence the device while sleeping or driving. We tried it out, and noted that the app automatically rejected calls and sent a text message to callers at times when we told it we were busy.
The Moto X with its Android 4.4.2 KitKat OS is one of the most modern smartphones available in the mid-segment in India, perfectly sandwiched by the higher-priced Nexus 5 and cheaper Moto G.
Active Display, Quick Capture and Touchless Control
The real power behind Motorola's first device under Google, the Moto X, is not its hardware but the software that runs on it. The Moto X features Touchless Control, Quick Capture and Active Display, three features which make it unique in its segment.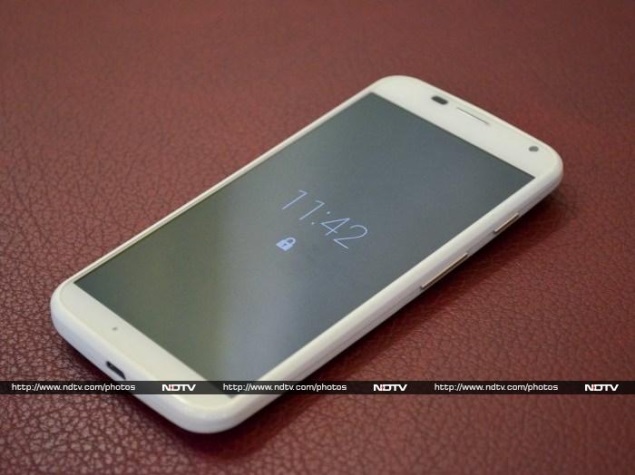 As teased by Motorola, Touchless Control means "Moto X responds to your voice, no touching necessary. And you can ask it just about anything."The feature was first seen in Google Glass and then in voice search on Chrome. It lets users control the phone with simple voice commands prefixed with "Okay, Google."
Touchless Control also lets users access Google Now, which is a voice-based assistant. The interesting bit is that you don't need to touch the phone or take it out of your pocket. If enabled, it always actively listens to the user and follows commands.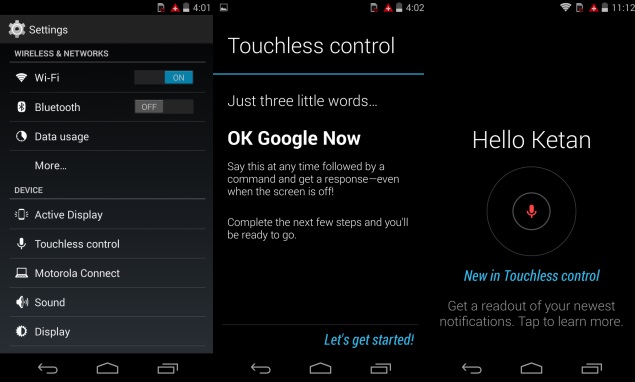 Touchless Control needs to be enabled in the settings. During the short setup process, the phone needs to record samples of your voice for recognition. After this, you can perform various tasks using voice commands, just as long as there's an active Internet connection at all times.
Another feature is Active Display, which Motorola touts as a new way to glance at the updates on your smartphone. AMOLED screens can selectively light up small areas without affecting the device's battery life much. This feature was earlier seen in some Nokia phones. You can see notifications for messages, calls and other events, as well as the current time, without having to unlock the phone.
Lastly, the Moto X features Quick Capture, which is a shake gesture that directly launches the phone's camera app. You can just shake the phone twice to turn on the camera to capture something spontaneously.
Camera
Motorola made a big deal at the Moto X's global launch and claimed that its RGBC feature in the primary camera can increase light sensitivity up to 75 percent. The 'C' in RGBC stands for Clear Pixel.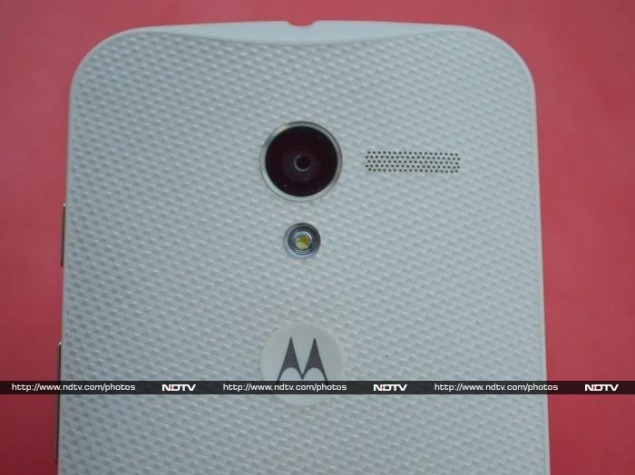 The Moto X sports a 10-megapixel rear camera which packs 1.34-micron sized pixels, which is considerably large when compared to some 13-megapixel sensors found in similarly priced handsets.
The camera app on the Moto X, much like the Moto G, is not stock and adds a bit of flavour to the otherwise vanilla OS. It has a circular control bar that pops out from the left of the screen when tapped.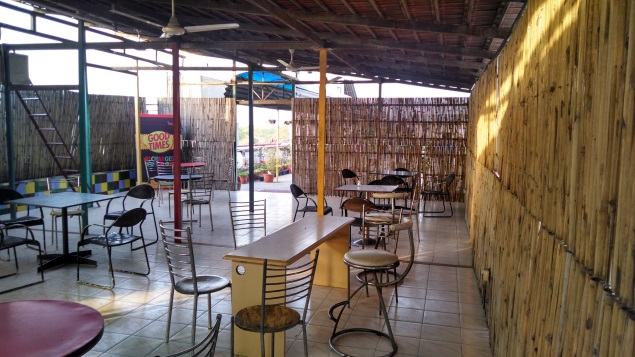 It includes features such as 4X digital zoom, slow motion video, burst mode, auto HDR mode, geo-tagging, panorama, and tap to focus. The Moto X's burst mode allows users to take up to 99 shots at once; users just need to long-press the shutter release key on screen to start shooting. There are no ISO and exposure control settings on the Moto X, a feature that we missed on the Moto G as well.
Many compare the Moto X's camera with the one found on the Nexus 5. However, a big difference is OIS (optical image stabilization) - the X doesn't include it.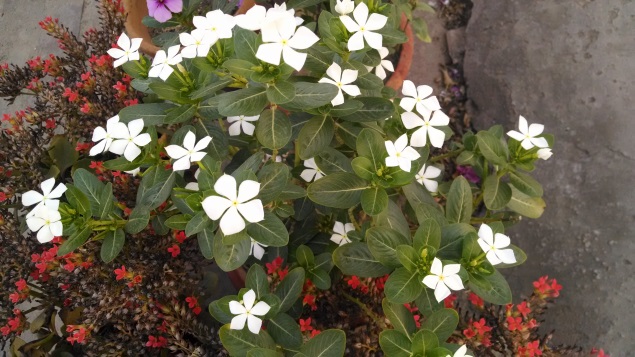 We did limited testing of the Moto X camera in outdoor, dim and indoor conditions and found that images taken outdoors during daylight came out well except that colours were a little over-saturated, and at times had noise at the edges of objects. You can also see missing details if you zoom in to an image, especially on taken in low-light conditions. Other than that, we found the quality of the images captured by the Moto X taken in sufficient light to be satisfactory.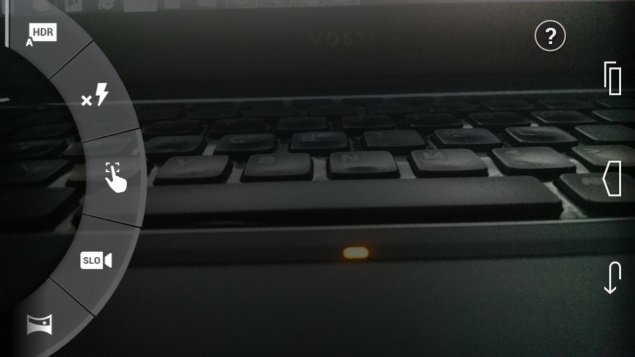 The same could not be said for indoor and low-light shots. Quality did drop and pictures looked softer than those taken in well-lit situations. Videos recorded on the Moto X top out at full-HD (1080p) with at 30 frames per second indoors and outdoors. Quality is comparatively better in outdoor conditions. The 2-megapixel front-facing camera shouldn't be relied on for anything other than occasional self-portraits.
Performance
The Moto X could easily handle games like Temple Run 2 and Subway Surfers which are not that graphically heavy, but things get a bit choppy when playing games like Dead Trigger 2, which has higher graphics and processing requirements.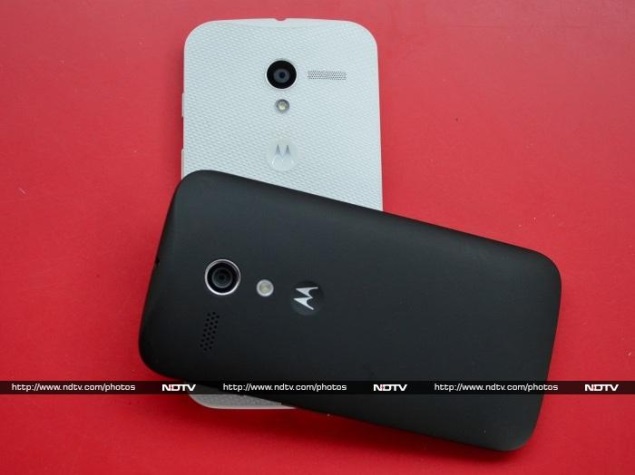 On the sound front, the Moto X impressed us much like the Moto G. You can play music loud enough to fill a small room. However, the sound tends to distort at the highest volume level. Obviously, we don't expect anyone to use their phone as a replacement for a bigger music player.
The 4.7-inch HD AMOLED display is good for viewing movies and videos. The device was able to play full-HD videos and supported all popular video file formats.
Call quality on the Moto X was impressive and the device was able to latch on to cellular networks even in weak signal areas which came in handy at times.
When it comes to performance in our benchmarks, the Moto X was quite impressive, especially the graphics and gaming tests. We achieved scores of 22,360 in AnTuTu, and 8,339overall in Quadrant. 3DMark's 720p Ice Storm Extreme scenario returned a score of 7,159 points, while GFXBench managed to run at 25.3fps. The benchmark scores definitely indicate a better balance of power between graphics and core processing than we are used to seeing.
The Moto X ships with a 2,200mAh non-removable battery that the company claims can deliver up to 24 hours of mixed usage; although based on our battery rundown test the Moto X delivered less-than-stellar results.
We were able to get about 6-7 hours with heavy usage on the Moto X, which included full screen brightness, 3G turned on all time; clicking some casual shots; Web browsing for about an hour; a few calls lasting for about an hour; and the usual notifications for messages, emails, Facebook, Hike and WhatsApp. With more moderate usage, the Moto X delivered 8-9 hours. This included Wi-Fi switched on all the time, brightness level set on auto, with the same level of usage.
Verdict
We had reviewed the Moto G (Review) and can attest to the fact that the Moto X runs much, much faster and smoother. Tasks like games, image editing and even routine switching between apps happen quicker.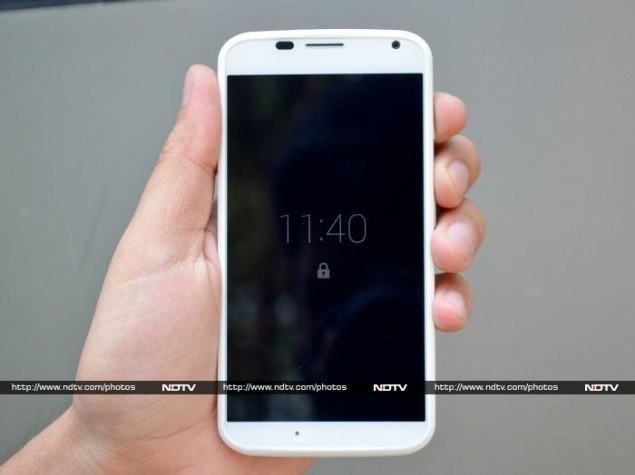 The camera is not very inspiring, and battery performance could have been better. However, the Moto X with its unique software enhancements still comes out looking like a winner.
It might not be a game changer with its specifications, as there are now devices which boast octa-core processors and higher resolution screens, but the Moto X is definitely a contender in the mid-range segment. That said, it comes with a stiff price tag of Rs. 23,999 which puts it against some tough competition.
Those looking for alternatives can consider the Gionee Elife E7 Mini which packs a rotating camera, an octa-core processor and is available at a lower price than the Moto X. One can also go for Samsung's refreshed Galaxy Grand 2 (Review). Those looking for a bigger screen can go for Sony's Xperia T2 Ultra (Review) available at the same price as Moto X, or wait for the HTC Desire 816.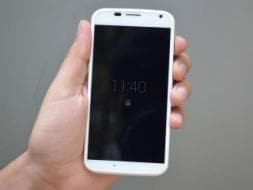 Moto X in pictures
Affiliate links may be automatically generated - see our ethics statement for details.