It's no secret that India loves Motorola's Moto line of smartphones. Strong sales of both the Moto G and Moto E series have helped Motorola (or to be precise now, Moto by Lenovo) secure a strong foothold in the Indian market. Among all the phones under the Moto brand, the Moto G series has been the most popular. In our opinion, Moto G smartphones have always struck a good balance between features and price, not to mention that undeniable dependability of software updates that the entire series enjoys.
After Motorola Mobility's acquisition by Lenovo, the fourth generation Moto G marks the debut of Lenovo's branding on a Moto smartphone. The classic Motorola logo is present too but it's pretty clear that Lenovo aims to make Moto a sub-brand of itself, especially considering the company's plans to replace its Vibe range with Moto smartphones.
The Moto G (Gen 3) (Review) and the Moto G (Turbo Edition) (Review) were both solid performers but if we had any criticism, it would have to be their lacklustre camera performance, which Motorola has struggled with on pretty much all of its phones. The Moto G4 Plus, a better equipped version of the Moto G4, aims to change that perception for good with its improved camera and software. Let's see how well it succeeds in achieving its goal.
Look and feel
Motorola's iconic smartphone design continues to live on in the G4 Plus. Although not as distinct as before, it's certainly identifiable as a Moto product. The rounded metal frame coupled with the rubber back cover offers good ergonomics and grip. The phone is a fair bit larger than its predecessors, thanks to the 5.5-inch full-HD TFT display. Sunlight legibility is very good and the display manages to produce punchy colours and good black levels. Gorilla Glass 3 is also present for added protection. The G4 Plus is fairly slim at 7.9mm and has good weight distribution so it doesn't feel heavy when you hold it.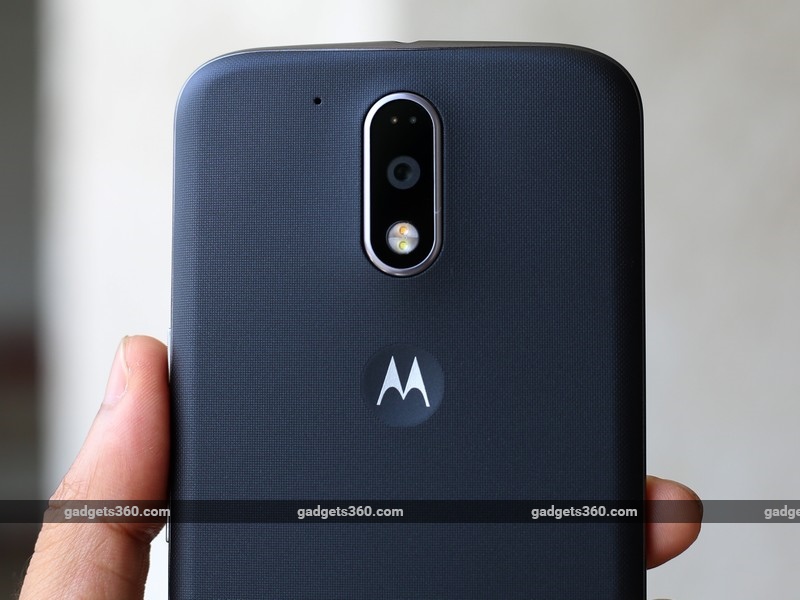 The Moto G4 Plus ditches the trademark bottom grille of the Moto G series for a fingerprint sensor. It's not a physical button but it is slightly raised to help you find it by touch alone. The sensor can recognise your fingerprints from any angle and apart from a few intermittent misreads, it works very well all the time.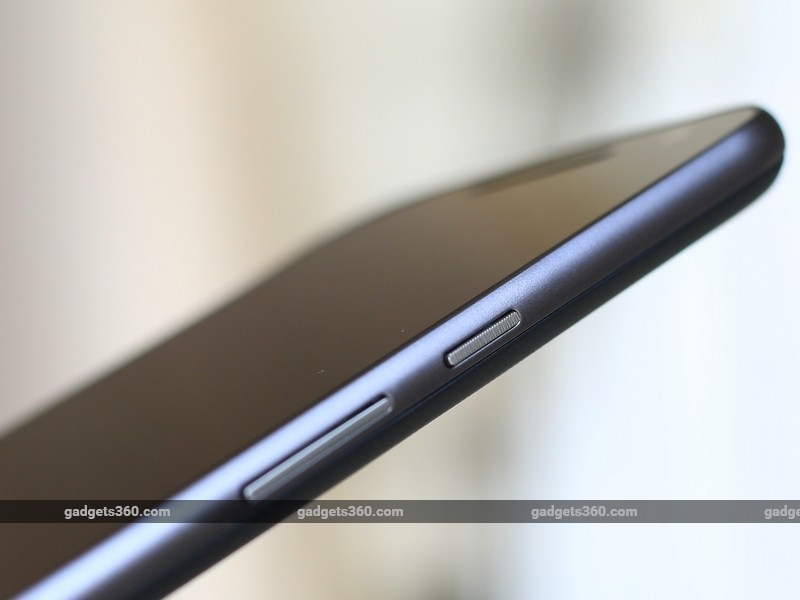 The buttons on the side are placed well within the reach of your fingertips and the power button has ridges on it to make easily identifiable. The headphones socket and Micro-USB port take their places on the top and bottom respectively.
The back is mostly flat as opposed to the earlier curved designs of Moto G models, apart from the slight bump that's present around the camera module. The 16-megapixel sensor is accompanied by a dual-tone LED flash and a laser autofocus system, which is a substantial upgrade.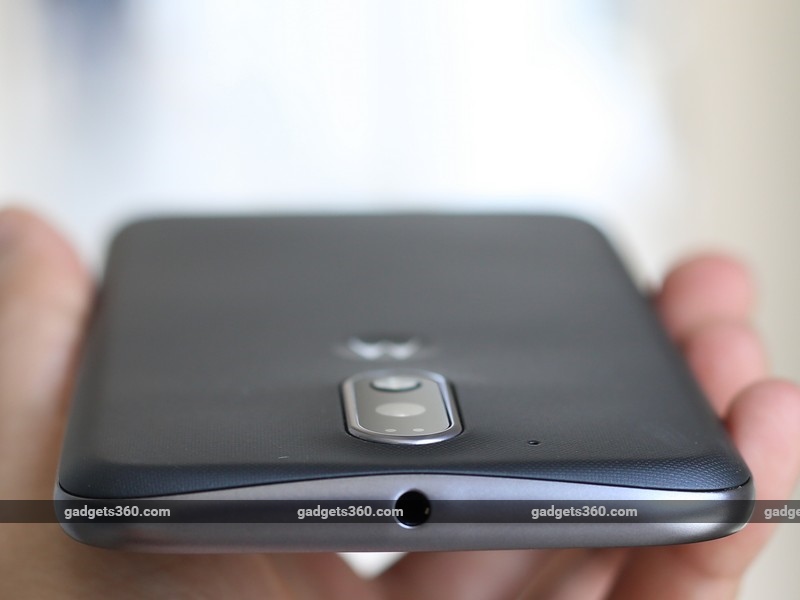 Taking off the back cover, you'll see the non-removable 3000mAh battery and slots on the side for a microSD card (up to 128GB) and two Micro-SIMs. The Moto G4 Plus comes with Nano-to-Micro SIM card adapters, which is a thoughtful touch. One feature that's missing is the IP67 certification which earlier variants boasted of.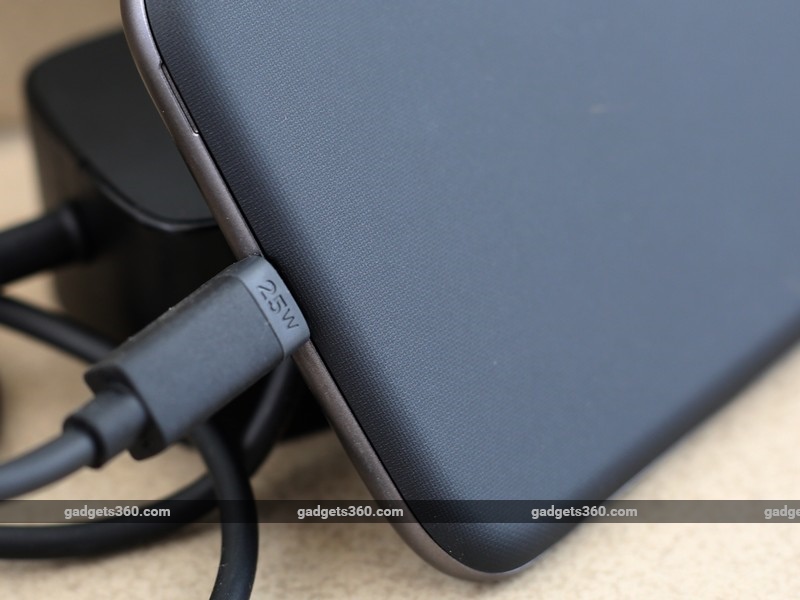 The retail box contains a TurboPower charger (25W) and a headset. The wall charger is not modular so you will need a separate USB cable for data transfer. The headset looks and feels a bit cheap, in our opinion, and it didn't fit very well in our ears.
Specifications and features
In terms of power, the Moto G4 Plus uses Qualcomm's Snapdragon 617 SoC, which is an octa-core chip running at 1.5GHz. This is the same SoC that was used in the HTC One A9 (Review). You also get 3GB of RAM and 32GB of onboard storage. The phone will also be available with 2GB of RAM and 16GB of storage at a lower price. Other specifications include 4G LTE (Category 4), Bluetooth 4.1 Low Energy, dual-band Wi-Fi b/g/n, GPS, GLONASS, USB-OTG, and FM radio. NFC is not present.
As is the case with all Moto smartphones, the G4 Plus runs on a near-stock version of Android, and in this case it is Marshmallow 6.0.1. You get the usual suite of Moto enhancements which include Moto Display and Moto Actions.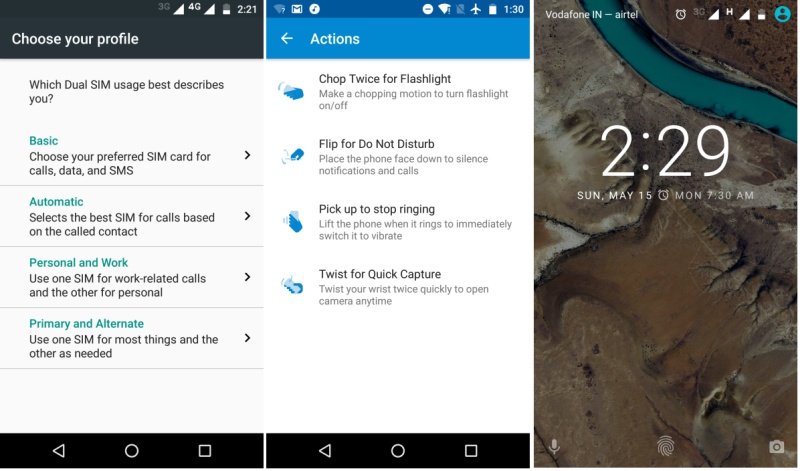 The former eliminates the need for a notification LED as it shows you the time and a preview of your notifications unlocking the phone, the moment you move it. There is an LED to the right of the fingerprint sensor but we only noticed it when it briefly lit up while charging the phone. Moto Actions lets you trigger various motion-based gestures, which all work as advertised. There aren't any preloaded apps other than a file manager and the standard suite of Google apps.
Performance
Without any bloatware slowing it down, the G4 Plus is one snappy performer. On average, there's about 1.2GB of RAM in use leaving you with plenty to spare. We noticed virtually no slow-downs or lags in animations and when switching between apps. The SoC does get warm quickly when gaming or even when using data or GPS, but it is nothing too alarming. You'll notice a bit of lag in the camera app if the phone is warm, which could be due to the system throttling the CPU speed in order to prevent it from overheating. We got a score of 42,229 in the AnTuTu benchmark and 17fps in GFXbench, which are both respectable.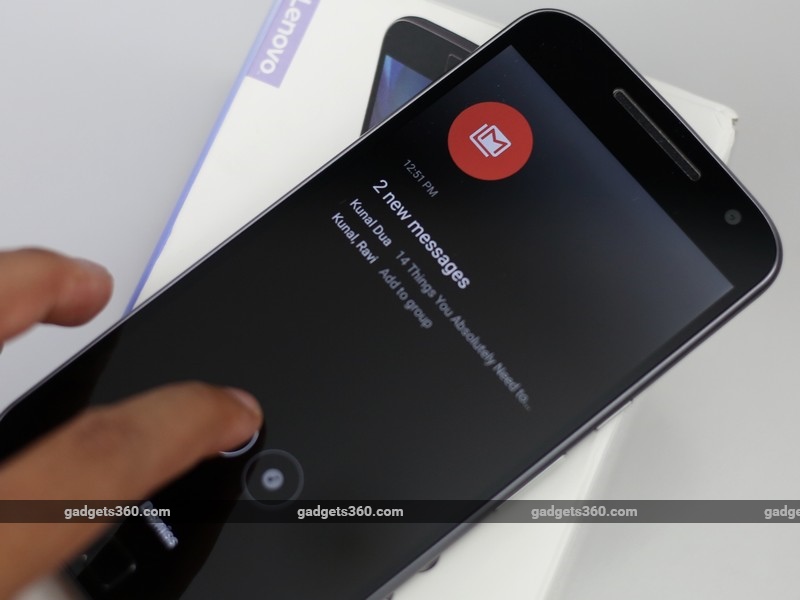 The gallery app has been replaced with Google's Photos app, which is not the best to be honest but it does its job. The phone manages to handle high-bitrate and full-HD videos well. The Photos app also lets you edit photos and trim videos. Music is handled by the Play Music app, which is functional but FLAC files aren't supported. You do get equalizers for wired headphones as well as the speaker. Those concerned about the lack of stereo sound shouldn't worry as the single speaker in the earpiece is loud enough for alerts and general media playback.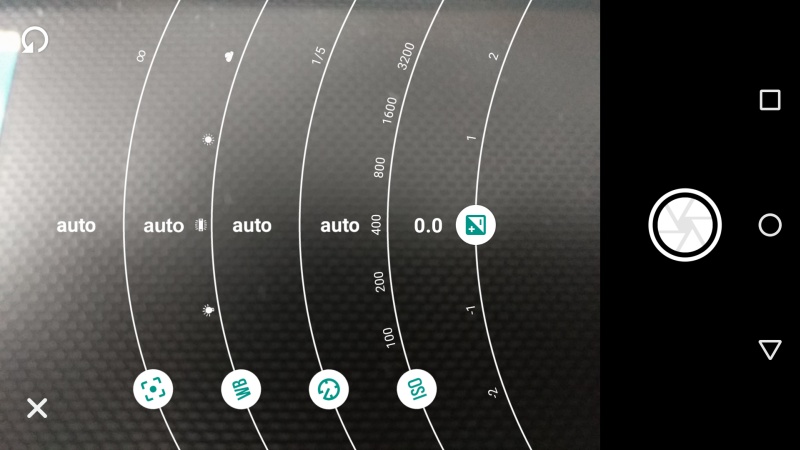 The biggest highlight of the G4 Plus is the camera, which is a 16-megapixel shooter with f/2.0 aperture and Phase Detection Autofocus (PDAF). The phone also gets a laser autofocus system to quickly lock on to nearby objects. What's more important is the overhauled camera app. You can use tap-to-focus on your subject and also adjust the exposure with a slider. Long-tapping on your subject will lock the focus, which is helpful. You get more shooting modes too, like slow-motion video, panorama, and a professional mode. The latter really comes in handy when shooting in low light as it lets you adjust the focus, white balance, shutter speed, ISO and exposure compensation. The ISO range is from 100-3200 while maximum shutter speed is 1/5sec. Slow-motion video is fixed at 120fps at 540p resolution.
(Tap to see full size Moto G4 Plus camera samples)
Image quality for landscapes and macros in daylight is much better than before. The level of detail is pretty good and the sensor captures fairly accurate colours. We recommend keeping HDR set to Auto as it helps liven up scenes. Pictures taken under artificial lighting look good at first but zooming in reveals a fair bit of colour noise and the level of detail isn't great. Low-light shots exhibit the same issue. Video recording maxes out at 1080p and the quality is good in both daylight and low light. The front camera also manages some detailed selfies when the lighting is good. Another neat addition is the ability to directly read barcodes and QR codes from within the camera app.
Battery life
We managed to get 12 hours and 4 minutes of playback time in our video loop test, which is a very good. In actual usage, with both SIM slots occupied, we managed to go nearly a day and half before having to charge the Moto G4 Plus. The phone also supports TurboPower or fast charging for quickly topping up the battery.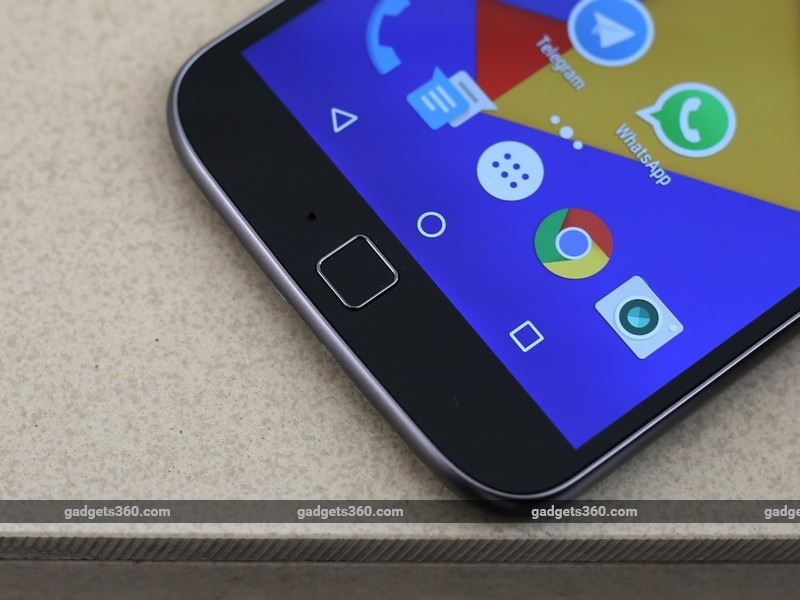 Verdict
The Moto G4 Plus is a welcome evolution of the Moto G series, which takes it a step further in terms of features and performance. The phone packs in a much needed SoC upgrade which keeps the latest version of Android running smoothly, a fingerprint sensor, a good camera for daylight photography, and all-day battery life. This makes it a very good option in this price range.
The competition is tough, but in our opinion, the Moto G4 Plus has enough merit to stand on its own feet - the biggest one being timely Android updates. The G4 Plus would have been even better though if it retained the water and dust protection of its predecessor, and it wouldn't have hurt to have better low-light performance from the camera.
All said and done, you really can't go wrong with the Moto G4 Plus if you're looking for a dependable low-cost phone that gets nearly everything right.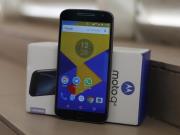 Moto G4 Plus in pictures