Microsoft, on Wednesday, pulled the wraps off its first Lumia device sans 'Nokia' branding, the
Microsoft Lumia 535 Dual SIM
, thus signalling the end of the Nokia era. The phone will be available from November 28 and has a price tag of Rs. 9,199. We got to play with it for some time at the launch event in Mumbai. Here are our first impressions of its various features for you.
The Lumia 535 Dual SIM feels slim at 8.8mm, which is a refreshing change from the stocky 11.7mm girth of its sibling, the Lumia 530 Dual SIM. The unit we used was the glossy orange version, which was too bright for our liking. The phone is also available in cyan, bright green, white and black - all of which have matte finishes. The power button and volume rocker are on the right of the phone. The Micro-USB port for charging the device and transferring data is on the bottom while the 3.5mm jack is bang in the centre on the top. Microsoft has decided to use on-screen buttons for navigation. The rear shell is easy to pry open, and under it lie the 1905mAh battery, two Micro-SIM card slots (GSM/WCDMA) and a microSD card slot.
Microsoft is calling this phone a '5x5x5' device because it has a 5-inch screen and dual 5-megapixel cameras. The front camera has a 24mm wide-angle lens, just like what we saw on the Nokia Lumia 730 Dual SIM. It can shoot FWVGA (848x480) videos. The rear camera has a small 1/4-inch sensor, auto-focus lens and LED flash. This camera can also capture 30 fps FWVGA videos. In our limited time testing this phone we noticed that the front camera captured warm images with a distinctive yellow tone. The rear camera, on the other hand, handled white balance slightly better. We will be able to test this thoroughly in our full review.
The phone runs Windows Phone 8.1 with the latest Denim update, which means that it will come with special camera apps including Lumia Cinemagraph, Lumia Selfie and others. The Lumia ReFocus app is missing on this one as well.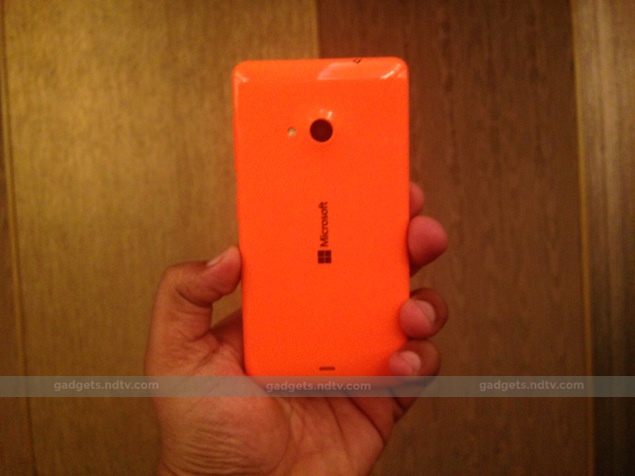 Compared to the Lumia 530's 480x800 screen, the Lumia 535 Dual SIM has a slightly better qHD (540x960) IPS LCD panel with Corning Gorilla Glass 3. We found the screen to be slightly dull when compared to the bright AMOLED panels of the Lumia 730 Dual SIM and Lumia 830 but it definitely looked much crisper than the one on the Lumia 530 Dual SIM.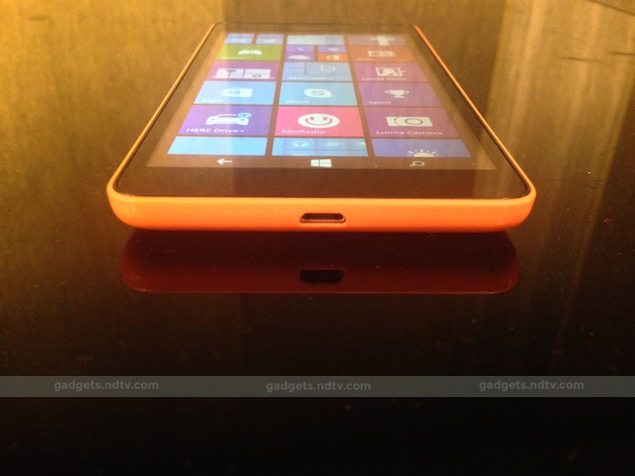 Under the hood of the phone is a Snapdragon 200 SoC with a quad-core CPU clocked at 1.2GHz. Along with this, Microsoft provides 1GB of RAM. We noticed that scrolling vertically through the list of apps wasn't as smooth as what we've come to expect of Lumia devices. We will be able to take a look at this in more detail in our review. Microsoft also provides 8GB of internal storage, which can be expanded by up to a whopping 128GB using a microSD card. This should be more than sufficient for most users. If this isn't enough Microsoft provides 15GB of free cloud storage on OneDrive for life.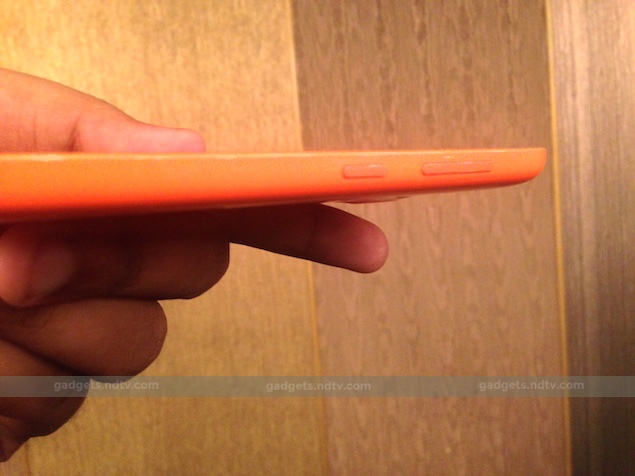 For the moment the Lumia 535 Dual SIM is an interesting proposition for buyers who are looking at a Windows device under Rs. 10,000, considering how the Lumia 530 Dual SIM was a disappointment. Additionally, Microsoft bundles a few interesting offers witih this phone as well. Stay tuned for our full review to find out if the Lumia 535 Dual SIM is the budget Windows Phone 8.1 device you should be buying.