New handset makers have come on board with Microsoft's Windows Phone platform after years, and the first launches have happened in India. Microsoft, at its Build conference in San Francisco, had announced new hardware partners for the Windows Phone platform and Micromax was one of the Indian names on the list. The Redmond giant had even showcased a Windows Phone 8.1-based Micromax handset at the event, but at the time there was no word from either company about when it would launch in India.
Now, more than two months after the announcement, Micromax has announced two relatively low-priced Windows Phone 8.1 handsets: the Canvas Win W092 and Canvas Win W121 priced at Rs. 6,500 and Rs. 9,500 respectively. The launch definitely marks a change in the company's strategy - and Nokia, now owned by Microsoft, finally has some company and some competition.
We had just about enough time to get a basic feel of what Micromax's first Windows Phone offerings. We'll have even more detailed coverage and formal reviews of the Canvas Win W092 and Canvas Win W121 soon.
Build, design and display
We first checked out the Canvas Win W092, which seems to follow many of the design cues that we've already seen in the company's sub-Rs. 10,000 Android smartphones. When seen from the front, this phone doesn't look very different at all.
However, one of the Canvas Win W092's most distinctive features is its plastic monoblock body. The entire back panel and all four edges of the handset are encased in a transparent material, giving the handset a crystallized effect much like Nokia's Asha range.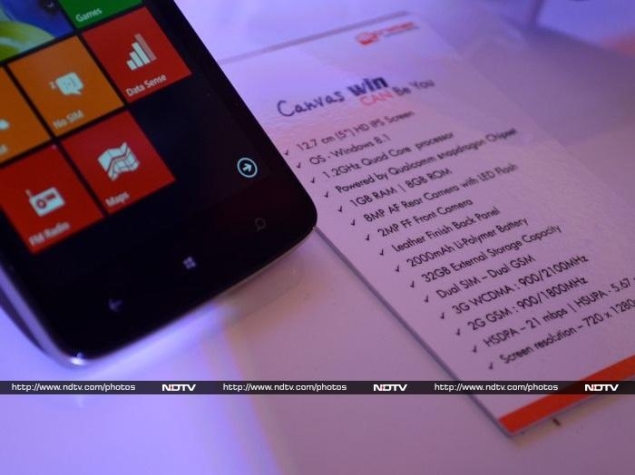 The Micromax Canvas Win W121 (seen above), appears to be a bit more polished than the company's Android smartphones, though it's still a little bit plasticky for our taste. It even has a faux-leather back panel, reminiscent of the one on the Galaxy Note 3. The Canvas Win W121 is compact and a bit slimmer than the majority of Android Canvas smartphones. When both Canvas Win models are compared, the Win W121 scores more on style.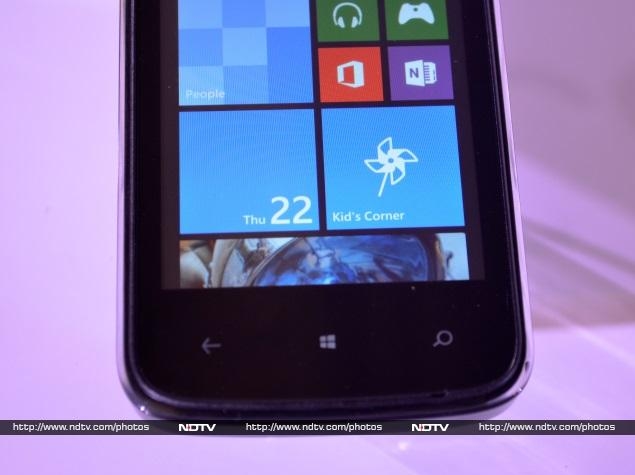 The Micromax Canvas Win W092 (seen above) features a 4-inch WVGA (480x800-pixel) IPS display, while the Canvas Win W121 comes with a 5-inch HD (720x1280-pixel) IPS display. Touch response was good on both phones.
Both the smartphones' fronts are dominated by their screens, with the three capacitive Windows Phone buttons - Back, Start and Search sitting below them. The front camera lenses, light and proximity sensors and earpieces are located above the screens. Fortunately, there is minimal Micromax branding on the back panels and none on the front.
(Also see: Micromax Canvas Win W121 in Pictures)
The power buttons are on the right edges, while the volume rockers are on the left. The keys feel good enough and offer good tactile feedback. There are no ports on the bottoms of either phone; the Micro-USB ports and headphone jacks (3.5mm) are both located on the top.
Both the Micromax Canvas Win W092 and Canvas Win W121 feature removable rear panels, and their batteries sit alongside two SIM card slots and a microSD card slot each.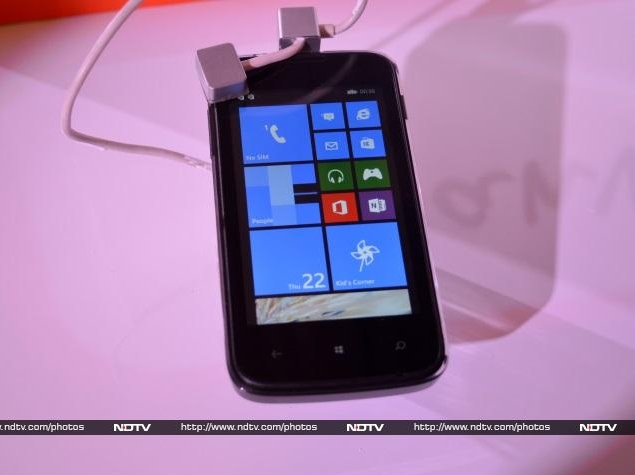 The low-resolution display of the Canvas Win W092 (seen above) makes images and text appear pixelated. Even the Live Tiles on the phone's Start screen appear pixelated when you look at them closely. Micromax seems to have cut corners in this department and it shows. The Micromax Canvas Win W121's bigger 5-inch screen, on the other hand, adds value and improves the video playback experience. We also see the Canvas Win W121's HD screen as a highlight which will help it compete with the likes of the Lumia 630 Dual SIM.
Specifications and performance
Both, the Micromax Canvas Win W092 and Canvas Win W121, are built around Qualcomm processors, which felt impressive in our limited testing. Both are powered by the 1.2GHz quad-core Qualcomm Snapdragon 200 SoC coupled with 1GB of RAM.
The Canvas Win W092 and Canvas Win W121 (seen below) come with 8GB of built-in storage, expandable by another 32GB via a microSD card.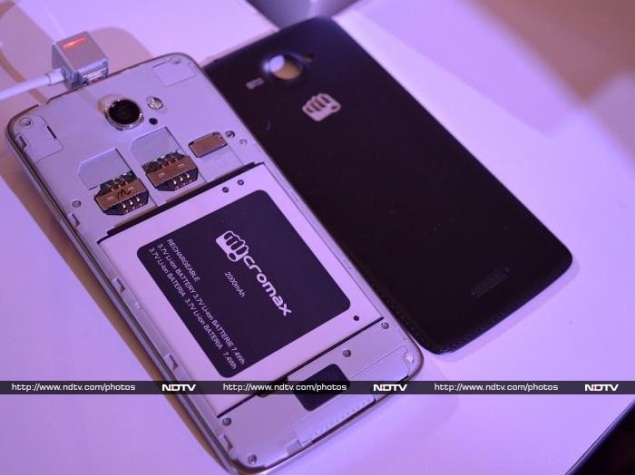 Windows Phone 8.1 is not a very power-hungry OS, and the hardware has been optimised for performance at very low price points. We did not experience lag while launching apps, scrolling through Web pages in Internet Explorer, or switching between apps. The speakers on both the new Micromax devices deliver decent enough sound at high volume levels.
Connectivity options on the Canvas Win W092 and Canvas Win W121 include Bluetooth, Wi-Fi, Micro-USB, EDGE/GPRS, 3G and GPS.
Cameras
The Micromax Canvas Win W092 (seen below) sports a 5-megapixel rear camera with LED flash, and a 0.3-megapixel front camera. The Canvas Win W121 features an 8-megapixel rear camera and also comes with a 2-megapixel front-facing camera.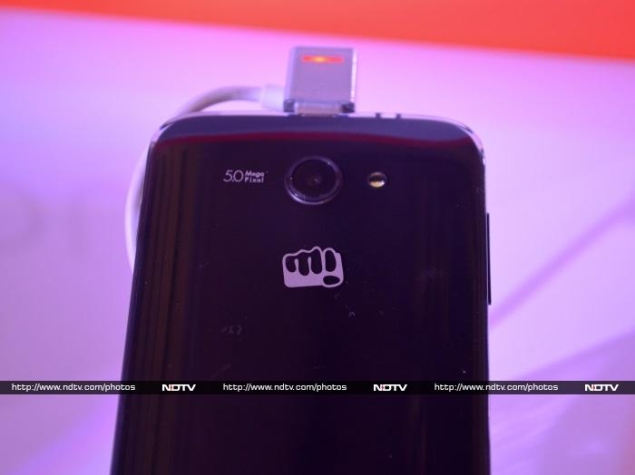 The Windows Phone 8.1 camera app offers users options to tinker with various settings including selecting scenes, camera effects, ISO, white balance, contrast, saturation, flash mode and sharpness. Microsoft has added a burst mode feature to Windows Phone 8.1 for taking continuous images. The Smart Shot, Cinemagraph, and Refocus photo "lenses" are now directly accessible from the Camera Roll.
(Also see: Micromax Canvas Win W092 in Pictures)
The Canvas Win W092's camera turns out to be another weakness for the phone. Pictures taken indoors came out really grainy and lacked detail. Low light photos also didn't come out well, and there was lots of noise. We also felt a bit of shutter lag in the Canvas Win W092 compared to the Canvas Win W121, and focus went haywire at times.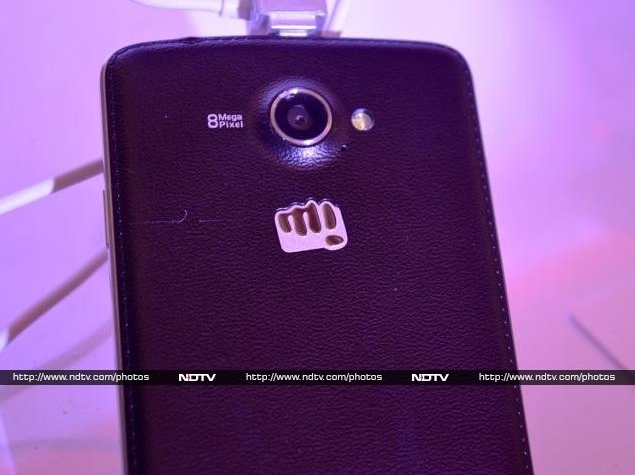 The Canvas Win W121's (seen above) rear camera can take decent-looking pictures indoors, but we noticed that they were not as bright as the actual scene where they were shot - the photos tend to be a little underexposed.
Software
The Micromax Canvas Win W092 and Canvas Win W121 (seen below) are powered by the newly released Windows Phone 8.1 OS, which brings a slew of new features and additions to the Windows Phone platform.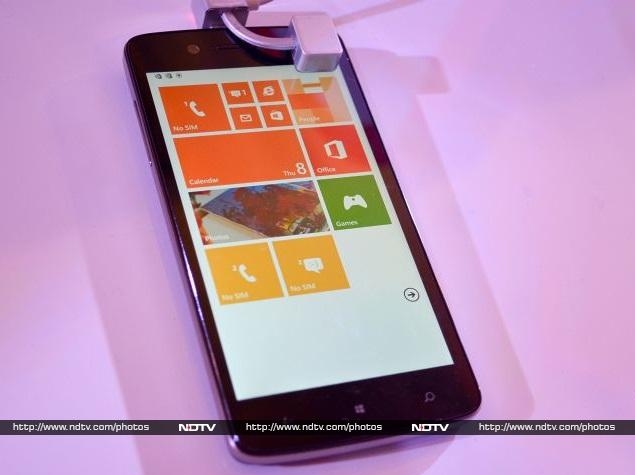 One of the most visible changes is the addition of a notification shade, which Microsoft has named Action Centre. Just like in Android and iOS, users can now swipe downwards from the top of the screen to pull down an overlay which shows notifications and four handy shortcuts: Wi-Fi, Bluetooth, Camera and Brightness.
Both handsets have the Data Sense app which gives you a detailed record of data usage, which can be broken down to specific months or weeks. Data Sense includes a 'high savings' mode that Microsoft claims can compress images on Websites, so a user can browse around more without excessive data usage. We also used the new Word Flow keyboard, touted by Microsoft during the Build conference in April, which is Swype-style keyboard for Windows Phone users.
Both the Canvas Win W092 and Canvas Win W121 come preloaded with a number of apps including Xbox Games, Microsoft Office, Skype, and HERE Maps, amongst others.
Final words
We knew that Micromax and Microsoft were working together on a Windows Phone 8.1 handset, but we weren't expecting two models to be launched at once, both in the sub-Rs. 10,000 price band.
There's no doubt that Micromax has been looking to cement its position in the smartphone market in India for a while now, and these new Windows Phone models represent one of its boldest moves in this regard. Micromax wants its customers to experience something different, and isn't afraid of stepping beyond the tried and tested Android space. Microsoft will also benefit from the increased exposure and the fact that the W092 brings Windows Phone to a price point even lower than that of the still-popular Lumia 520.
The Micromax Canvas Win W092 has been launched at Rs. 6,500 and will be up against some serious competition against a few Android smartphones such as
Moto E
(
Review
|
Pictures
) and
Sony Xperia E1
(also the
Xperia E1 Dual
). Motorola's most affordable KitKat smartphone has been making headlines ever since being
announced in mid-May
. Notably, both the Moto E and Xperia E1 smartphones score more than the Canvas Win W092 in terms of build quality and overall package.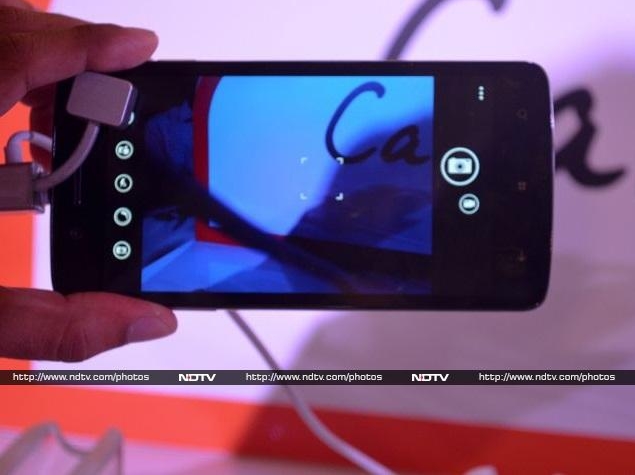 The Canvas Win W121 priced at Rs. 9,500, on the other hand, will be taking on Microsoft's Lumia 630 Dual SIM (Review | Pictures) which comes at higher price tag of Rs. 11,329. In terms of specifications the Canvas Win W121 is far ahead of the competition in this segment which also includes Lumia 525 (Review | Pictures) and the Nokia XL Dual SIM (Review | Pictures).
Keep watching this space for our detailed reviews of the Micromax Canvas Win W092 and Canvas Win W121.