Micromax is currently sitting pretty in the number two slot as far as total shipments go in the Indian smartphone market, which goes to show that the company has managed to make a name for itself in a relatively short period of time despite being up against major established brands such as Samsung and Nokia. That in itself reveals that Indian smartphone buyers are motivated by price, looks and features, and are willing to spend reasonable amounts of money on a smartphone even if it doesn't come with the assurance of a huge international conglomerate behind it.
When compared to devices from major manufacturers, Micromax products haven't always come out looking good. They're undeniably aimed at budget-minded buyers, and thus things like construction quality and raw performance tend to suffer. That said, things have been improving slowly over time and the company has begun to move more into the mainstream, shedding its "China-made" image along the way.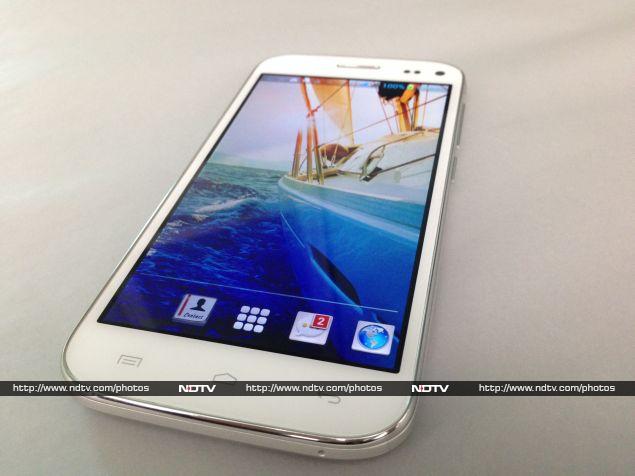 Micromax plays in the sub-Rs. 20,000 category, and offers quite a diverse range of smartphones. The Canvas Turbo Mini is comfortably priced at Rs. 12,000 (street price) which clearly positions it below the company's (relatively) premium offerings. Several manufacturers have come out with "mini" versions of their flagship products, offering smaller screen sizes and more modest specifications for a little less money. Micromax has matched the trend with this device.
Interestingly, while Indian brands are slowly experimenting with more expensive products, Motorola has attacked the Rs. 12,000 - 15,000 space that these companies have done so well in of late. The Canvas Turbo Mini is priced in line with the recently launched Moto G. Given how happy we were with that phone's price, performance and features, the Canvas Turbo Mini will have to put up a very strong fight.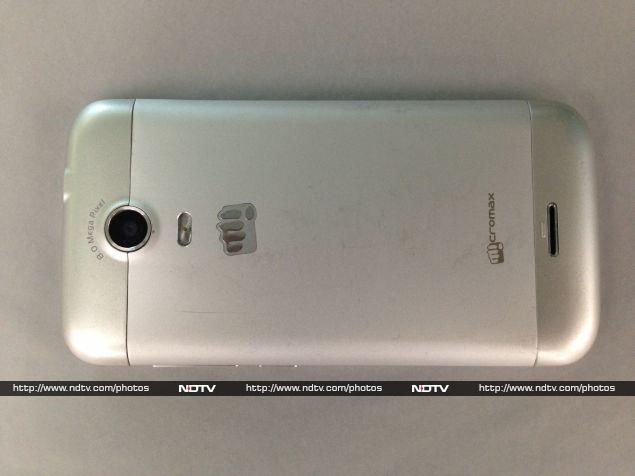 Look and feel
The Turbo Mini is meant to complement last year's Canvas Turbo, which had a 5-inch full-HD screen and 1.5GHz quad-core processor. Even though 4.65 inches isn't exactly a huge step down, we found this phone earns its "Mini" tag by being light and small enough to be comfortable in one hand, while still offering a decent-sized screen.
There is definitely a family resemblance between the Canvas Turbo Mini and its bigger sibling. They both share the same overall shape and very similar front faces. Little touches such as the front and rear speaker grilles and the ring around the rear camera lens also feel familiar on the Turbo Mini.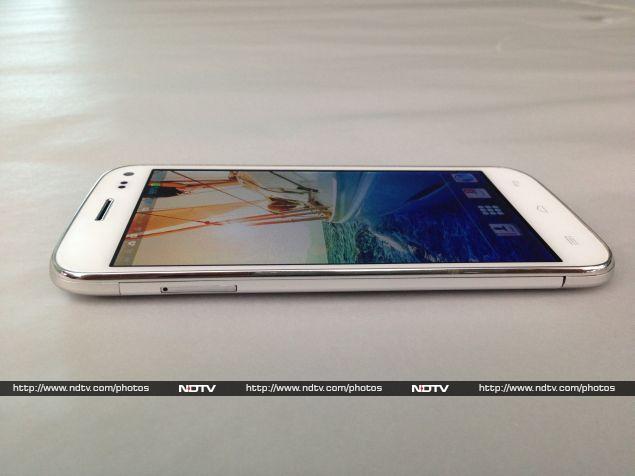 Still, even though these two models feel like part of a family, Micromax on the whole doesn't seem to have its own design style. This phone isn't an outright copy of a major manufacturer's design, but there are definite cues from Samsung's style on the front panel, while the rear echoes of some of HTC's older products. Just for good measure, the Canvas Turbo Mini also comes in a rounded plastic box that seems directly inspired by Apple's iPhone 5c and iPod touch packaging.
In fact the front and back aren't alike at all. While the front panel is all white, the rear is made of a grey plastic that might be supposed to look like metal. The unit we received for review was quite badly scuffed and scratched, and even though we don't know how it was treated before it got to us, this doesn't bode well for the long-term life of this phone.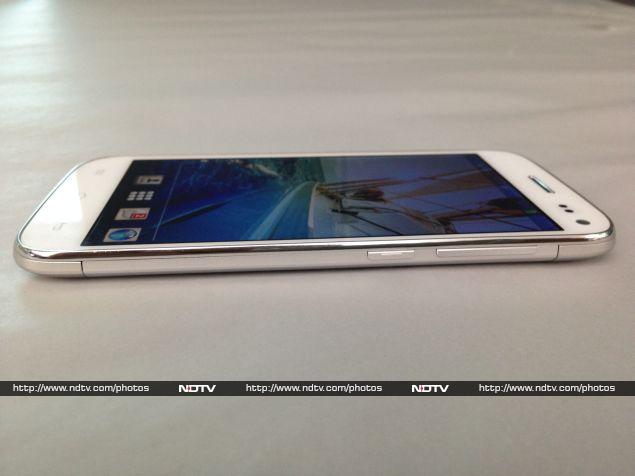 The rear panel is made of a large central panel with smaller strips along the top and bottom. Of these, only the top one is meant to come off, but we found that the lower one wasn't very well fastened and didn't line up with the rest of the body properly. You won't see any branding in the front, but Micromax evidently deemed it necessary to put two logos on the rear panel. While the company's punching-fist M! logotype is a very clever bit of design, we would have been happy enough with just one copy of it.
For some reason, the primary (Micro-) SIM card goes into a tray on the phone's left edge while the secondary (regular) SIM and microSD cards fit into slots under the upper back panel, flanking the raised rear camera. You can pop the SIM tray out using a neat-looking eject pin with Micromax's logo embossed on it that you'll find packed in the box. There's nothing on the bottom, and you'll find both the Micro-USB charging port and 3.5mm headset jack on the top edge. The power and volume rocker buttons are on the right edge, but we weren't happy with the fact that they're quite sharp-edged and also raised from the phone's surface, making it the phone a little uncomfortable to hold.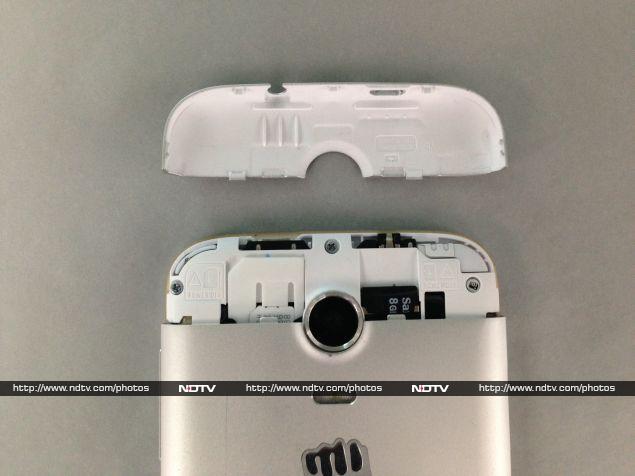 All in all, we're not entirely happy with the Canvas Turbo Mini's construction quality. Comparisons to the Moto G are inevitable, and there's just no doubt about which one we'd consider the better of the two. When we said the Moto G had rewritten the rules of this price band, we weren't kidding. Micromax has a lot to learn if it wants to catch up.
Features and specifications
As with most budget Android phones that boast of "quad-core" processors, this one is built around a Mediatek CPU. The MT6582 is not exactly a speed demon, even with four cores running at up to 1.3GHz. The GPU core is a Mali-400MP which is also commonly found in low-end devices. There's 1GB of RAM and a paltry 4GB of built-in storage, less than half of which is available to the user for apps and data. You'll need to invest in at least a 16GB microSD card if you want to use this phone for pretty much anything other than making calls and sending text messages.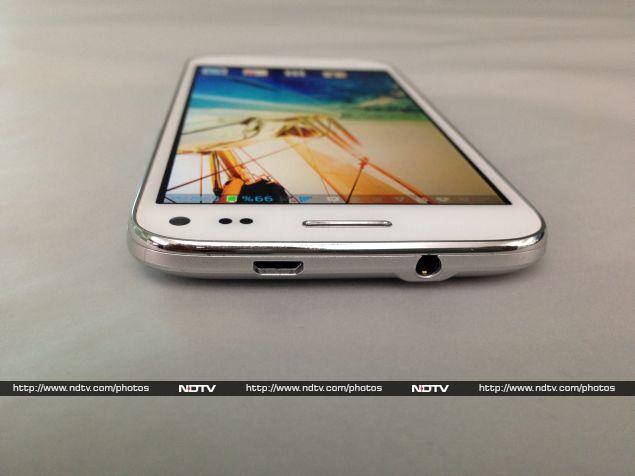 Luckily, the screen isn't bad at all. You won't get the widest viewing angles or most accurate colour reproduction, but 720x1280 at 4.65 inches comes to a crisp, sharp 320dpi. Text is easy to read and the Android interface looks great.
The battery is non-removable, and at 1800mAh is definitely not on the higher capacity side. The rear camera takes 8-megapixel shots while the front camera is good enough for 5-megapixel selfies. Beyond this, there isn't much to say about the Canvas Turbo Mini.
Software
It comes as no surprise that this phone runs Android 4.2.2, but we're going to point out that the Moto G runs the latest version, 4.4. Micromax has customised the interface a little bit, but nowhere near as much as Samsung and HTC do, for example. The icons in the main menu are all different, and certain screens, such as the notification flyout and settings app have been given white backgrounds instead of black. Rather than a button for quick settings at the top of the screen, Micromax has used two buttons at the bottom to divide the flyout into two sections, "Notification" and "Switch". Beyond that, it's pretty much vanilla stock Android.
Micromax has thrown in a few apps and games, which you might or might not find useful. The three games are all rather basic and allow you to play only a few times before you're asked to pay Rs. 99 to "unlock" them. M! Live is a link to an online app store that opens in your Web browser. The apps look rather spammy and even though there are a few big names such as The Sims 3 and Plants vs Zombies, clicking them led nowhere. When we tried clicking on the name of a free game for more information, an APK file download began automatically. This is a bit of a security risk, since there's no information about where it came from or what it might want to do with your phone.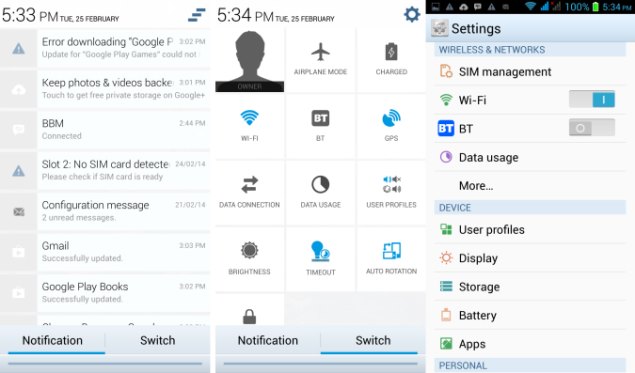 Luckily, the Canvas Turbo Mini is set to block installation of apps obtained from outside the Google Play store by default. If Micromax wants users to use their own M! Live website, it makes no sense for them to block APK installations. On the other hand, we're glad that this basic security measure is in place and have no problem ignoring the existence of M! Live altogether.
Micromax also advertises Rs. 99 worth of free content from its store to users. You have to sign up with your phone number, and you'll receive an SMS with a code. From there, you're prompted to fill out a survey or download a promotional app, which is the height of spammy behaviour and totally belies Micromax's promise of free content. You can apply for a credit card, download a branded promotional app (which is otherwise totally free in the Play store) or part with your personal information - none of which are appealing options. The screen of options claims you don't have to register for anything, you only have to provide information - which means giving your personal details to unknown telemarketers who will then pester you to sign up for a credit card or insurance policy. We're highly disappointed to see Micromax putting its name on such a shady money-making scheme and even worse, trying to pass it off as a benefit for customers.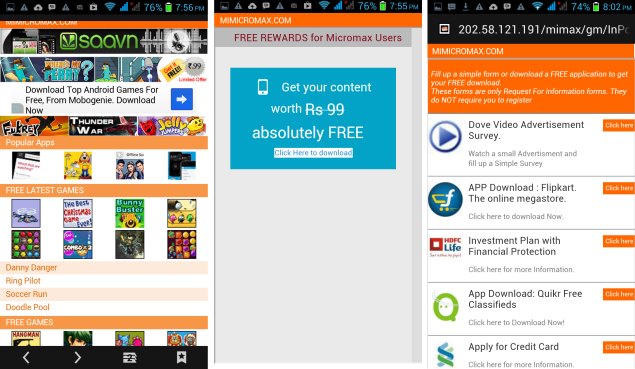 Micromax continues its intrusive behaviour by preloaded custom branded versions of Spuul, a video streaming service, Hike, a messaging app, the Opera Mini web browser, and Kingsoft Office. Of these, only Opera and Kingsoft are genuinely useful. Kingsoft in particular deserves a mention for its excellent handling of heavily formatted Word and Excel documents, along with PDFs, plain text files, and a variety of other formats.
Camera
The camera app has also been customized, and we liked the way controls such as the panorama mode and ISO settings are easily accessible. The custom app also has two little tricks built in, both of which sound good on paper but are utterly useless in practice. The first is GIF animation. It sounds simple enough, but the app tries to go for a cinemagraph effect where you can make part of a frame move while the rest stays static. The effect is extremely crude, and the resultant GIF file itself is grainy and low-quality. We'd be much happier trimming clips from a video.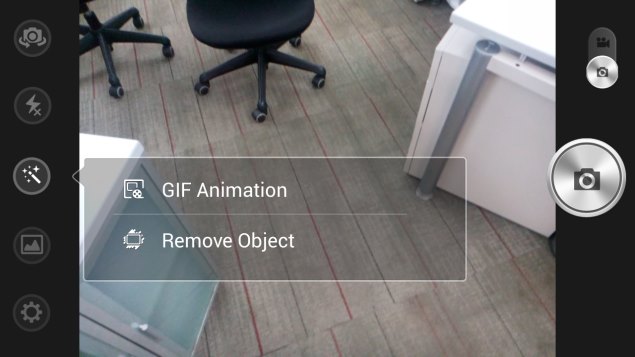 The second trick is called Remove Object, and it tries to take multiple shots in order to track objects moving between them, and then remove them from a frame. On the rare occasion that something moving was actually detected, we were left with poorly defined blurs instead of clear background.
We quickly dispensed with the special effects and found that for all its other shortcomings, the Canvas Turbo Mini actually has a pretty decent camera. We were pleasantly surprised to see that images taken in all sorts of lighting conditions were clear and detailed. In daylight, colours were vibrant and textures on things like tree bark were captured decently well. There definitely is noise and compression, but for this price, we aren't complaining.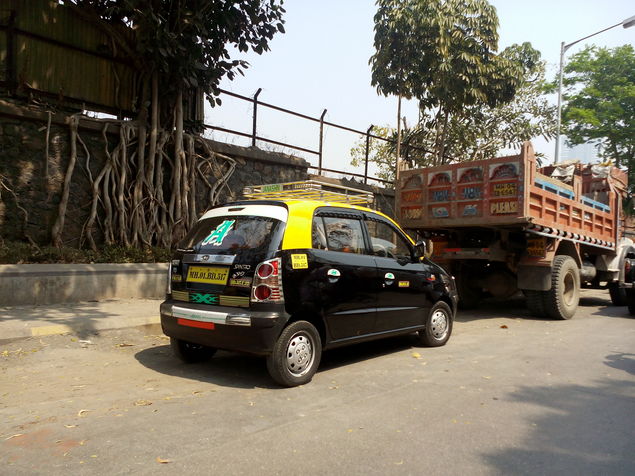 (Click to see full size)
The rear camera does fairly well at night too, both with and without the flash. Videos were more than adequate at 720p, though you don't get any sort of stabilisation. However it was the front camera that most impressed us. We found shots of people were a bit washed out and overexposed, but even then the quality is better than many other phones' front-facing cameras.
Performance
There isn't much good news as far as performance goes. There were regular slight but noticeable lags throughout our time with this phone, especially when switching between apps and jumping in and out of menus. HD video playback was a mixed bag - some of our 720p test files played just fine, but in most cases the phone stuttered badly during intensive scenes and when we tried jumping up and down the timeline. 1080p video playback depended entirely on the codec and bitrate used.
In terms of benchmark tests, we ran our usual suite of CPU and GPU tests. While general processing tasks weren't too terrible, the Canvas Turbo Mini fell quite short in the graphics department. We saw scores of 16,786 in AnTuTu and 5,737 in Quadrant, but only 6.5fps in GFXbench's gaming simulation and 2,001 in 3DMark's Ice Storm Extreme graphics runthrough.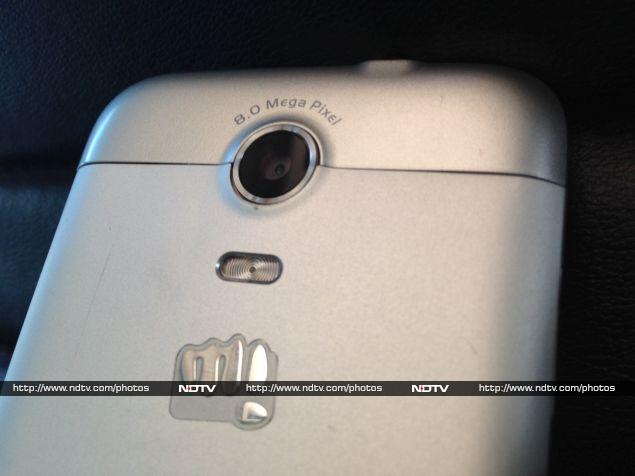 Simple games such as Temple Run 2 worked perfectly well and we had no complaints. If you like this type of game to while away the time while commuting, you won't have any problem with this phone.
The battery lasted for 5 hours, 41 minutes in our video loop test, which was less than we would have liked. Even with casual usage, the percentage meter seemed to drop awfully quickly. We're not confident of getting a full day's work done on a single charge.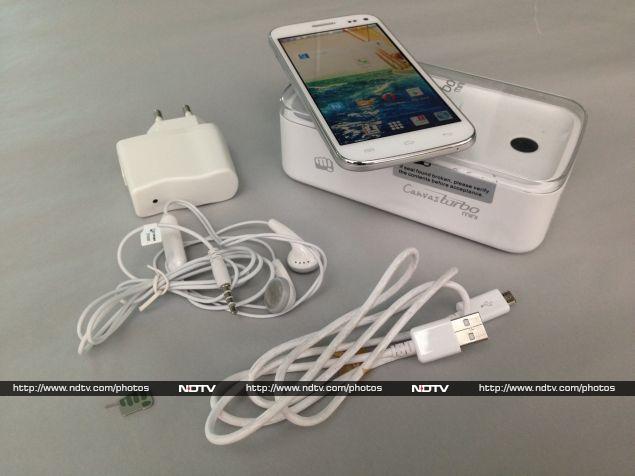 Verdict
With an MRP of Rs. 14,490 (but a street price closer to Rs. 12,000), the Canvas Turbo Mini goes right up against the Motorola Moto G in the market. We had only two issues with the Moto G; its camera and non-expandable storage. These are two areas in which the Canvas Turbo Mini has the advantage, but in every other aspect, the Moto G is hands down the superior product. It isn't just about performance: the Moto G is built better, looks better, and feels like it will last much longer.
The Canvas Turbo Mini is a nice enough phone, but like we said in our Moto G review, that product has changed the game. Micromax, which struck fear into the hearts of the world's biggest brands by selling good-enough products at low enough prices, now finds itself on the other side of that coin.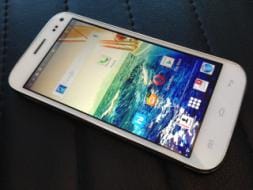 Micromax Canvas Turbo Mini in pictures