Who would have predicted that Micromax would have to play catch-up in the price band it ruled just a year ago? With the entry of powerful and competent devices from global manufacturers which cost less than Rs. 15,000, Micromax has had to slightly rethink its strategy. The newly launched Canvas Nitro features impressive specifications and a price tag that would have been a good Rs. 5,000 higher before this budget war happened.
We reviewed the Micromax Canvas Nitro to find out if it can hold its own against heavyweight brands such as Motorola, Asus, and the surprise star Xiaomi.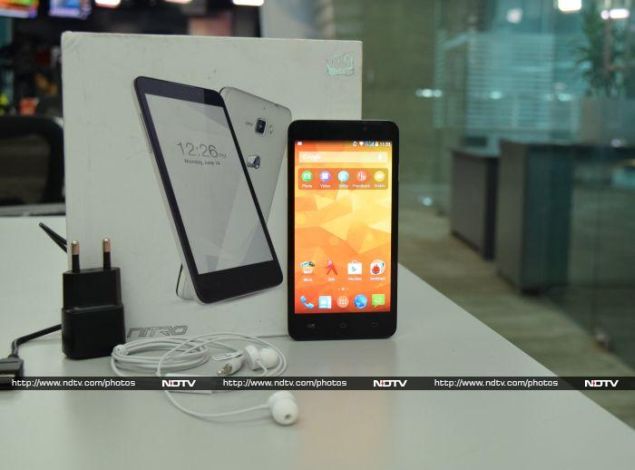 Look and feel
Our instant reaction on holding the Micromax Canvas Nitro, with its weight of 146g, was that it felt heavier than the other options in this price range. The rear of the Micromax Canvas Nitro looks quite similar to that of the Samsung Galaxy Note 3 (Review | Pictures) with its faux stitched-leather finish. The front is mostly uninspiring with the 5-inch screen taking up most of the real estate. In fact, the phone on the whole looks rather tepid and does nothing to capture attention.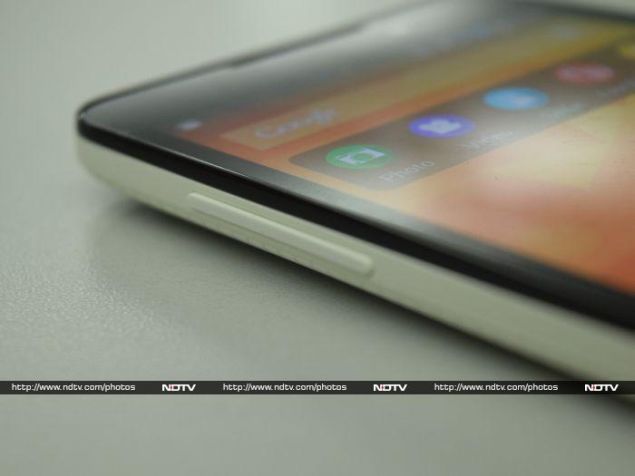 We got the white version for review but this phone is also available in dark blue. The power button sits on the right edge whereas the left edge houses the volume rocker. Both physical buttons have very little travel. A 3.5mm audio jack can be found on the top of the phone, and the Micro-USB port for data transfer and charging is on the bottom. Above the screen are the notification LED, a front-facing camera and an earpiece. Micromax has decided to go with backlit capacitive buttons, but they are not illuminated evenly. The rear cover can be removed easily and under it one can find the battery, two slots for Micro-SIM cards, and a slot for a microSD card.
Specifications and software
Micromax has fitted the Canvas Nitro with the octa-core Mediatek MT6592 processor which is clocked at 1.7GHz and has an integrated Mali-450 GPU. The Canvas Nitro also features 2GB of RAM. Out of the 8GB of internal storage space, only 5.68GB is available for users but you can expand this by up to 32GB using a microSD card.
The phone accepts two Micro-SIM cards and they connect to the 850/ 900/ 1800/ 1900/ 2100 network bands. It can also connect to Wi-Fi networks and other Bluetooth-enabled devices. A 2500mAh battery provides the juice for the device. The 5-inch 720p display is great for the most part with vibrant colours and good viewing angles, but things go downhill when viewed under direct sunlight. The screen is very reflective and we had a difficult time trying to use this phone because of this.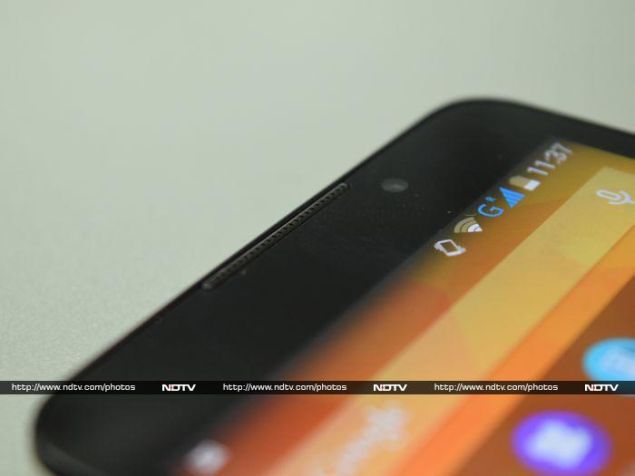 Micromax has tweaked the software to add a few additional features which have been mostly borrowed from Samsung's Touchwiz and HTC's Sense UI. For starters, Micromax adds a QuickLook page to the left of the primary homescreen. QuickLook is nothing but Micromax's attempt to emulate HTC's BlinkFeed which itself is based on Flipboard. One more swipe from the QuickLook page shows the settings where one can choose which topics the feed displays. One can also add Facebook and Twitter accounts so that they can reflect in the feed. However, there is no way to add feeds from specific websites. Moreover, there is a weird blue tint to the background of text when any article is opened, making it rather difficult to read.
The lockscreen has a simple swipe-up gesture, and available notifications are displayed on a red band. Some of the other software tweaks include the ability to pause video playback when the user looks away, which is a direct lift of Samsung's 'Smart Pause' feature. It works most of the time, if ambient lighting is good enough. There are a few tweaks to the camera software which we shall discuss in the camera section.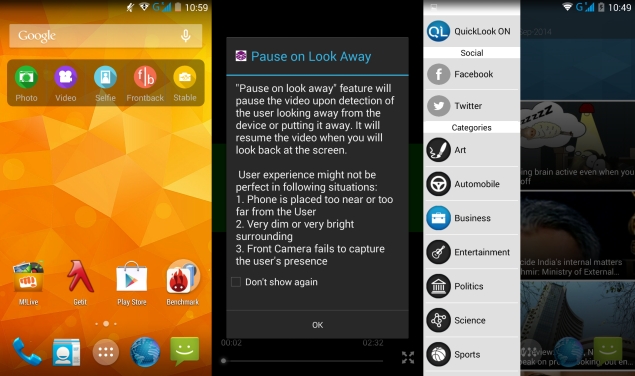 There are a ton of third party apps and they are mostly bloatware - apps that are just pointless. The Clean Master app has a widget on the home screen and it is very intrusive unless one changes its settings. There are also apps like M! Games and M! Live which just jump to Web pages. What's worse is that none of these apps can be uninstalled. SwiftKey, a keyboard app that uses a proprietary prediction technology that works really well, is the default keyboard on the phone. We approve of this implementation and think that users will like it too. Micromax also bundles the rather annoying Truecaller app, that claims to be a global telephone directory with a caller ID feature. The problem with this app is that it scans the contact lists of people who use it and make it available to other Truecaller users thereby raising privacy concerns. While some may refute that it could be extremely useful in certain cases, it sends an open invitation for miscreants to misuse information that some users wish to keep confidential.
Camera
The 13-megapixel camera on the Micromax Canvas Nitro is the perfect example of why the megapixel count doesn't matter. The lens and sensor of this phone clearly don't do it any justice. As a result when seen at actual size, it is quite evident that captured photos lack a lot of details. If viewed closely one can observe a blue tint to photographs which means that the white balance is off. In low light, the camera failed to capture any detail whatsoever. The only upside is that the camera can focus and shoot images really fast.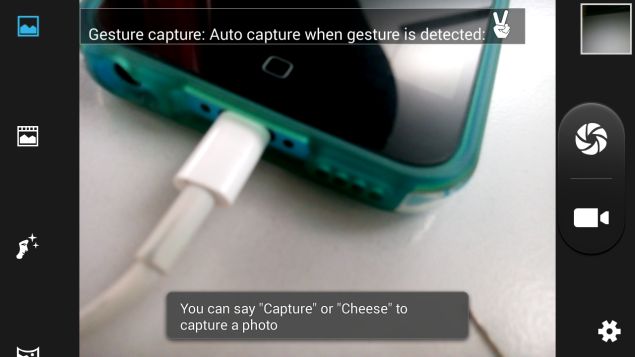 Captured video is recorded in .3gpp format for some reason and the quality is really bad. The camera couldn't stay focused on any subject, and video was just very dim. Surprisingly, the fixed-focus 5-megapixel front camera can capture decent images but it is not as good as the one on the Sony Xperia C3 Dual (Review | Pictures).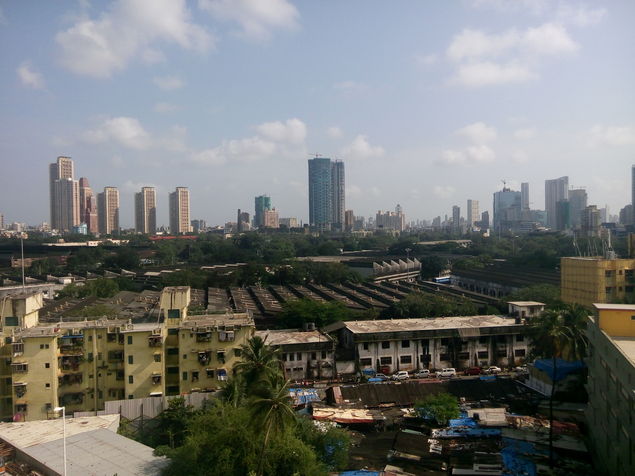 (click for full size)

Micromax has added a camera widget to one of the home screens, which directly lets a user access some of the camera's many modes. The selfie mode is self-explanatory. Frontback mode takes pictures with both cameras and shows them in splits creen. We fail to understand the novelty of this mode and think that Micromax could have stuck to the tried-and-tested picture-in-picture format used by other smartphone companies. There is a Stable mode in which a reading like a heart rate monitor moves on top of the screen to show you when the device is stable enough for shooting. The camera app by itself provides a lot of cool options like saying the word 'cheese' to capture an image (which didn't work most of the time). Also, there are a few manual controls as well. But hiding often-used modes like HDR deep in the settings menu is rather annoying.
Performance
We didn't face any hiccups while using the Micromax Canvas Nitro every day. It has smooth transitions and works quite well. It is a great smartphone experience. We even tried high-end games like Asphalt 8 and Dead Trigger 2, and we didn't face any lag whatsoever.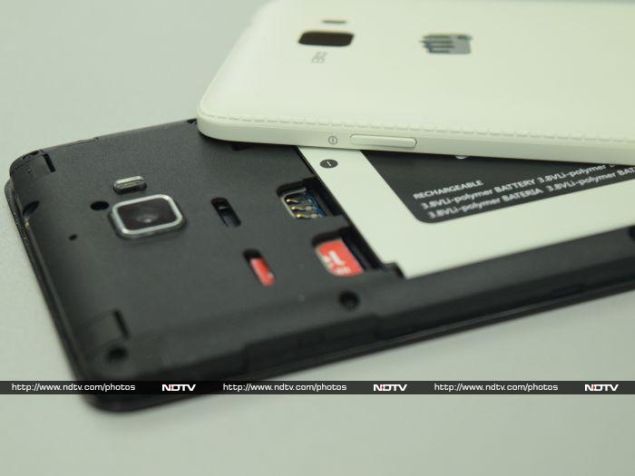 The benchmark numbers are second only to the slightly more expensive Xiaomi Mi 3 (Review | Pictures) in this price range. In AnTuTu and Quadrant benchmarks the phone managed to score 28,302 and 13,444 respectively, which are more than respectable numbers. The phone also hit 13.4fps and scored 6,453 in our GFXbench and 3D Mark Ice Storm graphics tests. The Canvas Nitro played all the heavily encoded videos we threw at it without any hassles. The loudspeaker is not too loud and moreover it distorts at high volumes. The bundled earphones will serve the purpose for most people, which is a good thing. The call quality is really good and the sound on both ends of the call was crystal clear.
We were completely floored at the battery performance of the Canvas Nitro. It managed to play video in a loop for 16 hours and 9 minutes before it died on us. This is exceptional battery life and this one performance stat alone is enough to sway a lot of buyers in the favour of this phone.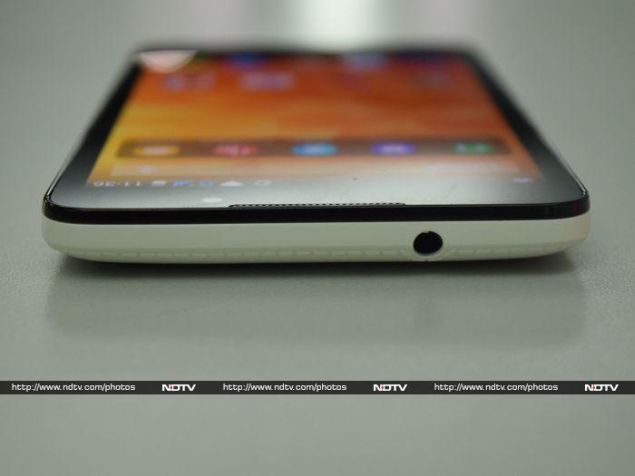 Verdict
The Micromax Canvas Nitro does a lot of things one would expect from a smartphone and does them well for the most part (except for the camera, of course). It is priced at Rs. 12,900, which is a great bargain. Unfortunately for Micromax, the market is filled with a ton of options in this range and the upgraded Moto G (Review | Pictures) is huge competition for the phone. The leverage that Canvas Nitro has over most of the other phones like the Asus Zenfone 5 (Review | Pictures), Xiaomi Mi 3 (out of stock for now) and the Moto G (Gen 2) is that it will be available in retail channels as well apart from any one online store. We would recommend this phone to anyone who needs exceptional battery life, as long as they're willing to accept the lousy camera as a tradeoff.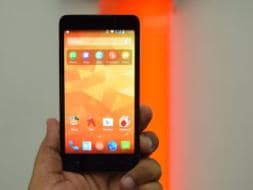 Micromax Canvas Nitro in pictures