Micromax's Canvas smartphone series has been considered by many to be the best thing that the popular Indian handset maker has ever done. After forging a formidable reputation for itself in the budget Android smartphone segment,
Micromax
of late has begun to aim a bit higher, with products such as the
Canvas Doodle 2
(
Review
) and
Canvas Turbo
(
Review
).
After lots of speculation, Micromax has now finally bitten the octa-core bullet and has done so with a vengeance in terms of both specifications and price with its latest launch, the Canvas Knight. Just as PC makers used to boast about the clock speed of the processors powering their devices, smartphone manufacturers are now doing the same.
The Canvas Knight is the first smartphone from Micromax's stable to use MediaTek's octa-core MT6592T chip, which is an upgraded variant of the MT6592. But does the Micromax Canvas Knight, with its octa-core processor and full-HD display, pack enough punch to overcome heavyweights like Samsung, Sony and HTC in an increasingly competitive market? We took it for a spin to find out.
Look and feel
The first thing that you will notice about the Micromax Canvas Knight is its refreshed design; however in many ways, it reminds us of another device, the Xperia Z.
Our immediate reaction after we took the smartphone out of the box was: we have seen something similar before. We would not be totally wrong to say that the Canvas Knight is inspired by Sony's former flagship smartphone, the Sony Xperia Z, while the sides look a bit reminiscent of an Apple iPhone 5 or iPhone 5s.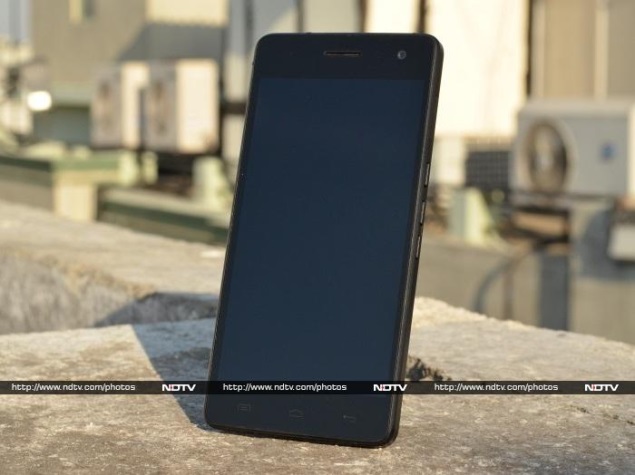 The front and rear panels noticeably borrow design cues from the Xperia Z (Review). However, a closer look at the Canvas Knight reveals differences. For instance, it doesn't have a rounded power button on the right panel, which is a hallmark of the current Xperia aesthetic, and the camera placement is also different. Next, there is no physical camera button on the Canvas Knight, unlike the Xperia Z.
The rear panel is dominated by a big slab of glass that curves nicely till the bezel at the sides, much like the Sony Xperia Z's rear panel which is non-removable.It arches outwards gently, with a 16-megapixel camera accompanied by an LED flash right on top. We wish Micromax had provided a layer of protection for the protruding rear camera.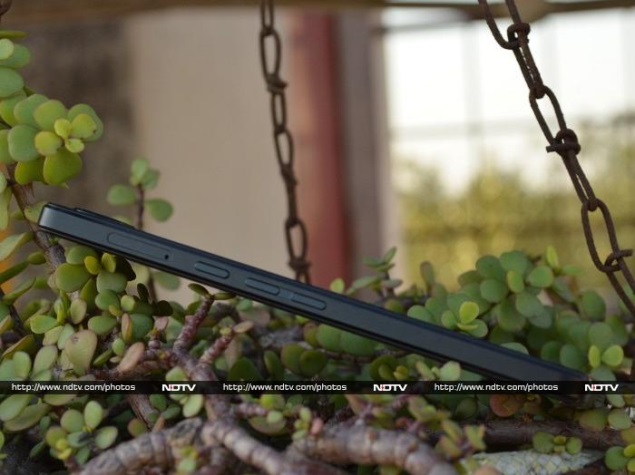 The Canvas Knight's side panels feature rounded edges and metal styling, which at times reminded us of the iPhone design. The glass rear and metal styling on the edges of the Canvas Knight is impressive and gives a premium feel to the device.
The front is totally dominated by a 5-inch touchscreen. There are no physical buttons on the front of the phone; only three soft touch keys below the screen which become visible when it's in use. The Canvas Knight also has a secondary camera which is placed above the screen and to the right.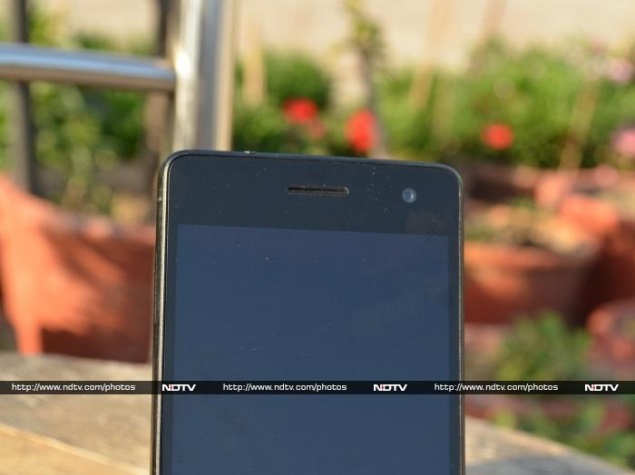 The 3.5mm audio jack is placed on the top panel, whereas the volume rocker keys and power button are on the right side.The two SIM card slots are placed on either side. All of these blend smoothly into the phone's frame. The Micro-USB charging port is placed on the bottom, alongside an elongated speaker grille.
We were disappointed to see the power button of the Canvas Knight placed a bit low on the right edge; we wish it had been placed a little higher,which would have made it easier to hit. We ended up pressing the volume up button instead of the power key quite often, thanks to their awkward placement.
Both the front and back panels of the Canvas Knight are dominated by glass, so we expected at least Corning Gorilla Glass for protection.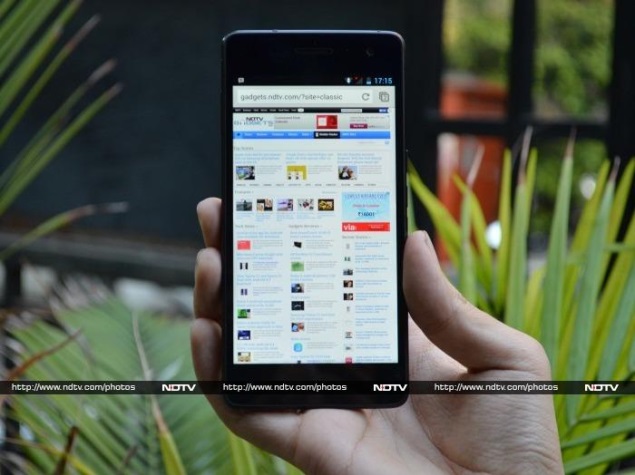 The Canvas Knight is surprisingly compact for a device with 5-inch screen, and although it is hardly super thin, it easily fits in most hands. However, stretching a thumb all the way across the screen feels awkward at best, unless you have big palms.
We have always been fascinated by new designs in the devices we see, and as far as looks go, the Canvas Knight is a complete departure from company's previous smartphones. We were impressed to see a new design sensibility applied by Micromax for this device.
No, the Micromax Canvas Knight does not scream 'cutting edge' but it is all about understated class. Just remember to keep a cloth handy to wipe fingerprints off the glass. On the whole, the Canvas Knight is a very handsome package.
Screen
The Micromax Canvas Knight features a 5-inch full-HD IPS screen with a resolution of 1080x1920 pixels and an impressive pixel density of 443ppi (pixels-per-inch).
In terms of performance, the screen offers vibrant colours and respectable contrast. Viewing angles aren't so great, but still pretty decent for a phone in this price range.
Unfortunately, Micromax has given a miss to toughened glass that resists scratches, which was not expected since it's a relatively high-end phone. Notably, Motorola used Corning Gorilla Glass 3 on the Moto G's screen and it is still cheaper than the Canvas Knight.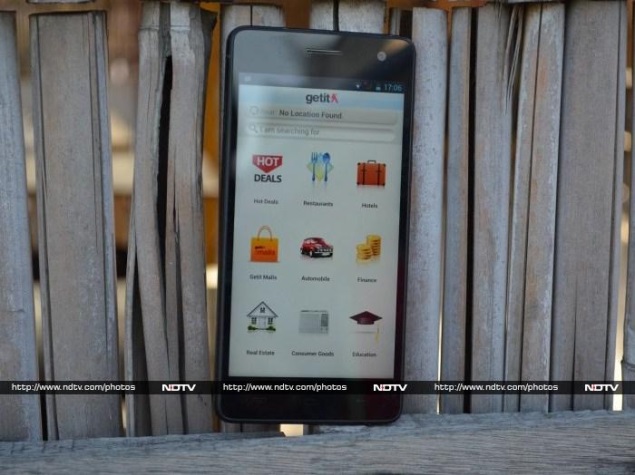 The IPS screen doesn't give the fullest colours or the deepest blacks like the Samsung's high-end Galaxy smartphones with Super AMOLED would, but the panel is bright enough nearly all the time.
The resolution and pixel density of the Canvas Knight is also far higher than some of its competitors in this price segment, such as the Nexus 4 and Samsung Galaxy S4 mini. Touch sensitivity is impressive and we did not encounter any issues while using the device.
The Canvas Knight's screen produced bright whites and vibrant colours. Images and text look sharp. Readability in direct sunlight was good, but only with brightness set to the highest level.
The screen is also highly reflective. In day-to-day use at regular brightness levels, the Canvas Knight's screen will offer higher quality than an average user expects.
Camera
The Micromax Canvas Knight sports a 16-megapixel autofocus rear camera with electronic image stabilization (EIS) and a M8 Largan lens, which the company touts, can capture high resolution images in rapid succession.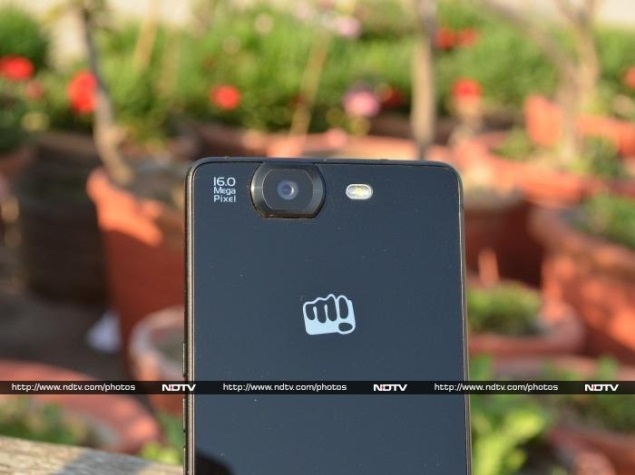 The camera app carries forward a lot of features from the company's previous Canvas models, including a customisable quick menu which includes controls for switching between the front and rear cameras, turning on the Intelligent Auto (flash) mode, switching between Normal, Panorama, HDR, Scene Detection, and Smile photo shot modes, and for accessing the deeper camera settings.
Notably, the Canvas Knight offers the same settings for voice activated shutter which are found on some high-end smartphones from LG, Samsung and Sony, which lets you take pictures with voice commands such as 'cheese' or 'capture'.
The camera app on Canvas Knight also offers options like focus, zoom, brightness, image size, scene modes, ISO, white balance, colour effects, timer, geo-tagging, shutter sound and image storage. Video can be recorded at 1080p.
The continuous or burst shot mode takes up to 99 images in one go when you press the on-screen button.
We tested the Canvas Knight's rear camera in outdoor, dim and indoor conditions and found that it produced very good results in well-lit conditions and even did reasonably well when the lights dimmed, although we recommend using the flash only when it gets really dark.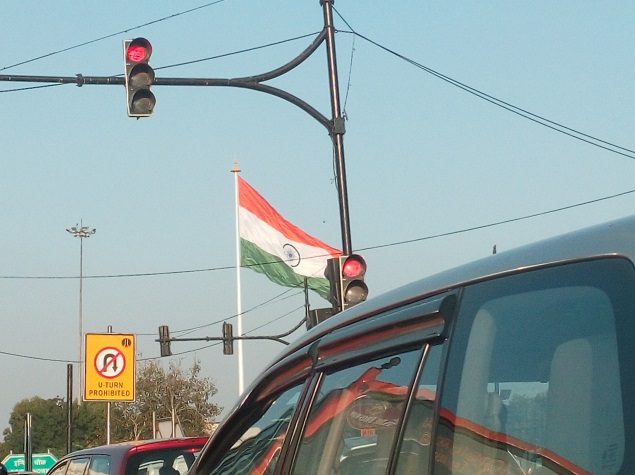 Daylight shots came out well except that colours were a little over-saturated and at times there was noise at edges; you can also see missing details if you zoom in to a saved image. However, the indoor and dim light shots did show a quality drop, and images weren't as crisp as those taken in well-lit situations.
The smartphone also features an 8-megapixel fixed focus front facing camera that can be very handy for selfies and video chats. We found videos and images captured with this camera indoors and even outdoors a bit grainy.
Software/ Interface
At a time when the world is expecting Android KitKat on modern phones, Micromax has stuck with Android 4.2.2 Jelly Bean for the Micromax Canvas Knight, which is extremely disappointing. Considering that Android 4.4KitKat has been out in the market for quite a while, we hope that Micromax soon rolls out an update to at least Android 4.3 Jelly Bean.
Further, the Canvas Knight does not run the stock version of the OS. Micromax has customised the UI, skinning some elements such as the notification tray, besides including additional apps, widgets and features.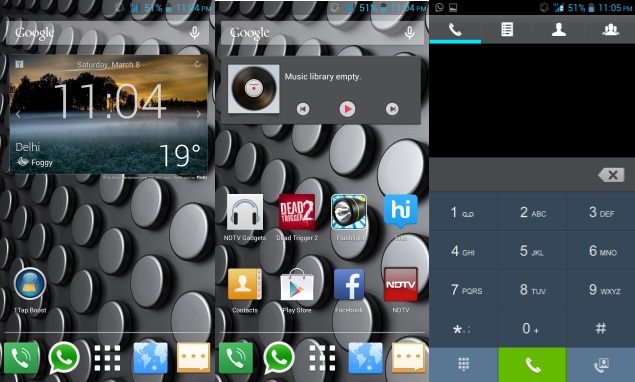 There's no doubt that the UI skin on the Canvas Knight is not as radical as Sony's XperiaUI or Samsung's TouchWiz, but it does add a few neat touches to the OS without intruding too much on its essence.
The Canvas Knight offers five customisable home screens that can be populated with apps and widgets. There are four app shortcuts which remain visible across all home screens.By default, these are the dialler, contacts, messages, and default browser apps.
The notification tray on the Canvas Knight features a Quick settings shortcut and a clear all notifications button, along with expandable notifications (using the two-finger pull gesture). It features the same setting toggles that are found in stock Android and adds some of its own as well, for quick access to profile, battery status, airplane mode, Wi-Fi, Bluetooth, GPS, data connection, data usage, user (audio) profiles, brightness, screen backlight timeout, auto rotation, reboot and wireless display.
Lock-screen widgets are a standard Android feature. Users can choose from the Clock, Camera, Gmail, Google Now and Messaging widgets in addition to those offered by third-party apps. These widgets offer glanceable information from the apps and allow users to perform certain actions even when the phone is locked.
However, the Canvas Knight offers only one unlock shortcut by default, which takes you to the Micromax Store online. We tried to change the lock screen options but were unable to do so.
The Canvas Knight also offers another Android 4.2 feature, Daydream, which displays photo albums or the clock while the phone is charging. You can also wirelessly mirror the Canvas Knight's display to a wireless display adapter connected to your TV or projector via HDMI.
The Canvas Knight offers FM radio with recording. It also offers 'smart' gestures like flip to silence the ringer, and the ability to answer the phone or auto-dial a number on screen when the user brings the phone to his ear.
Being a Jelly Bean device, the Canvas Knight features Google Now, which is a voice-based information assistant. You can ask questions and the tool returns answers or search results. The Google Now feature uses 'cards' which are essentially small boxes that offer different sets of information such as a weather forecast, directions, traffic information, scores, appointments, and currency conversion, among others. Notably, the Google Now feature collects information based on the user's behaviour, location and even email inbox to offer information automatically.
It's worth mentioning that the Canvas Knight's menu shows newly downloaded app and game icons with a 'New' tag on top.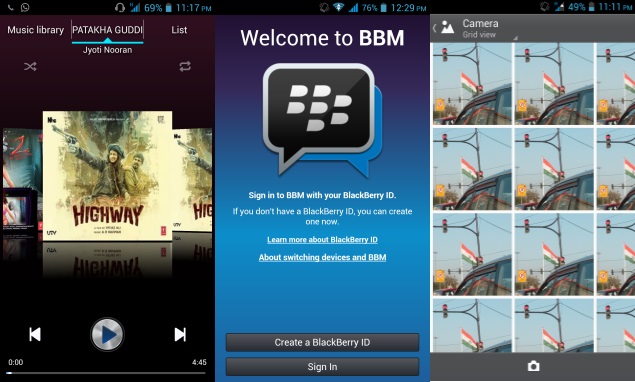 Some of the preloaded apps are Opera, Real Steel, Where'sMy Water?, Where'sMyPerry?, Getit, BBM, Truecaller and Kingsoft Office
Micromax replaced its own instant messaging app, HookUp with a Micromax-branded version of Hike, the mobile messaging app from Bharti Softbank. The smartphone also comes preloaded with the movie streaming app Spuul that allows users to watch movies for free.
Performance/ Battery Life
MediaTek claims that its MT6592 SoC is the world's first 'true octa-core' mobile processor. The MT6592 and MT6592T chipsets are built on the 28nm HPM (high-performance process) and include eight CPU cores, each capable of clock speeds up to 2GHz. MediaTek says the MT6592 can run both low-power and more demanding tasks equally well by using any number of cores at a time.
The processor is complemented by 2GB of RAM. It comes with 32GB of storage,out of which only 25GB is user-accessible.There's no slot for expandable storage.
We would like to note that the typing experience on the smartphone was not very great;messaging junkies will feel a bit frustrated with the stock Micromax keyboard, though this can be fixed by downloading a third party keyboard app.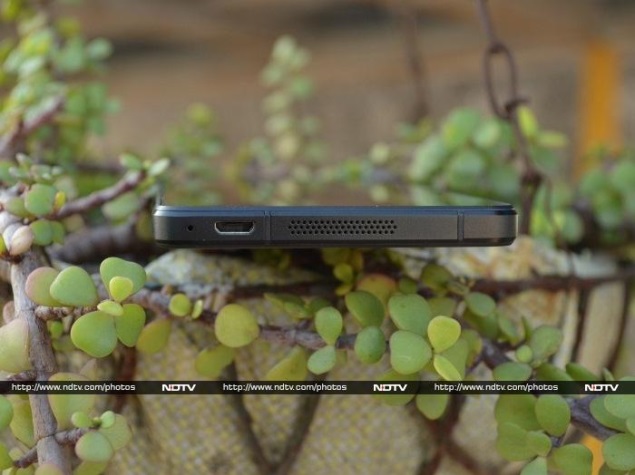 On the sound front, the Canvas Knight impressed us with its Yamaha amplified speaker, which is located on the bottom and is quiet loud. The supplied earphones are not that great, and we now expect Micromax to work on the quality of the accessories supplied with its devices.
The 5-inch full-HD screen of the Canvas Knight is excellent for watching movies and videos. The device was able to play full-HD videos and supported popular video formats like .AVI, .MOV, and .MP4. The Canvas Knight also managed to play the .MKV video, a format that has not been fully supported on other Canvas smartphones. In our rundown video loop test, Canvas Knight was able to able to last more than 10 hours.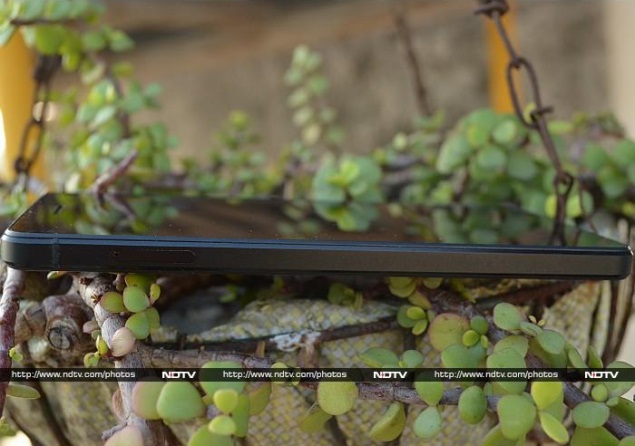 Call quality on the Canvas Knight was impressive and we did not encounter any problems with clarity through the earpiece. Users can talk for long hours on the Canvas Knight without any issues. Notably, the Canvas Knight is a dual-SIM device and supports micro-SIMs, instead of the regular SIM size.
The Canvas Knight scored impressively in benchmark tests and made it through our synthetic benchmarks, all thanks to the octa-core processor. The Canvas Knight scored 30,223 in AnTuTu, and 16,061 in Quadrant. On the graphics front, the Canvas Knight reached only 9.4 frames per second in the GFXbench test, and a disappointing 4171 in the 3DMark Ice Storm Extreme run-through.
Without any doubt, the Canvas Knight's processor is impressive. Unfortunately, real-world graphics performance is severely lacking. The major downside of the Canvas Knight is that it cannot handle heavy graphics in games like Asphalt 8, Real Racing 3 and Real Football 2013.
Apps like Instagram, Twitter and Facebook ran just fine, though. In day-to-day activities, the Canvas Knight feels smooth enough and you are not really left wanting for more power.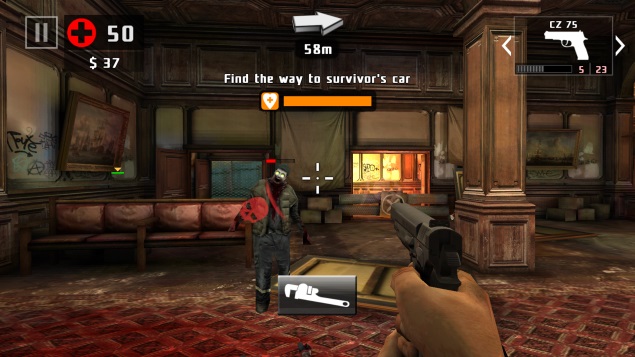 The Canvas Knight ships with a 2350mAh battery that can deliver up to 175 hours of standby and up to 7.5 hours of talktime, as rated by the company. Based on our testing period the Canvas Knight is a decent performer when it comes to battery performance.
We were able to get about 10-12 hours with normal usage, which included Wi-Fi switched on all the time, Web browsing for more than an hour,and a few calls lasting for about an hour in total,with the display set on auto-brightness and with the usual notifications for messages, emails, Facebook, Twitter and WhatsApp.
With heavy usage of the Canvas Knight, which included the screen brightness level set to its maximum level, calls lasting for about two hours, 3G turned on all time, casual photography with some tweaking in the default camera app, two hours of YouTube and locally stored videos, an hour of gaming, and with usual notifications for messages, emails, Facebook, Twitter, Google Hangouts and WhatsApp, the device lasted for only about 7-8 hours. Clearly, the settings you use will help in increasing the phone's battery life.
Verdict
If we had told you at this time last year that it would be possible to buy an Android smartphone with an octa-core processor for less than Rs. 20,000, you would have laughed at the notion. The Micromax Canvas Knight however, is just that.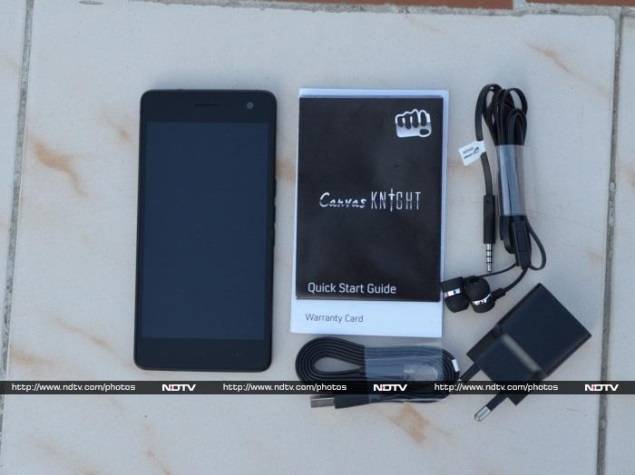 It looks good (we would call it refreshing, even), performs impressive in day-to-day use, and at Rs. 19,999, costs a whole lot less than Android flagships from Samsung, HTC or Sony.
Frankly, we have no reason not to recommend the Canvas Knight. Even though it has a 5-inch screen, the device is slim and easily fits into one's palm. Oh, and it is available in a number of colour combinations, including Black, Black and Gold, and White and Gold. Having colour options is always welcome.
Its closest competitor is the Intex Aqua Octa (Review) which retails at roughly the same price. Those willing to put up with a Windows Phone device can go for Nokia Lumia 1320 (Review).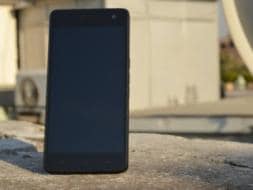 Micromax Canvas Knight in pictures