Reliance Retail's foray into the smartphone market right before the long-awaited launch of Reliance Jio's nationwide 4G service is by no means a coincidence. The company is making a huge, concerted push into digital services, content and infrastructure, and hardware is another complementary part of that effort. We have the most premium of its new smartphones, the Lyf Earth 1, with us today for review.
The company has priced it ambitiously at Rs. 23,990 which means it takes on several so-called "flagship killers" including the OnePlus 2 (Review), the Yu Yutopia (Review | Pictures) and even lower-priced competition such as the Lenovo Vibe X3 (Review). On the surface, the specifications seem to indicate that the Lyf Earth 1 is overpriced, when compared to these options. However, there might be other ways in which this phone can prove its worth. We're eager to take a closer look at it.
Look and feel
The Lyf Earth 1 comes in a pretty large black box. You get a standard charger, a USB cable, and a headset, along with a small SIM eject tool, an adhesive scratch protector, and a clip-on case. None of the accessories seemed to be particularly impressive in terms of quality.
The phone itself is equally unremarkable, except for one detail - twin cameras on the back. The two are placed symmetrically right at the top of the back, with an LED flash between them. Lyf says that the secondary camera enables "revolutionary" modes though they all seem like things we've already seen on the HTC One (M8) - we'll soon examine them in detail.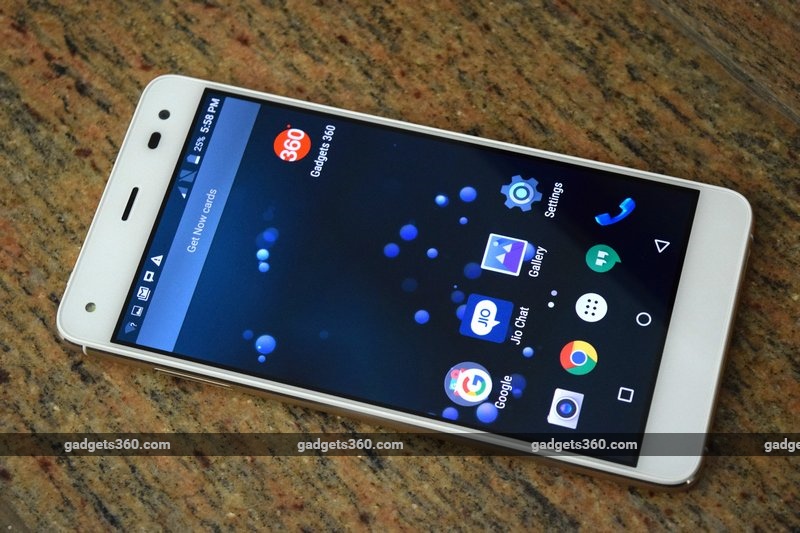 The Earth 1 is available only in white with a gold trim around the sides. It's a look we've seen plenty of times before, and does nothing to make this phone stand out. The front is quite plain - only cutouts for the front camera, flash, sensors, and earpiece stand out. The phone uses on-screen Android navigation buttons so the space below the screen is blank.
Predictably, the power and volume buttons are on the right. In a nice touch, Lyf has integrated a notification LED around the power button. It flashes in different colours depending on what kind of notification you've received. It isn't always visible, especially in the daytime, but it's nice to have. There's a tray on the right with slots for one Micro-SIM and a second Nano-SIM or a microSD card - you'll have to choose one or the other.
The only branding is on the rear, right in the middle, and you get some rather prominent regulatory text to go along with it. The 3.5mm audio socket is on top, and the Micro-USB port and speaker grille are on the bottom. The battery is not user-accessible.
The Earth 1 has little visual appeal, and it isn't the most comfortable phone to hold and use either. There are raised ridges around the front and back, presumably to protect the screen and rear from scratches, but these feel rough in the hand and against the ear. The phone is also a bit slippery and slides around on flat surfaces.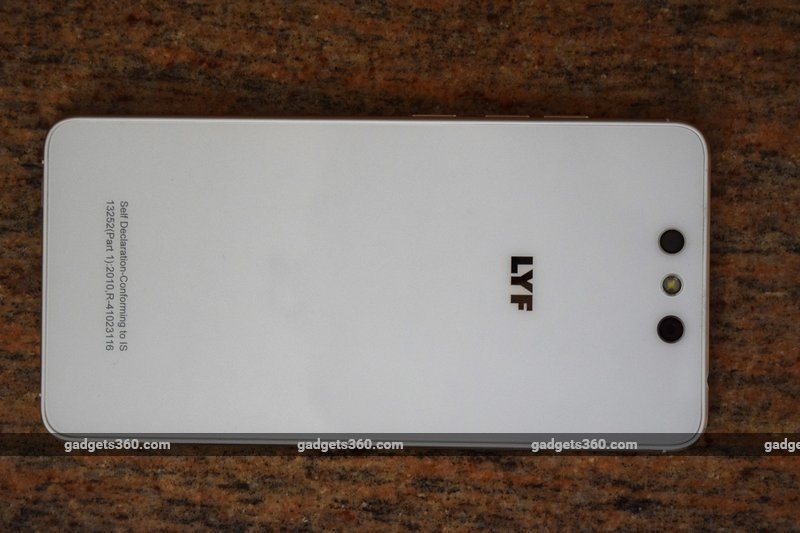 Specifications and software
Where many manufacturers have crammed top-end Snapdragon 808 or even 810 processors into phones at this price point, Lyf has gone with the more modest and dated Snapdragon 615 with eight cores. There's also 3GB of RAM, which is now de facto at this price level. You get 32GB of storage space which is expandable only by another 32GB using a microSD card.
The screen measures 5.5 inches with a resolution of 1080x1920. The primary rear camera has a 13-megapixel sensor and its sidekick is only 2 megapixels. The front camera has a 5-megapixel resolution. You get 4G support along with VoLTE (Voice over LTE) as well as Wi-Fi, Bluetooth 4.0, and FM radio.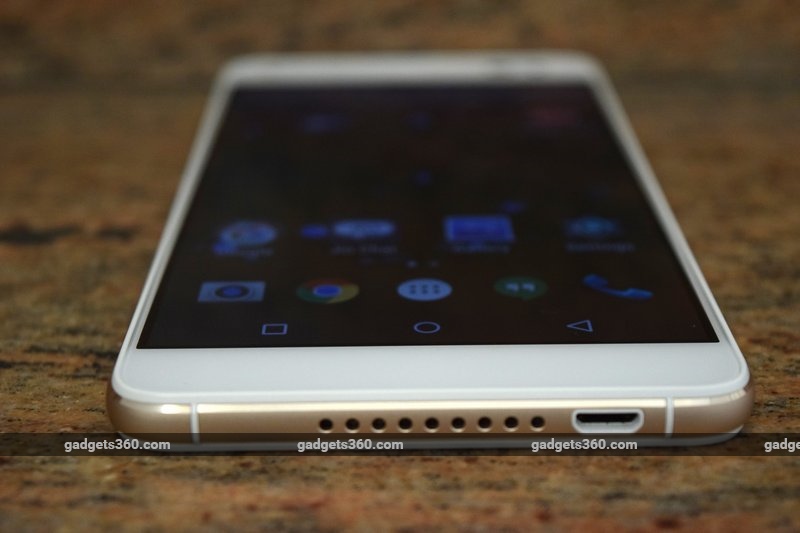 Honestly, there's nothing to get excited about here. You don't get an IR emitter, a fingerprint sensor, quick charging, or anything that even feels modern. A lot of phones that cost less than half as much come with these features. The only really bright spot on the spec sheet is the device's 3500mAh battery.
Thankfully, there's no heavy Android skinning. You get stock Lollipop 5.1.1 with only a few little tweaks in the settings app. Our review unit came with only one preloaded app, Reliance Jio Chat, which seems like a mashup of WhatsApp's voice and text messaging with Snapchat's content channels. People might or might not see any reason to use it when there are already loads of other messaging apps, but the channels might draw them in.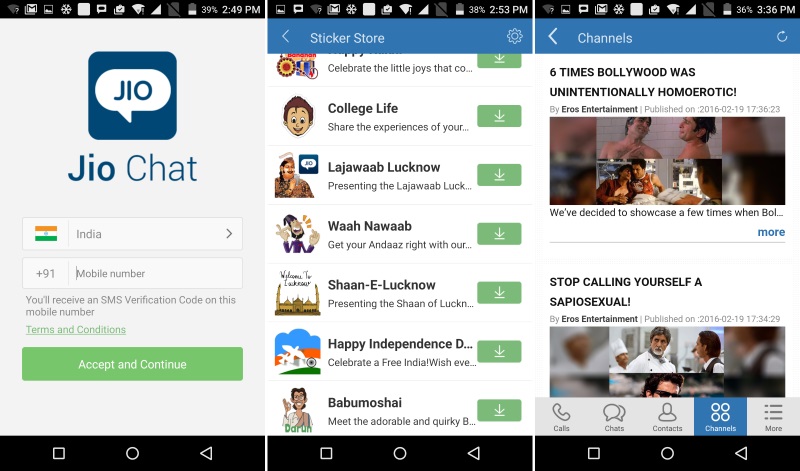 Performance
Smartphone performance has gotten to a point where it has been really a long time since we've seen a review candidate at any price level choke when simply playing video files. The Lyf Earth 1 did just that, though it was only apparent when we were watching videos for a long time. We suspected thermal throttling, but the phone didn't feel too warm at any point during use.
General usage was good enough in most situations. The screen is good, though a little dull and difficult to work with under harsh light. The speaker is quite tinny and prone to distortion, though sound through the bundled headphones was a lot better.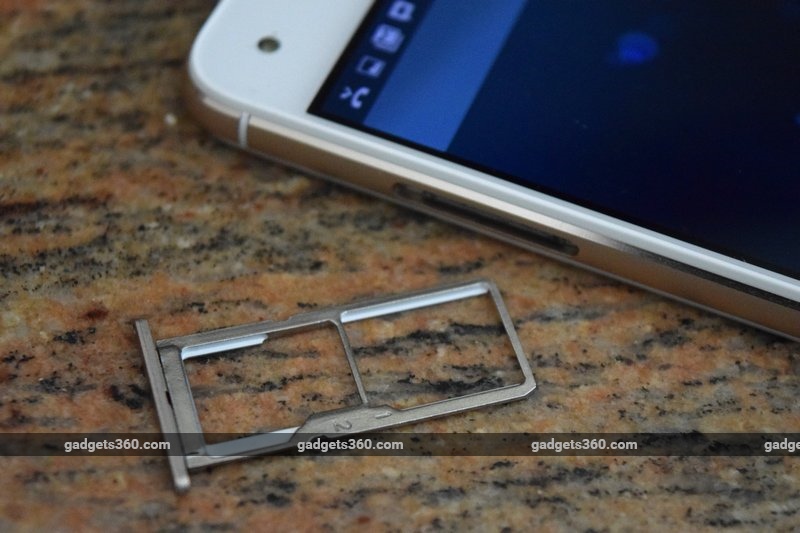 Benchmark tests showed that there isn't much muscle power on tap for heavier tasks. We managed a total of 3,844 in Quadrant and 33,354 points in AnTuTu. The Ice Storm Extreme run in 3DMark returned 5,591, while GFXBench ran at 15fps. Needless to say, the Lyf Earth 1 is absolutely smoked by current-day phones at this price such as the Yu Yutopia and Lenovo Vibe X3, and even several budget models such as the Le 1s. In fact, the scores were close to those of the Coolpad Note 3 Lite, which launched just recently at Rs. 6,999.
On the other hand, battery life was pretty impressive. The Lyf Earth 1 lasted for 15 hours, 35 minutes in our video loop test, which puts it in the upper tier of phones we've tested, as far as that one parameter is concerned.
That brings us to the phone's cameras, particularly its dual camera feature. First of all, it isn't very easy to discover how to use it. There are no pop-up hints or guides anywhere within the camera app's UI. When used normally, we found that the camera was decent, but quite slow to lock focus and to save files. This meant we often missed shots of things we wanted to capture, and objects in motion came out very blurry at night. Photo quality was good, but not exceptional, in most cases.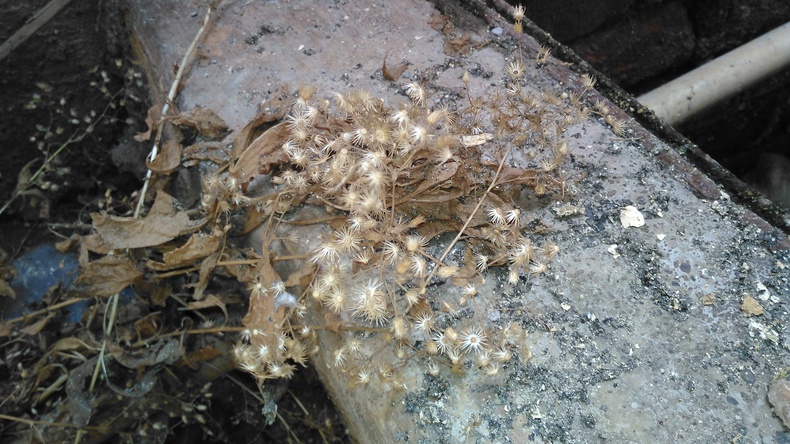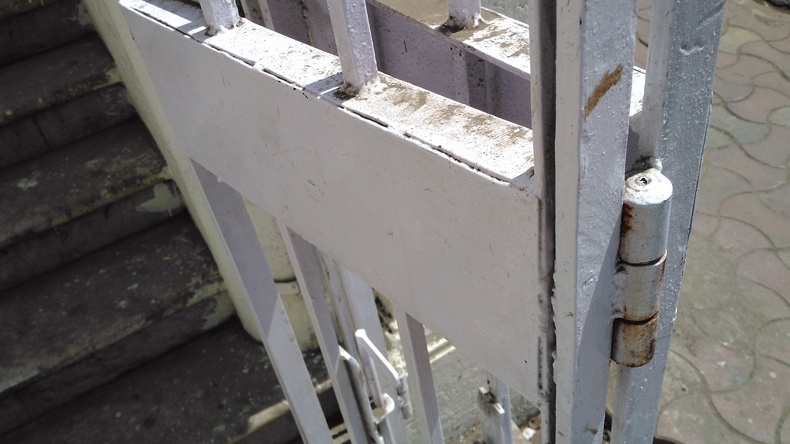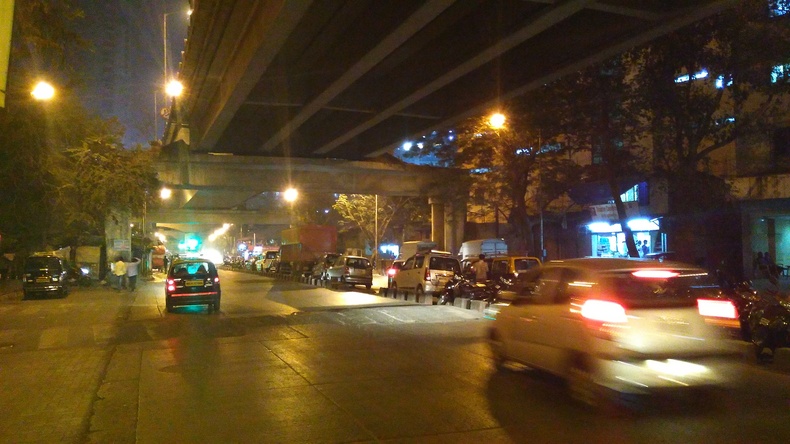 (Tap to see full-sized images)
The app offers a variety of settings, but when we checked the resolution, we found that the maximum possible was 10 megapixels, despite the primary sensor being advertised as a 13 megapixels. Video quality tops out at 1080p, and clips we recorded looked a bit grainy.
With very little information available on Reliance's website and in its promo materials, we were left to fend for ourselves. There's a separate dual-camera mode, in which very few settings are available - not even the flash. Photos taken are saved to a separate folder within the Gallery app. There are two editing options: Refocus and Foregrounder. Refocus is the most obvious; you can tap anywhere on the photo to set a focus point, and then change the strength of the depth-of-field effect using a slider. The results are fairly crude, but you can still have some fun with the tool.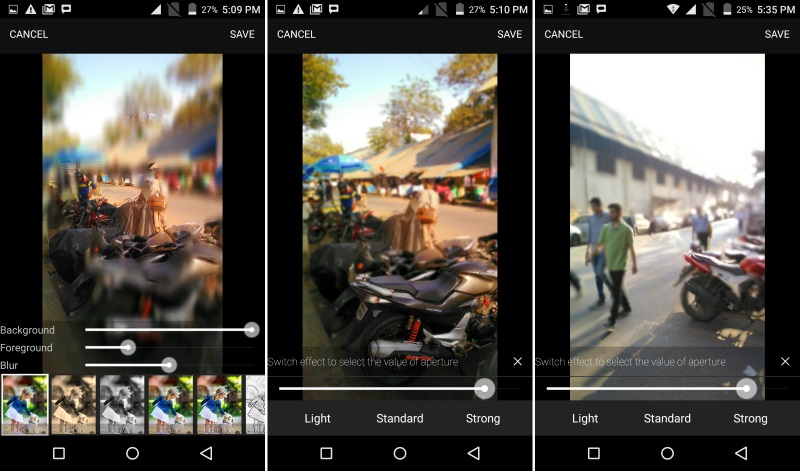 Foregrounder, on the other hand, is buried a few taps away. It appears to do the same thing, but in a way that gives you more manual control. Colour filters are also tossed in here. This tool creates thick patches over seemingly random parts of photos and leaves others untouched. It was barely ever possible to accurately separate foreground and background elements.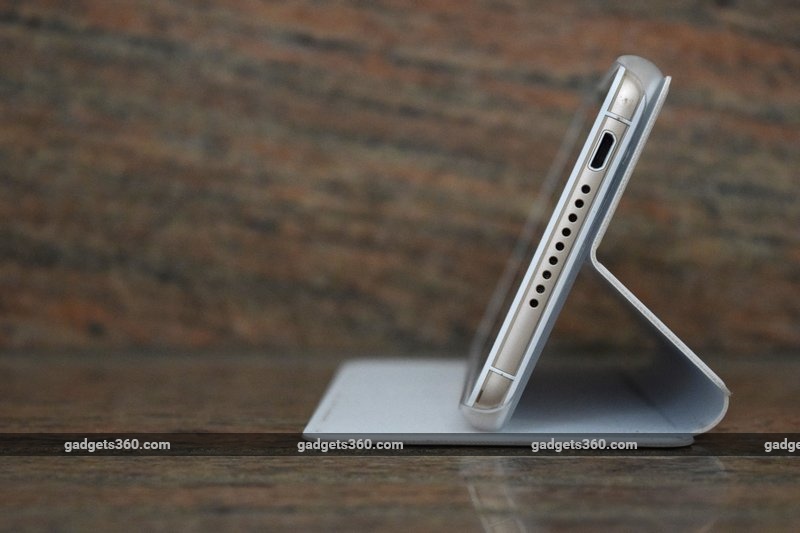 Verdict
Lyf is a new brand, but obscurity and reach won't be problems thanks to Reliance's muscle when it comes to retail, advertising, and of course Jio. You can expect to see it being pushed aggressively, especially outside of major cities in India. However, this first effort just isn't very good. Maybe the Earth 1's lower-cost siblings will be able to justify their prices better, but this one simply doesn't meet today's standards.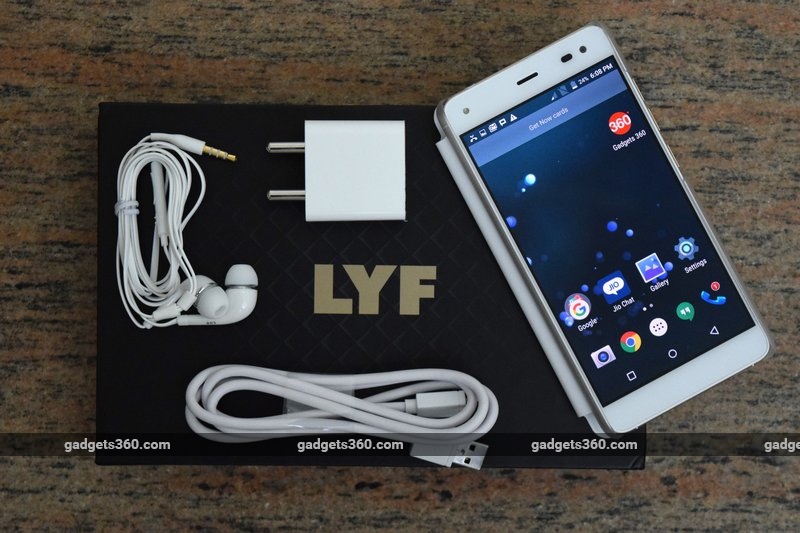 Even if you don't consider this a bad smartphone, the simple truth is that you can get the same level of performance almost across the board for one third the cost. The only possible feature that could justify this phone's price is its dual-camera setup, which is pretty much a novelty you'll play with once or twice and then forget about entirely. If it means that much to you, do yourself a favour and buy an HTC One (M8 Eye) (Review | Pictures) instead - it's still available, performs better, and costs around the same amount, if not less.
Ultimately, there is pretty much no reason to choose the Lyf Earth 1 over anything else in the market right now - even if it receives a serious price cut or you get a fantastic bundle deal with a new Reliance Jio connection later this year.