High demand for low-cost smartphones this year in emerging markets is one of the main reasons for the growth in worldwide smartphone sales, according to research firm Gartner. Competition has never been fiercer in the sub-Rs. 15,000 price segment, and every month we see OEMs trying to out-do one other.
This segment is currently dominated by Chinese players like Xiaomi, Lenovo, and LeEco giving even big-wigs like Samsung, a run for their money. Launching a new product in this segment today is risky as not only does it need to match the expectations that's been set but it should have something unique enough to make a mark.
LG aims to capture a sliver of this market with its newly introduced X screen smartphone, which boasts of a second 'ticker-styled' display similar to what we first saw on LG's premium V10 smartphone last year.

Design and build
The 1.7-inch secondary colour LCD display (80x520 pixel resolution) stays on all the time, even when the phone is off, so you can view your notifications without having to turn on the main display. The notifications appear just as they would in the notification shade, so for instance, the first incoming alert for an email or WhatsApp will have the entire message displayed but subsequent alerts from the same app will only have the app icons and the picture of the sender (if any). In addition to alerts, you can choose to have the time, date and battery level or a custom message permanently displayed.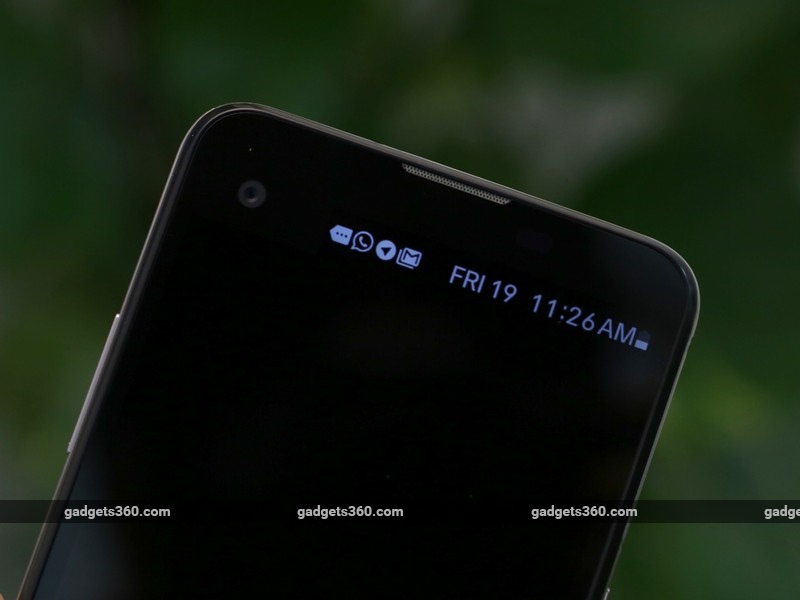 The display is also interactive so swiping to the left brings up Quick Tools which are a set of four toggle switches for sound profile, Wi-Fi, torch and SOS. You can swap these for Bluetooth, Camera, and Capture+ if needed. Another swipe to the left lets you control the music player.
When the main display is on, the second screen is more functional as it now shows you your four most recently used apps, calendar alerts, set shortcuts to your favourite apps and contacts.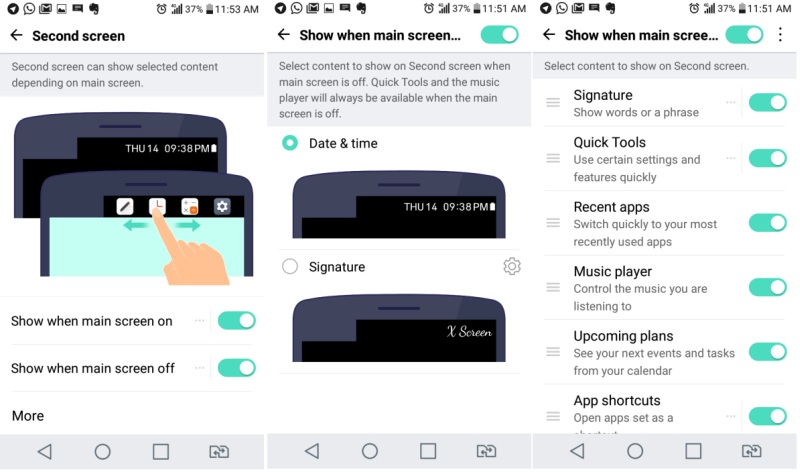 We found the second screen to be incredibly useful as it's so much better than having just a notification LED. We just wish the display would extend the entire length of the main display as aesthetically, it looks a bit odd.
Speaking of aesthetics, LG has done an excellent job with the design of the phone as it looks very premium thanks to the glass back. The sides have a faux-metal trim which gives the appearance of metal. For a plastic body, the fit and finish is good and the phone is incredibly light at just 120 grams, and pretty slim too at just 7.1mm in thickness.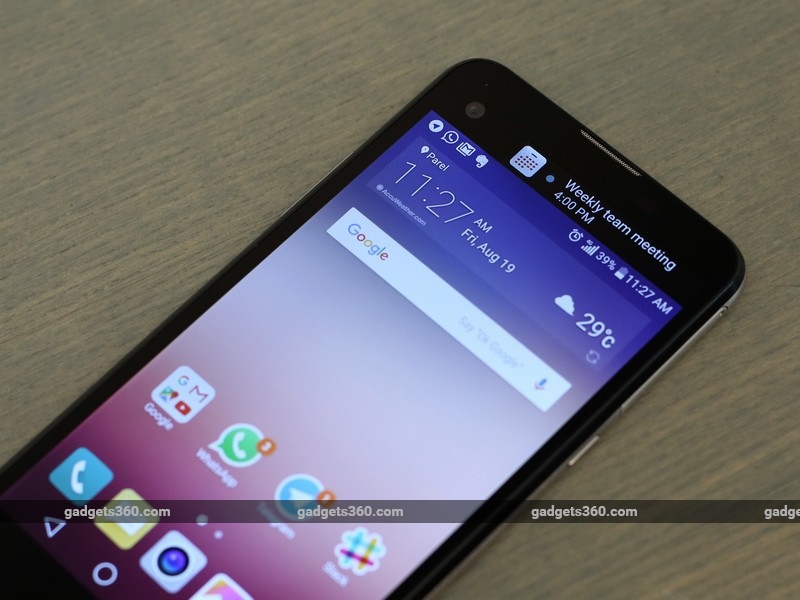 The 4.93-inch primary display boasts of LG's in-cell touch technology however, the resolution is just HD. The negative impact isn't too noticeable at first but edges of text do exhibit slight jaggedness if you look carefully. On the bright side, colour reproduction is good and the phone is very legible under sunlight.
Button placement is fairly ergonomic with good tactile feedback for all the buttons. On the right, we have a hybrid Dual-SIM tray which can house either two Nano-SIMs or a single SIM and a microSD card (up to 128GB). There's a single speaker grille below, along with the headphone socket and Micro-USB port.The camera module has a little bump on the back but thankfully, the lens did not scratch-up during our usage.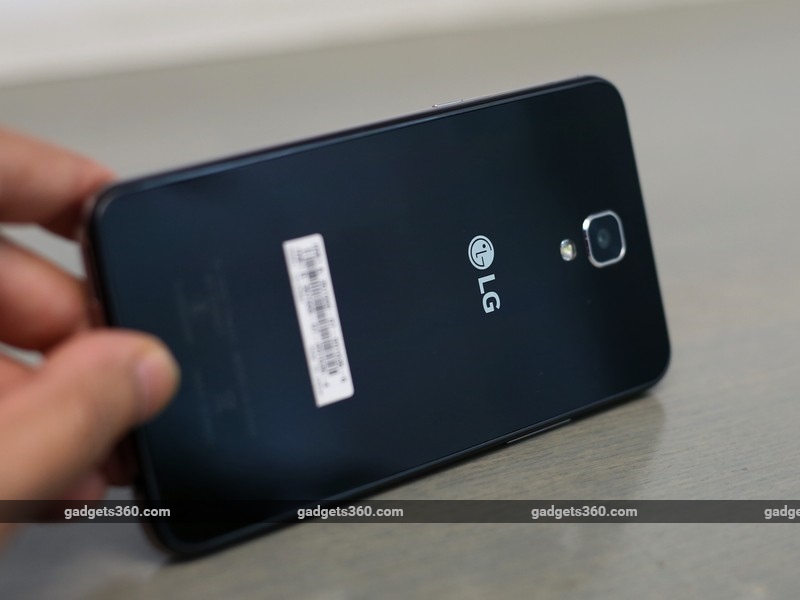 The one feature that's missing, and you've probably figured that out by now, is a fingerprint sensor. It's rather disappointing that the X screen misses out on this additional security measure that's now available in more affordable phones as well. The phone ships with a data cable, power adapter and a headset.
Specifications and features
This is where things start to get a bit rocky. Just like the LG K10 LTE (Review), the LG X screen is powered by a pretty dated Snapdragon 410 quad-core SoC, which is no match for the current crop of phones sold today in this price segment. In addition to this, there's 2GB RAM, 16GB storage, Wi-Fi 802.11b/g/n, Bluetooth 4.1, GPS, and FM radio. USB OTG is not supported.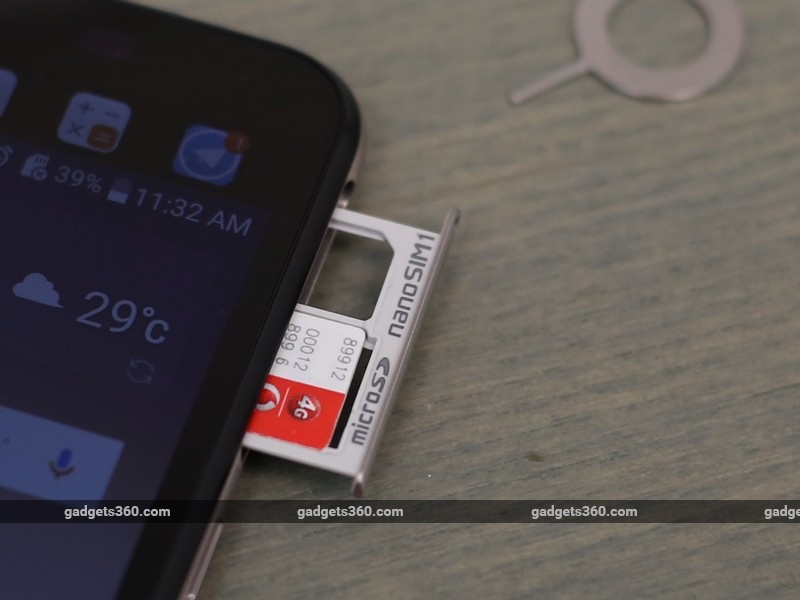 The age of the chipset also reflects in the benchmark scores. AnTuTu delivered just 24734 points while GFXbench's T-Rex test gave us only 10fps. The good news is that you get Android Marshmallow and not Lollipop. The stock interface has undergone a transformation with LG UI 5.0, which is easy to use and functional.
The launcher has a single-layered layout by default but you can switch to the traditional app-drawer if needed. SOS mode is a handy feature to have and works well. Once you've set up your emergency contacts, all you have to is press the power button five times in quick succession and a SMS is sent to your contacts along with your current location.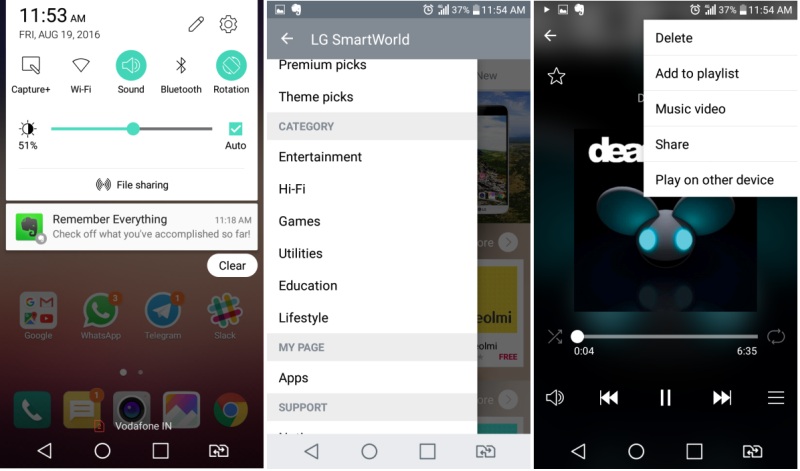 In terms of pre-installed apps, we have a suite of Google apps, file manager, Truecaller, and LG SmartWorld which is its own app and theme store. The order of the navigation buttons can be customised, while Capture+ lets you easily capture and edit parts of an app or picture you wish to share.
Performance
Despite the dated processor, Android Marshmallow runs decently well. There is a bit of intermittent lag that creeps in every now and then which is noticeable when the phone deals with lots of images like browsing through the app store or in webpages in Chrome. App loading times are not too speedy either. The X screen tends to get warm quickly where the LG logo is placed at the back. We noticed this after clicking a few photos or even while downloading apps.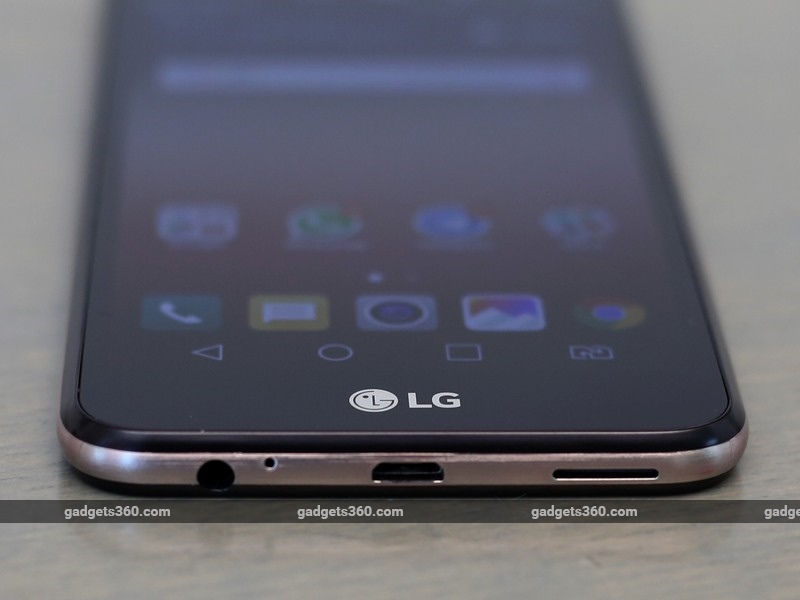 The second screen is immensely useful at times however, the LCD display washes out easily under direct sunlight, making it tough to read. When the main screen is of, the second screen dims when ambient light is low and if the ambient light sensor is covered completely (like when its in your pocket), the display shuts off. When the main display is on though, the second screen is on full brightness at all times. An OLED panel would have been a better choice for the second screen as the backlight tends to bleed onto the main display, which is noticeable when it's pitch dark.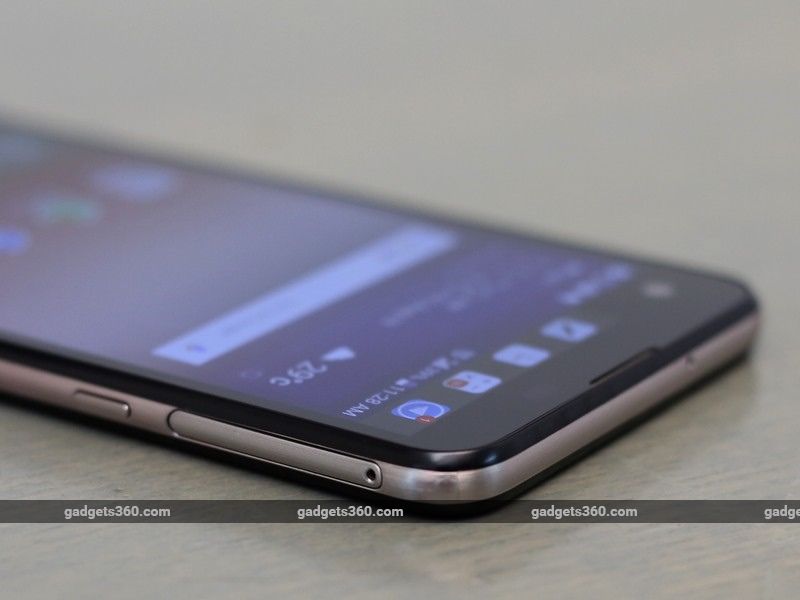 The phone is, surprisingly, not as slippery as we thought it would be. It certainly stands out from all the metal-bodied phones in the market. Full-HD videos runs just fine and the music player has a neat feature that can automatically search for the music video of the song you're currently listening to. However, audio quality is strictly average through the speaker, as well as with after-market earphones. The mono speaker is loud enough for alerts but fails to impress with media files. The bundled headset is good for calls but not much else.
The LG X screen comes with a 13-megapixel primary camera but there's no PDAF to assist you, so focusing speed is not great. The sensor takes a second or two automatically focus on the subject your shooting. Picture quality is decent in daylight for both landscapes and macro shots. Details are good and colours are pretty accurate. Indoor shots exhibit a bit of grain, which gets progressively worse in low-light.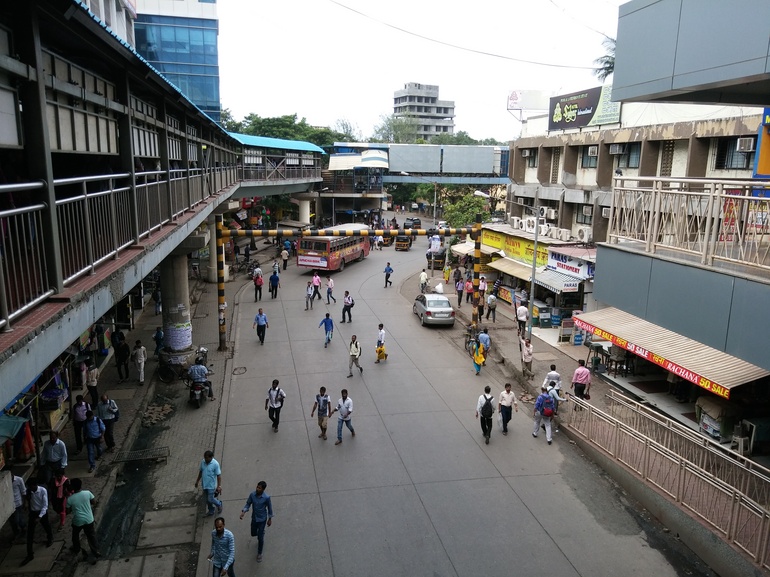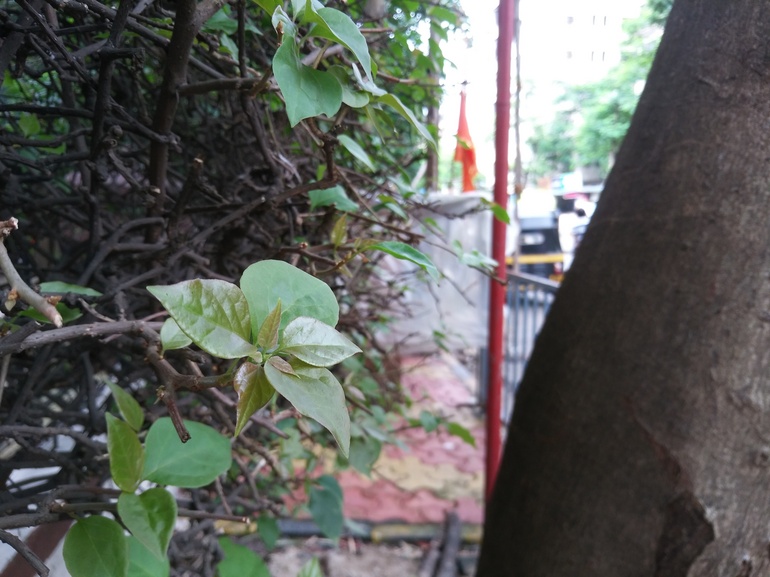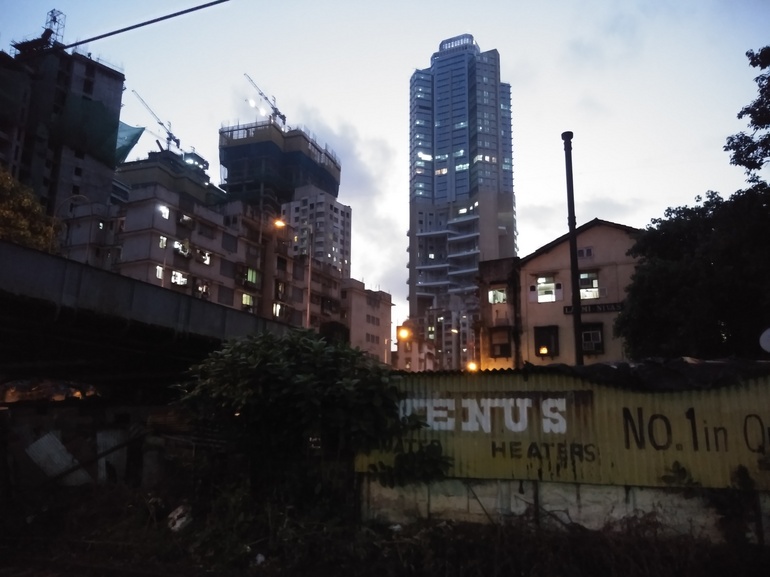 (Tap for full sized LG X screen camera samples)
Landscapes in low-light situations are pretty much unusable, but close-ups are still passable if you use the flash. With high levels of lag, it can take a few seconds before your shot is actually saved in such conditions. The front 8-megapixel camera gets palm and voice gestures for selfies but the pictures often turn out bit hazy, even in daylight.
The camera app is a little too simple if you ask us as it lacks some basic features like HDR mode. Panorama mode is present and a long press on the shutter activates burst mode, which works decently well. Quality of recorded video is good in daylight but don't expect much in low-light situations.
The 2300mAh battery puts on a good show as we managed to get about 12 hours and 13 minutes of battery life. Under regular use, we easily managed to go beyond a day with mixed usage. There's no fast charging here but we got around a 19 percent charge in half an hour, which is not bad.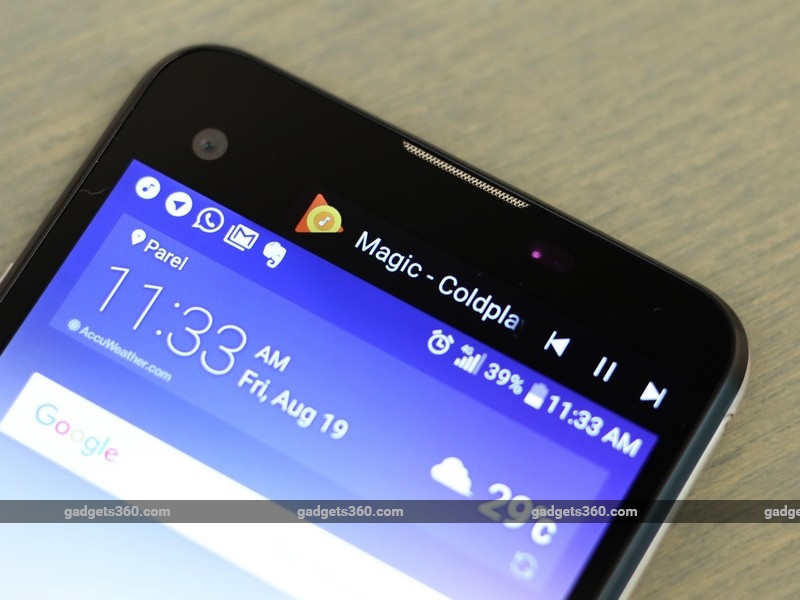 Verdict
After spending a good amount of time with the X screen, we wish more manufactures implemented this concept. Having a second screen constantly displaying basic, relevant information is a real boon and the ability to quickly jump between apps and features is a real time-saver. It just would have been a lot better with a OLED panel rather than a LCD one.
Sadly, having a second screen is not a good enough reason to pick the phone, as the X screen is far behind the competition in most other areas. It almost feels like LG is stuck in a time-warp when it comes to its recent budget offerings as the specifications and features feel like a phone meant for 2015 rather than 2016.
At Rs. 12,990, it just doesn't offer a comprehensive enough package to warrant a purchase. Besides the good design, battery life and the second screen, it's far too underpowered to properly handle Android Marshmallow, there's no fingerprint sensor, or USB OTG support and overall camera performance is quite underwhelming.
It makes a decent option to consider around the Rs. 7,000 mark but anything more and it becomes a tough sell.