LG might not be at the forefront of the smartphone market, but no one can say that it hasn't been innovative. In just the past three years, this company has famously put buttons on the back of its devices, launched a series of flexible convex phones, and created a standard for modular accessories. Now, LG is trying to popularise the idea of a second screen. Following the last year's LG V10 and this year's mid-range X Screen (Review), LG is shooting for flagship status with the new V20.
We liked the LG X Screen but found that everything other than its secondary display was too underpowered. The V20 might fix that problem, but it might also go too far in the opposite direction. Does LG need another flagship phone in 2016, and does the V20 genuinely bring anything useful to the table?
LG V20 look and feel
Large phones are the norm these days, and the V20 fits right into that mould. It has a 5.7-inch primary screen, but there's also a strip above that for the secondary screen and another below for symmetry. While LG has tried to reduce space around it, the phone is still pretty chunky. The secondary screen doesn't go all the way across the top, in order to leave room for the front camera.
The front is visually segmented, with metal strips above and below the glass midsection. Overall, this phone bears a strange resemblance to the BlackBerry Z10 (Review | Pictures), particularly because of these stripes, the shape and positioning of the earpiece, and the curvature of the corners.
Things get more interesting on the back. First of all, the entire rear is removable, which is quite the novelty in 2016. There's no provision for modular accessories here, but the battery can be taken out. This is also where you'll find the SIM and microSD slots. In yet another throwback, you have to pop the battery out to get to the primary slot. The secondary one is accessible, but the V20 won't recognise a SIM till you reboot it.
There's a large, prominent camera bump on the top, where you'll see two lenses, a dual-LED flash, and the laser autofocus window. The circular fingerprint sensor below the bump is also a power button. LG has moved its volume buttons back to the side with the V20, but for some reason not the power button, and we never did manage to get used to this arrangement during our time reviewing this phone.
The volume buttons are on the left, and the right is blank except for a clasp near the bottom which releases the rear panel. It's positioned just like a dedicated camera button, which is potentially confusing. There's a USB Type-C port on the bottom, flanked by a single speaker grille and a 3.5mm headset socket. Finally, it's easy to miss, but there's a tiny IR emitter on the top.
This is a big and heavy phone, and not always easy to handle. On the plus side, LG claims that the V20 is extra durable thanks to a special aluminium alloy and a military-grade certification (though it doesn't specify what exact parameters are certified). Our review unit arrived in bad shape with several dents and dings; the obvious result of LG's idea to demonstrate this durability by having journalists at the launch event drop these devices deliberately.
LG V20 specifications
LG has set a flagship-level price for the V20, and has chosen hardware befitting of that status. The screen measures 5.7 inches and has a resolution of 1440x2560, which makes it extremely sharp. Colours are bright and saturated, and viewing angles are excellent. The side borders are quite narrow, and the apparent lack of a rim around the device makes it easier to focus on content playing on the screen. The only possible downside is that the glass is highly reflective and picks up smudges very easily.
The processor is a Qualcomm Snapdragon 820, just one step behind the current top choice but still not a slouch by any definition. Similarly, 4GB of RAM ought to be more than enough, but 6GB is more common at the top end of the market right now. In terms of performance, there should be no problem. However, it will be weakness as the V20 ages and new competition comes in – especially lower priced options such as the OnePlus 3T.
There's 64GB of storage, and microSD card support goes up to the theoretical 2TB limit. You also get 4G with support for VoLTE, (Reliance Jio lists this phone as a supported model), Wi-Fi 802.11ac, Bluetooth 4.2, NFC, Infrared, and GPS. Two Nano-SIMs are supported, and the removable battery has a capacity of 3200mAh.
The camera configuration is a bit interesting – of the two on the back, one has a 16-megapixel sensor with a regular lens, and the second has an 8-megapixel sensor with a wide-angle lens. The former can capture a 75-degree field of view and go down to f/1.8, but while the latter goes up to 135 degrees, it can only handle f/2.4. While other manufacturers have implemented dual rear cameras before, we usually see two different zoom levels or individual RGB and monochrome sensors, or even a secondary depth sensor for 3D effects. In LG's implementation, the two don't work together; you switch between them manually depending on different scenes. There's only one 5-megapixel front camera but you can also switch between normal and wide-angle modes.
Video recording goes up to 4K, or 120fps at 720p. There's a manual mode which offers all the usual settings but also a surprising amount of control over sound recording, including a wind filter, the ability to record lossless audio, gain and clipping control, and even the ability to prioritise between forward and rear-facing mics.
LG has partnered with B&O Play for the V20's sound, and the phone comes with a B&O headset in the box. The company also says it has used four high-end ESS Sabre DAC chips as well as a headphone amplifier for high-end sound.
LG V20 software and the second screen
LG's custom Android UI, called LG UX, is one of the most heavily customised we've seen. Version 5.0+ which ships on the V20 is no exception. Everything from the homescreen to the preloaded apps has been modified in some way or other. Android 7.0 Nougat is almost unrecognisable, but the non-Pixel-exclusive features are available, including the neat multi-window feature which works well on a screen this size.
As with the LG G5, there's no app drawer. An optional page to the left of the first home screen shows assorted panels such as one for activity tracking, one for calendar activity and one for quick remote control actions. Evernote is the sole third-party option as of now, but hopefully more developers will offer their own. You can change the panels' positioning or disable ones you don't want.
There are UI themes to choose from and you can download more from LG's Smartworld app, which also offers games, fonts, and wallpapers. The notifications shade has multiple pages of toggle controls, and the Settings app has a tabbed interface with everything sorted into categories. There's a lot to discover, including shortcuts for one-handed operation, the ability to annotate screenshots, an easy mode, and a blue light filter. Thankfully you can double-tap the screen to wake it as well as put it to sleep, since the power button is at the back.
LG preloads a bunch of its own as well as third-party apps. The HD Audio Recorder app is particularly interesting, as it allows you to control the V20's three mics, layer vocals on top of a backing track, and even save recordings in the lossless FLAC format.
But of course the main attraction is the second screen, and we have to say that LG has really thought about how to make it work in different situations. When you're on the home screens, you can swipe to flip between static text of your choosing, shortcuts to apps, and quick toggles. Holding down on the screen at any point takes you to the settings page for that function. Incoming notifications are displayed here rather than obscuring anything on the main screen, and you can interact with them just as you would on any other phone.
If you get a call while in a full-screen app, you'll be alerted on the second screen and can swipe to answer or reject it. Shortcuts can be added to the bar by simply dragging them off the home screen. When in standby, the secondary screen can stay lit up showing the time and notifications. In that sense, the two work together seamlessly. The only minor annoyance is that the second screen doesn't stretch all the way across the primary one; LG truncated it to make room for the front camera.
We particularly liked how many of LG's apps take advantage of the second screen to show options and controls, especially the voice recorder and camera apps. However, the extra space seems to have tempted LG to clutter up its interfaces with lots more icons and buttons than strictly necessary – and that's on top of a UI already bursting with customisation options.
LG V20 performance
Given that this phone has a Qualcomm Snapdragon 820 SoC and 4GB of RAM, it might not look good against current and future competition. Those specs are slightly behind the curve compared to other phones released in late 2016, but performance should still be top notch. Benchmark tests showed predictably good results: 144,884 points in AnTuTu; 3,699 in GeekBench 4 multi-core; 28,186 in 3D Mark Ice Storm Extreme; and 44fps in GFXbench. Only that last score felt a bit low, but is explained by the high demands of a QHD screen.
In day-to-day usage, we found the V20 to be fluid almost all the time. It was only on rare occasions that we encountered a lag in the UI, which could be more due to the heavy software than anything else. We were happy to note that the phone didn't get too hot at any point during our review period.
The screen was a pleasure to watch movies and play games on, and while the secondary screen was handy, it was often awkward to read small text alerts when using the phone in landscape. As promised, sound quality is also really good. The built-in speaker can get quite loud, and voices stay clear even at top volume. The Hi-Fi Quad DAC feature is optional, for some reason, and seems to only affect music played through LG's Music app. It did make our FLAC test files sound a bit richer and fuller. The B&O headset has a nice braided cable and was comfortable to wear for an hour or two at a stretch.
Tap to see full-sized LG V20 camera samples
The camera app is cluttered, with controls surrounding the preview as well as on the second screen. As expected, there are loads of options to choose from. We were most impressed with the Pro still and video modes, especially the ability to tweak sound recording parameters. Image quality is superb – we managed to take some incredibly detailed shots of textures like mud, rust, and tree bark. Low-light shots were also good, particularly the V20's ability to handle small lit areas in otherwise dark frames. Low-light shots tended to be noisier than usual, but also still more usable thanks to the detail gained in that tradeoff.
Focus was usually accurate, but slow in low light. Close-ups were the best, though if we forgot that the wide-angle lens was active, images came out with a distinct fish-eye effect. The wide-angle mode seemed like a gimmick at first, since everyday situations rarely called for it. It was fun to use creatively, and we can imagine situations such as festivals or concerts when the V20 will be able to deliver photos that other phones just can't.
Battery life was excellent, and we were able to stretch to well over a day with normal usage including games and video streaming over 4G. Our HD video loop test ran for 9 hours, 37 minutes.
Verdict
LG's V20 it is a bit of a jack of all trades. It's trying to be a lot of things, and in most cases, it succeeds – just without much finesse. While some phones have one standout feature as their calling card, this one offers not only dual cameras but also the second screen, impact-resistant body, and Android 7.0. High-quality sound recording might not be a much-sought-after feature but it's a very handy bonus. We think that LG could have done a bit better in the styling department, and its software could use a lot more polish.
A lot of people will look at this phone's price tag and dismiss it, thinking that Google's Pixel and Apple's iPhone 7 siblings are the obvious choices. The plain-jane styling and last-gen specs will also seem like potential reasons to avoid it. Even so, the V20 is well worth considering seriously for its versatility and uniqueness – especially if you find it selling for less than Rs. 50,000.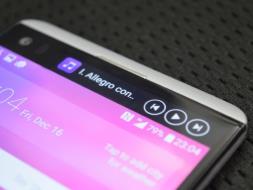 LG V20 in pictures