LG is going after the entry-level segment of the market with the introduction of its new K-series of budget phones. The LG K10 LTE and LG K7 LTE are the first devices in this line, and were first announced just before CES 2016, where we managed to get some hands-on time with them. In India, LG has launched the LTE variants of these handsets and today we'll be taking a closer look at the LG K10 LTE. With a price hovering around the Rs. 13,000 mark, the LG K10 LTE faces fierce competition from the likes of the Xiaomi Redmi Note 3 (Review), LeEco Le 1s (Review), Lenovo Vibe K4 Note (Review), and the Motorola Moto G Turbo Edition (Review).
As you can see, there isn't exactly a shortage of options here and each of these smartphones is a good pick in its own right. Can LG's new offering carve out a niche for itself in such a crowded space? Let's find out.
Look and feel
The glossy pebble design of the K10 LTE is the first thing that grabs your attention. There are no sharp lines here as the curved frame blends seamlessly into the textured back cover, with no semblance of an edge. With its rounded design, the phone still sits comfortably in your palm. The phone also feels incredibly light, even at 142g with its battery in.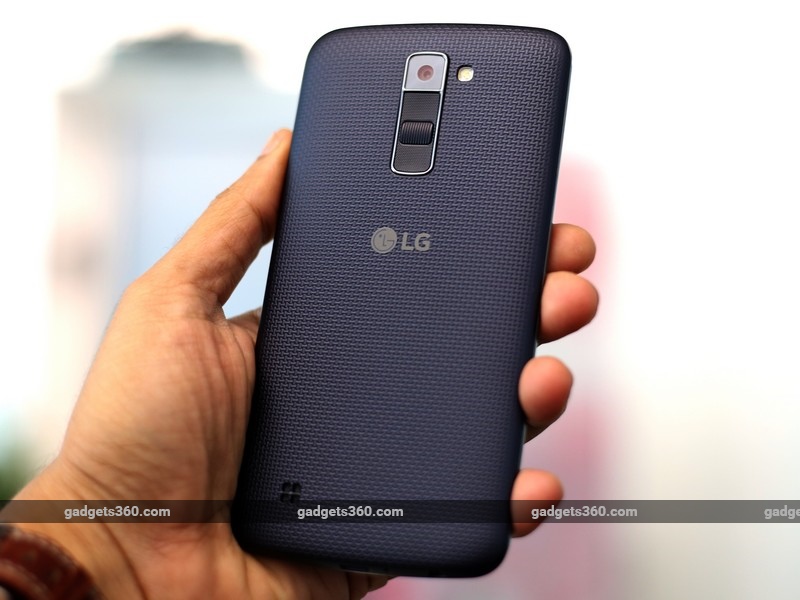 The K10 LTE gets a 5.3-inch HD in-cell display which produces relatively crisp text and images. The protective glass isn't scratch-proof so LG has preinstalled a screen guard on the phone. However, this doesn't cover the entire front face all the way to the edges, and ends up being quite an eyesore. Colours are pretty vivid and the display is quite legible, even under direct sunlight. The phone is a bit slow to react to changing ambient light, and when it does, the transition can be jerky. There's also no notification LED.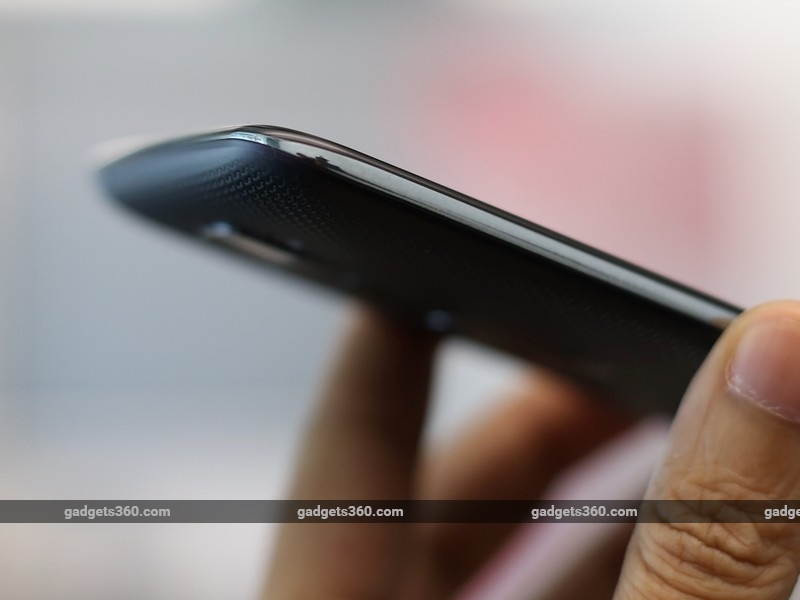 The headphones socket and Micro-USB port are placed at the bottom, and the power and volume buttons are placed on the back, in LG's signature style. We found the volume buttons a bit on the softer side due to which we accidentally pressed them many times when commuting. The texture of the rear cover offers good grip without looking tacky. In fact, we can safely say that the LG K10 LTE is one of best looking budget plastic phones on the market. Our indigo review unit looked really good, but you can opt for white or gold instead if you prefer.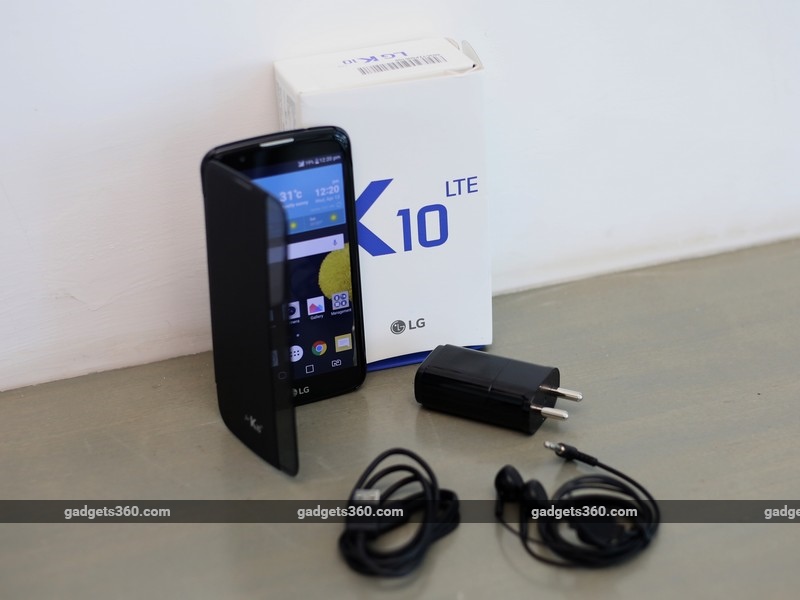 The K10 LTE ships with a 4.2W charger, USB cable, headset, and flip case. The case has a translucent vertical strip on the edge, which lets you see basic notifications, the weather, battery life, and the time and date. The quality of the case is strictly okay, but the other accessories feel more durable.
Specifications and software
LG has created multiple variants of the phone for different markets. The K10 LTE (K420ds) sold in India is powered by a quad-core Qualcomm Snapdragon 410 SoC and has 2GB of RAM. Despite being a bit old, it is a capable processor, but is outclassed by the Snapdragon 615 or 616 which are now popping up in sub-Rs. 10,000 smartphones. Benchmark numbers reflect this, and we got 26,988 in AnTuTu and 10fps in GFXbench's T-Rex test. There's 16GB of internal storage, which can be expanded by up to 32GB via the dedicated microSD card slot.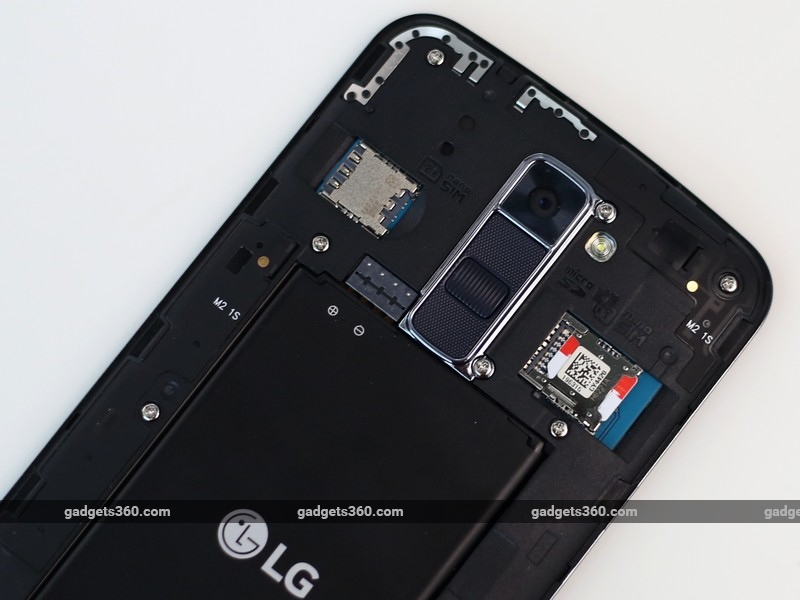 The phone supports 4G with VoLTE on Indian bands but only for SIM 1. SIM 2 only supports up to 3G data speeds. Hot-swapping SIM cards isn't possible, so if you eject one or insert a secondary SIM, you'll have to reboot the phone. Other specifications include Wi-Fi 802.11b/g/n, Bluetooth 4.1, FM radio, and GPS. There's no fingerprint sensor, NFC, or USB OTG support.
The Indian version of the phone will ship with Android 5.1 although some variants of the K10 seem to ship with Marshmallow. We hope the Indian variant receives an OTA update soon. You get LG's custom user interface here which is pretty functional and familiar if you've used any of LG's recent smartphones. Unlike the recently unveiled flagship LG G5, the K10 LTE has a traditional app drawer interface. The Android navigation strip at the bottom can be customised to include an additional button for taking screenshots, notification shade, and SIM switcher. The latter is useful when you're using two SIM cards since there aren't separate call buttons for each SIM.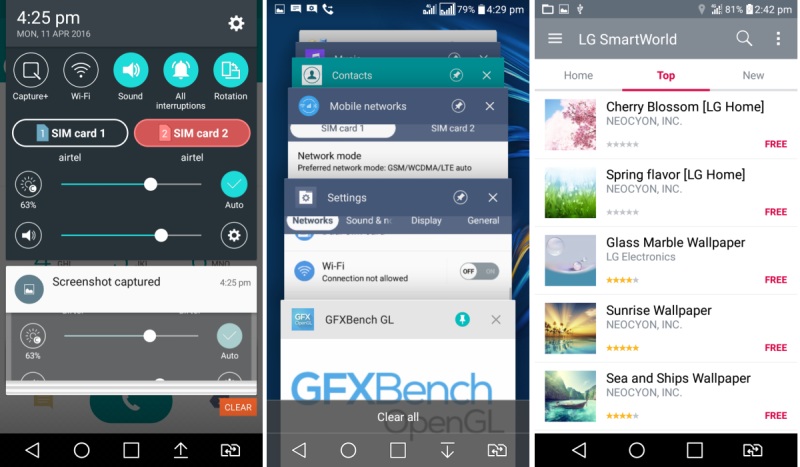 LG offers decent levels of customisation. You can change the lockscreen and homescreen animations; add themes from the SmartWorld app; make certain apps sticky in the app switcher; and double-tap to wake or lock the screen. The notification shade has toggle switches and brightness and volume sliders. The floating apps that we've seen in higher-end LG phones aren't present but you do get floating notifications for an incoming call if you're in another app.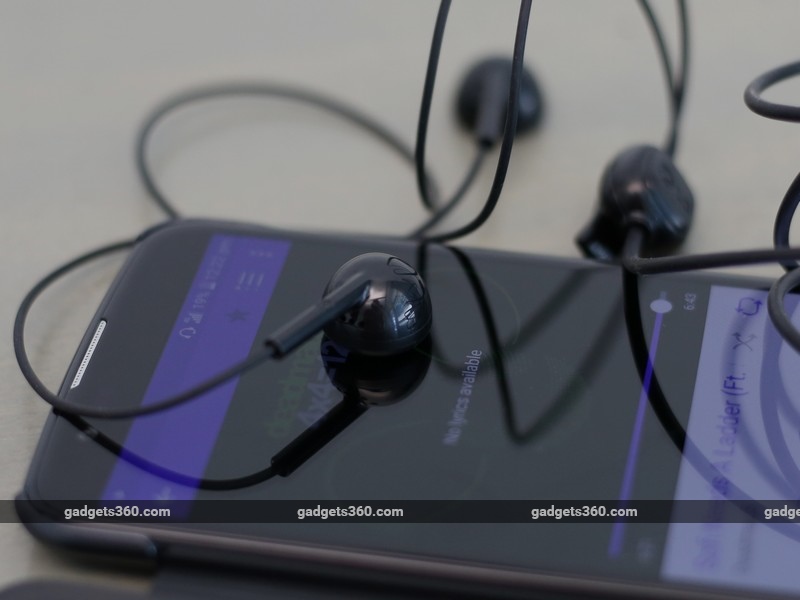 The sub-menus in the Settings app can be viewed as tabs, which we feel is much easier to navigate. In terms of pre-installed apps, bloatware is kept to a minimum as you simply get a file manager, LG Backup, QuickMemo+ (which can sync with your Google Calendar), RemoteCall Service, and Tasks.
Performance
Thanks to the light UI, we usually had about 1.4GB of free RAM available for apps. General performance was good although we did notice slight lag intermittently when jumping between apps or when pulling down the notifications shade. We had no trouble with 4G performance or call quality for that matter. The stock LG keyboard is comfortable to use too. The flip cover adds a bit of bulk, but without it, the K10 LTE fits very easily into a pocket, which is something we really liked. One-handed use is not the possible all the time since there's a fair bit of plastic around the screen.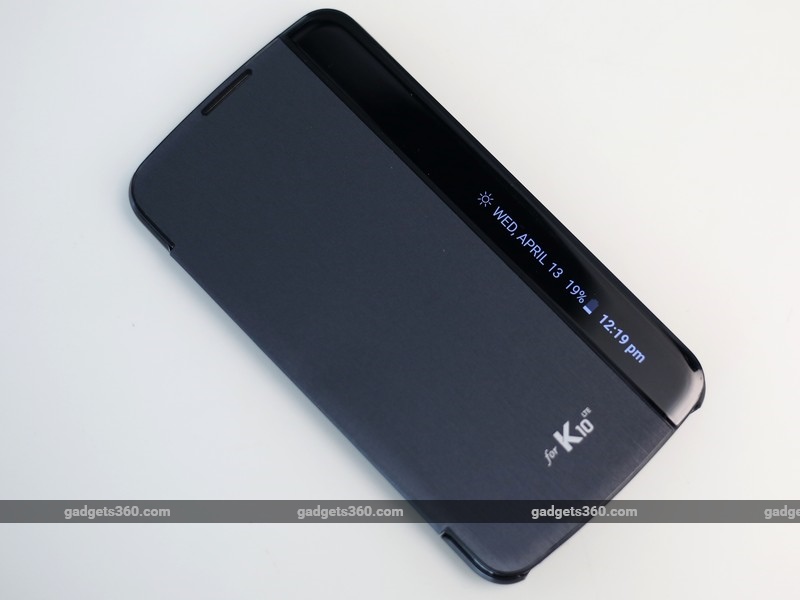 The K10 LTE managed to play high-bitrate video files well, though not all audio codecs are supported. Even with MX Player, we were unable to play the AC3 audio in our test files. The music player does support FLAC but there aren't any equalizer presets for tweaking the audio. The bundled headset is good for voice calls but just about alright for media playback. Also, the earbuds don't have a very comfortable fit. The rear speaker is fairly loud for alerts, but again, not great for media.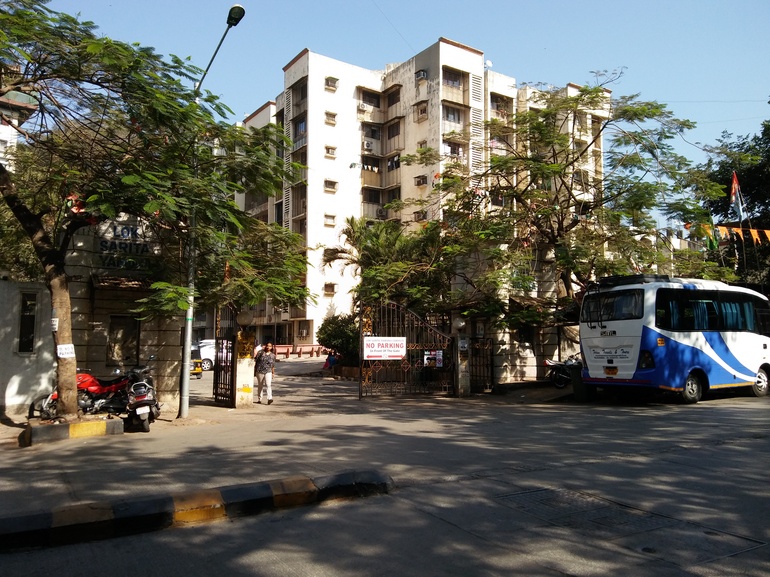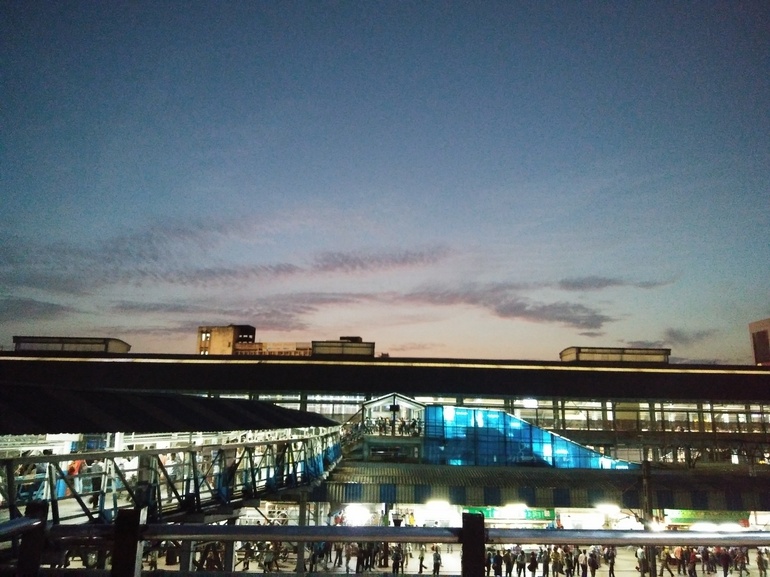 (Tap to see full-sized LG K10 LTE camera samples)
The K10 LTE features a 13-megapixel rear camera and a 5-megapixel front camera. The rear camera captures acceptable landscapes and macros in daylight. Focusing and saving images is a little slow, and gets slower in low light. The level of detail and accuracy of colours in macro shots are much better than in landscapes under good lighting, but images and video taken in low light exhibit a lot of noise as the level of detail dips. This is very evident when you zoom in to pictures. The front camera does a decent job with selfies, even indoors.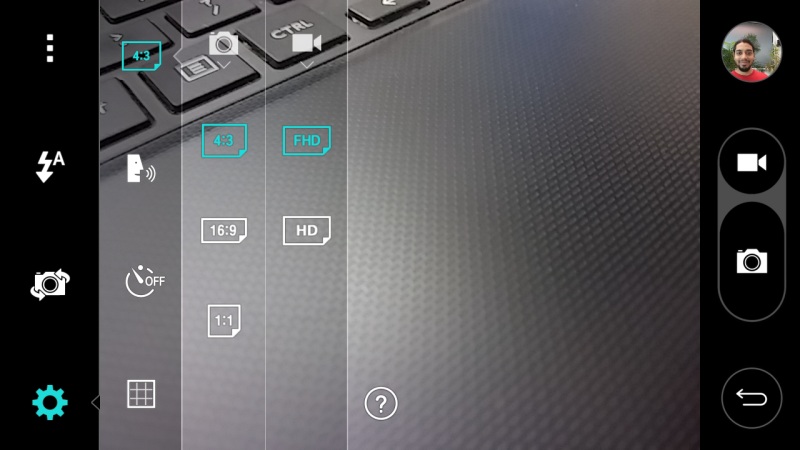 LG has gone with a minimalistic look for the camera app, which is both a good thing and a bad thing. You have the option to either have the shutter button and other settings overlaid on the viewfinder, or you can hide them and simply touch anywhere to capture a picture. The latter option might be good for users who don't bother tapping to focus manually.
You don't get anything extra in terms of settings or shooting modes. There are options for a timer, and voice or gesture triggers for taking selfies. However, there aren't any filters, HDR, or even a panorama mode. This makes it difficult to capture wide landscapes, or if you want to get decent photos when shooting against the light.
Battery life
The 2300mAh battery in the K10 LTE lasted for 10 hours and 24 minutes in our video test, which is quite good considering its capacity. Charging the phone can require a long wait since there's no quick charging support. It will only get up to only around 16 percent in half an hour. While this isn't exactly speedy by today's standards, the good news is that the battery doesn't drain all that quickly with regular use. We easily managed to go more than a day with a bit of 4G and Wi-Fi usage.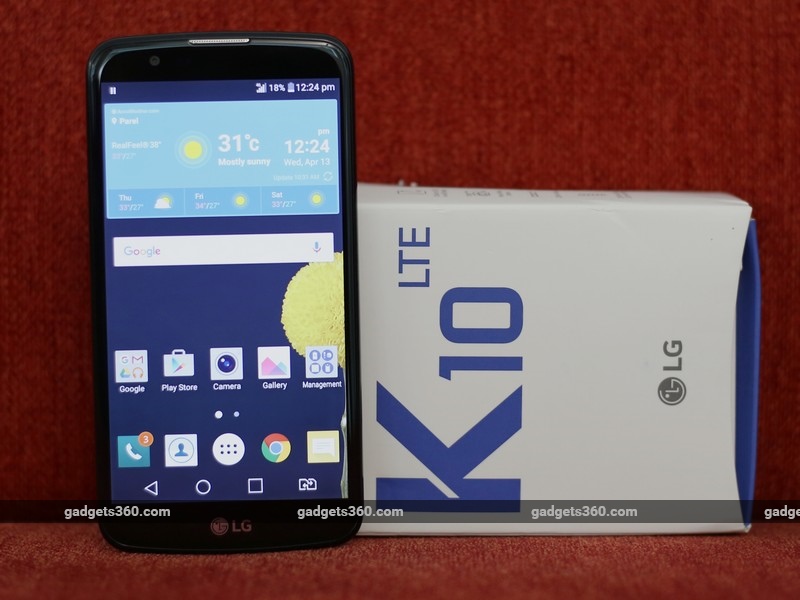 Verdict
LG has given the K10 LTE an MRP of Rs. 13,750, which straight up feels way too much for what's on offer. It feels like the phone is competing with the wrong crowd, and it's hard to justify this price tag with this feature set in mid-2016. A more appropriate price level would be about half this much, considering there's nothing really special about it other than its design, a good screen, and decent battery life.
There's so much more LG could have done with the K10 LTE, like equipping it with a more potent processor, supporting fast charging shipping it with Marshmallow, or at least making sure one of the cameras was really good. These are things the competition is doing, so it really feels as though the K10 LTE needs a price correction if LG wants to have any hope of it succeeding in India.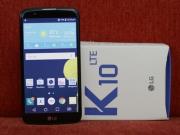 LG K10 LTE in pictures