The LG G4 Stylus has a name and design that will remind you of LG's current flagship, the LG G4 (Review), but that's where the similarities end. The G4 Stylus is modestly specced in comparison and you don't have to be a genius to figure out it comes with a stylus. LG did the same thing last year with the LG G3 (Review) and the LG G3 Stylus (Review), which shared precious little apart from the design language. The LG G4 Stylus - which has been released as the LG G Stylo in some markets - seems to carry many of the same characteristics, while sporting some minor improvements. But are these enough to make the G4 Stylus worth considering? Let's find out.
Display and design
The LG G4 Stylus has a 5.7-inch 720p display, which is a modest but much-needed improvement over the G3 Stylus's 5.5-inch 540x960 panel. However, the display is still too low resolution for its size and pixelation is an issue when reading text. The continued omission of an ambient light sensor is strange, and it means you will constantly find yourself either staring at a screen that's too bright or not bright enough, and fiddling with the brightness settings via the quick settings panel. We found the display on the LG G3 Stylus to be generally dull and dim, but we didn't experience any such issues with the G4 Stylus, as the panel is sufficiently bright with good colour reproduction and viewing angles.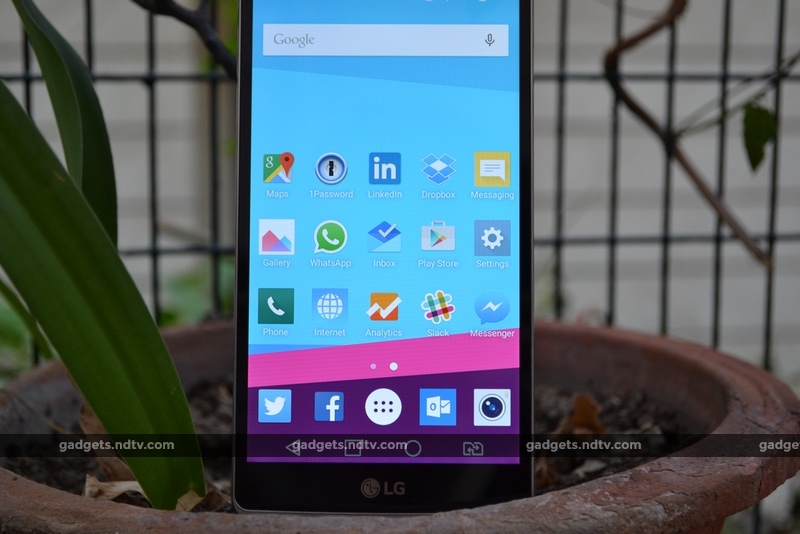 As we said earlier, the G4 Stylus could pass off as its more expensive sibling at first glance, but there are enough differences when you look a little closer. There are no premium leather or metallic finishes for the G4 Stylus, and it has to live with a removable plastic back cover. There's no curve on the display, nor do we see the concentric rings that are around the LG G4's rear camera. All that is expected though, given the different price segments the two smartphones are targeting. The G4 Stylus retains the power and volume buttons at the back and you can double tap the screen to wake up the display. You can even turn off the display by double tapping in an area of the screen without any active controls.
Software and performance
In terms of specifications, the LG G4 Stylus is a slight improvement over the G3 Stylus, but it perhaps does not go far enough. The smartphone is now powered by a Qualcomm Snapdragon 400 SoC as compared to the MediaTek MT6582 that came with the G3 Stylus, and the internal storage has been bumped up to 16GB. Disappointingly, the RAM is still a meagre 1GB, which will put off a lot of prospective buyers.
As you would expect, multi-tasking is not the G4 Stylus' strongest suit and things can get really patchy when switching between apps. Games like Asphalt 8 run fine, but we noticed a few dropped frames every once in a while. Overheating wasn't a problem during our 20 minute gaming session.
In terms of UI, the LG G4 Stylus looks very similar to the LG G4, but it runs Android 5.0 instead of Android 5.1. However, many of the latter's software goodies make it through. You can run two apps side-by-side using the Dual Window mode, though your favourite third-party app might not support this feature. You can have as many as five on-screen buttons - in addition to the standard Back, Home, and Application Switcher, you can chose to show buttons for notifications, the Quick Memo feature, the dual-SIM manager, and the Dual Window mode.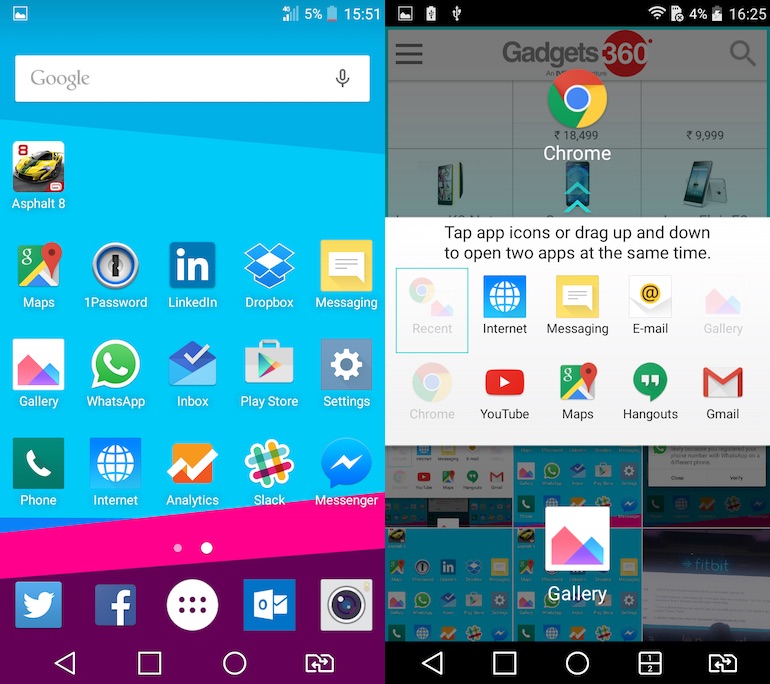 The LG G4 Stylus comes with an interesting feature called Glance View, which lets you drag down on any part of the screen to quickly peek at the time, date, and pending notifications when the phone is asleep without waking up the entire display. Another software feature is Screen Pinning, which was introduced in Android 5.0 Lollipop. If enabled, Screen Pinning lets you pin an app to a home screen. Once an app has been pinned, it stays there even if you press the Home button and you can't switch to any other app. This can be useful if you want to restrict the phone to a particular application - say at a demo booth or when you want your kid to use only a particular app - or if you want to force yourself to focus on, say, email and stop yourself from instinctively switching to Facebook. You can unpin the app by pressing the Back and Application Switcher keys at the same time or by restarting the device.
Call quality on the LG G4 Stylus is average and the loudspeaker performance is decent. The phone comes with FM support, with your earphones acting as the antenna. The G4 Stylus is a dual SIM (GSM+GSM, Micro-SIM) smartphone that supports 4G on both SIMs, including compatibility with LTE bands deployed by Indian cellular operators. Unlike many other phones that ship today, the second SIM and microSD card slots are physically separate, which mean you can have expandable storage even while using two SIMs.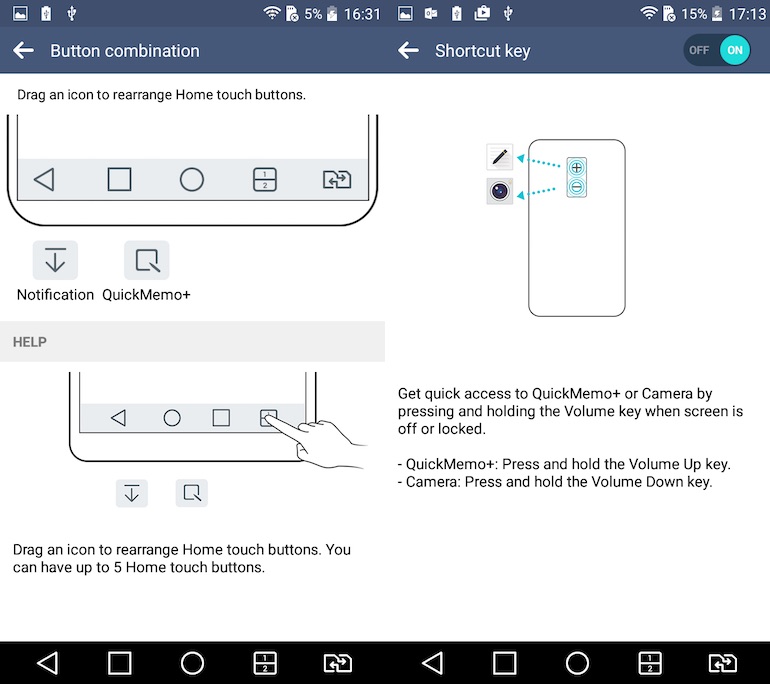 Much like the G3 Stylus, the object that gives the phone its name seems of limited value. Unlike Samsung's Note series, which made people fall in love with styli again, the one that comes with LG phones seems more of an afterthought. Only one built-in app, Quick Memo+, seems to make use of the stylus. While you can do things like take notes, doodle, and manage lists with it, there's nothing special about the app or the stylus itself. It isn't pressure sensitive and doesn't pack in any special tricks like Samsung's S-Pen.
Camera and battery life
The LG G4 Stylus comes with a 13-megapixel rear camera with laser autofocus and a 5-megapixel front camera. The software is packed with features such as Gesture Shot, which lets you take selfies by simply clenching and unclenching your first. There's another mode that lets you use your display as the flash when using the front camera, which works as advertised and is sure to come in handy. In terms of image quality, the LG G4 Stylus does an okay job in daylight, but in poorly lit conditions the resultant images contain a lot of noise.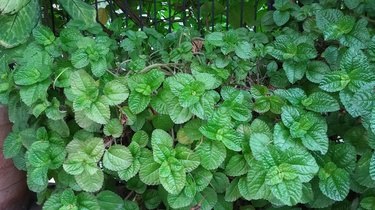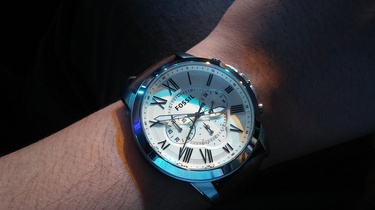 LG G4 Stylus sample shots - click for full size
Video captured using the camera is unlikely to win any awards for its quality, but the phone does a good job of adjusting focus as you quickly pan around. Audio captured in videos is loud enough but if the object in question is at a distance, you might find the sound to be lacking in clarity. The camera app comes with a simple tap-to-focus-and-click UI by default, but you can switch to the 'advanced' mode that offers more options and control.
In terms of battery life, we got 12 hours 25 minutes of playback in our video loop test, which is practically identical to what we got with the G3 Stylus. In real-world usage, the LG G4 Stylus should last you a full day of heavy usage without any problems.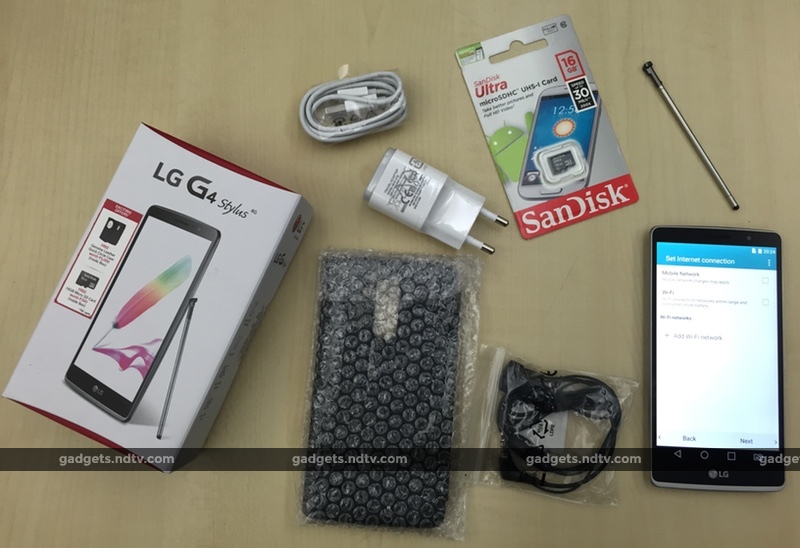 We got a retail unit of the LG G4 Stylus for review, which came with a leather Quick Circle case and a 16GB microSD card free inside the box, in addition to the standard charger, Micro-USB cable, and earphones. The Quick Circle case can add a few cool tricks to your phone.
The G4 Stylus came with Truecaller, Hungama, and Rockstand apps preinstalled, but the apps were not restored when we did a factory reset. The LG G4 Stylus also comes with "eBooks & eMagazines worth Rs 2000 for free" on Rockstand, and free "unlimited audio and video downloads for 45 days" on Hungama.
Verdict
As we stated earlier, the headline feature of the LG G4 Stylus - its stylus - is of limited use at best, which means the smartphone must vie for consumers' attention like any other offering at this price. While the phone packs in plenty of software tricks and has great battery life, the LG G4 Stylus is let down by limited RAM, a low resolution display, and a camera that's average at best.
The phone launched in India at a price of Rs. 24,990 and is now available at Rs. 21,000. At this price, the phone faces tough competition from the likes of the Moto X Play and the ZenFone series by Asus, amongst others. If you value battery life over everything else, you might want to consider the LG G4 Stylus, but in every other department, it comes out second best.