As smartphones have evolved, it has become increasingly difficult for companies to sufficiently differentiate their products from the competition. One company that has managed to do this - with varied degrees of success - is LG, whose flagship products have been following a design language that's very much their own.
With the G Flex, LG really pushed the boundaries in terms of design by moving physical buttons to the back. While the 'self-healing' phone may not have been a commercial success (at least in India), LG felt encouraged enough to retain the design template in subsequent phones like the G Pro 2 and last year's flagship, the LG G3. The LG G4 aims to build on the success of last year's flagship, which managed to carve a following of its own thanks to some unique elements. So is the G4 a step in the right direction? Let's find out.
(Also see: LG G4 vs. LG G3)
Design and display
The LG G4 takes most of its design cues from its predecessor. Buttonless sides were undoubtedly the most distinctive feature of the G3, and LG's new flagship continues this tradition. If you don't like the fact that the power/ lock button is on the back, then the G4 perhaps isn't for you. It's worth pointing out however that we got used to this change pretty quickly, and the fact that the phone lets you double-tap the screen to wake it meant we didn't find ourselves reaching for the back very often.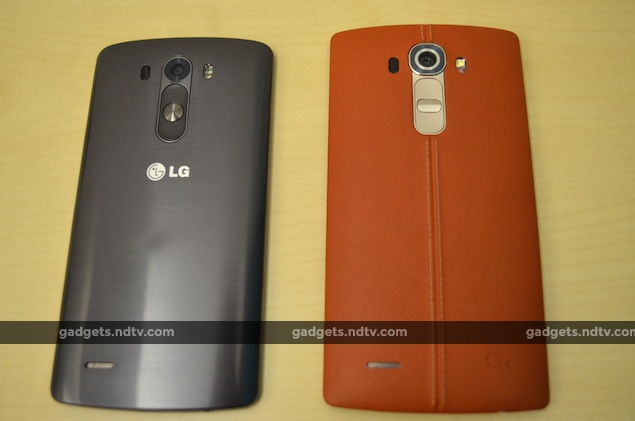 The LG G3 (left) and the G4.
For times you do need to put the buttons to use, LG has made a few tweaks that make the power button a little easier to find. This is pretty handy given the fact you'll almost always be reaching for it blind. The power button is shorter in height, but a bit wider than the one seen on the G3, and it is also a little bit raised compared to its surroundings, which makes it easier to locate.
The G4 unit we received had a leathered back that turned heads wherever we went. You have to give it to LG for creating a look that's truly unique and feels premium. The leathered back also means that the G4 offers a secure grip, and contrary to our initial fears, sweat wasn't really a problem more than with any other smartphone even in the Delhi heat. However, we do fear the leather finish will not age as gracefully as its plastic counterpart, and ripped seams will be an eyesore in a few months.
The G4 of course is curved at the front and the back. Since the display isn't flat, the entire screen doesn't make contact with the ground in case the phone drops face down. LG claims this makes the G4 20 percent more durable. The back is raised at the centre and tapers towards the edges. LG has been able to incorporate a bigger camera sensor without the infamous bulge seen in flagship smartphones by Apple and Samsung, though it means the G4 is noticeably thicker than the LG G3. A set of concentric rings offer the sensor some protection.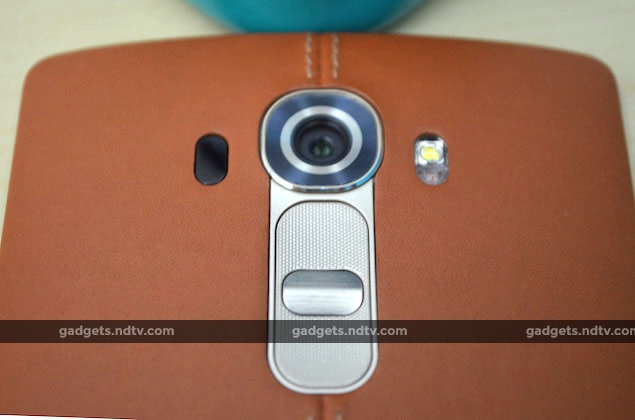 The G4's display is identical to the G3's in terms of size and resolution, but LG claims to have made several tweaks behind the scenes, such as improved colour reproduction and contrast ratio, enhanced brightness, and more. In side-by-side tests, the G4's display definitely looks better than one on the G3. The displays on the Galaxy S6 and Galaxy S6 Edge appear more appealing to the naked eye, but then Samsung's smartphone displays have been known to trade accuracy for a more exciting colour gamut.
Software
LG G4 runs Android 5.1 Lollipop with the brand new LG UX 4.0 on top. LG claims the new UI is 'simpler' and if you think that translates into a skin that's closer to the stock Android experience, you'd be wrong. In terms of software, the LG G4 is not that different from its predecessors, other than a few enhancements here and there.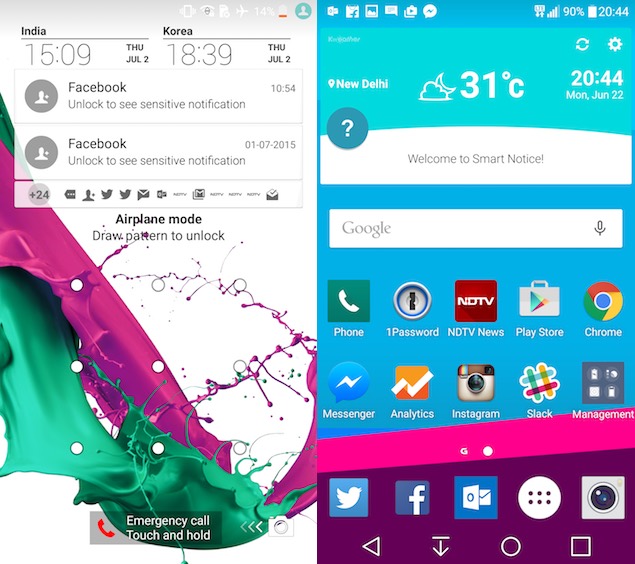 The bundled Gallery app, for example, now comes with features like Memories, which groups pictures and videos from an event like a trip. Also included is a Timeline view that offers a glimpse of all your pictures at a glance. The features are reminiscent of Years, Moments, and Collections seen on iOS, and this concept has been seen on other phones and apps as well under different names.
Similar to the G3, the left-most screen of the launcher features LG's attempt at creating a Google Now-like interface called Smart Bulletin. Perhaps the most useful addition to this is Smart Settings, which lets users automatically change settings based on location. For example, you can program your phone to automatically turn off Wi-Fi as soon as you are away from home. Of course apps like Tasker and Llama can already do all this - and a lot more - but having these features bundled with the OS means they can reach a wider audience.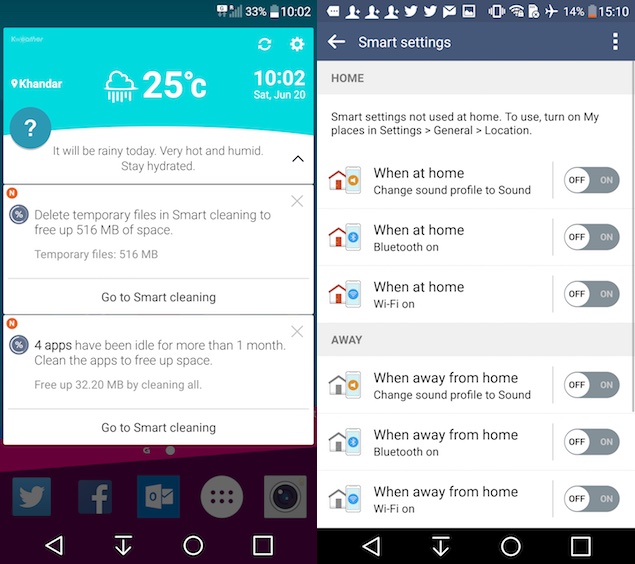 Overall though, the LG UI is still a little bit too heavy for our liking and we wish LG had taken some cues from Samsung, which has done a very good job in toning down TouchWiz with the Galaxy S6 and Galaxy S6 Edge.
Camera
The LG G4 has a 16-megapixel rear camera with an f/1.8 aperture and optical image stabilisation that, in theory, offers a competitive advantage over its peers. LG says the wider aperture means the camera can take in about 80 percent more light than smartphones with an f/2.4 aperture. The smartphones that comes closest to the G4 in terms of aperture ratio are the Samsung Galaxy S6 and Galaxy S6 Edge, incidentally our current favourites in terms of camera performance.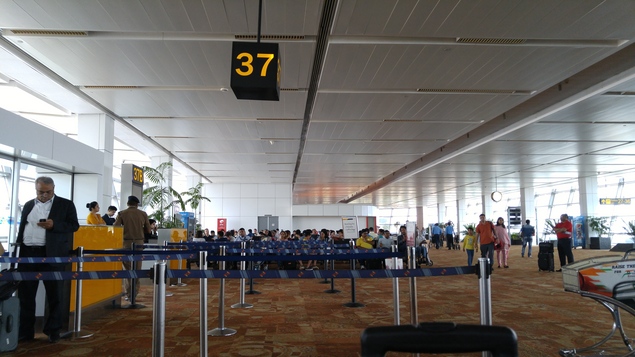 Click for full size
In terms of image quality, the LG G4 is a good match for Samsung's current flagships, with pictures taken under adequate light showing excellent detail and accurate colour reproduction. The G4 excels in low light as well, with the wider aperture undoubtedly proving to be a big help.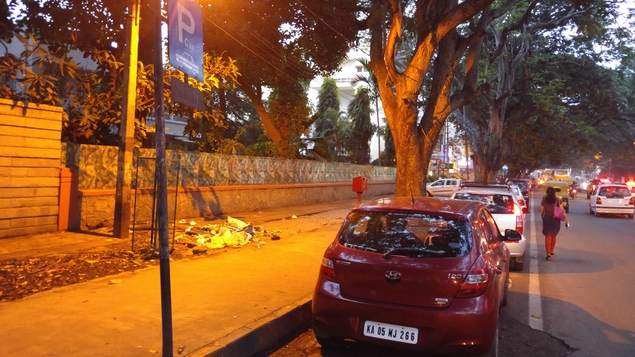 Click for full size
The G4 comes with what LG calls OIS 2.0, which means the built-in optical image stabilisation (OIS) takes into account feedback along the z-axis in addition to improvements in stabilisation along the conventional x- and y-axes seen in other phones that come with OIS. While we couldn't compare the G4 against other phones with OIS, we found the stabilisation to be extremely effective in a head-to-head video test with an iPhone 6.
The G4's stock camera app comes with a manual mode that's as comprehensive as we've seen on any smartphone. If you are comfortable adjusting settings such as exposure, ISO, and white balance, you will feel right at home with the LG G4. The app lets you control pretty much every parameter you'd want and the resultant images are excellent. We especially liked taking macro shots with the G4's manual mode and we can imagine people will love the long exposure mode to capture the movement of light on busy roads, something only the 'pros' could flaunt until now.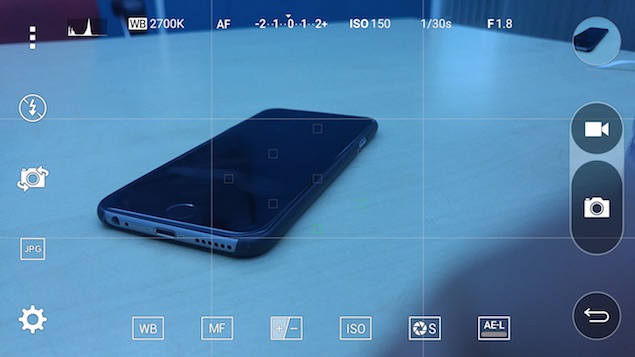 The auto mode, however, is a little bit iffy, with the G4 at times struggling to lock focus despite the underlying 'laser focus' technology. We hope this is something LG can fix via a software update. The 8-megapixel front shooter can be triggered in different ways and will keep the selfie-obsessed more than happy.
Performance and battery life
The LG G4 is powered by a Qualcomm Snapdragon 808 SoC with 3GB RAM and 32GB internal storage. While Samsung has gone the iPhone route by sealing off the back of the Galaxy S6 and Galaxy S6 Edge, the LG G4 will appeal to those who value a removable battery and expandable storage. The G4 can support microSD cards of up to 2TB capacity, so the phone is as future proof as they come at least as far as storage is concerned.
As you'd expect from any modern-day flagship, the G4 handled everything we threw at it with aplomb. However, there were occasions on which our unit would randomly freeze for a couple of seconds and we had to press the home button to keep going. We didn't have any issues with call quality and we even managed to test the phone on 4G networks in India. Do note that the unit we tested was a single SIM unit, while the one launched in India is the dual SIM variant that's said to be identical in every other way. Though the G4 has its speaker on the back, the sound isn't muffled even when the phone is lying face up, thanks to the curved body.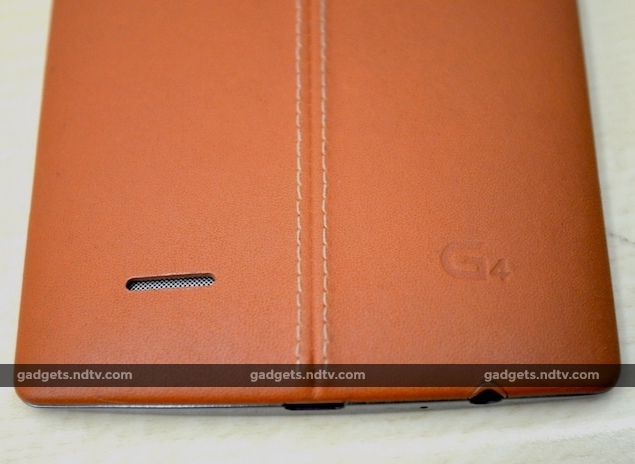 The LG G4 comes with a 3000mAh battery, but, much to our surprise, it struggled to get through a full workday on a single charge. We found ourselves reaching for the charger by late afternoon/ early evening each day if we had used the G4 for any decent amount of time with 3G and auto-brightness on. According to the operating system's battery usage stats, most of this energy was being sucked by the G4's QHD screen. While the display is usually the biggest battery hog in most smartphones, in this case it seems to be more of a drain than usual.
Our experience was much better in use cases where we didn't need the screen on, such as when using the phone only as a Wi-Fi hotspot. We used the LG G4 as a hotspot with one Wi-Fi device connected to it for about 3 hours of moderate usage and its battery was left with a respectable 75 percent of its charge. In our video loop battery test with the display set at 50 percent brightness and auto-brightness turned off, we got around 10 hours of SD video playback, which isn't great, but not as bad as our real-world experience.
Until LG issues a patch to fix this big battery drain, you could try running your G4 at a low brightness to maximise battery life.
Verdict
The LG G4 is an interesting smartphone that ticks many of the right boxes. It has a unique design, an excellent display, and a camera that's up there with the best in terms of image quality. However, it's let down by a few flaws - the large battery doesn't translate into equivalent real-world usage, and the software could use some improvements.
In theory, LG could fix both problems with an update, which would make the G4 an excellent alternative to Samsung's flagships, especially for those who value expandable storage and a removable battery. Until then - if that day ever comes - the Galaxy S6 is a better alternative, especially considering it's now available at a substantial discount compared to its launch price.