LG is really looking to capitalise on the success of the G3. In addition to the low-priced G3 Beat, which we reviewed a little while ago, the company has also rolled out another model - the G3 Stylus. As its name suggests, the unique touch this time is a stylus. Very few companies still design phones with styli, so LG's latest model already stands out.
Before Apple declared that human thumbs were the best way to go about implementing touch interfaces (and the rest of the world followed suit), such phones were a lot more common. Today, Samsung's Galaxy Note models are really the only phones we can think of that still emphasise stylus input, and to be fair, they've done a really good job of it. The Galaxy Note and all its successors to date have been high-end flagship phones, with powerful hardware and a whole ecosystem of apps that take advantage of the whole package. With a name derived from the formidable LG G3 (Review | Photos), we were hoping the G3 Stylus would also be a high-end monster with a stylus to boot.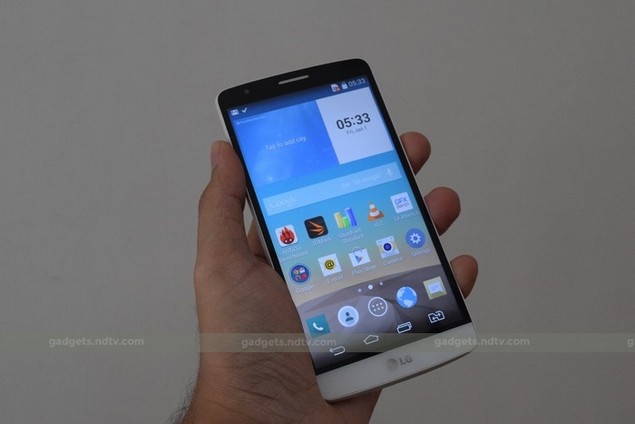 As it turns out, that couldn't have been further from reality. The LG G3 Stylus is decidedly low-end; far more like the cut-down G3 Beat (Review | Photos) than the original G3. It shares the same design language, but very little else. That means the stylus has to be compelling enough for this phone to succeed in a very competitive market.
Look and feel
Where the G3 Beat tried to emulate its namesake's metal exterior, the G3 Stylus is clearly all plastic. Our white review unit had a brushed texture on the rear but lacked some of its siblings' more subtle touches such as the patterned chin area beneath the screen. The front face is pretty plain and the power and volume buttons are on the rear - LG is really committing to this design decision. The white and black body actually looks quite nice, but we found that it tended to pick up smudges and had to be cleaned a lot.
The phone is quite large but comfortable to hold, thanks to the gently curved rear and soft corners everywhere. The headset socket and Micro-USB port are on the bottom. A small tab on the right edge lets you pry off the rear panel, beneath which you'll find the rather large 3,000mAh battery, microSD card slot and both Micro-SIM slots.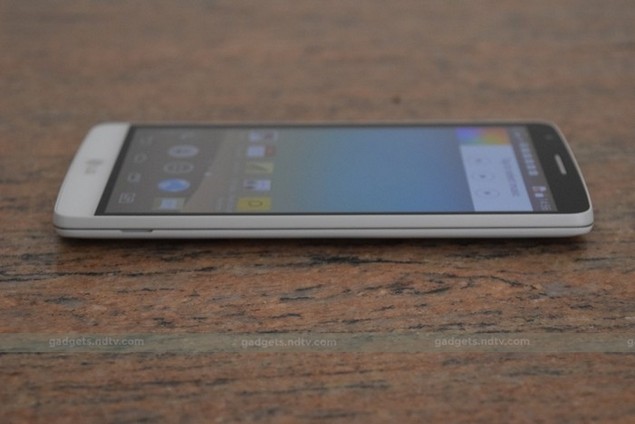 As we've come to expect, the power and volume buttons are beneath the rear camera lens, and your index finger will naturally find itself resting in the space they form. There's no laser autofocus here, which is disappointing since this is one of the features that has defined the G3 series thus far.
Not all is lost though - there's still an Infrared LED on the top so you can use your phone as a universal remote control for TVs and other appliances. Then, of course, there's the stylus. It slots into a silo on the top, and you'll need to use a fingernail to extract it. The stylus is thin and cylindrical; not even flattened, which means it's a little difficult to grip and use.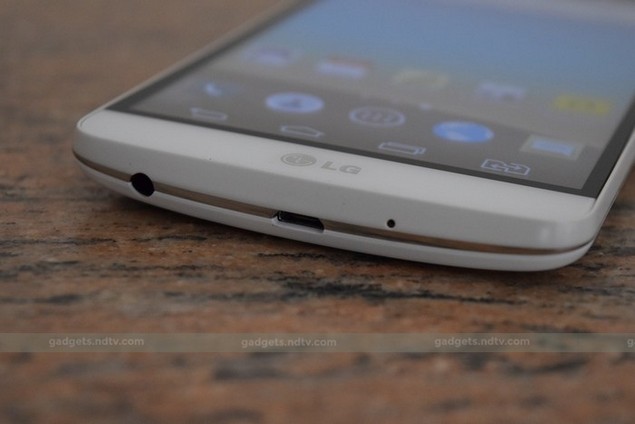 Specifications and software
Externally, the G3 Stylus looks rather good but its insides are another matter altogether. This phone is powered by a fairly pedestrian MediaTek MT6582 with four cores running at 1.3GHz and a Mali-400MP2 GPU. There's 1GB of RAM and 8GB of internal storage, which thankfully can be expanded by up to 32GB using a microSD card.
The screen is a huge letdown. At 5.5 inches, the 540x960-pixel resolution works out to a density of only 200ppi, which is just not good enough by today's standards. We could clearly see jagged edges on screen throughout the phone's interface. Maybe we've been a bit spoilt by crazy high resolutions on phones of late, but we think LG could have done a lot better considering the G3 Stylus' price.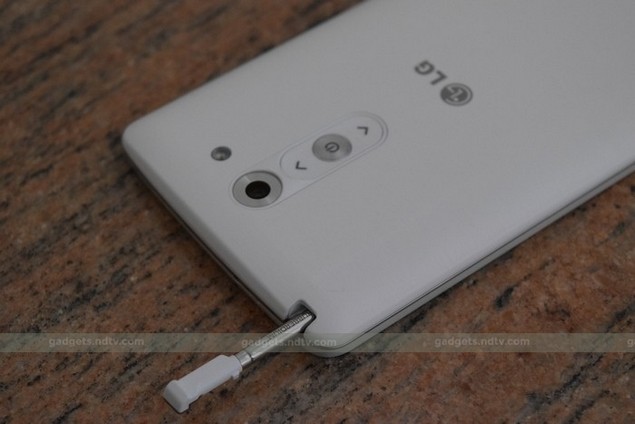 Everything else is pretty much standard. There's 3G data, Wi-Fi b/g/n, Bluetooth 4.0 and the aforementioned Infrared. You also get an accelerometer, proximity sensor and compass but strangely no ambient light sensor to help with backlight adjustment.
The G3 Stylus runs Android 4.4.2 with LG's custom UI on top. It's much the same as what we saw in our reviews of the LG G3 and G3 Beat, except that its crispness is lost thanks to the low screen resolution. The notification shade is very handy, offering instant access to controls of your choosing, and a row of shortcuts to often-used apps such as the calculator and file manager which launch in their own floating windows.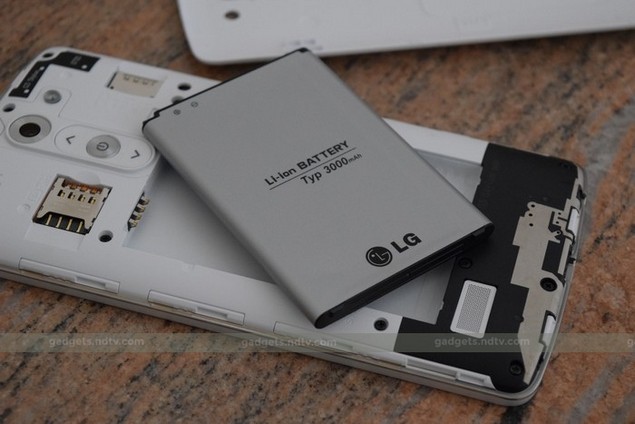 There are also quite a few touches to make it easier to use the big screen. Just like with the G3, you can adjust the keyboard's height, split it into two halves, dock it to either side of the screen, and customise its theme. You can pinch or spread to zoom text within apps, for instance in the SMS compose view. The phone's dial pad and lock screen's PIN input pad can also be moved to one side of the screen. Since the power button is usually out of reach, you can double-tap the screen to wake the phone and also double-tap any blank spot on a homescreen (or the status bar from any screen) to put it back to sleep.
The LG G3 Stylus uses four on-screen buttons - the usual trio of Back, Home and Recents, as well as a fourth button giving you quick access to the dual-SIM management functions. Interestingly, you can customise the layout of the button row completely, including its background. You can add a fifth slot, which helps maintain symmetry with the Home button in the centre. The two non-core slots can be used for the Dual-SIM button, a trigger for the notification shade (a nice touch that saves a finger stretch), or shortcuts to LG's QuickMemo, Qslide or Dual Window features.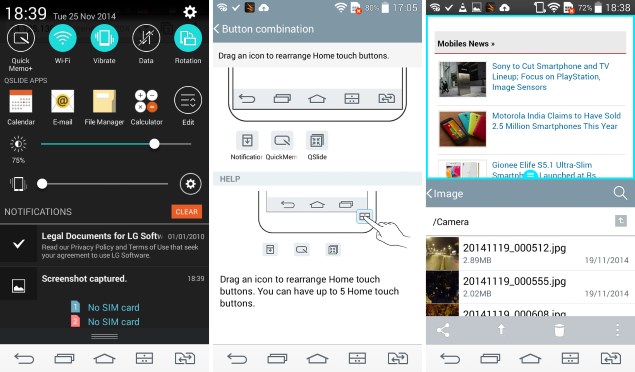 Performance
The LG G3 Stylus isn't a powerhouse by any stretch, but it gets all the basics done. We were happy enough with its performance in day-to-day situations such as surfing the Web and playing around with non-intensive apps.
The screen's low resolution won't be a huge problem for most people, but we were able to discern rough edges everywhere, and gradients just don't blend well. The screen is also unfortunately dim and dull. Even with the brightness slider pushed all the way to the end, we weren't very impressed with the screen. There's no automatic brightness adjustment, though there is a "night mode" that will automatically kick the brightness down to zero between midnight and 6am, which, in our view, is not adequate compensation.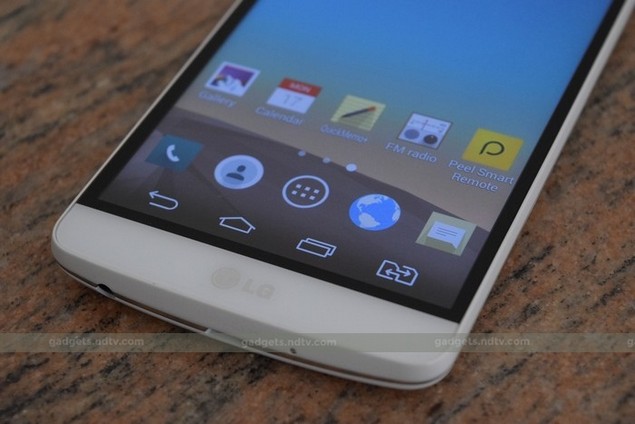 We were inititally interested by the stylus, but eventually wound up not using it at all. Unlike Samsung's implementation, the stylus here is completely passive - the phone cannot recognise when the stylus is or isn't in use. There is no software that explicitly takes advantage of it; not even shortcuts can be triggered or a way to input text by recognising scribbles. Some apps are more natural to use with a stylus, such as LG's Quick Memo, but they don't seem to have been developed with that in mind and they don't offer anything over and above the experience you get when using them with a finger. We actually felt slowed down when using it to get around the Android UI.
The stylus has a rather blunt tip and there doesn't seem to be any pressure sensitivity. In fact it looks and feels like any stylus accessory available for iPhones and iPads, though strangely, it doesn't work on any other phone. Eventually, we pretty much forgot the stylus was even there.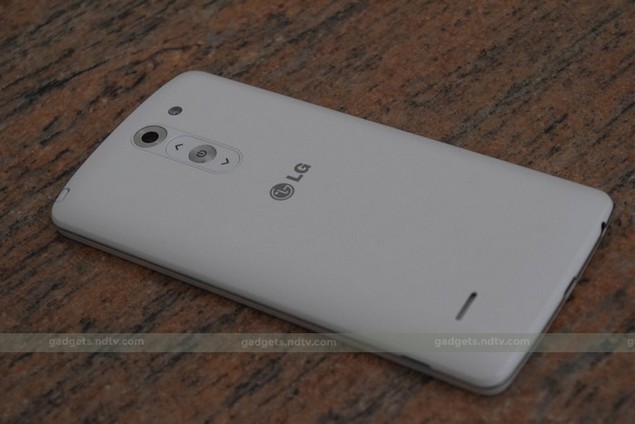 As far as benchmarks go, the LG G3 Stylus definitely isn't setting any records. It posted highly mediocre graphics scores - 9.5fps in GFXbench and 3.237 points in 3DMark's Ice Storm test. The AnTuTu score of 17,973 and Quadrant score of 4,401 really reveal just how weak the G3 Stylus' internals are. For the sake of comparison, the Lenovo Vibe X2 (Review | Photos) which sells for almost exactly the same price, managed 47,199 and 24,227 respectively.
Battery life was a pleasant surprise, at 12 hours, 20 minutes in our video loop test, which indicates you can expect up to two days of non-intensive usage per charge. HD videos played with only a tiny bit of stuttering in the beginning, but the phone's speaker was disappointingly tinny and sound came out rather distorted.
The 13-megapixel rear camera was decent though not especially impressive. It seemed to have trouble with moving subjects and with frames that were partly in shadow. Colours were mostly accurate, but subtle details or gradients in things like flower petals and leaves were not always reproduced well. Some close-up photos came out looking very artificial. You might not notice these things at all unless you check out the image files at full resolution, which means they're perfectly fine for posting to Facebook and sharing with friends.
Low-light performance was quite poor, and we were not happy with the amount of shutter lag. The camera app has a mode that hides all controls which means you have to remember when tapping the screen changes focus and when it actually causes a photo to be taken. For some reason, swiping anywhere on the screen causes the app to switch between the front and rear cameras.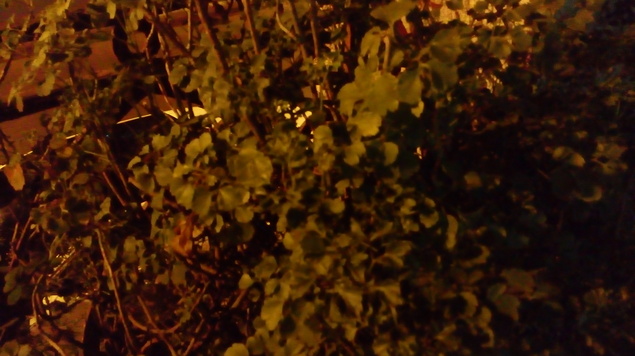 Verdict
We still aren't fans of LG's buttons-on-the-rear philosophy but we do have to give the company credit for its software enhancements. Considering the potential for one-handed use, the stylus, the low-resolution screen and the size of this phone, we suspect it might really appeal to people with weak eyesight or mobility impairments, or even those who are just generally tech-phobic.
For everyone else, the LG G3 Stylus is a nice enough phone, but it's just way overpriced. The stylus really isn't much of a value addition and is not half as useful as we would have liked. There are far better options that cost around Rs. 20,000 today, such as the aforementioned Lenovo Vibe X2, and the Huawei Honor 6 (Review | Photos). The LG G3 Beat, which is a little less expensive, would seem to offer a better balance of features for most people. It's also worth noting that phones priced much lower, such as the Motorola Moto G (Gen 2) (Review | Photos), offer better features and performance.
If priced more reasonably, the stylus could help give this phone an edge over its competition. As it stands now, that one feature just isn't good enough to make up for everything else.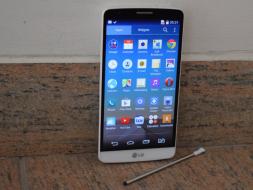 LG G3 Stylus in pictures