The first time we heard of LG's idea to move the G2's power and volume buttons to the rear, we thought it was ridiculous. When we actually tried using that phone ourselves, we found the placement awkward and frustrating. We just couldn't get used to not having a power button near our fingertips. It seemed just like any other gimmick - great for getting attention, but ultimately something that users would reject en masse.
We were wrong. There has been no significant backlash, and now LG evidently feels as though buttons on the rear are not only acceptable but desirable. The ultra-luxe G Flex (Review | Photos) and the 2014 flagship model G3 (Review | Photos) have had their buttons on the rear, and now the scheme is permeating through LG's product lineup.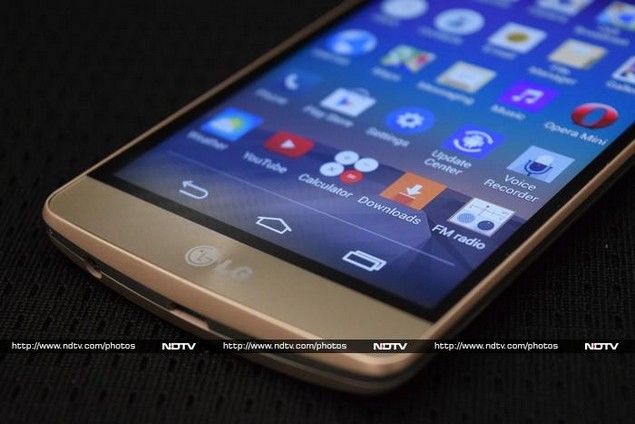 The new LG G3 Beat takes a lot of its style cues from the G3, but other than that, there's little reason for the two to share a family name. We absolutely loved the G3 when we had it in for review - it looks great, feels great, and generally performs better than its competition. The only really bad thing we had to say about it was that its buttons were on the rear, making it difficult to actually use.
Maybe users put up with the buttons because these phones' benefits outweighed the button placement issue. So how will things work on a device that doesn't have any major features to fall back on?
Look and feel
The G3 wowed us with its extraordinarily comfortable shape, premium construction quality and top-end specifications. The G3 Beat attempts to mimic it and actually looks quite nice, but suffers when compared to the device it borrows its name from. Both models has the same general shape, with a curved back and narrow sides. However the G3 Beat made of plastic and the feel is definitely nowhere near as impressive as that of its metal-bodied sibling.
The rear panel has a brushed metal appearance and the little chin below the screen has the same concentric ring texture. There are no buttons on the front, and very little space around the screen. The camera on the rear is clustered with its flash and laser autofocus emitter along with the infamous buttons. The 3.5mm headset jack and Micro-USB port are on the bottom, the Infrared LED is the only thing on the top, and the two sides are completely blank. The Micro-SIM and microSD card slots are stacked together beneath the removable panel, and the battery is quite easily accessible as well.
The G3 Beat is quite an attractive device when judged on its own merit, and not as a stripped-down version of the highly praised G3. We liked how it fit the curve of our palms, and its reduced size makes it much easier to work with than most of today's overgrown high-end phones.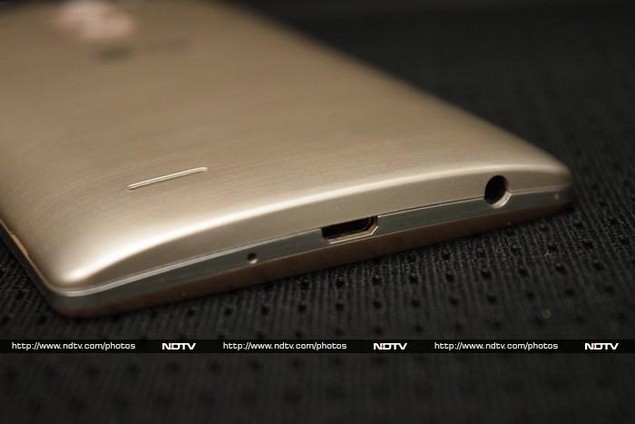 Specifications and software
This phone really has little in common with the LG G3, other than some of the physical styling and the laser autofocus system. It can be considered a "mini" edition of LG's current flagship - the current trend in the Android world is for such devices to not only have smaller footprints, but also much lower specs.
The G3 Beat is based on a modest 1.2GHz quad-core Qualcomm Snapdragon 400 processor with integrated Adreno 305 graphics. The screen, which was one of the G3's most striking features, has been cut down to 5 inches and 720x1280 pixels. The specific model sold in India should support LTE on the 2300MHz band used here. There is 1GB of RAM and 8GB of internal storage. There's Wi-Fi b/g/n, Bluetooth 4.0, though Infrared and NFC are nice, uncommon touches. In short, this is a fairly ordinary mid-range phone with a few little bonuses thrown in - we wouldn't have even bothered comparing it to the original G3 if LG hadn't chosen to name and style it after its current flagship.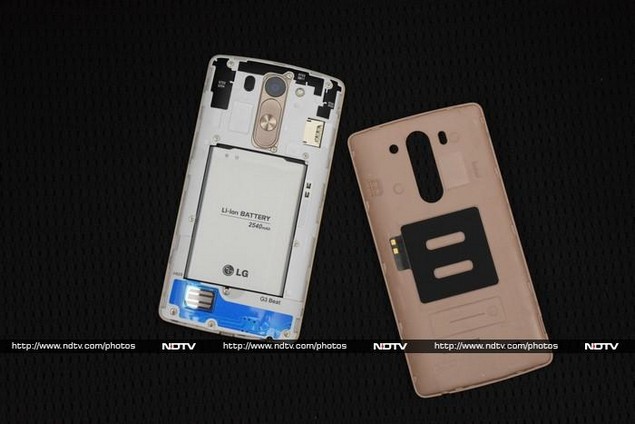 Android 4.4.2 is barely recognisable under LG's extensive UI customisations. The interface is pretty much the same as what we saw on the G3, with a flat, stylised look and a mixture of inconsistent icons. There's a battery saver mode, a quiet mode, Qslide (which lets you perform certain tasks in small floating windows) and Quick Memo+ (which grabs a screenshot and lets you scribble or type notes over it).
There are a few options to help with one-handed usage, which we didn't feel were necessary thanks to our own large hands and the thin screen borders. You can also dismiss calls and snooze alarms by flipping the phone over. A Guest Mode lets you hand your phone to other people, ensuring that they only see preselected apps and none of your private data.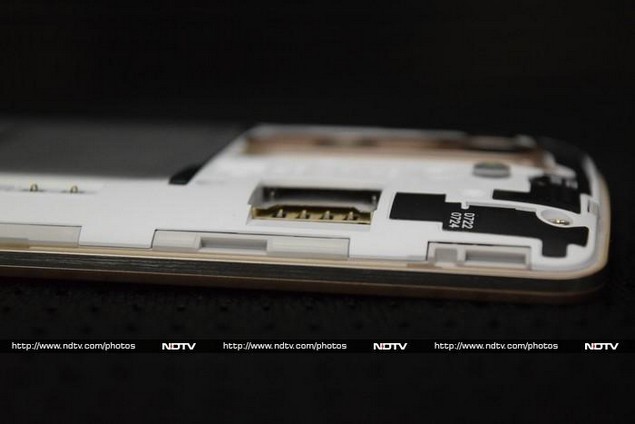 LG includes ThinkFree Viewer for common file formats, and Opera Mini in addition to the stock browser. QuickRemote lets you use the IR LED to control your electronics and can be programmed to work with devices from most major brands although it isn't as easy to set up DTH set-top boxes. An app called RemoteCall service connects you to LG's service centre to help troubleshoot problems directly on the device.
You can double-tap the screen when it's off to wake it, which helps overcome the inconvenient button placement to some extent. However putting the phone back to sleep is another matter - double-tapping only works from the home screen, if you can find a blank spot to tap on.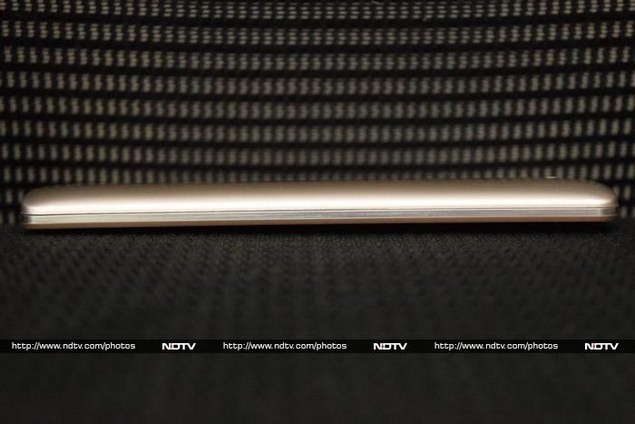 Performance
The LG G3 Beat was pretty easy to use and felt snappy enough for us at most tasks. The custom interface takes a little bit of getting used to, but everything's where you would expect it to be.
The screen is good enough, and the graphic style of LG's UI helps a lot in making things look sharp and modern. Viewing angles seemed okay, but reflections were a problem. Amazingly, there is no ambient light sensor, so you'll have to adjust screen brightness manually. This is a very strange omission - only the lowest end phones drop this for cost-saving reasons and we were frequently annoyed by this, especially at night and when trying to take photos outdoors. There is an option to reduce brightness between midnight and 6:00am which is somewhat useful but too inflexible for our liking.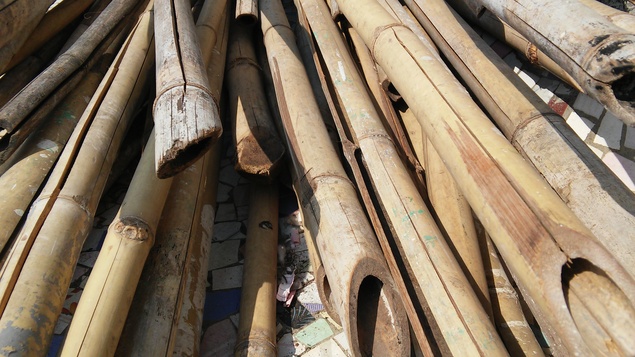 We recorded benchmark results that were mostly in line with other devices with the same specifications, such as the Motorola Moto G (Gen 2) (Review | Photos). Graphics scores were pretty much identical between the two: 10.9 vs 10.8fps in GFXBench respectively, and 5637 vs 5657 points in 3DMark's Ice Storm test. More generic testing favoured the new Moto G by very small margins: its AnTuTu and Quadrant scores of 18,470 and 8,932 respectively were just a little bit higher than the G3 Beat's scores of 17,434 and 8,709.
Our highest quality video samples played without a hitch, but audio quality was quite sub-par with details getting quite lost and the overall sound coming out scratchy and harsh.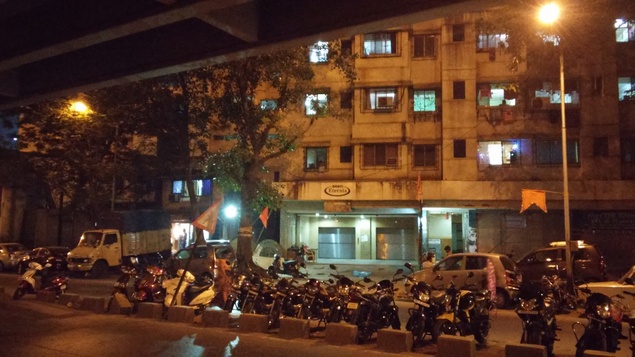 Camera results were mixed. We didn't really like LG's app, which is unnecessarily complicated only because it tries to be simple and hide all controls away, but that's less important than actual image quality. We liked the subtle details that were evident in close-up photos taken in daylight, but the camera managed to botch a clear blue sky, which came out looking grainy and artificial. Low-light performance was okay. Videos are recorded at 720p by default but this can be raised to 1080p. Video quality was also quite good. We did notice that focusing was quick and very accurate, but it's hard to quantify the advantages specific to the laser autofocus system.
We managed to eke out 7 hours, 18 minutes of battery life which is pretty good. We'd be confident of getting a full day's work done on the LG G3 Beat, with a bit of gaming and plenty of 3G or LTE data usage. Call quality was good enough.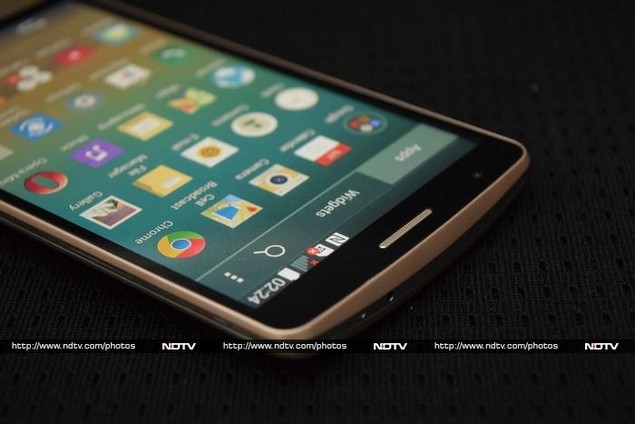 Verdict
There's quite a bit to like about the LG G3 Beat, except for its price, which is officially Rs. 25,000 but is hovering at around Rs. 18,500 in retail at the time of this review. Considering the relatively inconsequential addition of a laser autofocus system and IR emitter, the fact that it costs up to twice as much as the equally good Motorola Moto G (Gen 2) is a little startling. If you aren't living in an LTE market or have no need for greater-than-3G speeds, it makes even less sense. We weren't huge fans of the Moto G's looks and the G3 Beat is definitely improvement, aesthetically as well as in terms of size and comfort, but this isn't worth the enormous price difference.
We're also still annoyed with the button placement. Some people might become used to it, but we still haven't managed to and we suspect that people will underestimate how much of a difference it makes to not have the power button where it's needed.
Otherwise, this is a really nice phone and we would have had little problem recommending it to those who are looking to make a style statement. If you can find it at a significant discount, you won't be disappointed.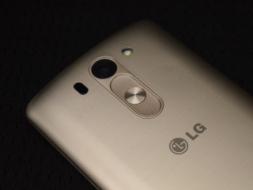 LG G3 Beat in pictures