LG has been updating its smartphone line-up at a steady pace. After launching the Optimus G and the Optimus G Pro, the South Korean electronics giant decided to shed the Optimus sub-branding and introduced the LG G2, its flagship smartphone that boasts of cutting edge hardware and a differentiated design.
The company
launched the LG G2 in the Indian market
just a few weeks after its
international launch
. We put it to test in our review and find out if it's one of the best Android smartphones that you can buy at this point in time.
Build/ Design
The two things that strike you when you first hold the LG G2 are its almost bezel-free display panel and lightweight nature. As we mentioned in our
first impressions of the LG G2
, the phone doesn't feel bulky and fits in the hand despite sporting a rather large screen.
The LG G2 is available in Black and White colour variants and we got a White one as our review unit.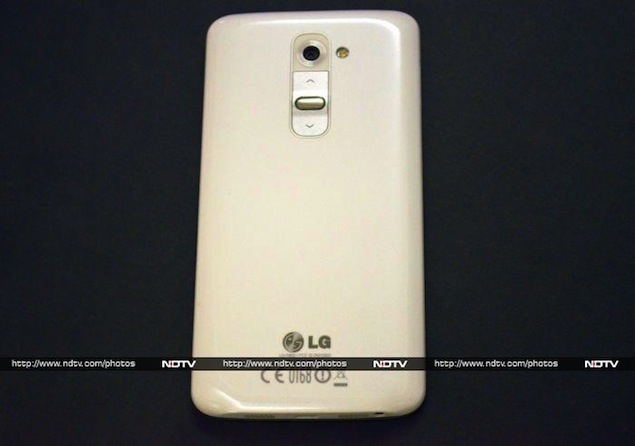 There are no physical buttons on the G2's edges or at the front. LG has been touting this particular attribute of the phone's design as a distinguishing feature; the LG G2's power and volume rocker keys are placed at the back of the phone below the camera lens.
It's likely that you'll get used to the new arrangement after some time but we feel that not everybody will welcome this change. More on that, later in this section.
The front of the LG G2 is dominated by its 5.2-inch display. As we just pointed out, the bezel surrounding the phone's display is minimal. In fact it's one of the most narrow bezels we've seen on a device and that really helps in one hand usage of the phone since it features a big screen.
The 2.1-megapixel front-facing camera, a notification LED and the sensor array are located above the LG G2's display.
The micro-SIM tray is located at the left edge of the LG G2, while there are no buttons or ports on the right edge. The Infrared blaster port sits at the top edge. The port allows the phone to be used as a universal remote control in combination with a bundled app.
The bottom edge of the LG G2 features a 3.5mm headset jack just like the iPhone 5, apart from two speaker grills and a Micro-USB port. A chrome frame runs across the edges, giving the phone a premium feel.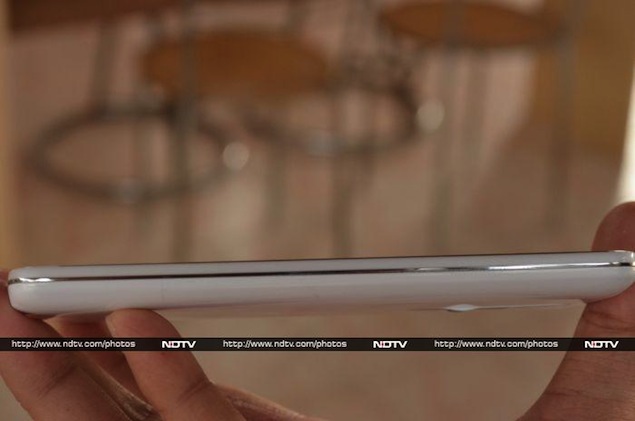 The back of the LG G2 is made of plastic and sports a textured finish, though it is glossy and prone to fingerprint smudges.
As we mentioned earlier, the power / screen lock key and the volume rocker keys are located at the back just below the 13-megapixel camera lens and LED flash.
The power key of the LG G2 also features a light surrounding it that glows up while making a call. The two keys are metallic and offer good tactile feedback. The Volume-up key also doubles up as a shortcut key to launch the Quickmemo app on long press and the Volume-down key acts as a camera shortcut key on long press when the phone is locked.
While LG claims that it has done some consumer research before deciding to go with the new design for the button, we found the placement of these keys on the LG G2 a bit awkward. A major reason for this is that we're used to these keys being placed on the edges.
Also, in certain situations, such as listening to music while the phone's placed lying at its back, it's difficult to access the volume rocker keys (especially when you're driving). We were often hitting the camera lens instead of the volume up key while trying to increase the volume without looking at the phone. To make sure you don't end up scratching the lens, LG has used scratch resistant sapphire crystal glass.
Display
The LG G2 sports a 5.2-inch full-HD (1080x1920 pixels) IPS LCD display, with a pixel density of 423 pixels-per-inch (ppi). The G2's display comes with Corning 's Gorilla Glass 3 protection making it resistant to scratches.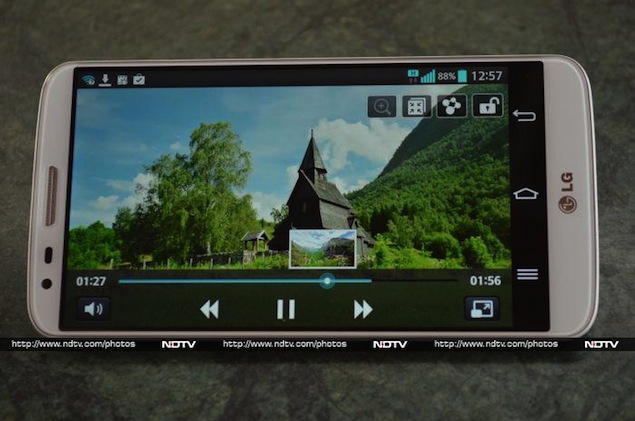 In our use, we found the LG G2's screen to be very bright with text and images looking crisp and sharp. Colours looked vivid albeit a bit oversaturated, which means that images shot with the phone look a little different on the phone, than their original colours as seen on a desktop. The screen delivers deep blacks and has great viewing angles. It was a little reflective but sunlight legibility was good.
Overall, the LG G2's display is one of the best in class and the minimal bezel surrounding it accentuates it further.
Software/ User Interface
The LG G2 runs Android 4.2.2 Jelly Bean, which is a disappointment as we expected LG to ship Android 4.3, the latest iteration of the OS at this time, with the phone.
LG has added its own Optimus UI layer on top, majorly changing the look and feel of the interface and enabling users to customise the phone according to their liking.
LG also adds several tweaks including Smart Screen that keeps the screen on if the phone detects the user's eyes looking at it - a feature we first saw in the Samsung Galaxy S III. It also offers Smart Video, automatically pausing videos when you look away.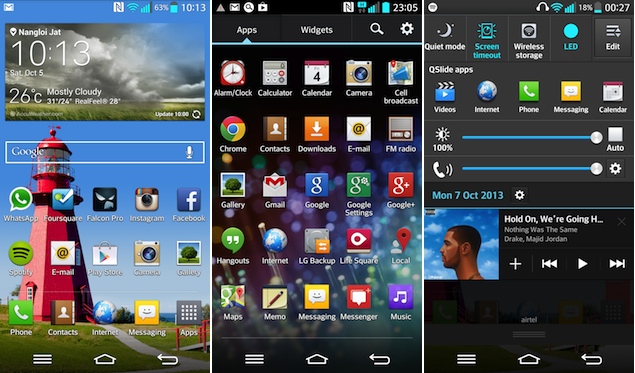 LG even allows you to customise the onscreen Android navigation buttons on the G2, allowing users to choose a colour theme, and transparency, and put custom buttons for launching the notification panel or QuickMemo.
LG also permits you to choose the G2's default font and font size, choose the LED light on the Home button and on the front to glow with different alerts and correct the aspect ratio of downloaded apps.
On the LG G2, you can choose from two different visual themes, each with a different icon set, home screen wallpaper and app drawer background. You can have up to seven screens that can be populated with widgets and app shortcuts. LG even allows you to choose between various animation effects when you swipe from one home screen to another or when you lock the phone.
The LG G2's home button doubles up as the task switcher on long press. The contextual menu button offers various settings when pressed in the home screen mode.
LG has also skinned the G2's notification tray, including toggles for various settings such as for sound, data, NFC, Quick remote, Bluetooth, Wi-Fi, and Hotspot among others. It also features shortcuts for invoking QSlide apps, and controls for changing screen brightness and the phone's call volume.
The LG G2 also features KnockON, which is LG's version of double tap to unlock and even lock the phone. In our use we found that at times, while trying to unlock the phone it didn't register our taps. It's not as reliable as its Nokia counterpart. It can also be turned off.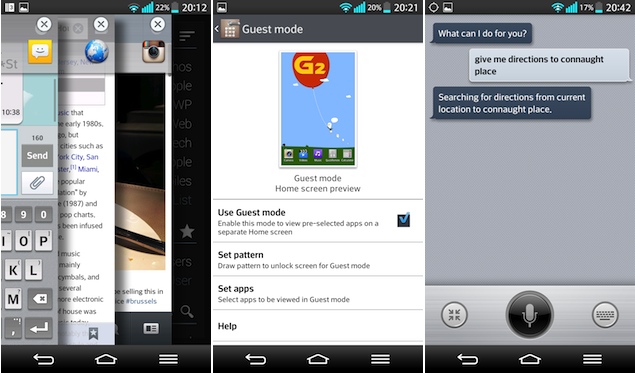 Another new software feature that the LG G2 offers is Slide Aside, a way to multitask by moving between three apps at once via a three-finger swipe gesture. This is similar to the iPad's or Mac's three finger app switch gesture but limited to three apps. The apps are listed under a notification tapping on which stacks and brings all the three apps together, at the front. We don't see how this solution is better than the built-in app switcher.
An interesting feature included with the LG G2 is Guest mode, which allows you to create a guest mode with pre-selected apps for times when your friends or family want to use your phone, but you don't want to expose personal data and apps. This can also be used as a Kid mode granting your kid access to select apps or games. You need to use a Pattern lock to make use of this feature. The Guest mode is invoked by drawing a separate pattern specially pre-assigned for it by you.
The LG G2 comes with a 5.2-inch display, and LG has included some additional features to make use of the screen real estate. There are special apps that LG likes to call QSlide apps. These include a web browser, Memo pad, Email client, File Manager, Messaging, Calendar, Calculator and a Video player. Users can run two of these QSlide apps simultaneously and there's a slider that allows you to focus on one of them. This is similar to what Samsung introduced with some of its devices including the Galaxy Note II.
LG even includes a S Voice and Siri-like voice assistant on the G2, calling it Voice Mate. In our use, we found that the app was able to understand our accent and voice a majority of times and mostly searches the web for information. It can even open apps and offer directions through Google Maps. Google's own voice based information and search assistant, Google Now is also included and can be invoked by a linear swipe gesture starting from the Home button.
The LG G2 also includes gesture controls like 'flip to silence', 'flip to pause video,' answer an incoming call by bringing the phone near to the ear, and fade out ringtone as you pick up the phone from a flat surface.
LG has also included software features on the G2 to enable single-handed operation. You can set the phone's default keyboard and dial keypad to be displayed towards the right or left sides.
The LG G2 includes additional apps for Backup, File Manager, File sharing, a Dictionary, a Memo app, a Notebook app, Polaris Office Viewer 5, a Quick Translator app, LG's service related apps, LG's own app store (SmartWorld), a Task Manager, and apps for video editing. It also offers Life Square an app that collects your social media posts, call logs, messages, photos and videos.
The LG G2 also allows wireless screen mirroring via Miracast to compatible devices.
The phone also offers a Quick Remote app to be used in conjunction with the phone's Infrared Blaster. It allows the LG G2 to act as a universal remote to control audio, video and home appliances. It even offers remote controls for Indian satellite TV providers such as Airtel, Tata Sky and Dish TV. We were able to easily configure the app and use the phone as our remote.
LG has customised nearly all stock-apps including the Gallery and Music apps, adding more functionality in addition to just bringing eye candy. Even the system settings menus have been skinned and are pleasant to look at. You can read more about them in our
LG Optimus G Pro review
.
The Optimus G2 offers Chrome in addition to the default browser. The default browser does not feature Adobe flash for viewing Flash content.
In addition to all of these, the phone brings standard Android 4.2.2 Jelly Bean functionality. Overall, LG has tried to make the phone as different from stock Android as possible. While most users would not have issues, 'stock-Android' fans will be far from impressed.
Camera
The LG G2 sports a 13-megapixel rear camera and a 2.1-megapixel front facing camera. The phone features LG's own Camera app which features controls for switching between the front and rear cameras, turning the flash on or off, selecting between the Normal, HDR, Panorama, VR Panorama, Burst shot, Beauty shot, Intelligent Auto, Shot & Clear,Dynamic Tone, Night, Time Catch and Dual camera photo modes and for accessing the camera settings.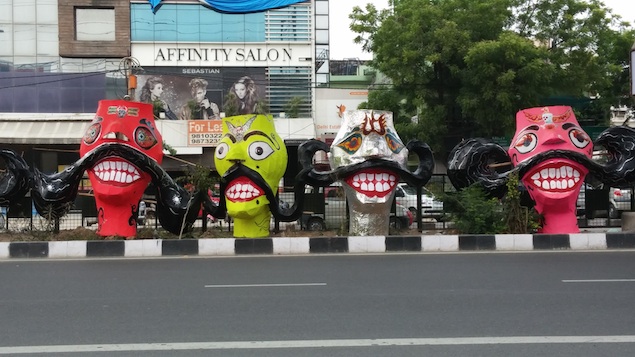 The LG G2's camera app offers settings for voice activated shutter (take pictures with voice commands like 'cheese', 'kimchi', 'LG', 'Smile' and 'Whisky'), Focus, brightness, image size, ISO, white balance, colour effects, timer, geotagging, shutter sound, storage.
The Time catch mode on the LG G2's camera app starts capturing shots even before you hit the shutter and offers the five best ones, in case you're afraid you'll miss some action. Similarly, the Burst photo mode takes up to 20 pictures in quick succession when you want to capture action. The Intelligent auto mode, which we usually see in Sony's phones, adjusts settings based on the ambient light conditions to enable the best shot.
In addition to the normal Panorama mode, the G2's camera app also adds a VR Panorama (VR stands for virtual reality). This mode is also known as Photosphere and is included in some other Android phones as well. It essentially stitches together different photos to create an almost 3D like view of the surroundings.
The G2's camera app also offers a shortcut to the gallery. It offers 8X zoom, which can be controlled by pinching in and out. The volume buttons also double up as shutter keys when you're in the app, although there is a virtual shutter key as well.
Putting the camera of the LG G2 to test, we observed that images taken outdoors during daylight came out really well. Colour reproduction, contrast, white balance and detail were impressive. There was little noise when you zoom images to their actual size. The LG G2 also features Optical Image Stabilisation allowing you to take good pictures even if there's a shake while capturing scenes.
We found the quality of the photos taken indoors in sufficient light to be very good. However, when you try to take photos in the dark with very little, without a flash, you'll find that the LG G2's camera doesn't quite deliver. It misses out on detail though it does eliminate noise to a good level.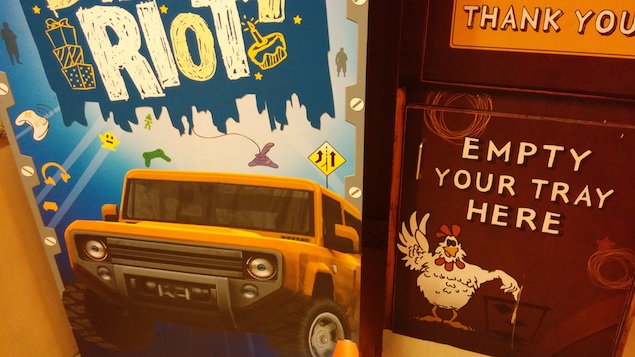 The LG G2's 2.1-megapixel front-facing camera also takes good quality pictures and combining it with the Beauty mode will satisfy the needs of most narcissists. it also does a good job for making video calls and supports 1080p video capture.
The video mode also allows taking 1080p videos at 30frames per second as well as 60frames per second. It also allows you to take 2-megapixel still images while shooting videos.
The video capture option also offers a Dual recording mode allowing you to simultaneously shoot videos with both of the phone's cameras.
There's a Tracking zoom mode which shows you the area that's zoomed in while shooting in a separate window.
LG also offers a unique Audio Zoom feature that allows you to focus on a particular source of sound while shooting. We feel that it's more of a gimmick and didn't notice much improvement in the audio capture, though the camera does a good job in capturing video.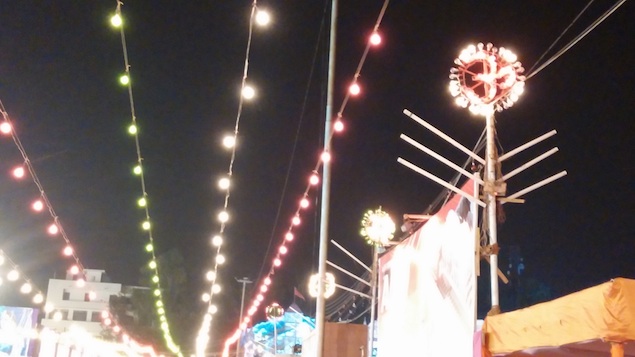 Overall, the LG G2 features an excellent camera but don't expect it to take low-light shots that match up to the Nokia Lumia 925 / 920 or even the Sony Xperia Z1.
Performance/ Battery Life
The LG G2 sports top of the line hardware (at this point in time), as it is powered by a 2.26GHz Qualcomm Snapdragon 800 quad-core processor with 2GB RAM, and an Adreno 330 chip for processing graphics. Our review unit had 32GB of built-in storage (a 16GB variant is also available), out of which 24.8GB is available to the user. The phone doesn't offer a microSD card slot for expandable storage.
The overall experience of navigation through the interface was extremely impressive, thanks to all the power under the LG G2's hood.
We did not experience any lag at all while launching apps, playing games, scrolling web pages or switching between apps on the LG G2.
The gaming experience on LG G2 was pretty good with games like Temple Run 2, Subway Surfers, Jetpack Joyride, Shadow Gun: Dead Zone and Asphalt 7 running without any hiccups.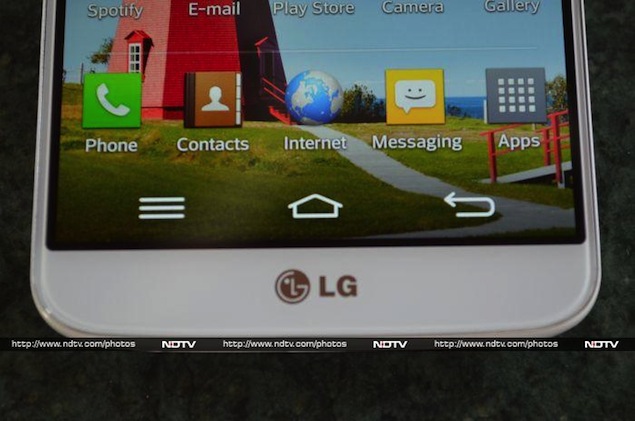 We were able to run all major video formats except for full-HD MOV through the native video player on the G2. We also experienced some issues with audio while playing an MKV format video. This was easily fixed by downloading a third-party video player. The phone then plays full-HD videos without a hitch.
The speaker on the LG G2 delivers good quality sound at high volume levels and the sound doesn't get muffled when the phone lies on its back as the speaker is located at the bottom edge.
Unlike, the LG Optimus G Pro, the LG G2 includes FM radio functionality.
Call quality was good on the LG G2, and we were able to get cellular signals even in low signal areas.
The G2 comes with a giant 3000mAh battery, and in our usage, it lasted us almost a day and a half with medium usage, including 1-1.5 hours of phone calls, two e-mail accounts with push notifications, playing some music, clicking a few pictures, Twitter notifications and WhatsApp chats. In fact the standby time delivered by the phone is one of the best in its class.
It's worth pointing out that we had mostly used 3G data with intermittent use of Wi-Fi and had put the phone's screen brightness at the highest level. Altering these settings might help in running the phone for a longer duration, depending on your usage pattern. The LG G2 also offers a Battery Saver mode that turns off certain features (Wi-Fi, Auto-sync, haptic feedback and others) to extend battery life.
The G2 also includes NFC capabilities, and we were able to transfer and receive files through Android Beam, which combines Bluetooth and NFC for sharing data. The phone also allows you to transfer files to other devices through Wi-Fi without being on the same Wi-Fi network.
Verdict
The LG G2 is one of the best flagship phones available at this point in time. The phone's strength lies in its excellent performance, good battery backup, brilliant screen and great design. We are not fans of the awkward hardware button placement but the narrow bezel makes it a very practical big screen phone which is not bulky.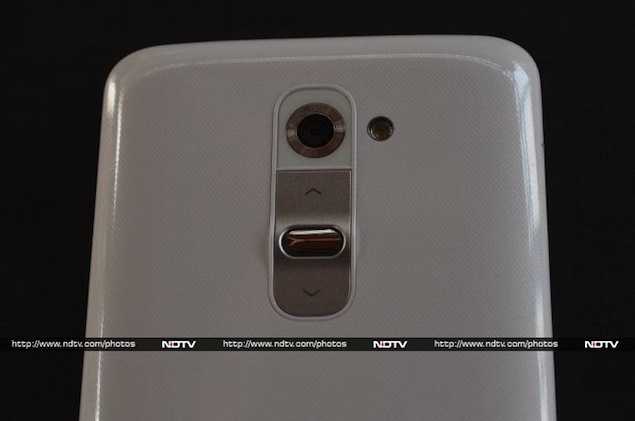 At a starting price of Rs. 41,500 (for the 16GB version), the phone is cheaper than the Sony Xperia Z1 and the Samsung Galaxy Note 3 which also offer current generation hardware. It looks like a value for money proposition if you only want the latest and the best in terms of hardware specifications.
If you're just in the market for a great Android phone and don't really care about the latest specifications, flagships like the Samsung Galaxy S4 and the HTC One are two great phones to choose from, with the HTC One offering a better build quality.
If you don't mind a smaller screen and a non-Android phone (and the extra cash), the iPhone 5s is also arriving early next month.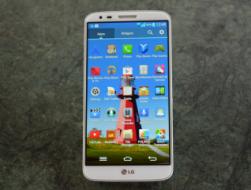 LG G2 in pictures