Remember smartphones with 3D displays? Those were supposed to have caught on a few years ago, but they're only a vague memory now. On the other hand, full-HD resolution might have seemed like unnecessary overkill, but you can hardly find a high-end phone without it now.
Manufacturers seem to like throwing multiple ideas at the wall to see what sticks. Once a feature catches on, everyone else must adopt it too. LG has raised the bar for exotic, expensive features with a curved, bendable screen, and it isn't likely that competitors will be able to follow suit anytime soon.
This curved device is an experiment and a precursor to what the future could look like. Samsung's Galaxy Round is its only potential competition, but that phone doesn't flex, and is curved horizontally rather than vertically.
In this review, we try to ascertain if the LG G Flex works as an experiment, and whether it's a sign of things to come: large, bendable phones that can be folded or rolled up.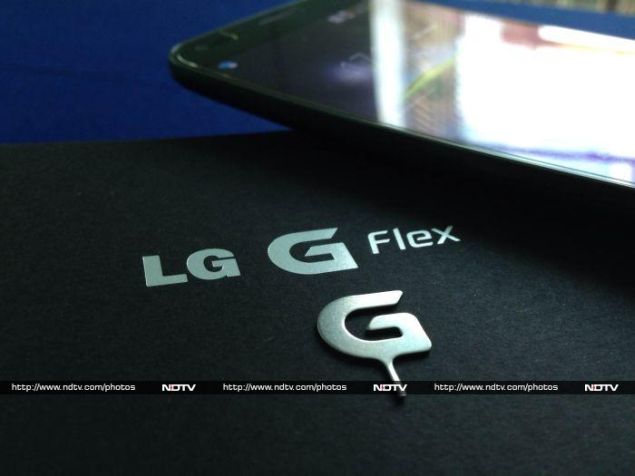 Look and feel
The curved design of the LG G Flex is far from subtle. In the few weeks that we spent with the phone, nearly everyone who saw it stopped to ask questions or ask if they could hold it.
The G Flex has a curvature radius of 700mm, which LG says is ideal. Moreover, it can bend up to 400mm when pressure is applied to the middle of the rear, which nearly flattens the phone out. LG is very clear that pressure should not be applied the other way around, which is to say you shouldn't try to bend it more than it already is.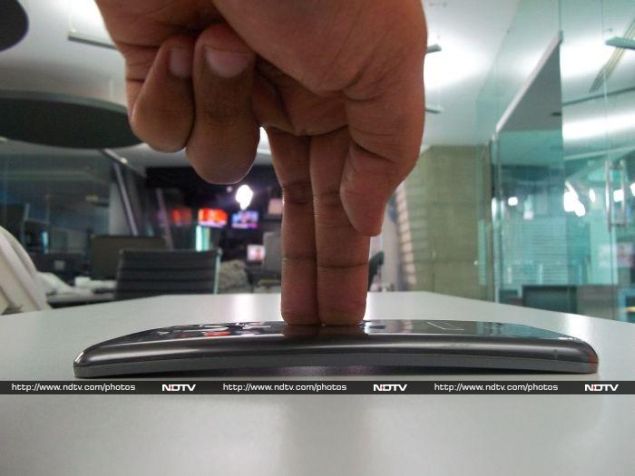 The curve feels natural while talking on the phone, but by no means is the LG G Flex a small device. It is also slightly on the heavier side, considering it weighs 177 grams, but the distribution of weight and the contoured structure ensures that it doesn't feel unwieldy. We give LG full marks for getting the ergonomics right.
Just like LG's flagship G2, the buttons are on the rear. A raised slab houses the camera, with the volume and power buttons right beneath it. To the left and the right of the camera are the flash and IR blaster, respectively. This button placement idea is flawed and makes for a rather unpleasant experience. Quite a few times, we ended up hitting the volume buttons and inadvertently triggering the camera or Notes app when we just wanted to lock/unlock the device. Screenshots are captured by hitting the power and volume down buttons together, and it's also way too easy to keep doing this unintentionally.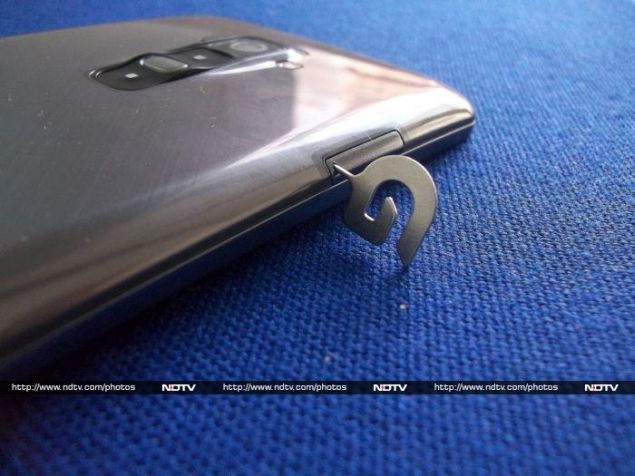 The back of the LG G Flex is rather smooth, with a self-healing coating that promises to absorb scratches that accumulate with day-to-day usage over a period of time. This is a great additional feature but unfortunately it didn't work too well for us. The LG logo is at the bottom, and below it, to the right, is the speaker. The phone is sealed, which means the battery isn't removable.
The sides of the device are bare, with the exception of a Micro-SIM card tray on the left. The 3.5mm jack, microphone and Micro-USB port for charging/data transfer are at the bottom. A rather prominent LG logo occupies the area right below the six-inch curved display, detracting from its look. On the top are the proximity sensor, front camera, and earpiece.
We just want to stress that the awe generated by the G Flex is not for its looks, but rather the uniqueness of its shape. If flattened, (don't try this at home), the G Flex will look like any other big, grey smartphone, which isn't a good or a bad thing.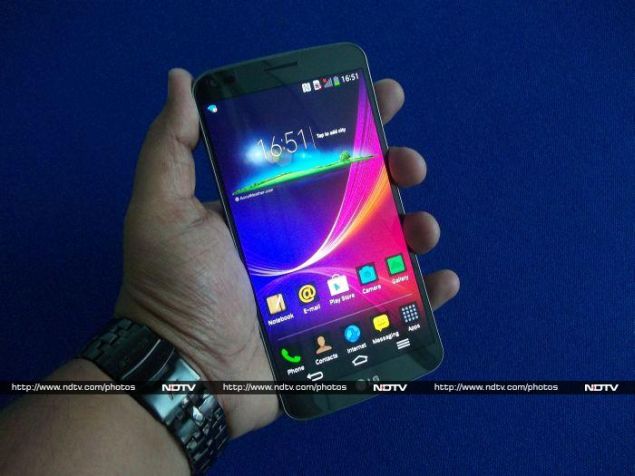 Features and specifications
For a device this expensive, we were hoping that LG wouldn't cheap out on the specifications. Thankfully, LG has bestowed the G Flex with the power of a Snapdragon 800 processor clocked at 2.2GHz. An Adreno 330 GPU takes care of the graphics.
Unfortunately, for users who would like to expand the storage using microSD cards, the G Flex doesn't provide that option, and the 32GB of internal storage will have to suffice. The rear camera can shoot at a resolution of 13 MP and is supported by LED flash. A 2.1MP front camera should do the job for video calls and of course, selfies. The rear camera can shoot Ultra-HD videos which have a resolution of 3840x2160, which is surprising since LG hasn't revealed any details about this in their marketing for the G Flex. We discovered this when we wanted to try out the 60fps 1080p video recording capability.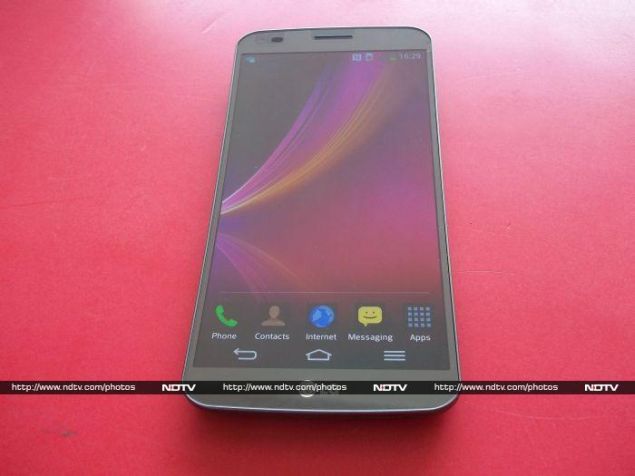 The G Flex has a slot for a Micro-SIM, and can connect to the standard 850/900/1800/ 1900/2100MHz 2G and 3G bands. This device doesn't connect to the 2300MHz band for LTE, which means Indian users wishing to use fourth generation networks are out of luck. It has Bluetooth 4.0 and sensors including an accelerometer, gyro, proximity sensor, and compass.
The 720p panel on the six-inch device would have been a huge letdown if not for the curvature. The approximately 245dpi screen looks pixelated on close inspection, and even at maximum brightness, the screen is dim. The viewing angles are decent. The unique curved design comes to the rescue here because it creates an immersion while watching videos. We checked a flat-screen device for comparison and it just wasn't the same experience. Folks who like watching videos on their smartphones will find this feature enticing.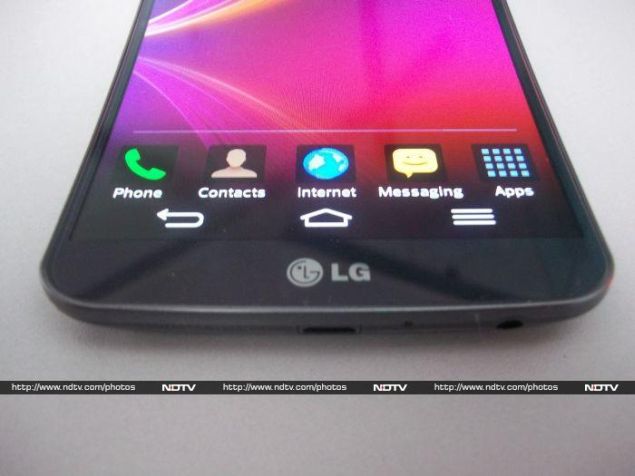 Software
We cannot fathom what prompted LG to go with Android 4.2.2. The company has promised an update but we always believe that flagship models should come with the latest version of Android, and in this case it should have been 4.4 (Kitkat) out of the box.
As usual, LG has customized Android to the extent that there are absolutely no traces of the stock OS. One can say it takes a few cues from Samsung's TouchWiz with respect to the colourful icons, quick settings in the notification slider, and bloatware. The app deletion animation, which features wiggling icons, is borrowed from iOS.
The lock screen features scrolling wallpaper makes interesting use of the accelerometer for vertical scrolling. Just like the G2, the G Flex can wake or lock the screen with a double-tap. It feels iffy at first but once you get the hang of it, it works like a charm.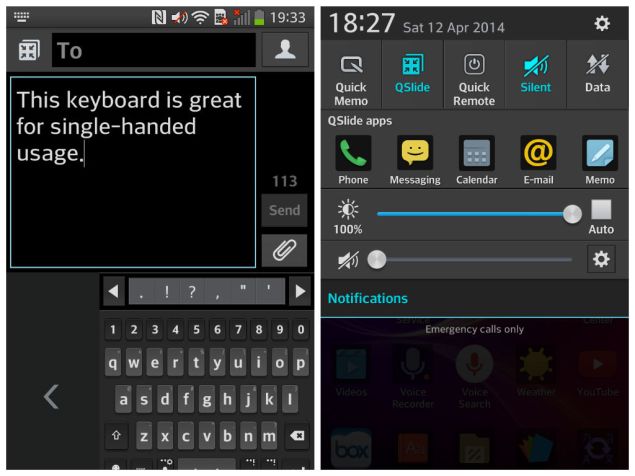 LG has on-screen buttons for navigation, and you can customise (to an extent) which ones are shown and in what order. Making use of the large screen is the Qslide feature which lets you create a memo with a screenshot of whatever you're working on, and share it via social networks. We found it particularly interesting that the transparency could be adjusted. Similarly, long pressing the back button from the homescreen pulls up another set of preselected apps that can be used in split-screen mode. To make one-handed operation easier, LG provides users with a bunch of options. We found that a smaller keyboard aligned to the right or left was mighty useful for single-handed usage.
LG's bundled apps include LG backup, Life Square, Memo, QTheatre, QuickRemote, RemoteCall Service, Update Centre, Polaris Viewer 5, Quick Translator, SmartWorld, and Box. Unfortunately, Box doesn't come with free cloud storage. We were particularly fascinated by QuickRemote, which lets you change TV channels via IR. It works absolutely brilliantly and can be a great alternative to universal remotes. The rest are fairly pointless.

The software embellishments on the G Flex somewhat make up for the fact that Android 4.2 is so outdated. Even with newer versions, LG's UI would be much the same, but we would have liked to have had Kitkat's optimised on-screen button scheme, for instance.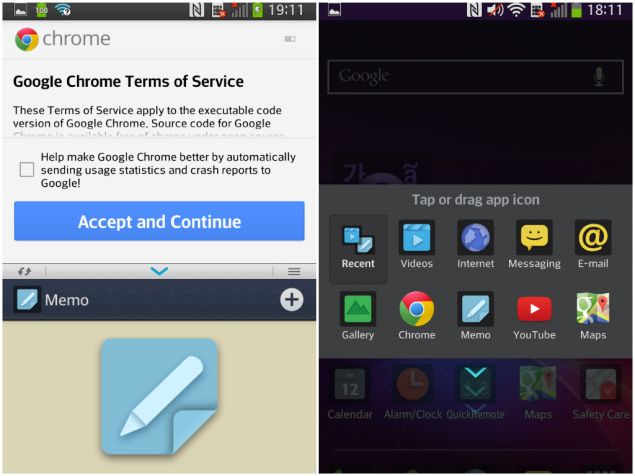 Camera
From the multiple modes to manual controls, the G Flex's camera has no dearth of options to fiddle with. The VR panorama is a unique mode that allows users to capture an entire 360-degree 3D plane with the photographer acting as the centre point around which the photo is stitched. On paper it sounds like a great idea, but the implementation is totally flawed. An app called Sphere, available on the Play Store, does a much better job of stitching 360-degree images. A few gimmicks like saying 'cheese' to trigger the camera, and 'dual camera' which superimposes photos taken with both front and rear cameras, work as intended. Enthusiasts can also play around with the ISO settings and white balance.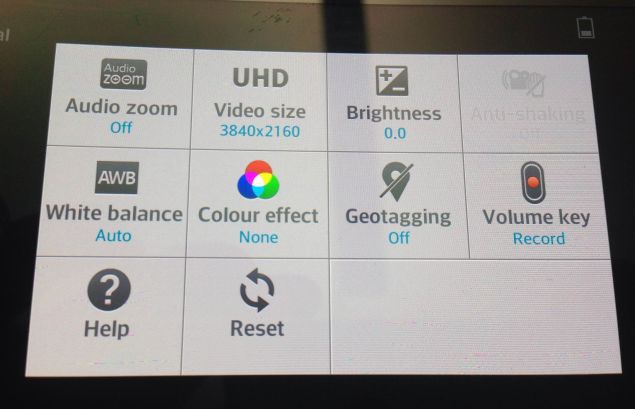 By default, the rear camera captures pictures in widescreen at 10MP but we'd suggest bumping up the resolution to 13MP in the 4:3 ratio. The camera was slightly erratic while focusing. This wasn't a regular occurrence but it did happen a few times when subjects were unevenly lit. In daylight the camera captures decent images. There is very little post processing happening here which is great. The macro shots we captured were highly detailed with great colour reproduction. Despite the presence of Optical Image Stabilization (OIS), the camera underperformed in low light. The front camera is not that great, and images taken with it tend to look fuzzy and lack detail.
LG sells different editions of this phone in different parts of the world, not all of which can capture 4K video. Our unit was the Asian edition (D958) which can capture videos at a staggering resolution of 3840x2160, commonly known as 4K or Ultra HD. In our tests (which were reviewed on a non-4K monitor), we noticed that even really minute details were clearly visible and captured colours were accurate in the middle of the frame, but were a bit washed out and grainy at the edges.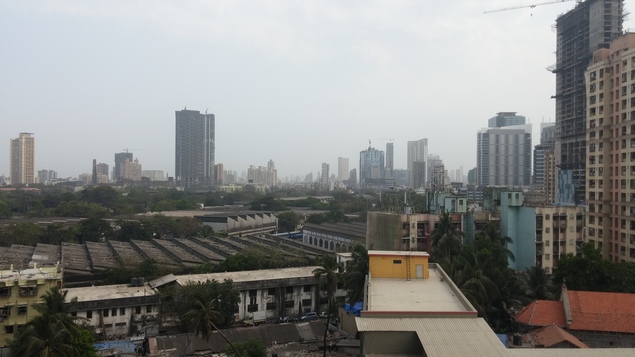 (Click to see full size)

Performance
Before we get to the performance of the innards, let's get one thing out of the way - the battery life. The curved beast of a 3500mAh battery inside the LG G Flex seems to last forever and ever and ever. In our battery test, the phone played video continuously for 13 hours and 32 minutes before it finally died. Even with heavy usage which included a good mix of gaming, watching videos and generally surfing the Web, the G Flex's battery lasted for a good two days before it needed charging.
The Snapdragon 800 plus Adreno 330 is becoming standard in flagship phones these days and the performance is blazing fast as expected. We have no complains whatsoever. For those fixated with numbers here are a few for your perusal:
The AnTuTu test returned a score of 36,114, and Quadrant was impressive as well with a score of 20,574. In the GFXbench test, the powerhouse Adreno GPU managed 33 fps, and the 3DMark Ice Storm Extreme test gave us a score of 10,177. We tested Shadowgun: Deadzone and it ran pretty smoothly with absolutely no lag, but being an Android 4.2 device, the capacitive buttons were on screen all the time and wasted precious screen real estate.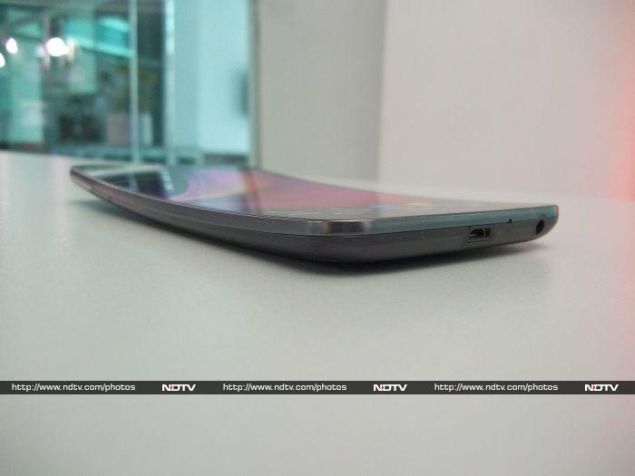 As we mentioned earlier, the G Flex's curved display gives you an added level of immersion which is definitely an advantage for video buffs. The default video app plays all formats of video without any hitch. It can even handle 4K resolution videos and has the ability to zoom into them during playback. The colour reproduction is great and there are absolutely no artifacts. The bundled earphones are the in-ear kind but look much better than they sound, even with LG's dolby enhancement. The sound quality improved by leaps and bounds when we used our reference earphones.
The call quality is good, not great. At the receiver's end, clarity dropped quite a bit in low network areas.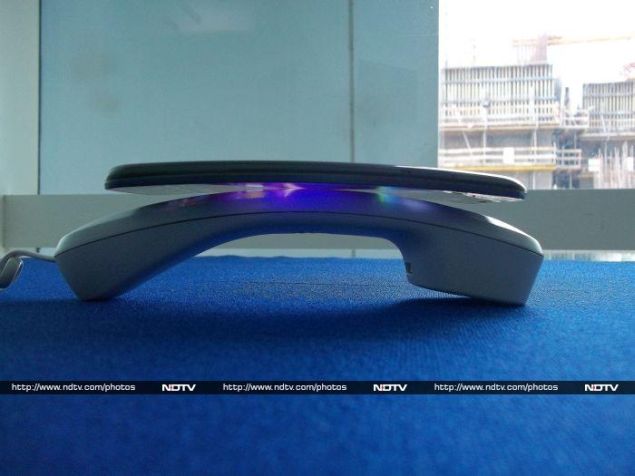 Verdict
We like the LG G Flex but there is a caveat - its price. This curved beauty costs a whopping Rs. 68,500.
Even for early adopters the price is prohibitively expensive. The argument is that you're is paying for exclusivity - but it still seems as though you're not getting enough of it to justify the price premium over other phones with similar specifications. The futuristic feeling alone won't be worth that much money to a lot of buyers.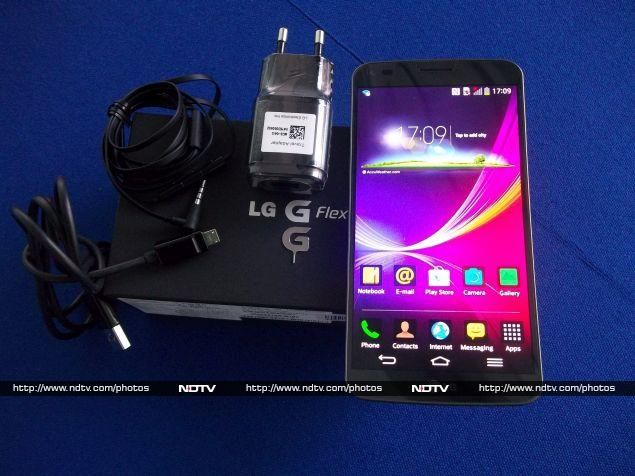 Yes, it has a curved screen. Yes, watching videos is a great experience on the G Flex. Yes, the performance is top-notch. Yes, it has a great battery life. Yes, it has no competitor in its niche in the market at the moment. But for most people, this still isn't enough to justify spending so much money.
If you have the money and want to splurge, then by all means, go ahead and check out the G Flex. We, personally, would rather open a fixed deposit account or take a luxury vacation.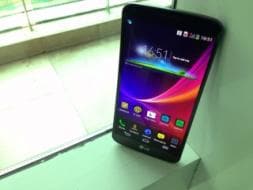 LG G Flex in pictures
With this curved smartphone, LG aims to show the world tomorrow's tech today. We try to find out if the South Korean tech giant succeeds with this effort or not.