Lenovo isn't known to shy away from experimenting with its phones. We've had the 'layered' Vibe X2 (Review | Pictures) in the past and, more recently, the overgrown Phab Plus (Review | Pictures).
Today, we'll be reviewing its camera-centric Lenovo Vibe Shot. We first saw this phone at its announcement at MWC 2015, and it then launched in India in September. The Vibe Shot is an upper-mid-range offering that aims to capture the hearts of photography lovers with its compact-camera-like design and features. Let's see if it's worthy of its Rs. 25,000 price tag.
Look and feel
Lenovo has done an excellent job with the design and build of the phone. The monolithic look with an aluminium frame and glass on the rear oozes style. It's quite slim at 7.6mm and doesn't weigh your pockets down too much. The 5-inch form factor also makes it easy to grip and use with one hand most of the time.
The 5-inch, full-HD IPS display produces sharp images with punchy colours. There's also Gorilla Glass 3 for added strength. However, the panel is highly reflective which causes crazy reflections and is a magnet for fingerprints. Thankfully, the display has high brightness levels so you can actually use this phone under sunlight. There are capacitive buttons below for navigation that are backlit.
The left side two slots at opposite ends for the dual Micro-SIM tray and a microSD card. There's also a lanyard eyelet on the bottom corner, for a true compact camera effect. The bottom has a mono speaker and a Micro-USB charging port.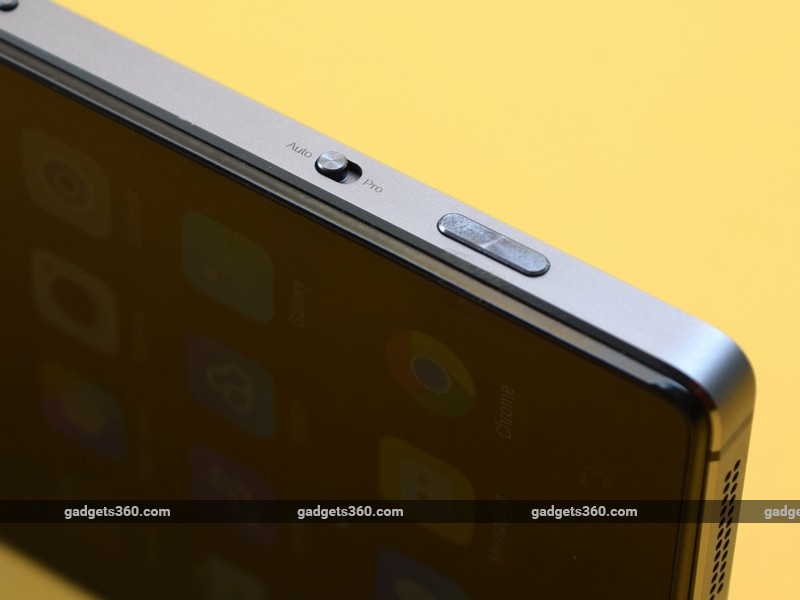 The right side is where things get interesting. Apart from the ergonomically placed volume and power buttons, we also have a two-stage camera shutter and a physical switch to toggle between Auto and Pro shooting modes. It's a thoughtful addition that lets you quickly dive into the desired shooting mode before firing up the camera app.
The rear is designed to look like a camera and Lenovo has certainly succeeded here. We have a 16-megapixel sensor with infrared autofocus, optical image stabilisation (OIS) and a triple-LED dual-tone flash unit. It's a pretty impressive package and works well as the phone's most unique selling point.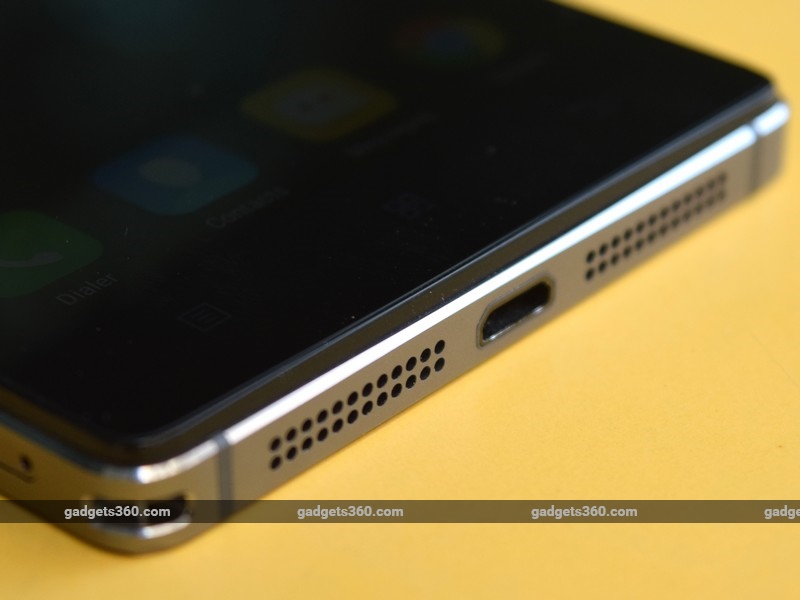 In the box, you get a charger, headset, data cable, and a screen guard. Oddly, all the accessories that we received were white, when the phone itself is black. The quality of the accessories is good and they should last.
Specifications and software
The Vibe Shot features typical mid-range specifications including an octa-core Qualcomm Snapdragon 615 SoC and 3GB of RAM. There's 32GB of onboard storage which can be expanded by up to 128GB. You also get Wi-Fi b/g/n, Bluetooth 4.1, GPS, FM radio, GPS, and USB OTG. We would have liked to see Wi-Fi ac and NFC too considering this phone's positioning, but sadly, they aren't present. Both SIM slots support 4G LTE on Indian bands.
The phone runs on Android 5.1.1 with Vibe UI running in top. It's fairly easy to use and there are a ton of customisations to be had. However, Lenovo's current release is quite buggy and could use a major overhaul. Our unit had an issue with the Play Store randomly crashing while searching for an app. We also found that the battery percentage readout in the notification shade would intermittently show different numbers on the lock screen and when the phone was unlocked. It seems other users have been facing similar software glitches as well.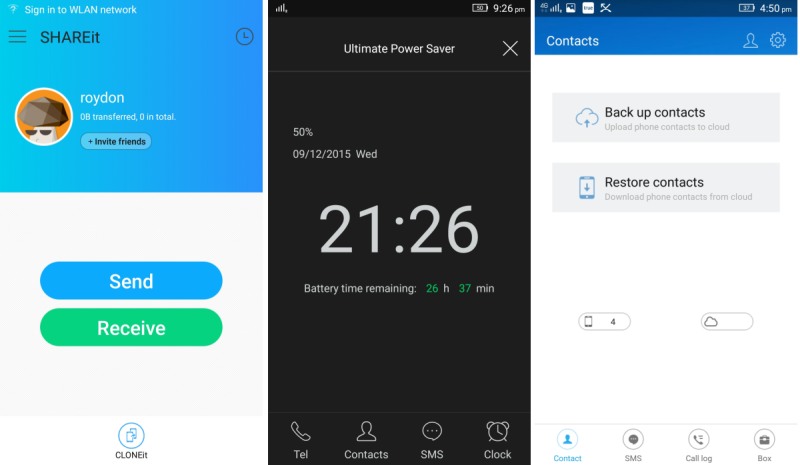 The Vibe Shot features a host of bundled apps and thankfully, you can get rid of most if needed. You can customise the look of the phone with Theme Centre; ShareIt lets you transfer files over Wi-Fi Direct; and SyncIt lets you back up your messages and contacts to the cloud. Lenovo also bundles some social media apps, Guvera Music for streaming, WPS Office, Route 66 for navigation, UC Browser, and Lenovo Companion.
There's a security feature called Secure Zone, which lets you switch to another profile (like Guest mode, only more secure) and run separate instances of apps and files. Incoming emails and other alerts from Secure Zone show up in the notification shade with a red dot next to the icon. You can view these in the standard mode or 'Open Zone' but they are only accessible once you switch to Secure Zone.
Performance
The Lenovo Vibe Shot is a smooth operator when it comes to daily operations. Despite the heavy skin, the interface is fluid with no noticeable lag or stutter. Call quality is also good and the loudspeaker has decent volume levels for alerts. 4G also worked well on both SIM slots.
In benchmarks, the phone put up a good show, scoring 35,817 points in AnTuTu and 5,360 in 3DMark Ice Storm Extreme. The Vibe Shot handles most apps and games without any hiccups, especially taxing ones such as Dead Trigger 2.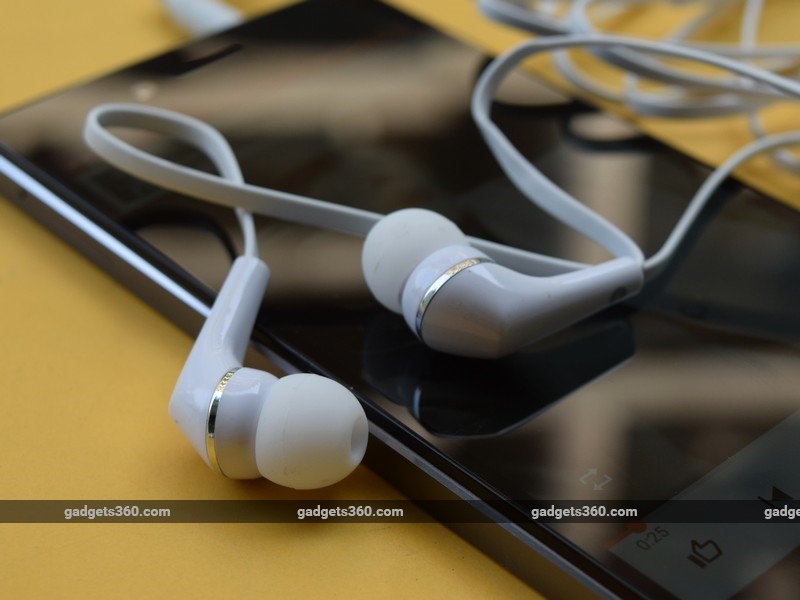 The phone fares well in multimedia playback too. High bit-rate full-HD videos are handled well and are actually fun to watch, thanks to the sharp display. The auto-brightness setting could use some fixing though; we noticed it tends to dim the screen more than it should and is slightly slow to react to changing lighting conditions. The mono speaker is decently loud indoors but is easily drowned out by outside noise. The bundled headset handles ambient noise isolation well and fits snugly in your ear.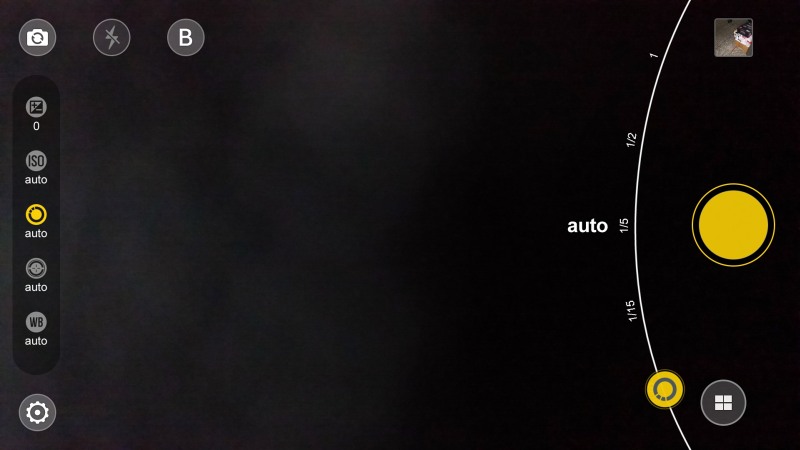 We now come to the of the piece de resistance of the Vibe Shot - its camera. The 16-megapixel shooter does a good job in daytime landscapes and macros. Detail level is good and so is the colour reproduction, although it does tend to oversaturate a bit in landscape shots. Indoor shots under artificial lighting are not as sharp but this is only noticeable when you see the image at 100 percent. Video is steady, with good detail thanks to the optical image stabilisation. The infrared auto-focus system helps keep focus speed consistent, even in less favourable lighting conditions.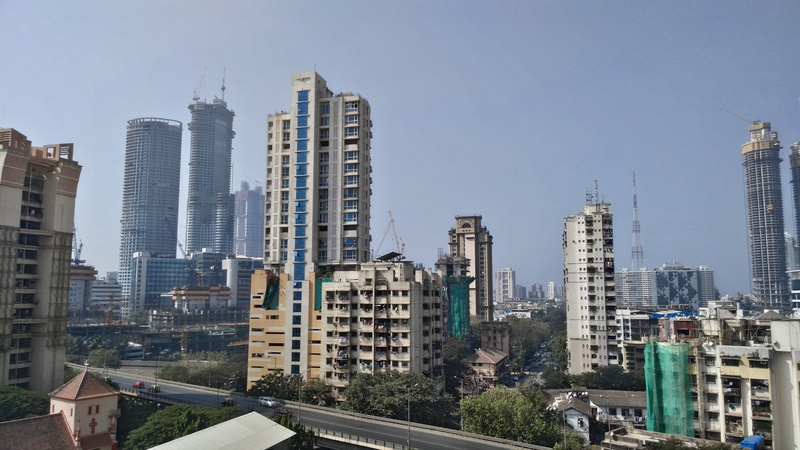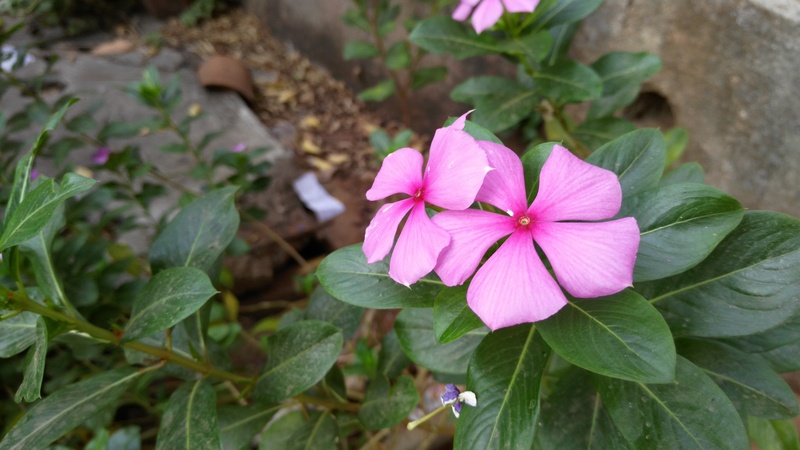 (Click to see full-sized images)
The interface is well designed and easy to navigate. Pro mode gives you multiple shooting options for low-light photography, depth of field, HDR and panoramic selfie. What's missing is a burst mode and video modes such as slow-motion, timelapse, etc.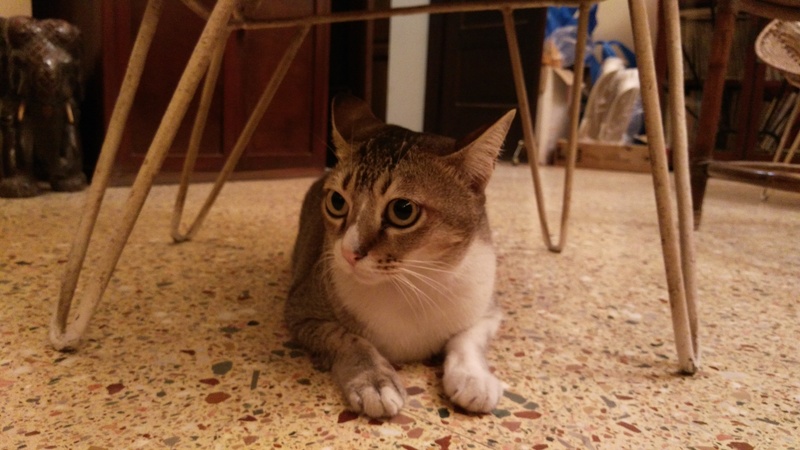 (Click to see full-sized images)
In Auto mode, you can enable a feature called 'Smart Composition', which helps beginners learn how to frame shots. The 'City Traffic' setting in Pro mode lets you use very long exposures, which can be loads of fun. The triple-LED flash unit does a good job at illuminating nearby objects evenly. The front-facing 8-megapixel camera does a good job with selfies in daylight but struggles under low light.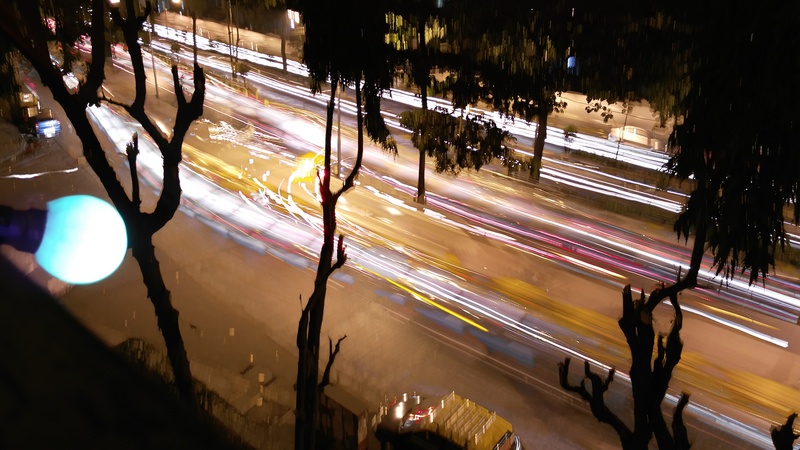 (Click to see full-sized images)
We managed to get good battery life out of the Vibe Shot with regular use as well as in our video loop test. The phone ran for 9 hours and 11 minutes in the video test, and during regular use, with 4G active, we easily managed to get through a full day. This phone also holds up well with heavy use of the camera.
Verdict
The Lenovo Vibe Shot is a beautifully crafted smartphone for shutterbugs. The build and finish are great, and you get a vivid display, good battery life and a full-featured camera system. The software, while fluid for the most part, does have a number of glitches which Lenovo needs to fix soon. It would also have been nice if we had some modes for video recording other than the standard one. Finally, the phone is a fingerprint nightmare so keeping it clean is not the easiest thing to do.
If you're looking purely at image and video quality then there are older options such as the Samsung Galaxy S5 (Review | Pictures) and the Sony Xperia Z3 Compact (Review | Pictures), which still pack a punch and are priced the same or even lower. However, they lack features such as the infrared focus system and OIS.
Given its software bugs and limited video capabilities, the Vibe Shot feels a bit expensive at its current price of Rs. 25,000. If Lenovo can fix these things with future software updates and drop the price a little, then it will have a strong chance of disrupting the mid-range segment.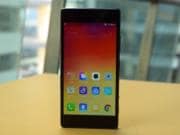 Lenovo Vibe Shot in pictures