The
Lenovo Vibe P1
and
Vibe P1m
, are two smartphones that know where their priorities lie - battery life. The P1 and the P1m are backed by incredible 4900mAh and 3900mAh batteries respectively. If that wasn't enough, the two smartphones have a dedicated switch on the left, which puts the smartphones into a power saving mode. Putting this button on phones that already have a large battery seems like a bit of a waste to us, but then we aren't running a corporation that just bought Motorola, so what do we know.

Back to what you came here to read - how the two smartphones perform. This power saving mode isn't too dissimilar to what you've seen on other smartphones - it basically takes away your standard launcher and leaves you with a handful of apps you can use while in this mode - the Phone (dialler), Contacts, SMS, and Clock are the usual suspects. Lenovo's implementation leaves mobile data on - we couldn't verify if it disables 3G/ 4G in a bid to save power - and also a chat app. The unit we saw had QQ available, and we were told the international variant will let you pick WhatsApp instead.
(Also see: Lenovo Vibe S1, Vibe P1, and Vibe P1m Smartphones Launched at IFA 2015)
Lenovo's power saving mode launcher has room for six apps on the 'home screen' and you have some amount of control over which apps should be shown. Lenovo lets you pick from a pre-approved list of apps that you can use in this low power state. The unit we saw had only two options available other than the five apps we mentioned above. What apps need to do to make the power saving mode cut isn't available, though it's clear your browser will never be on that list.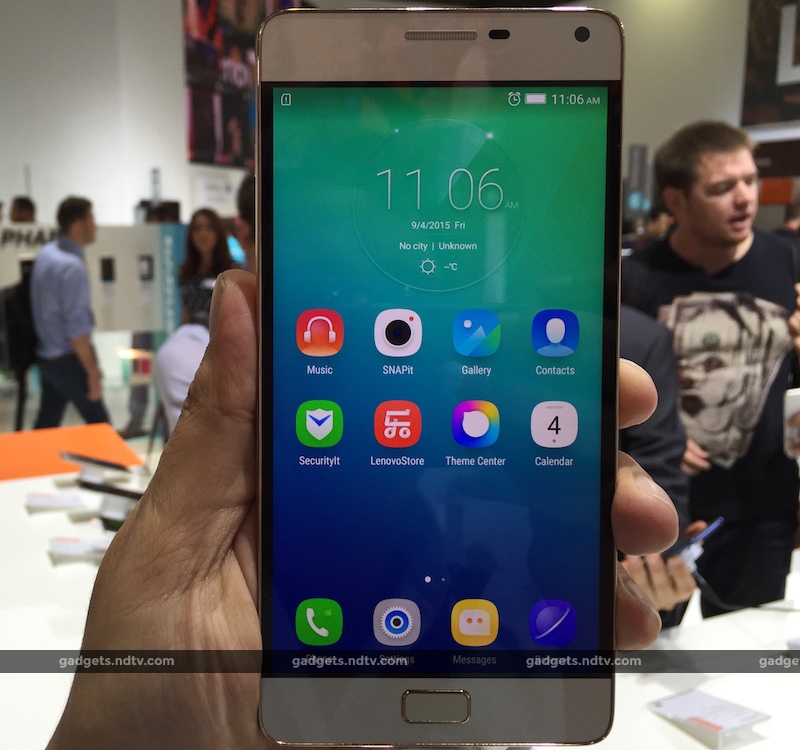 In terms of the rest of the specifications, the Lenovo Vibe P1 is a dual-SIM (dual LTE) smartphone that comes with a 5.5-inch full-HD display with Corning Gorilla Glass 3 protection. It is powered by a Snapdragon 615 octa-core processor alongside 2GB of RAM and 16GB of expandable storage. the Lenovo Vibe P1 has a 13-megapixel rear and 5-megapixel front shooter. The P1m is more modest, with a 5-inch 720p display, 2GB RAM, and 8-megapixel rear camera.
(Also see: Lenovo Vibe P1 and Vibe P1m full specifications)
For the latest tech news and reviews, follow Gadgets 360 on Twitter, Facebook, and Google News. For the latest videos on gadgets and tech, subscribe to our YouTube channel.
Further reading:
Android
,
IFA
,
IFA 2015
,
Lenovo
,
Lenovo Vibe P1
,
Lenovo Vibe P1 specifications
,
Lenovo Vibe P1m
,
Lenovo Vibe P1m specifications
,
Mobiles
,
Vibe P1
,
Vibe P1 specifications
,
Vibe P1m
,
Vibe P1m specifications
Related Stories