Lenovo announced four new smartphones at IFA in Berlin last week - the Lenovo Vibe S1, Lenovo Vibe P1, Lenovo P1m, and Lenovo Phab. We spotted the Lenovo Phab and the Phab Plus looking confused between the smartphones and tablet section of the Lenovo pavilion at IFA in Berlin. It seems someone in the Lenovo marketing department read about slowing tablet sales and decided they can shave 0.02-inches of a display's size and market it as a phone. Larry, we can only hope you get promoted before your boss realises consumers won't fall for this move.
In case you haven't heard, the Lenovo Phab - unveiled in Berlin last week - comes with a 6.98-inch display and still likes to hangout in the smartphone section because it think it's too cool to be a tablet. We thought the Phab Plus with 6.8-inch display that Lenovo unveiled earlier in the week in China stretched the definition of the word smartphone but the company went a step further with the Phab. Don't ask us why the Phab Plus is actually smaller than the Phab - just take that money and run Larry, before you are found out; you are no marketing genius, you can't even get the basics right.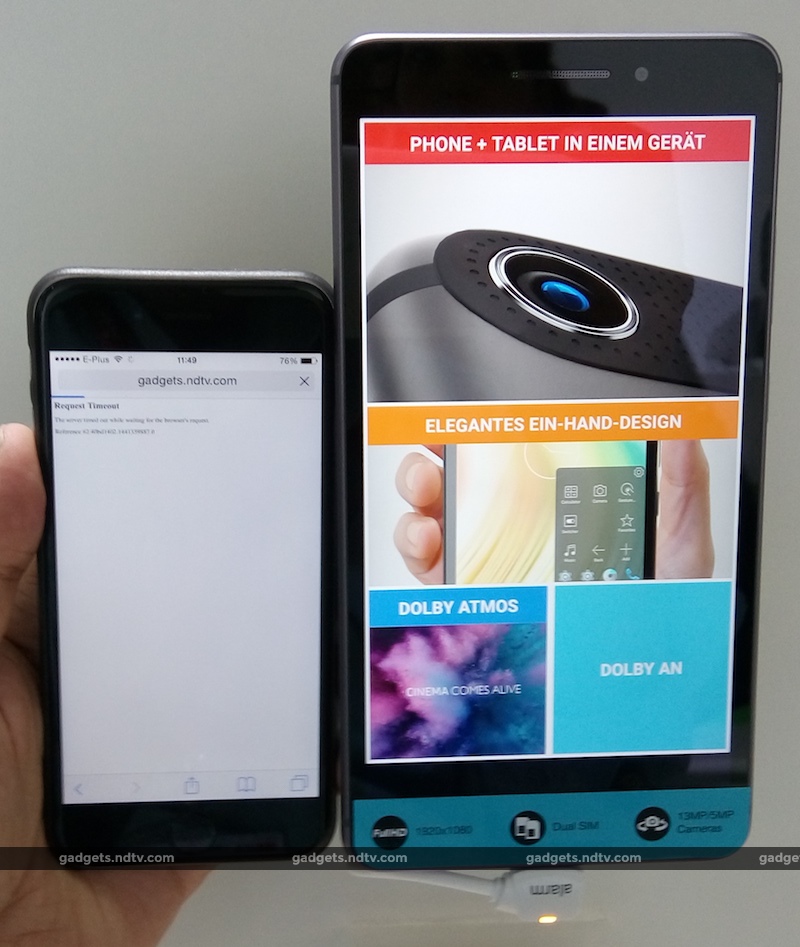 And Apple thought it was finally making large screen phones with the iPhone 6 (left).
Look at the comparison shots we snagged of the Phab Plus (yes, the smaller one) with the iPhone 6 (above) and Sony Xperia C5 Ultra (below) - the latter is hardly compact, with a 6-inch display of its own. We won't go much into the details of how the two devices worked (since there's nothing extraordinary about them other than their size) other than saying the fact that they come with a single-handed user mode - which we couldn't trigger despite multiple attempts and a cry for help. Let's just say if you are crazy enough to want to use these devices as your primary phone, you will need that mode - a lot.
The Lenovo Phab Plus makes the 6-inch Sony Xperia C5 Ultra (left) look compact.
In case you have made it this far, you deserve to know more about the specifications of the two smartphones devices. The Lenovo Phab comes with a 6.98-inch 720p (*cough* budget tablet *cough*) and an octa-core processor with 1GB RAM. The 'premium' Phab Plus comes with a 6.8-inch 1080p display alongside Snapdragon 615 processor and 2GB RAM with 32GB expandable storage. It packs a 13-megapixel rear camera, so you can look crazy while clicking pictures with that thing in your hand. It's backed by a 4500mAh battery. So the Plus stands for better specifications? Larry may get to keep his job after all.
(Also see: Lenovo Phab and Phab Plus full specifications)
For the latest tech news and reviews, follow Gadgets 360 on Twitter, Facebook, and Google News. For the latest videos on gadgets and tech, subscribe to our YouTube channel.
Related Stories