There has been a sudden increase in the number of powerfully-specced smartphones in the sub-Rs. 20,000 market, and the new Lenovo K8 Note is the latest to join them. The new Lenovo device is targeted at buyers who love entertainment on the go and don't want to compromise with performance or camera quality. The Lenovo K8 Note sports dual cameras at the back, a feature that has become very popular among Android manufacturers after the launch iPhone 7 Plus (Review) last year. There are already quite a few Android smartphones with dual cameras in the Indian market including the Coolpad Cool 1 Dual (Review), OnePlus 5 (Review), and Honor 6X (Review). We'll find out how well K8 Note fares against its competitors.
Ever since completing its acquisition of the Moto brand, Lenovo has been on a roll in terms of smartphone shipments. Industry reports show that Lenovo has managed to become one of the top five smartphone vendors in India thanks to its vast portfolio of products. At the India launch of the K8 Note, Lenovo claimed that it has managed to sell 8.5 million K-series devices in the country so far.
With the Lenovo K8 Note, the company is also switching to a stock Android experience, ditching the Vibe Pure UI entirely, which is big move. On paper, the Lenovo K8 Note has some decent specs and features, but competition is stiff. Does it manage to strike a good balance between pricing and features? We find out.
Lenovo K8 Note look and feel
The Lenovo K8 Note's metal body feels sturdy when you hold the phone for the first time. The Aluminium 6000 material offers a premium feel and a soft touch. While there's no doubt that the K8 Note is one of the better looking phones in its category, the design is far from original, and strongly reminds us of the Xiaomi Redmi Note 4. It has 2.5D Corning Gorilla Glass spread across the front edges, which looks neat. Lenovo has used an anti-fingerprint coating on the screen which means you shouldn't have to bother cleaning it very often.
The Lenovo K8 Note has capacitive navigation buttons at the front, which aren't backlit. We often had trouble using them in the dark. The front camera has its own LED flash which has been a popular demand lately, according to Lenovo. The rear has the dual cameras which are placed one above the other, accompanied by a dual LED flash. The fingerprint sensor is right below the cameras, and was easily accessible at any point. The overall size and placement of physical buttons makes them easy to use. We liked the fact that power and volume buttons have been slightly low to easily fall under a thumb or forefinger depending on which hand you're holding the phone in.
There are the familiar antenna bands on the top and bottom of the handset's rear. The bands will match the phone's colour, making them blend in. The Lenovo K8 Note will be available in Fine Gold and Venom Black, which we received for our review. Lenovo has gone with minimalistic branding on the K8 Note, which is good. You can find a logo at the back.
The left panel has a dedicated "Music key" which is customisable for any purpose. Users can customise it via Settings > Music Key for playing/ pausing audio or video, toggling the flashlight, launching the camera, taking a screenshot, or opening a specific app. The Music Key has a red colour accent to make it stand out, with play and pause icons above it. There are also dedicated slots for two SIMs and a microSD card, which Lenovo stressed is one of the most demanded features in this segment. There's a Micro-USB port at the bottom, with a speaker grille on either side. Unfortunately, there's only one functional speaker, but this phone does support Dolby Atmos Audio enhancement. The other grille is just for show, much like on many other budget phones. The top has a 3.5mm audio jack.
We had no trouble using the K8 Note with just one hand. It measures 154.5x75.9x8.5mm and its rounded edges make it fit well in a palm. At 180g, this phone is a bit heavy compared to the likes of the Xiaomi Redmi Note 4 (175 grams) which should be seen as direct competition. Additionally, the Lenovo K8 Note has a water repellent design which help it survive light splashes, but don't consider it to be equivalent to actual water resistance. Lenovo clearly points out that liquid damage will not be covered under the warranty.
When compared to the Lenovo K6 Note, the Lenovo K8 Note has a lot of improvements in terms of design that make it feel more premium for its price. In the box, you get a transparent plastic case, a USB cable, a 15W rapid charger, a SIM ejector, and instruction manuals. The Lenovo K8 Note is the company's first smartphone to ship with a rapid charger. However, there are now no bundled earphones which might be a bit of disappointment for some buyers.
Lenovo K8 Note specifications and software
The Lenovo K8 Note features a 5.5-inch full-HD (1080x1920 pixels) display. Under the hood, it is powered by a deca-core MediaTek Helio X23 (MT6797) SoC with four cores clocked at 1.4GHz, another four cores at 1.85GHz, and two cores at 2.3GHz. The K8 Note has been launched in India in two storage and RAM variants: 3GB of RAM with 32GB of storage, and 4GB of RAM with 64GB of storage. We received the latter for our review. Storage expansion using a microSD card (up to 128GB) is supported.
Lenovo is heavily marketing the dual camera feature on the K8 Note, which is the company's first phone to offer this feature. There's a 13-megapixel primary sensor and a 5-megapixel depth sensor for creating a bokeh effect. For selfie lovers, the K8 Note has a 13-megapixel sensor at the front with its own LED flash. There's a 4000mAh non-removable battery, and this phone does support rapid charging. The K8 Note features 4G with VoLTE (voice over LTE). LTE Cat 6 speed means that you can get up to 300Mbps download speeds and up to 50Mbps upload speeds if your carrier offers that kind of performance. Other connectivity features include Wi-Fi 802.11 ac and Bluetooth 4.1.
One of the big changes Lenovo is making with its all-new K8 Note is in terms of software. The Chinese company shared the news first with Gadgets 360, and confirmed that all future Lenovo phones will run stock Android out-of-the-box. The Lenovo K8 Note runs on the recent Android 7.1.1 Nougat. This means Lenovo has entirely ditched its Vibe Pure UI. Running Android 7.1.1, the Lenovo K8 Note comes has the 3D Touch-like app shortcuts feature, which was rolled out in December last year. K8 Note users can perform contextual actions using any optimised app by simply long-pressing its icon. Our unit had already received the latest July security patch, and Lenovo promises that users can expect timely updates from now on. Some of the other notable Android 7.1.1 features on the K8 Note include GIF support directly in the keyboard, a wide variety of new emojis, split-screen multitasking, and Google Assistant.
You get all the standard Google apps including Duo, Play Movies and Play Music but the phone also comes with Microsoft Word, Excel, and PowerPoint, which are removable. The interface is fluid, and you won't feel the device stuttering even when many apps are running. Google's Photos app becomes the default gallery which in our opinion is good, since you can sync all your photos and videos to the cloud.
There are still some minor tweaks to the software. You can find the Dolby Atmos app preloaded on the handset for tweaking audio settings. There's also TheaterMax VR support which was initially introduced with the Lenovo Vibe K4 Note. This time around, however, Lenovo doesn't have an exclusive partnership with any headset maker. The company feels that there are enough VR headsets in the Indian market, and the Lenovo K8 Note with TheaterMax tech will support most of them.
We tried the TheaterMax mode on the K8 Note with a VR headset in our lab, and found that it worked flawlessly. The VR mode can be enabled by long-pressing the power button and tapping the TheaterMax option. This lets you enjoy media on a virtual large screen, with a 100-degree field of view. We had fun watching videos and TV shows using the K8 Note and a headset as it offered a cinema-like feel. We hope that Lenovo partners with content providers and does even more with its VR push.
Interestingly, Lenovo has already promised that the K8 Note will be receiving an update to Android O before end of this year which makes it an even sweeter deal at this price.
Lenovo K8 Note performance and camera
We had a good time using the Lenovo K8 Note, and found that stock Android was very welcome. We didn't have any issues despite running up to 12 apps in the background, which can be credited to Android's memory management. The K8 Note is being launched in 3GB and 4GB RAM options, and our suggestion would be to go with the 4GB version for a better overall experience if you can.
The only thing we noticed was that this phone got warm very quickly. You will start feeling heat if the camera app has been open for a few minutes or if you use GPS navigation even briefly. The same thing happened when gaming. A 20-minute session made the phone warm though not too uncomfortable to use.
Gaming on the Lenovo K8 Note was smooth, and it was able to handle heavy graphics in Need for Speed: No Limits without any hassle. Call quality was also decent, and we were able to make calls over the Jio network thanks to VoLTE support. The phone also does a good job of holding on to its signal in congested locations. The single speaker at the bottom right is loud enough but don't expect it to match the performance of stereo speakers. The Dolby Atmos app can be used to tweak audio options but still has its limits. Considering that Lenovo is heavily marketing the K8 Note as a multimedia device, we wish the company had gone with stereo speakers. There's no headset in the box which means that you will have to use your own.
As expected, the deca-core processor resulted in some pretty high test scores. AnTuTu returned 86,340 while Quadrant came up with 54,014, both of which are more than what we have seen on any phones we have reviewed in this price range. The K8 Note also managed 33fps in GFXBench and 11,151 in 3DMark Ice Storm Extreme. The 5.5-inch screen has a resolution of 1080x1920 pixels, and is adequately crisp and bright. Viewing angles are fine and sunlight legibility is not an issue. The display on the Lenovo K8 Note, in our opinion, was the best we have seen on a Lenovo device at this price level. We had a good time watching videos and playing games on the K8 Note.
Compared to the K6 Note (Review), the K8 Note has received a major bump in the camera department. It sports a 13-megapixel Purecel sensor and a 5-megapixel Samsung BSI sensor at the back. While the main 13-megapixel sensor is used to capture images, the 5-megapixel one captures depth of field information. The Camera app on the K8 Note is pretty stock which means you won't get a lot of tweaking options. Users can take images either in Normal mode or in Depth-enabled mode for a bokeh effect. Images taken in normal mode have good details and natural colours with low noise. The camera is quick to lock focus on a subject, and landscapes and macros are decent too. In our opinion, a lot more detail was visible in outdoor shots compared to most smartphone cameras in this category.
Coming to the depth-enabled shots, we found that the K8 Note handled this well but achieving a natural bokeh effect did take some effort. There will be times where you can get it right without making several attempts, but most often, you will get blurred-out shots the first time. You need to set the aperture value between f/1.2 to f/2.8 to blur out the background. We felt that the K8 Note camera was a bit harsh, and we ended up with some shots with unnatural-looking edges. Sometimes the subject wasn't adequately separated from the background and was partially blurred itself. We hope that this is something Lenovo can improve with software updates especially considering that the Lenovo K8 Note is the company's first smartphone with dual cameras.
Low-light shots tended to have a lot of noise especially when there was very little light around. We tried using the camera for landscape shots at night and ended up with results that looked washed out. Some indoor samples had visible color shading with poor detail.
The 13-megapixel front camera does a good job with selfies and the LED flash adds to its usefulness. There is a beauty mode to tweak shots slightly. The front camera was able to capture colour tones and details well enough compared to the competition in the segment.
Lenovo K8 Note battery life
The 4000mAh battery in the K8 Note lasted for roughly for 20 hours with heavy usage. During our review period, we had WhatsApp, Outlook, Gmail, Facebook, Instagram, Google Maps, Telegram, and Twitter running at the background the entire time. We used the dual cameras extensively and also played games a lot. With lighter usage, our unit easily lasted over a day before switching to battery saving mode. However, the K8 Note still falls short of what the Xiaomi Redmi Note 4 delivers in terms of battery performance.
In our standard video loop test, the K8 Note lasted for 14 hours and 20 minutes, which is good enough for a battery of this size. The Lenovo K8 Note ships with a rapid charger which means you can top it up quickly. We found that a mere 20-minute charge took us up to roughly 40 percent which should be enough juice to last for few hours. If you need a full charge, it will take nearly two hours.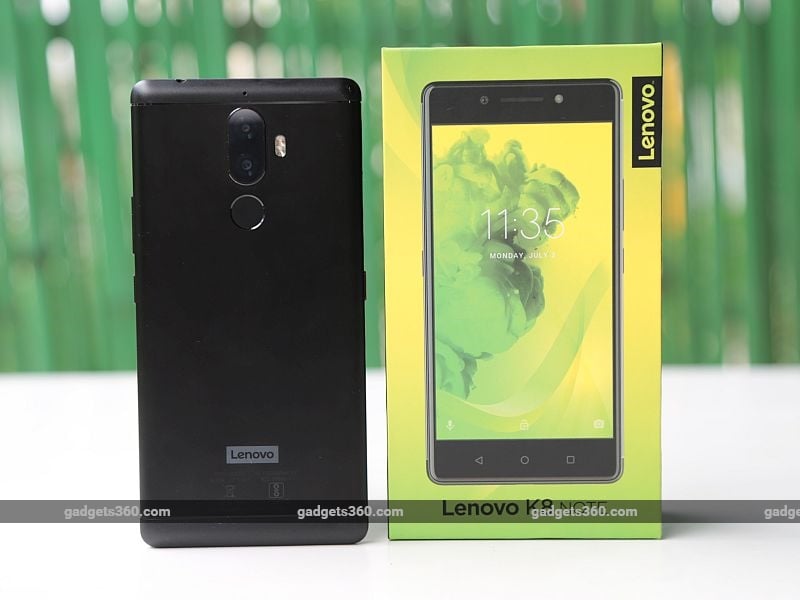 Lenovo K8 Note in pictures
Verdict
The Lenovo K8 Note starts at Rs. 12,999 for the 3GB RAM /32GB storage model while our unit with 4GB of RAM and 64GB of storage has been priced at Rs. 13,999. At these prices, the Lenovo K8 Note is a great overall package, and brings a lot to the table including stock Android, dual cameras, TheaterMax, and solid build quality. That said, there are few negatives. Battery life isn't the best in the segment, and the heating issue may concern you. The low-light camera results leave a lot to be desired as well. Thankfully, the highly marketed dual camera feature works well.
For Lenovo fans, the Lenovo K8 Note is a big upgrade from its predecessor, the Lenovo K6 Note, and is definitely worth the money. We can expect the K8 Note to go head-to-head with the Xiaomi Redmi Note 4 (Review) which has been very popular in this price range. However, with Xiaomi teasing a new dual-camera smartphone launching soon, we can expect to have fresh competition.