Hot on the heels of the Le 1s and the Le 1s Eco, Chinese smartphone upstart LeEco has launched their successor, the Le 2. We're all for keeping things fresh, especially since new competitors come out every week or two, but this launch is still surprisingly quick. Hopefully, those who bought either of the previous two models won't feel too miffed, while those who are trying to decide which phone to buy will feel like they're getting extra value.
With that kind of balance to maintain, LeEco hasn't done very much to change its formula. The Le 2 is fairly similar to its predecessors, with just a few tweaks and twists. It carries forward the metal body and fingerprint reader which made the Le 1s stand out, as well as the Le Ecosystem content and membership which gave the Le 1s Eco its identity. However, it's also slightly more expensive and has at least one feature that will polarise potential buyers. Read on to see what's new, and whether LeEco has managed to keep things interesting.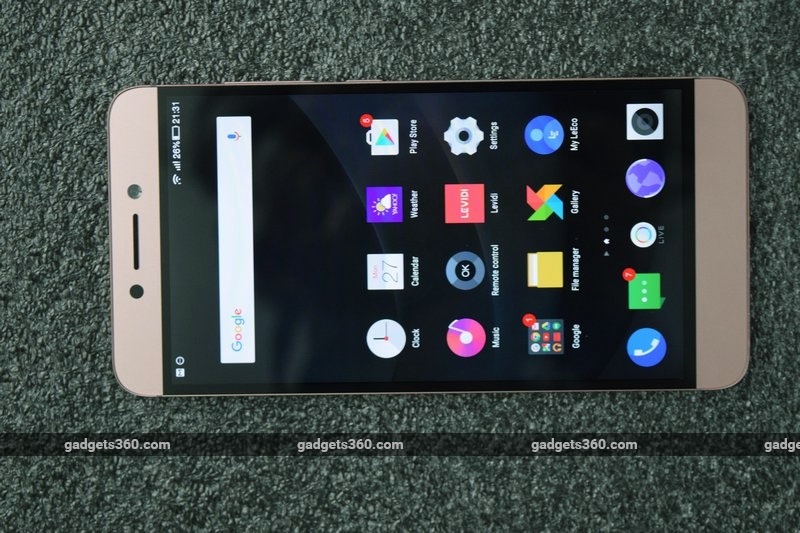 Look and feel
Our Le 2 review unit stood out most for its Rose Gold colour, which definitely grabs attention. LeEco's website also lists gold, silver, and grey as options, so if you don't like it, you can get something a bit more conventional. The front is glass with body-coloured panels above and below the screen, while the sides and rear have a buffed metal finish except for bands of shiny polished metal where the sides meet the front and back. Surprisingly, this phone still has the old LeTV logo on the back, unlike the Le Max 2 (Review) which launched at the same time.
The power and volume buttons are on the right, and a tray for two Nano-SIMs is on the left. The only thing on top is an infrared emitter. There's a USB Type-C port on the bottom flanked by two symmetrical grilles, though only the one on the right is a speaker. The main thing to note is the absence of a 3.5mm audio socket - we'll discuss the ramifications of that later on.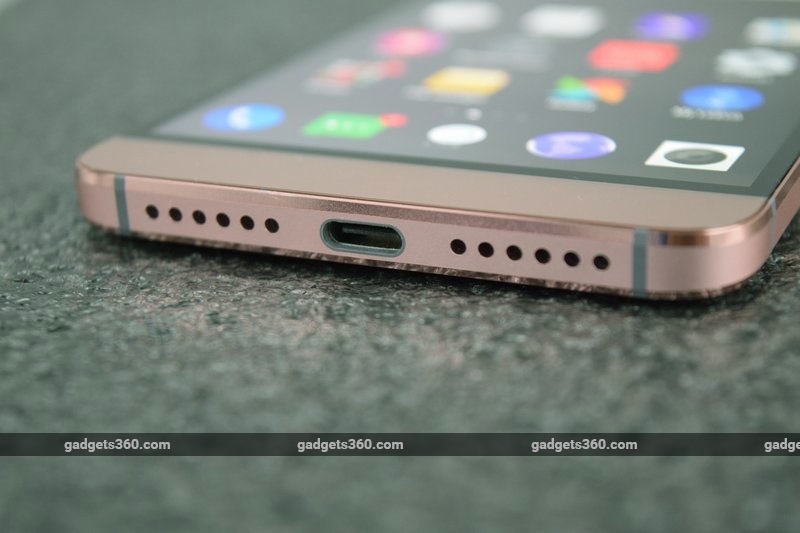 The back is where you'll see the most changes compared to the the Le 1s generation. The camera module is now much larger and is also slightly extruded from the rest of the body. The fingerprint sensor is squared off but still has its mirror finish.
The phone is fairly easy to hold and use, but you might find the edges a bit too sharp. LeEco ships this phone with a flexible clear case which makes it much easier to grip, but also tended to stick to other objects in our pockets. The weight of 153g is a slight improvement over the Le 1s's 169g. One-handed usage is fairly easy thanks to the narrow sides.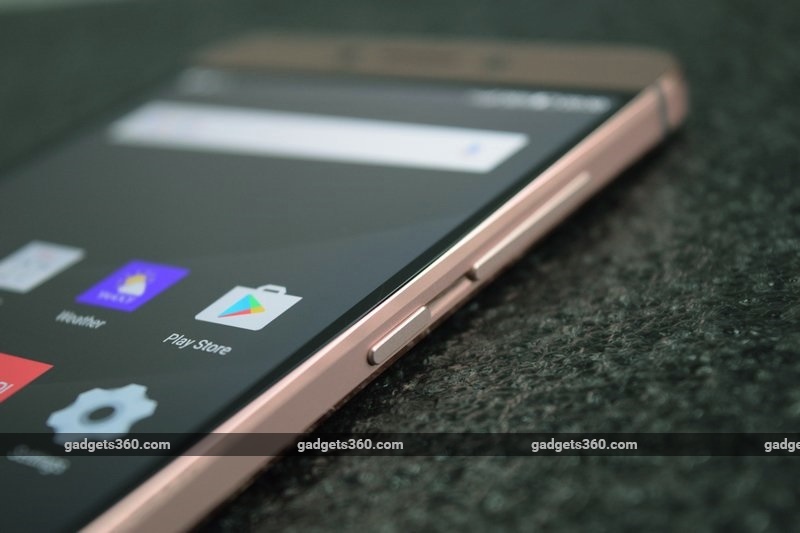 Specifications and software
LeEco has gone with Qualcomm's Snapdragon 652 processor, a fairly beefy choice for this price segment, especially considering that the similarly equipped Vivo V3Max (Review) costs nearly twice as much as this phone. You get 3GB of RAM and 32GB of storage, which is unfortunately not expandable. A variety of 4G bands are supported, including bands 3 and 40 which are commonly used in India. You can use 4G on either SIM, but both can't be active at the same time.
The Le 2's screen measures 5.5 inches and has a resolution of 1080x1920, just like the screens of its predecessors. Colours are fairly punchy although blacks aren't as deep as we would have liked. We had no complaints with brightness, even outdoors in the daytime. There's a 16-megapixel rear camera with a dual-tone flash, and an 8-megapixel front one. You can record videos at 4K resolution with the primary camera.
And so we come to the Le 2's most divisive feature, its lack of a standard 3.5mm audio port. It's possible that the idea for this move stemmed from numerous reports and rumours that Apple is planning to do the same thing with its upcoming iPhone refresh this year. This might be an attempt to steal Apple's thunder, and sure enough, LeEco is promoting itself as the first company in the world to have ditched the port. The real issue is what this means for users, and unfortunately, we're not convinced at all that it's a good thing.
The whole rationale for this move is that LeEco claims to have developed its own standard for digital audio delivery through the USB Type-C port. This is not industry standard and it is unlikely ever to be widely supported. LeEco sells its own in-ear headphones (which you can read about here in our review of the Le Max 2) and says you will be able to enjoy much higher quality audio than you would with standard analogue connections. If you buy a Le 2 or Le Max 2 in the first wave of sales, you'll get one of these headsets for free, but they cost Rs. 1,990 otherwise. You can use standard Bluetooth headsets but those also cost at least that much and need to be kept charged.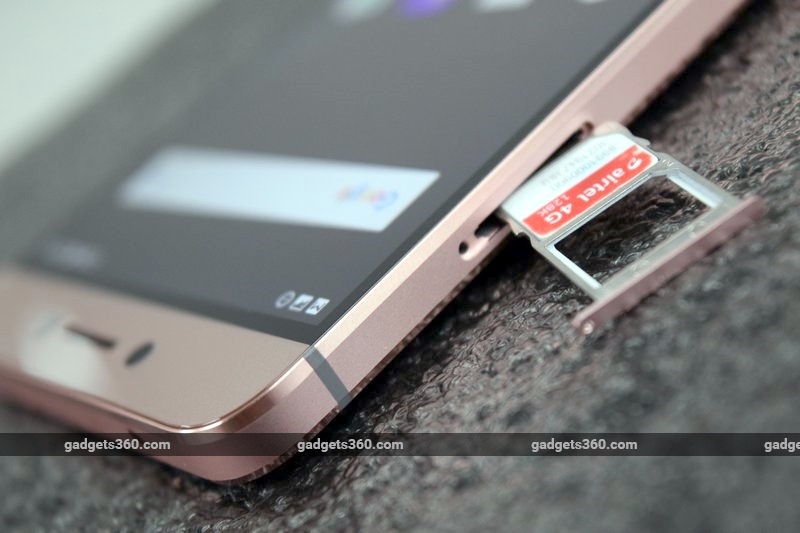 We're happy that CDLA exists, but we don't see why it needed to come at the cost of the 3.5mm socket. The Le 2 is not significantly slimmer than its predecessor, and doesn't have a bigger battery. No great use has been made of the space freed by eliminating one connector. Buyers will be greatly inconvenienced by having to carry around an extra adapter, not being able to use a headset while their phone is charging, and not being able to use USB-OTG storage for media playback with a headset. The Type-C to 3.5mm adapter bundled with this phone is not a standard USB audio device, and other companies are going to be rolling out their own Type-C audio protocols, so you can add all of that to the confusion around the USB Type-C standard.
For most buyers, especially at this price point, high-resolution audio isn't likely to be at the top of any wishlist. Most buyers won't even have high-def audio files, though that is somewhat taken care of by the Le Ecosystem content subscription you get with each phone (or at least will be when Hungama services commence later this year, as promised). Even so, it's an inconvenience and a nuisance to be forced to use LeEco's own headsets - like a throwback to the early days of mobile phones.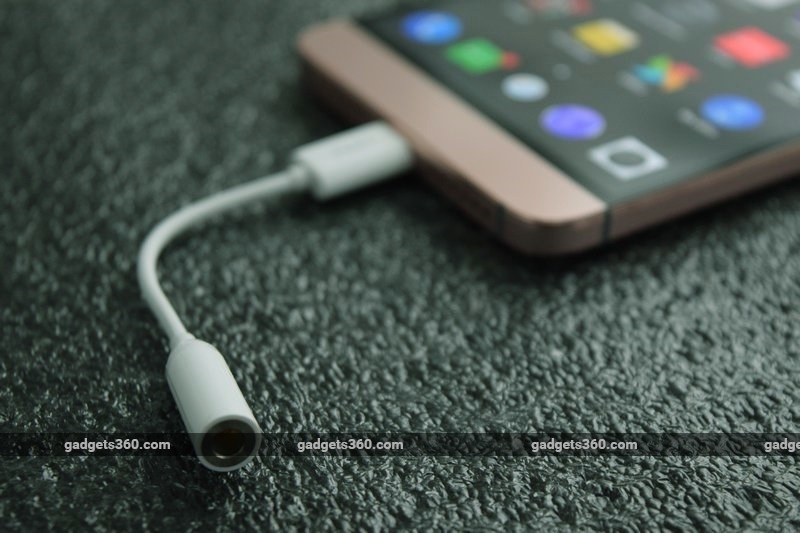 Speaking of content, not much has changed about LeEco's offerings since the service debuted with the Le 1s Eco. Hungama music streaming hasn't launched yet, and you still have to bounce between multiple apps and screens to find what you want. Read all about it in our review of the Le 1s Eco. You get one year for free, and it's up to you to pay to renew your subscription after that if you feel it's worth it.
As far as the rest of the software is concerned, there isn't any unnecessary bloatware but there are a few custom touches that take some getting used to, such as the quick settings being moved to the app switcher, like a hybrid of the iOS Control Centre and multi-tasking view.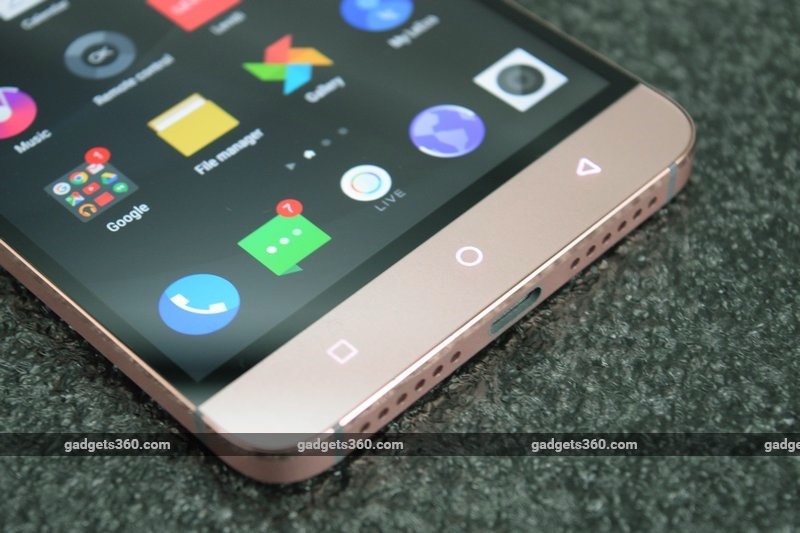 Performance
Given its highly capable hardware, it's no surprise that the Le 2 worked without giving us any reason to complain. Apps loaded quickly and there was pretty much nothing we threw at this phone that could choke it. Most people should be perfectly satisfied with the level of performance on offer here, even when it comes to current-day 3D games such as Asphalt 8: Airborne. We were happy to note that the phone didn't get unreasonably warm even when gaming.
The bundled Type-C to 3.5mm adapter dangles awkwardly, especially if your preferred earphones have an angled plug. Sound quality is unremarkable, and you'll only really benefit from LeEco's innovations if you have the CDLA headphones and high-resolution source material.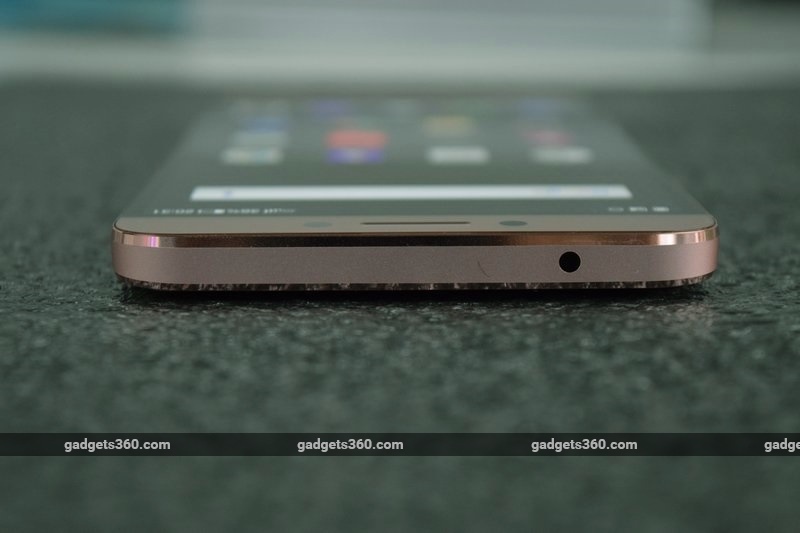 We had a little trouble with the fingerprint reader, which often took two tries before it recognised our right index finger. It works when the phone is in standby, but there's a delay of a second or two before the screen lights up, which can be frustrating. You can use the sensor to trigger the camera shutter when taking selfies at arm's length, though we found the volume buttons were usually easier to reach. The Infrared emitter works with LeEco's own Remote Control app, but not others, thanks to a lack of support for Android standards.
Performance in benchmarks was excellent, with 82,414 points in AnTuTu, 37,845 overall in Quadrant, 8,694 in 3DMark Ice Storm Extreme, and 28fps in GFXBench. There's plenty of power on tap no matter what kind of app you want to run, and you should be happy for at least a few years. HD and 4K videos play flawlessly, though sound from the built-in speaker distorts at higher volumes.The battery lasted 12 hours, 8 minutes in our video loop test which is quite impressive. We were able to get through a full day with lots of 4G data usage and a bit of gaming as well.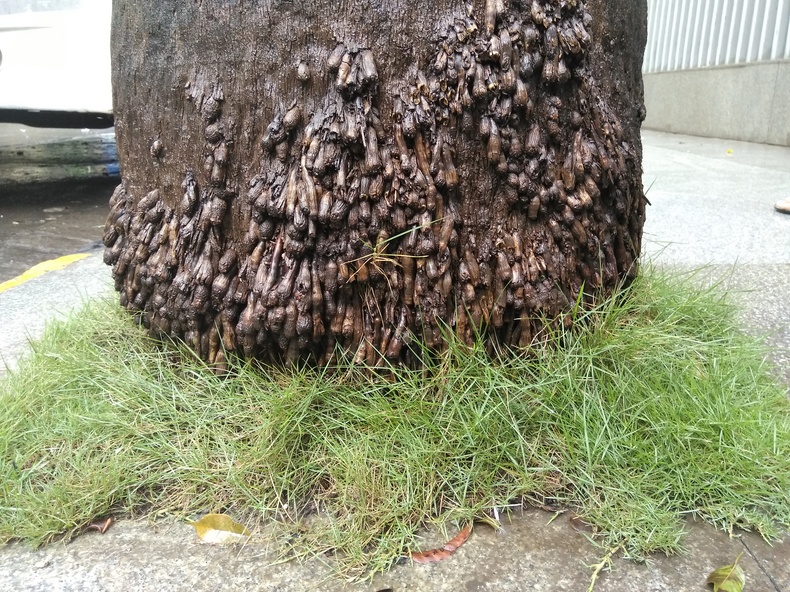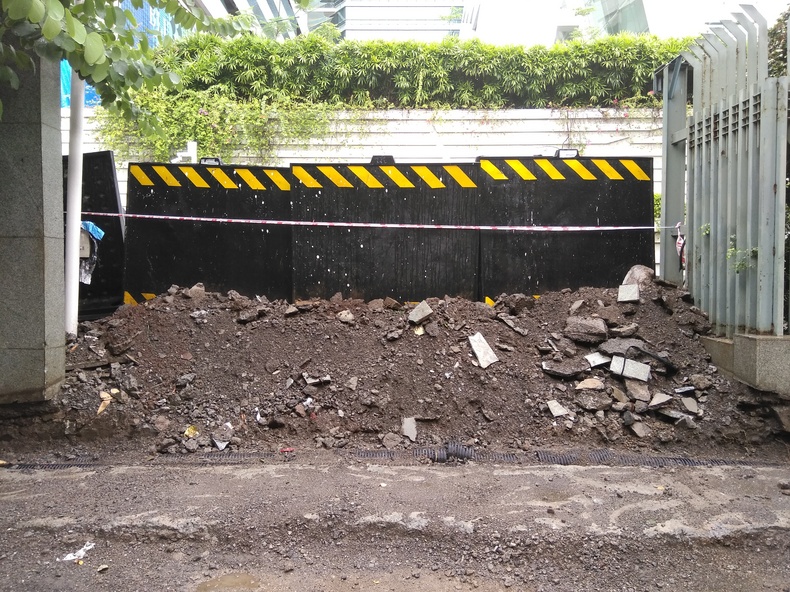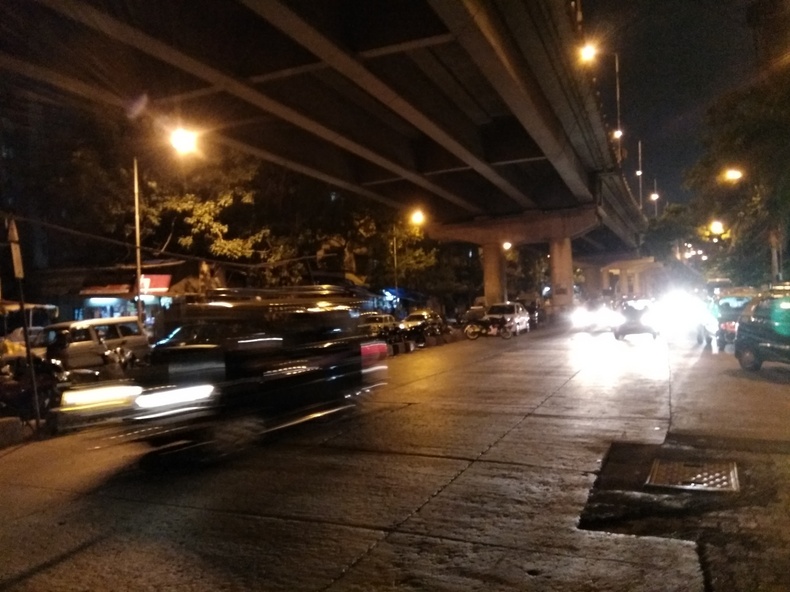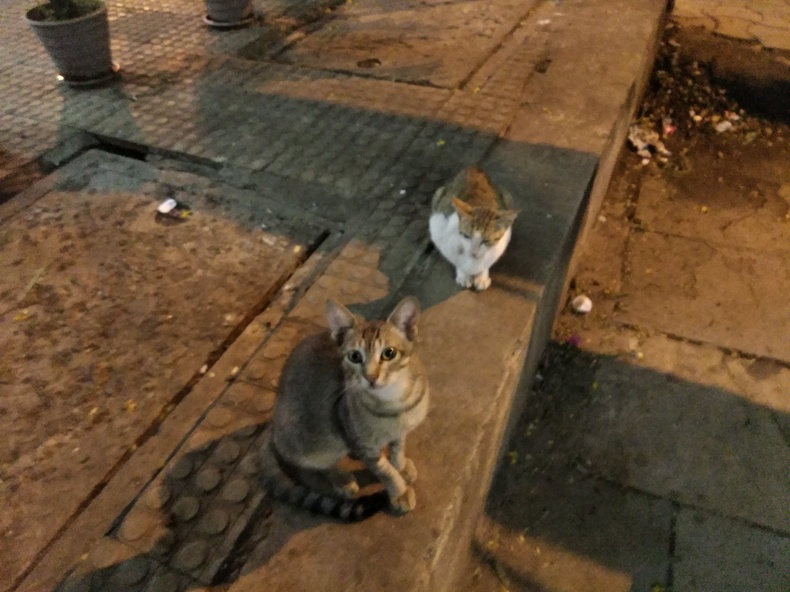 (Tap to see full size LeEco Le 2 camera samples)

LeEco's camera app is one of the nicer ones around, with easy access to important settings. It borrows heavily from iOS but also offers more functionality, such as a few scene modes and controls over white balance, exposure and ISO.
With such a high bar set in most other respects, camera performance is just a little underwhelming. Photos look great if they aren't zoomed in to full size, but when you do look closely, you'll see a lack of detail in textures, and fuzziness around the edges of objects. Focusing is quick and you can get some nice depth effects, but there were also times when we wanted to take quick shots and they came out blurry. Low-light shots were difficult to get right, especially if subjects weren't perfectly still. 4K videos came out decent, though not especially bright or vibrant. Photos taken with the front camera also came out a bit soft.

Verdict
LeEco has delivered quite a strong package for just under Rs. 12,000. There's a lot to like about the Le 2, especially the fact that it looks and feels like it should cost twice as much as it does. You get powerful hardware and plenty of little conveniences. If the audio and video streaming options appeal to you, that's a nice added bonus as well. On the downside, the software is not our favourite flavour of Android and camera performance is also just ordinary at best. Availability is also constrained to online flash sales, at least at launch time.
Go for this phone if you want something you can show off, or if you're looking for something a bit more capable than the Xiaomi Redmi Note 3 (32GB) (Review) or Moto G4 Plus (Review) at the same price level. LeEco has done well to refresh its lineup, and the Le 2 will easily displace its predecessor on our lists of recommended phones under Rs. 15,000.