Karbonn is one of the better-known Indian brands and has enjoyed quite a bit of success. The combination of low prices and reasonably good features definitely has some appeal. Now, with plenty of experience at the value end of the market, Karbonn is trying to go a little more high-end. The Titanium Octane Plus boasts of an octa-core processor and full-HD screen, so it's certainly got our attention.
The past few months have been tumultuous for the Indian smartphone market, and so Karbonn faces tough competition not only from other local brands, but also multinationals and now a whole new wave of Chinese companies. Will the old formula still work, or will Karbonn now find itself on the wrong side of the same equation it has taken advantage of for so long? Read on.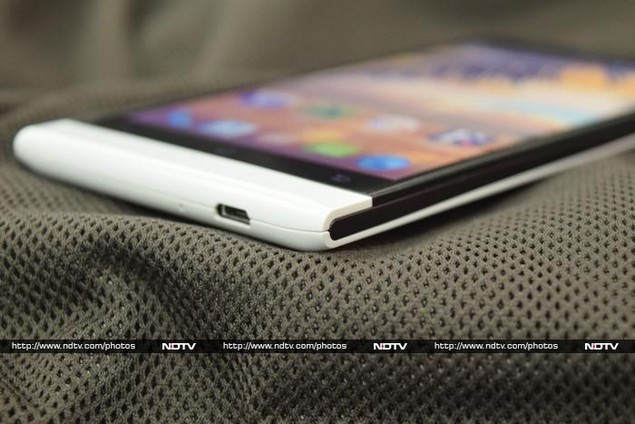 Look and feel
The Titanium Octane Plus has a unique look, with a rear panel that appears to curve around the bottom to overlap the bottom front. The plastic is shiny and smooth; so much so that it's hard to get a good grip on the phone. The bottom corners also dug into our palms a bit.
Our review unit came with a screen protection film already attached, but not very well. This somewhat detracted from the phone's looks. The three capacitive buttons are located between the screen and the white lip, and are invisible when not lit up. Strangely, they only light up after you hit them and not when the screen is active, which makes them easy to miss.
There's a slight bulge at the back for the camera lens, but the Octane Plus is still quite slim overall and slips easily into any pocket. The only visible Karbonn logo is a subtle grey one just below the camera lens and flash. The power button is on the upper right edge while the volume buttons are opposite it on the left. The Micro-USB charging port is on the bottom and the headset socket is on top.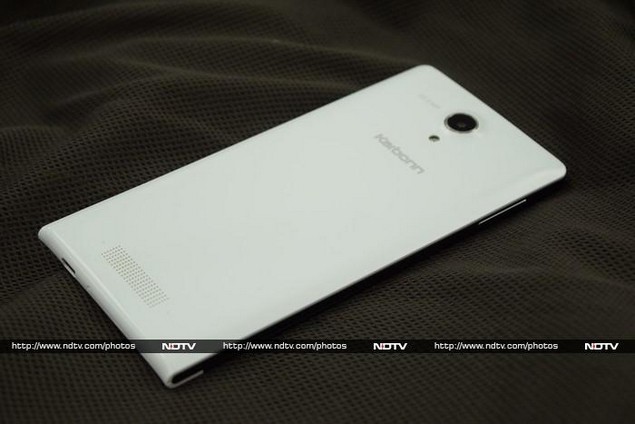 It takes a bit of effort to pry the rear cover off, and you have to slip a fingernail into the Micro-USB port opening to do so. The microSD card slot is next to the camera lens, making it easy to access, but you'll have to take the battery out in order to use either of the SIM slots. The primary slot requires a Micro-SIM but the secondary slot is full-sized.
Overall, this is a reasonably good-looking device which doesn't come off as cheap.
Specifications and software
As its name suggests, the Octane Plus is powered by our old friend, the MediaTek MTK6592 - the same SoC inside every other octa-core phone on the market. It runs at 1.7GHz and has an integrated Mali-450 MP4 GPU. The rest of the specifications are impressive considering this phone's price. There's 2GB of RAM and 16GB of integrated storage, along with Bluetooth 4.0, Wi-Fi b/g/n, and A-GPS.
Another highlight is the screen - a crisp, 5-inch full-HD 1080x1920-pixel panel. The rear camera has a 16-megapixel sensor and there's a whopping 8-megapixel camera in front.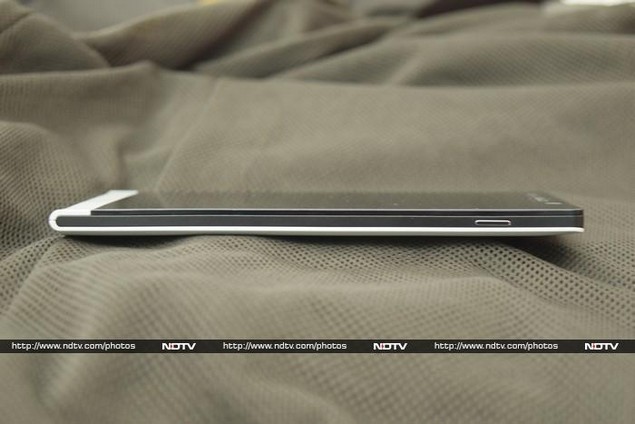 The Octane Plus runs Android 4.4.2 and Karbonn's customisations are thankfully quite mild. The button layout is old-school Android though, which means there's a redundant Menu button and you still have to double-tap the Home button to get to the app switcher. You have five homescreens by default, and there is no easy way to add more or get rid of unused ones - you can only create them by dragging an app icon or widget to a blank space, and delete them by emptying them of all content.
There is loads of unnecessary bloat on this phone - apps that you might never want to use are preloaded and there's no way to get rid of them. Right on the home screen, you'll see pinned icons for Amazon, Saavn, OLX and Firstpost. If that isn't spammy enough, there's even more in the app drawer: you'll find Sony LIV, Moneycontrol, Vodafone TV and for some reason a link to download Whatsapp from the Play store. Karbonn also saw the need to preinstall no fewer than four Web browsers - there's the Android browser, Chrome, Opera and Maxthon.
Gameloft's Modern Combat and The Avengers might have been welcome, but they're trials that can only be played five times each, for 120 seconds each time - that's barely enough to get through the initial menus and cutscenes (and the games aren't even all that good).
Then there's the Karbonn Ebazaar, a crude and barely usable catalog of the company's products which for no known reason also lists the company's press mentions, promotional vidos, a few common apps, and "third-party e-commerce" in the form of two movie DVDs and two items of jewellery. KLive is an equally pointless app which only contains links to expensive SMS update services for health tips, news, jokes, astrology, etc.
As you might have guessed, none of this preloaded detritus can be uninstalled. We have no idea whether Karbonn makes money by preloading third-party apps, but they're pretty useless for most people and we're annoyed that we can't even reclaim the space they waste.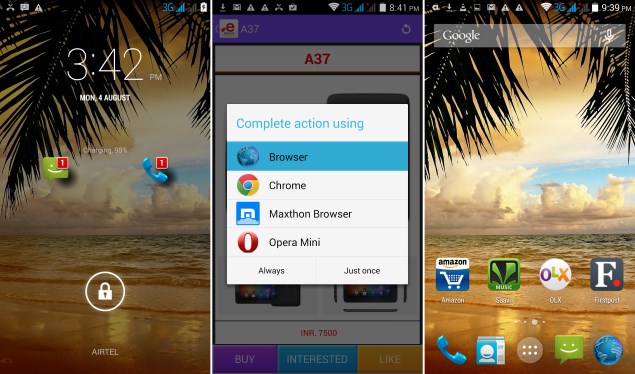 Camera
The camera on the Octane Plus might be able to capture 16-megapixel photos, but the camera app only offers options up to 12 megapixels. Either way, quality is a severe disappointment. No matter how much light we threw at it, the Octane Plus gave us dull, grainy results. Shots were below par even outdoors in the middle of the day - only close-ups seemed to come out relatively okay.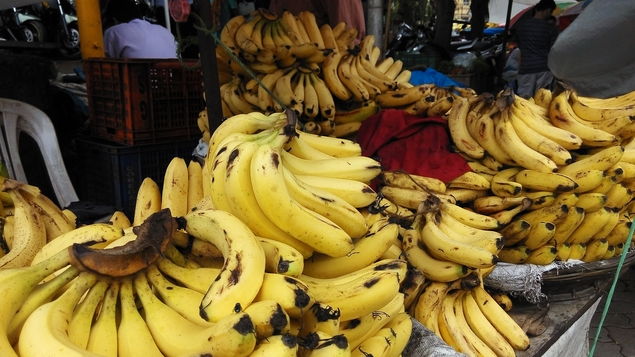 (Click to see full size)

We tried a variety of settings and conditions, but could not compensate for the weak camera. Even the front camera, which should have been extremely impressive, wound up being a complete waste. Photos might look decent if drastically scaled down, but you'd never want to use them at their original size. Videos taken by both cameras were also just about usable.
The camera app is quite basic but there are a few creative modes - multi angle, panorama, beauty shot, burst, and live photo (which actually creates short video clips).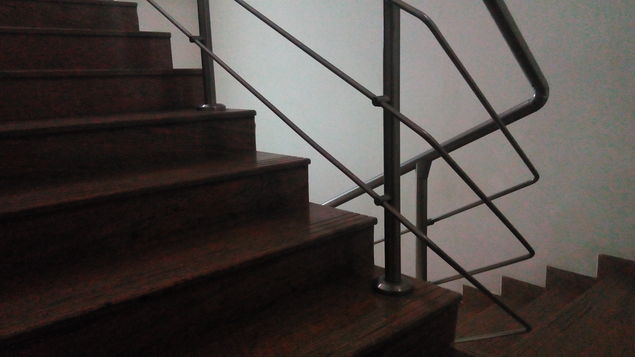 (Click to see full size)
Performance
In another example of awful software choices, the Karbonn Titanium Octane Plus plays a ridiculously long and loud electric guitar clip each time it boots up and shuts down.
Despite its specifications, we found mild stuttering when we used the Octane Plus in ordinary situations. Taps on the screen were sometimes not recognised, and dragging things on screen didn't quite work - very possibly because of the screen protector.
HD videos played, but our most heavily encoded sample clip was significantly distorted. The screen itself is pretty sharp though, and viewing angles are good. The built-in speaker was surprisingly loud and clear at the highest volume level but totally inaudible at any setting below the 75-percent point on the slider.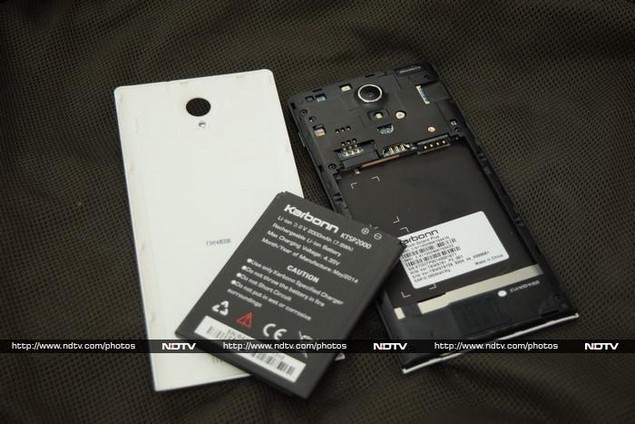 Benchmark scores were pretty consistent with those of other MT6592-based phones. We got 26,765 in AnTuTu and 16,282 in Quadrant overall, reflecting the eight ARM cores, but only 11.1fps in GFXbench and 4,728 in 3DMark's Ice Storm Extreme run reflecting the relatively weak Mali-450 MP GPU.
The battery disappointed us, considering its decent capacity. We managed only 4 hours, 53 minutes of continuous video in our test before the phone died. Call quality was acceptable.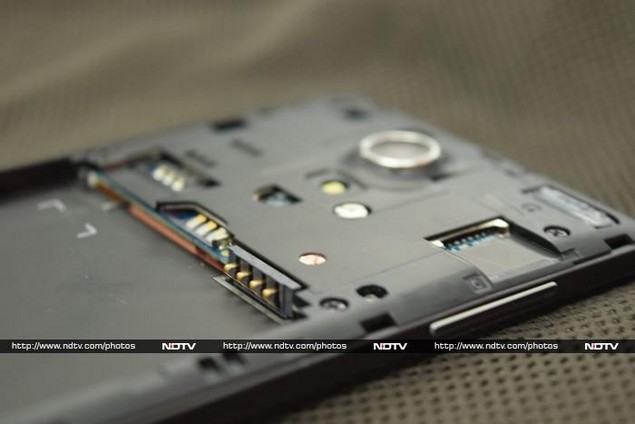 Verdict
The Karbonn Titanium Octane Plus competes with some fairly heavy-hitting competitors including the new Asus Zenfone 6, HTC Desire 616, Xiaomi Mi 3, Panasonic P81 and many more. On paper, its specifications and benchmark scores might seem superior, but we aren't convinced when it comes to real-world utility and usability.
The Xiaomi Mi 3 is a superior product on all counts, including price, although actually getting your hands on one has become a major problem. If you don't mind a HD 720x1280 screen, the Zenfone 6 and even the Zenfone 5 are worth considering seriously.
The Octane Plus has all the makings of a good phone, but it falls short. Karbonn's products could be a lot stronger if the company paid more attention to the user experience than the price tag and spec sheet.

Karbonn Titanium Octane Plus in pictures