The Jio Phone has been one of the most anticipated product launches in India this year. First announced at Reliance's Annual General Meeting earlier this year, it is a 4G and VoLTE enabled feature phone, but the main reason for the frenzy around it is that it is effectively free - the hardware, at least. Buyers will need to pay Rs. 1,500 as a security deposit, but that's refundable after three years if you return the phone and meet all the terms and conditions. Reliance started accepting pre-bookings for the smartphone in August with deliveries promised to begin in September.
Categorising the Jio Phone isn't as easy as it might seem. It looks and feels like a basic feature phone but has a few smart capabilities that make it stand out. With Jio's entire lineup of apps supported, you can play movies and songs on the go. Plus, the tariff plan includes enough free data for people to actually make use of these capabilities. While this all sounds impressive, what is it like to actually live with the Jio Phone? We tell you all about it.
Reliance Jio Phone look and feel
The Jio Phone looks and feels like a standard feature phone, with a small screen and a numeric keypad on the front. The whole thing is made of plastic and we must say that it is of a good quality. Weight is manageable and it fits well in the hand. The curved sides and edges mask the size of the phone quite well and it does not feel bulky to hold or carry.
The screen measures 2.4 inches and has a resolution of 240x320 pixels. Vertical viewing angles are bad and colours appear washed out, but that's to be expected keeping the price of this device. There's a recessed earpiece and a VGA front-facing camera above the screen. Below it are two function buttons, a D-pad, call and disconnect buttons, and the number pad. The buttons are well spaced and easy to reach, and offer good feedback when pressed.
The back of the Jio Phone has only the 2-megapixel camera and loudspeaker. The rear cover is removable and so is the 2000mAh battery. This phone has a single Nano-SIM slot and a microSD card slot. There's a Micro-USB port at the bottom along with a 3.5mm headphone socket. At the top, there's an LED torch which can be activated by long-pressing the up button on the D-pad.
In the box you get the Jio Phone and a charger with an attached Micro-USB cable. The phone comes with a Jio SIM pre-installed, and it needs to be activated before it will work. We used an older Jio SIM with this phone and it worked without any issues. Predictably, an Airtel SIM failed to be recognised.
Reliance Jio Phone specifications and software
The Jio Phone is a feature phone but the specifications do look relatively impressive. It is powered by a dual-core processor manufactured by either Qualcomm or Spreadtrum, and has 512MB of RAM. There is 4GB of internal storage out of which only about 1GB is available to the user. Jio has reserved 1GB for apps while the rest of the space is for software updates and app caches. Storage isn't a concern as you can use a microSD card of up to 128GB. You can transfer files to and from a PC using a USB cable after enabling USB mode.
For connectivity, the Jio Phone has Bluetooth and Wi-Fi. Bluetooth can be used to transfer files to or from other devices, and streaming music to a car head unit also worked. The Jio Phone can connect to Wi-Fi networks to access the Internet without using cellular data. These connectivity options aren't always supported by feature phones, which helps the Jio Phone stand out. There is 4G and VoLTE support and the phone latches onto the Jio network quite quickly. However, there is no hotspot feature so users hoping to make use of their daily free data allowance on other devices will be disappointed.
We have seen a lot of questions regarding the operating system the Jio Phone runs on. To clear them up, the Jio Phone runs on KaiOS, which is a fork of Firefox OS. It looks like a lot of work has gone into improving the software, because the Intex Cloud FX (Review) running on Firefox OS had a few rough edges. The user interface is simple and quite easy to learn. There's a grid-style menu with easily identifiable app names and icons, and you use the D-pad to navigate around it. You can't reorder the icons but you can pin favourites to the top of the list. The Jio phone comes with an app store called JioStore, but it has nothing but Jio apps at the moment.
On the home screen, the four buttons of the D-Pad as well as the function and call buttons double up as app launch shortcuts. These are all predefined, and we couldn't find any way to remap them to apps of our choosing. Alerts from all apps are clubbed together and can be accessed using the left function button on the home screen. The Settings app is well laid out and options are easy to find. There's a software update feature for over-the-air updates, which is rare in the feature phone segment. This should allow Reliance to introduce new features for the Jio Phone over time.
The feature phone has geolocation which uses GPS, cell tower triangulation, and Wi-Fi data if available to pinpoint locations. This is used for the SOS emergency function, where a user can long-press the 5 button on the number pad, and the phone will send an SOS message with location coordinates to predefined contacts. The Jio Phone also has NFC for payments but this isn't currently available and might be enabled via a software upgrade at a later stage.
There are also other nice touches in the software - saved contacts are auto-suggested when you type in a number to dial, there's T9-style predictive text input for typing, there's a quick settings panel that you can get to by hitting the up arrow on the homescreen, you can launch video calls quickly by long-pressing the call button, and there are granular security and privacy controls in the Settings menu. However, navigation is a little slow and you have to forego expectations of smartphone-level functionality. Interestingly, we noticed that when typing or dialing a number, the keypad's slightly delayed beeps made the experience feel laggy even though it wasn't. When the phone was muted, we were able to type quicker.
The phone comes with multiple Jio apps preinstalled. There is JioCimena, JioChat, JioGames, JioMusic, JioTV, JioPay, and JioXpressNews, JioVideoCall, and the names are self-explanatory. There are also basic calculator, unit conversion, notes, FM radio, video player, and gallery apps. and We were able to stream music using Jio Music without any issues. JioTV and JioMovies can also be used to stream TV shows and movies respectively. The fact that the subscription to them all is currently free is a big bonus for anyone who buys this phone.
However, the screen is tiny and isn't suitable for watching movies at length, especially because of its poor viewing angles. Streaming video plays in landscape in the Jio apps, but files on our microSD card only played in portrait using the video player app. In both cases there were huge letterboxes and no way to rotate or crop video to fill the screen. There will be a TV cable accessory, which should prove to be a good investment. It also isn't easy to adjust the volume, because of the lack of physical buttons. This is true when playing media as well as just generally using the phone.
The phone also has a voice assistant called HelloJio which can be triggered by long-pressing the D-Pad's select button. It can understand basic commands to dial a contact by their name or open a specific app, but it is slow. This is a handy feature for people unfamiliar with technology, helping them do things without having to learn the phone's user interface.
Popular social media apps such as Facebook and WhatsApp are not available on the Jio Phone at the moment but the company is reportedly working to add them. However, you do get an inbuilt Web browser that can be used to log in to Facebook. During our review period we also managed to get the Web version of the Telegram messaging app to work on the Jio Phone, and we could also use YouTube the same way without any problems. Hotstar and Amazon Prime Video, however, were unusable in the Jio Phone browser.
Reliance Jio Phone performance, camera, and battery life
With the combination of bare-basic hardware and KaiOS, speed definitely isn't going to match even the lowest cost smartphones, and while you will have to wait for apps to load, the user experience isn't frustrating. The hardware is also still powerful enough to play back full-HD videos. Of course, you can only run one app at a time. We did play a few games on JioGames and while they are incredibly basic, they didn't seem too bad. The performance of the Jio apps is dependent on Internet connectivity. We had good 4G coverage during the review period and didn't have to wait more than a few seconds for a movie or song to begin streaming, but this might change when millions more Jio Phone users are on the network.
The phone sports a 2-megapixel camera at the back with no flash, and a VGA camera in the front. At this price, the inclusion of two cameras is rare, but we still didn't have high expectations from them. The camera app is quite basic and only gives you options to take stills and videos, plus a self timer. However, the phone takes shots in portrait orientation when held upright and cannot detect rotation, so even if you hold it sideways, you end up with vertical frames and your content tilted 90 degrees. You'll need to rotate stills and videos in software later.
Photos taken with the 2-megapixel rear camera have a resolution of 1600x1200 pixels. Landscape shots lack detail and there is fair amount of noise. Close-ups are better in comparison. Motion blur is unavoidable no matter the conditions if you are shooting anything that isn't perfectly still. Nighttime camera performance is strictly average and you will need a steady hand to get a good shot. Subjects are visible only if there is adequate lighting, and will hardly be visible in low light. Photos look much better on the phone screen than on a computer when seen at full size. You can choose your video resolution - high quality translates to a resolution of 720x480. Again, the quality isn't horrible and videos are usable, but you can't expect any fine details. Motion isn't smooth and you can't set the focus or exposure.
Selfies have a much lower resolution of 640x480 pixels and have noise like the rear camera. It would be unfair to compare the Jio Phone to modern-day smartphones, but photos are often blurry and shaky unless you have a perfectly steady hand and decent lighting. The highest video resolution is 352x288 so this capability will probably not come in handy.
Tap to see full-sized Jio Phone camera samples
We were curious to see how the Jio Phone would perform in terms of battery life. It has one of the biggest batteries for a feature phone at 2000mAh, but at the same time has 4G, Bluetooth, Wi-Fi, and GPS which are known to drain power. With regular usage which included calls, a little bit of Web surfing and streaming songs from JioMusic, we found that the phone would still have around 80 percent of its power after 24 hours, which would mean that with judicial use, the phone could last for four full days (if not more) before needing to be charged.
After a 15-minute voice call, we found the battery drain to be 2 percent while a 30-minute call resulted in a 5 percent drain. This is good considering that the 4G data connection is still running in the background. We also streamed TV shows, and a 30-minute episode streamed over 4G resulted in a 7 percent drain. A similar test using Wi-Fi resulted in a 6 percent drain. Leaving the phone untouched for 12 hours also resulted in just a 3 percent drop. If you want to save battery life there is power saving mode which switches everything off, turning this into a basic feature phone.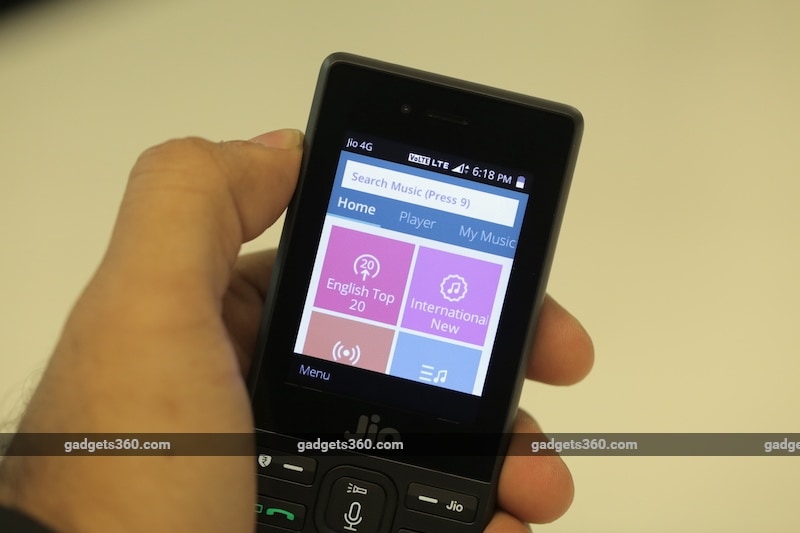 Jio Phone in pictures
Verdict
The Jio Phone isn't targeted at smartphone users but at first-time buyers and feature phone users who want to upgrade without spending much. It is aimed at bringing people from well beyond tier-II and tier-III cities online, especially those who have never touched a computer and cannot dream of paying for Internet access even at current prices. Can it succeed? The short answer is that it does have the potential to do so. The hardware is capable and the software delivers a good enough experience.
The Jio apps sweeten the deal further as you get free access to movies, TV and music. The ability to receive OTA updates means that more features can be introduced in the future. However, you should read the fine print on Jio's website, which details the hidden costs of the tariff plan and the terms and conditions of claiming the refund, before you make a decision. Also, availability is likely to be constrained for a while, and long-term reliability and durability remain to be seen.
For people looking for a way to get online and communicate with others at a rock-bottom price, the Jio Phone really has no direct competition. The combination of the phone hardware, the network and the tariff plans could be a force that truly changes our society - and are already making the competition work harder. With all its features, it can truly be called a smart feature phone, and if you have successfully pre-booked one, you won't be disappointed.