Apple finally gave the iPhone a much-needed rethink, and the result is a product that is more like its competition than ever before, but also stands out just as well, if not better, in a seriously overcrowded market. The big talking point is its screen size - months of leaks told us nearly everything we needed to know long before the actual launch happened - but there's also plenty more to explore. As always, Apple has managed to deliver more power, better aesthetics, improved cameras, and all-new software.
The iPhone 6 shares a lot with its larger sibling, the iPhone 6 Plus (Review | Photos), which we reviewed a little while ago. They're obviously designed to look similar, but Apple has also made sure they're very similar to use. The iPhone 6 is still just as much of a premium device as ever; not a lower-end version of a new flagship. A lot of what we've said in that exhaustive review of the 6 Plus will apply to the iPhone 6 as well.
Apple's unique position lets it control and tightly integrate the hardware and software experiences of its products. We see all of this and more in this year's new iPhones.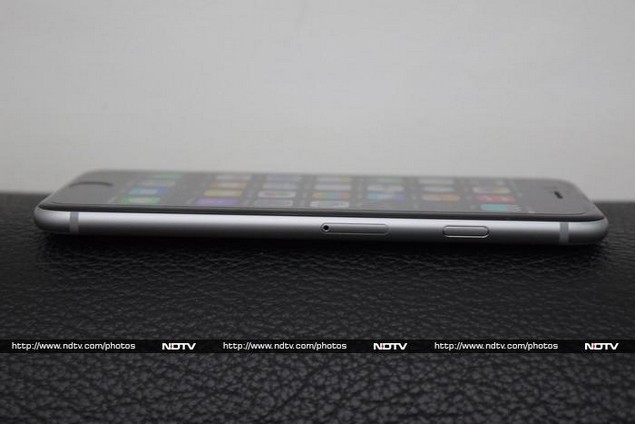 Look and feel
Gone are the flat edges and sharp angles of the iPhone 5s. The iPhone 6 feels smooth and slick, with a lovely dark glass front that looks like a pool of ink. The glass is raised above its rim and is curved at the edges so that it meets the metal in a smooth curve. It seems as though the glass could shatter very easily if this phone is dropped and lands on a corner, which is just one of many reasons to invest in a case of some sort.
Another good reason is that the rear of the iPhone 6 is one of the least attractive designs we've ever seen coming out of Apple. The plastic antenna lines intersecting the metal body are just too prominent. There's a bunch of regulatory text and logos which we wish could have been less prominent, and then of course there's the infamous camera bulge. The little nubbin really does stick out prominently, and we couldn't help fidgeting with it when holding the iPhone 6 in our hands.
The top is blank, because the power button has now been moved to the upper right side, just above the Nano-SIM card tray. This will be disconcerting for long-time iPhone users. The move was probably not necessary, given this phone's still-manageable size, but it keeps things consistent with the design of the iPhone 6 Plus. The ringer mute switch and volume buttons are on the left edge per usual, and the Lightning port and headset socket are on the bottom. We cannot overstate the quality of Apple's fabrication and machining processes; all the buttons have just the right feel, and even the charger's Lightning connector slips into its port with a satisfying thunk.
This is a very satisfying phone to hold and to use. We didn't think Apple needed to make its iPhones any slimmer, but we really like the iPhone 6 when we hold it in our hands. The weight and balance are also just right, so we're glad Apple finally embraced the idea of producing a bigger phone.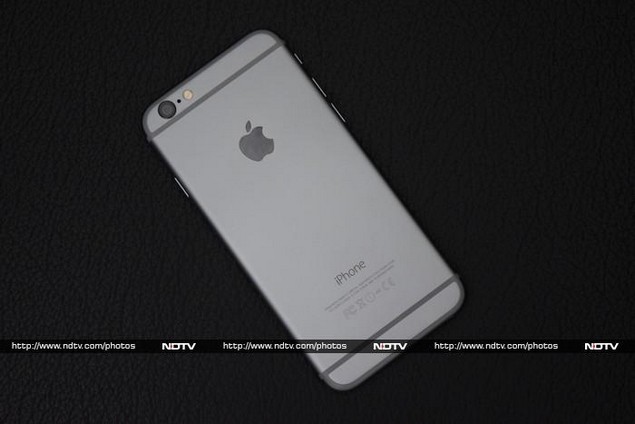 Specifications
The iPhone 6 uses Apple's new A8 processor, designed in-house but based on the industry-standard ARM architecture. There's a separate co-processor called the M8 for sensor input, which helps save battery life by allowing the A8 to go to sleep while physical activity is constantly detected and processed in the background.
The screen is of course larger than those on the iPhone 5 generation models but still a lot smaller than the one on the iPhone 6 Plus. The resolution isn't a huge bump up from that of the iPhone 5 series, and the pixel density is exactly the same. We liked the crisp, bright display on the 6 Plus, and while the one on the iPhone 6 is just as good in terms of quality, it doesn't feel very exciting. Competitors have long surpassed Apple in terms of resolution, and the difference between some of the current Android flagships and the iPhone 6 is definitely noticeable, if ultimately unimportant.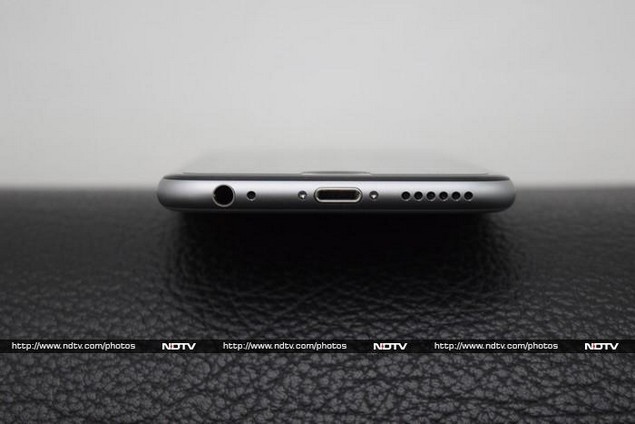 There's 1GB of RAM which seems stingy compared to Android devices today, though we didn't find this to be much of a problem on the iPhone 6 Plus when we reviewed it. The fact that storage is not expandable is a constant frustration for us - iPhones are already expensive and it just hurts to have to pay a ridiculous amount over and above the starting price just to have enough space to actually use these devices to their full potential.
The relatively new high-speed Wi-Fi ac standard is supported, as is Bluetooth 4.0. LTE is supported on the Indian 2300MHz band and NFC is new to this iPhone generation, but only works with Apple Pay which isn't available outside the USA yet.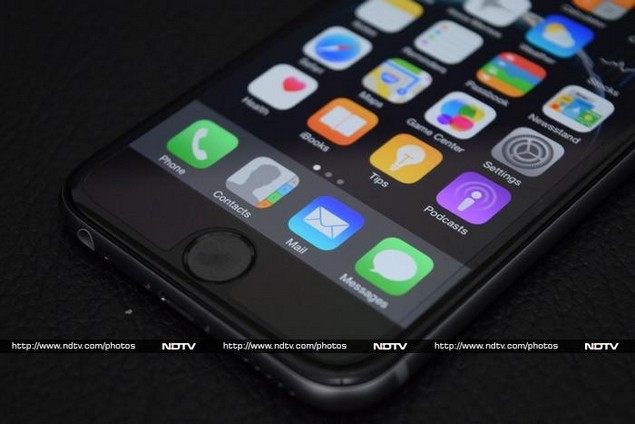 Software
A large part of the iPhone 6's appeal lies in iOS - more specifically, iOS 8. Not all features work as well on older iPhones, so software alone is not a strong enough reason to upgrade from a device that's less than three years old.
iOS 8 has lots of new features, big and small. Little things such as much-improved photo editing tools, Notification Centre widgets, tweaks in Safari and voice messages over iMessage all contribute to making the iPhone 6 a pleasure to use. App extensions are usually subtle, but this feature represents one of the best new things about iOS, and developers will surely take better advantage of it over time. Custom keyboards will be a game-changer for Apple, and some truly innovative apps have sprung up letting you do all kinds of things with messages. Improvements to mail handling and iTunes content management area also much appreciated.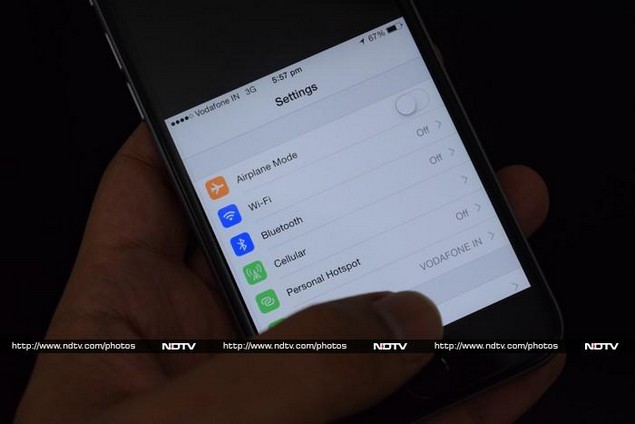 One of the most visible new iOS 8 features is the Health app. This is a little unintuitive to use - you can see an activity dashboard and entries for dozens of trackable metrics, but things only really take off when you download additional apps that use the Healthkit framework and populate all that information. The combination of Healthkit and the M8 coprocessor allow for some very detailed and impressive information gathering. There's still a lot that could be improved. It's very un-Apple to have so many things to track - things such as Molybdenum, Peripheral Perfusion Index and Selenium are not within the consciousness of the average user, but there are still ways to track all of them so it seems pointless to present them all right at the beginning.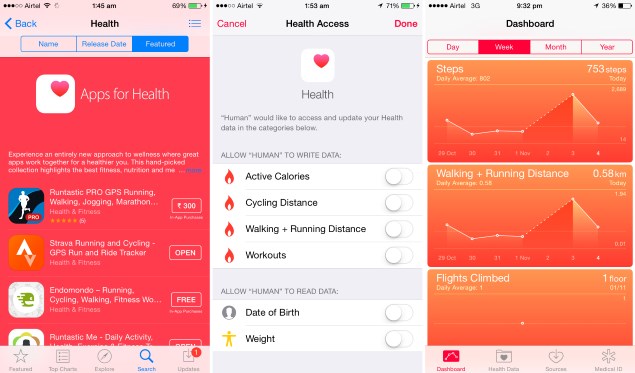 The Reachability shortcut, ie double-tapping the Home button to make the screen's contents slide down towards your fingers, is pretty handy but you have to develop a habit of using it or you might forget it's there. It's going to take a long time for apps to be updated with the correct screen resolution and scaling factor, but those that have been optimised look great.
iPhone owners who also use a Mac and/or an iPad might also want to try out the new Continuity features. Some have limited appeal, such as being able to make voice calls from a Mac through an iPhone, whereas the ability to begin composing an email on one device and then just continue from anywhere on another could really improve the way people work.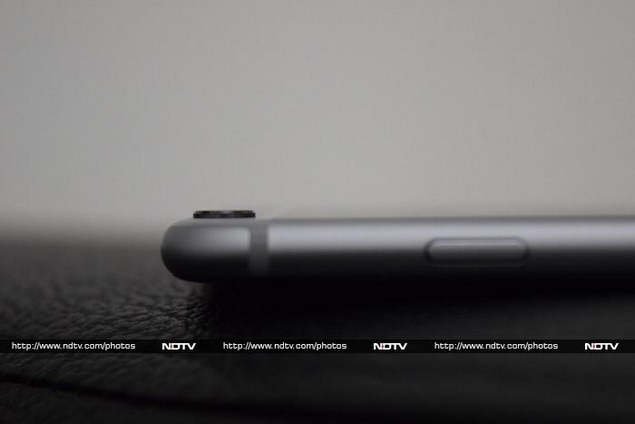 Camera
The rear camera is still 8 megapixels, but the lens and sensor have been improved to allow for better low-light shots and colour accuracy. Videos can now be taken with continuous autofocus and improved stabilisation. 120fps slow-motion, which was introduced with the iPhone 5s now coexists with 240fps slow-motion, and there's a new time-lapse mode in iOS 8 that older phones can also use.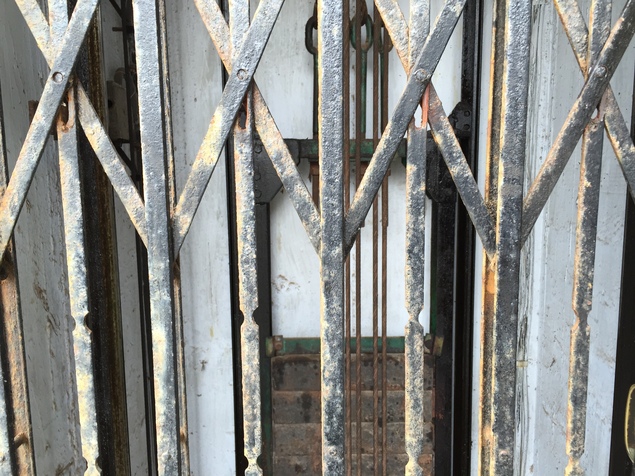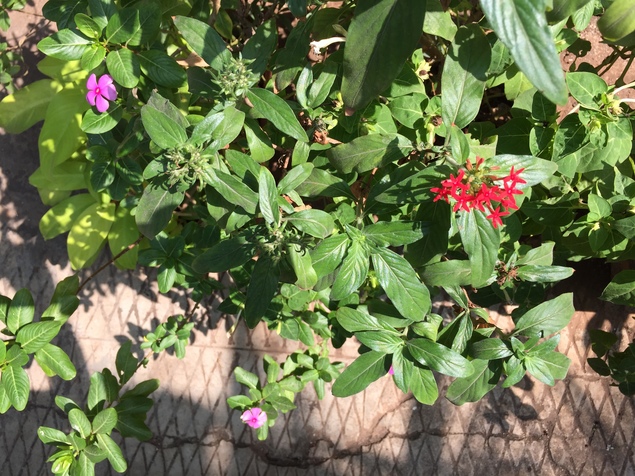 (Click to see full size)
Apple's camera app is mostly barebones - there are no fancy special effects or multi-page menus of options. The new capabilities of the iPhone 6 and iOS 8 are thus easy to discover, but it's beginning to feel as though Apple can't decide whether to offer more options or keep its interface minimalist.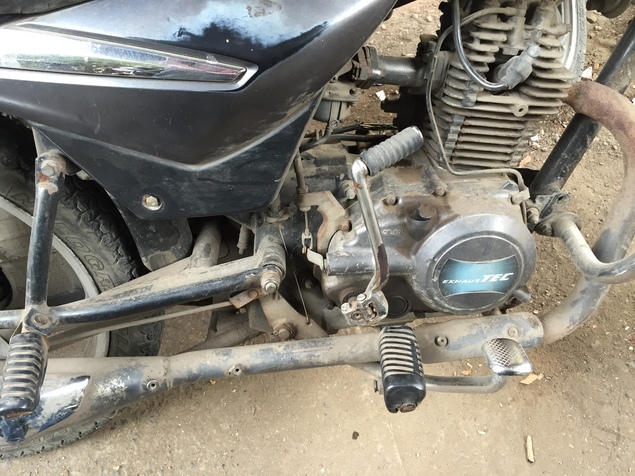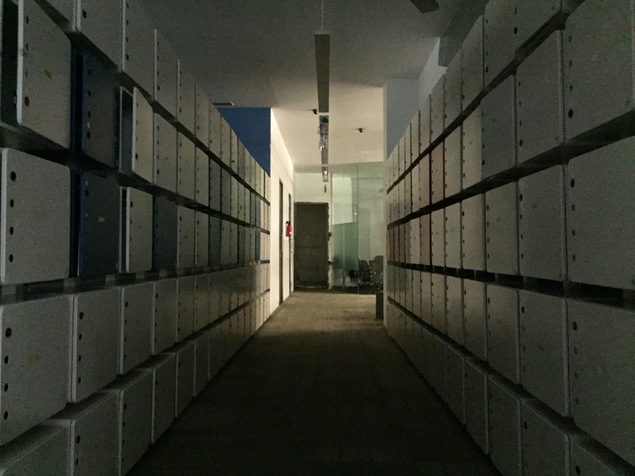 (Click to see full size)
4K video recording is missing, and the iPhone 6 falls behind its competitors in this regard. Even if you don't plan on shooting all your videos at such a high resolution, it's nice to have the option to do so. The cap on storage space would also make it very difficult to store 4K videos.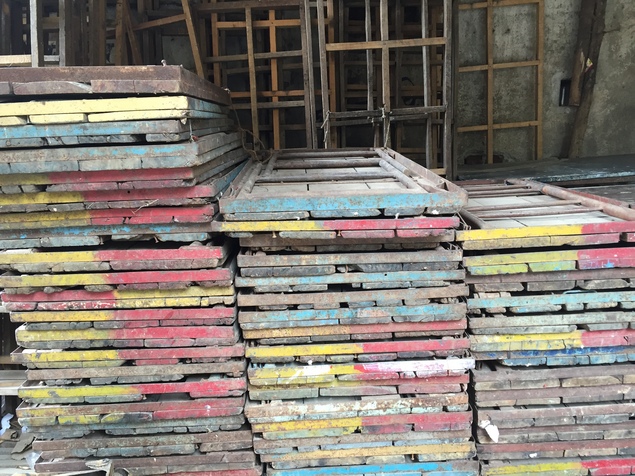 (Click to see full size)
We were very happy with the iPhone 6's camera. Images taken during the day were crisp with accurate colours and superb levels of detail. Closeups were brilliant, and even distant objects were captured very well. Low-light performance was also admirable - the iPhone 6 works very well indoors as well as outdoors, even with minimal artificial or ambient lighting. We were constantly surprised by how well shots came out - there was noticeable noise but details were still well defined when seen at reduced size on a screen. Photos came out looking as though they had been taken in far better light.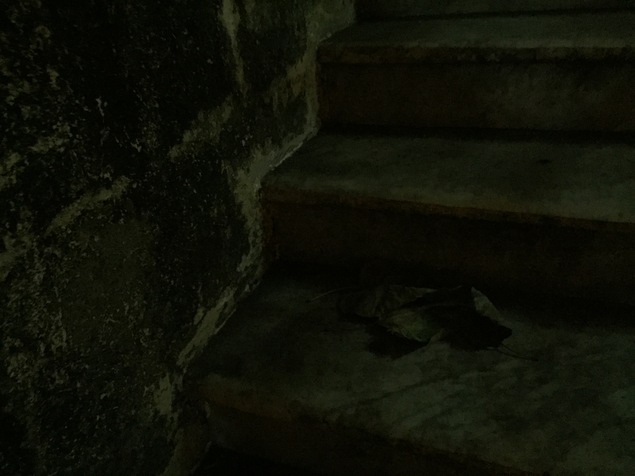 (Click to see full size)

Performance
Once again, we're reminded that numbers and acronyms on a specifications sheet can't always be used to judge a device. The dual-core Apple A8 processor and its integrated graphics capabilities are more than capable of holding their own against quad- and octa-core products from leading competitors.
We had no problems with the iPhone 6, whether we were playing heavy games, recording high-speed video, multitasking, or just relaxing while browsing the Web. The phone is super-responsive, and unique features such as Apple's Touch ID sensor just make the whole experience of using an iPhone butter-smooth. There are of course things that aren't as flexible or functional as they are in Android, but overall, the iOS platform is a joy to use.
Benchmark scores were very, very good. Largely due to the fact that the powerful A8 processor doesn't have to push itself to drive a very high-res screen, we managed to achieve some superb scores in graphics-intensive benchmarks. GFXBench produced a record high of 50.1fps, while 3DMark Ice Storm was maxed out in the regular and Extreme modes, but posted a score of 17,302 in the Unlimited mode. HD videos also played without a hitch.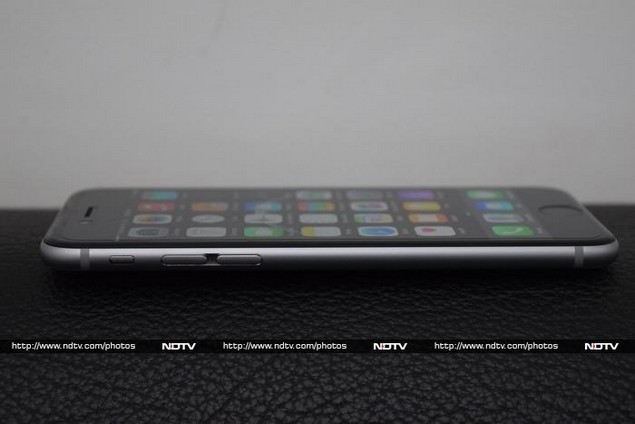 AnTuTu for iOS gave us a phenomenal score of 49,319 points which is practically the same as the 49,353 points the iPhone 6 Plus managed. The test still detects a resolution of 640x1136 though, which explains the similar scores and means they aren't representative of either device at its native resolution.
Battery life was pretty good, but we were hoping for spectacular. Our video loop test ran for 7 hours, 40 minutes. This is a clear point in favour of the much larger iPhone 6 Plus. Call quality was superb, but we do with Apple could work on better speakers for its iPhones - the single mono speaker on the bottom isn't very loud or rich, and competitors do much better.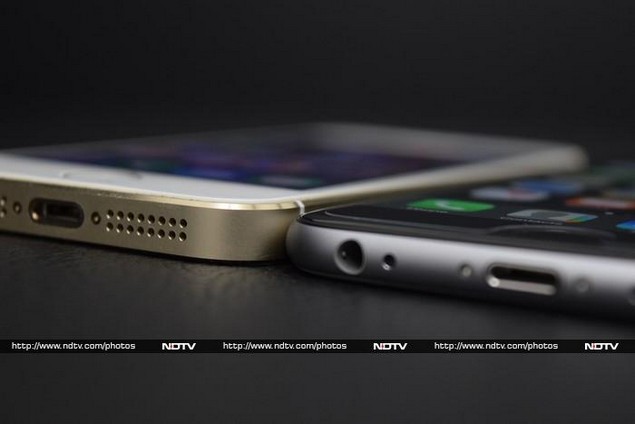 Verdict
As we stated in our review of the iPhone 6 Plus, Apple's two new devices are very similar in terms of the experience they deliver, with only the screen size setting them apart. Thus, users can choose the screen size (and physical size) that suits them better, without feeling as though they've compromised by picking a lesser device either way. In the Android world, larger phones tend to hog all the best features, and "mini" versions are almost always cut down.
That said, the iPhone 6's relatively smaller body means that the battery is smaller, and the camera has to make do without optical image stabilisation. On the other hand, each iPhone 6 model comes in at Rs. 9,000 less expensive than the equivalent iPhone 6 Plus. We think most people would be better off with a 64GB iPhone 6 than a 16GB iPhone 6 Plus at the same price.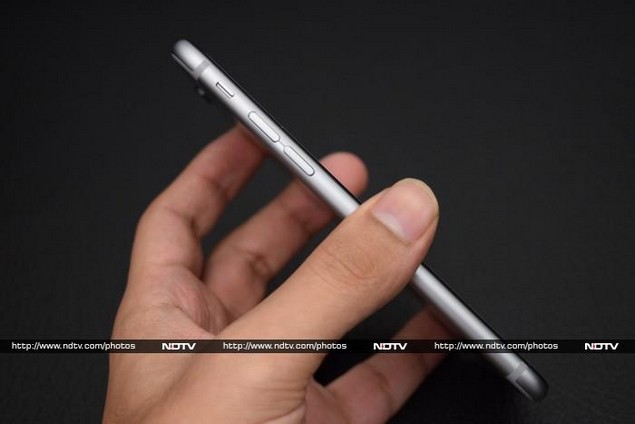 Specifications shouldn't fool you into thinking this phone is any less powerful than an Android flagship. If you've been waiting for a reason to ditch an old phone and jump onto the Apple bandwagon, the iPhone 6 is one of the best reasons to do so. If you're thinking of upgrading from an iPhone 4S or earlier, you'll absolutely love what the iPhone 6 has to offer. Naturally, the difference won't be as stark for iPhone 5 or 5s owners running iOS 8, and they can easily stick with their current phones for another year or so unless they really feel like splurging.
If you aren't sure whether you want to choose Android or an iPhone, there are quite a few options to choose from. This generation's flagships, the Sony Xperia Z3 (Review | Photos) Samsung Galaxy S5 (Review | Photos) HTC One (M8) (Review | Photos) and LG G3 (Review | Photos) are all larger but most of them are quite a bit less expensive and also offer value in the form of features such as expandable storage and 4K video recording.

One final note: when reviewing new flagship phones, we usually consider whether their own predecessors offer good value, considering how prices tend to fall. Amazingly, the iPhone 5s (16GB) is still officially sold for Rs. 53,500 which is the same price as the iPhone 6! If you can find a 5s in retail for less than Rs. 40,000 today, it's still a great deal. An official 5s price cut is long overdue, at which point the 32GB model will be cheaper than the 16GB iPhone 6 - this will be a very tempting option indeed.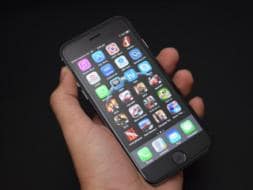 iPhone 6 in pictures