A little while ago, local Indian brands started dominating the low end of the smartphone market. They were able to edge out multinational companies by importing low-cost devices with features and capabilities that had until then been out of reach. Even if the devices weren't all that good, and even if they felt cheap, buyers felt great about being able to have touchscreens, play games, watch movies and take decent photos.
Today, Chinese behemoths are playing exactly the same game in India, edging out local companies by cutting out the middlemen and using ecommerce to circumvent the bother of establishing retail channels. Our performance and value charts are now dominated by Xiaomi, Lenovo and Huawei, with several others likely to join them soon.
That's the backdrop against which Intex has launched its latest low-cost model, the Intex Aqua Speed HD. In terms of pricing, it goes right up against the category's heavyweights: the Xiaomi Redmi 2 (Review | Pictures), Lenovo A6000 Plus (Review | Pictures) and Motorola Moto E (Gen 2) (Review | Pictures). Let's see if it can be a disruptive force.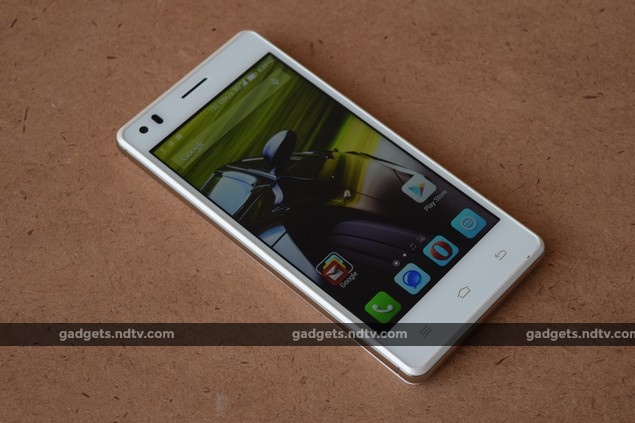 Look and feel
The first thing that stands out about the Intex Aqua Speed HD is the trim running around its sides. Our white unit had a pale gold stripe, and we were pleased that it wasn't too garish. However the front face isn't much to look at; the camera and sensor cutouts above the screen look a bit ugly and the rest of it is as generic as any other low-cost Android phone. From some angles, the corners and edges seem inspired by the Sony Xperia Z3 (Review | Pictures).

The left and bottom are totally blank, with the Micro-USB port and 3.5mm audio socket on top and the power and volume buttons on the right. The power button is a tiny round nub almost flush with the body, which is extremely inconvenient. Intex includes a thin plastic case with this phone, and when it's on, you have to dig in with a fingernail to use the power button.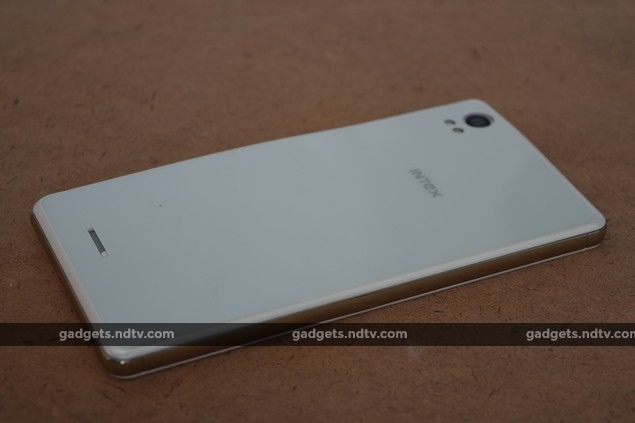 The rear is plain apart from an Intex logo in the middle, the camera lens and twin-LED flash in one corner, and a speaker cutout near the bottom. The cutout is flanked by two raised points which should allow some sound to escape with the phone placed flat on its back on a table.
We had quite a bit of trouble getting the rear panel on and off this phone. It has little clips around the edges much like other phones, but getting them to snap into place and stay there was unnecessarily frustrating. The relatively small battery must be popped out to access any of the card slots. There's one for a regular-sized SIM, one for a Micro-SIM, and one for a microSD card.
This is one of the few phones now available with a sub-5-inch screen, and as a result it's pretty compact. However, we found that a corner would always dig into our palms when used with one hand. The grip is otherwise just fine, and it's made even better when using the included plastic shell.
Specifications and software
The Intex Aqua Speed HD belies its name with a relatively poky MediaTek MT6582M SoC running the show. It has four CPU cores running at 1.3GHz, and a Mali-400MP2 GPU. There's 2GB of RAM, which is nice to see, along with 16GB of storage space. Unfortunately, microSD card capacity support tops out at only 32GB. There's an 8-megapixel camera on the rear and a 5-megapixel one in front.
The 720p HD screen isn't the best we've seen, but it's more than adequate. We're a little concerned that the battery capacity is only 1700mAh. There's also Bluetooth 4.0, Wi-Fi b/g/n, FM radio and A-GPS. 3G is supported, but not LTE. There's also HotKnot, MediaTek's innovative feature designed to let two compatible phones send each other small bits of information such as contacts, using sensors and the touchscreens themselves rather than Blutooth or any other radio standard.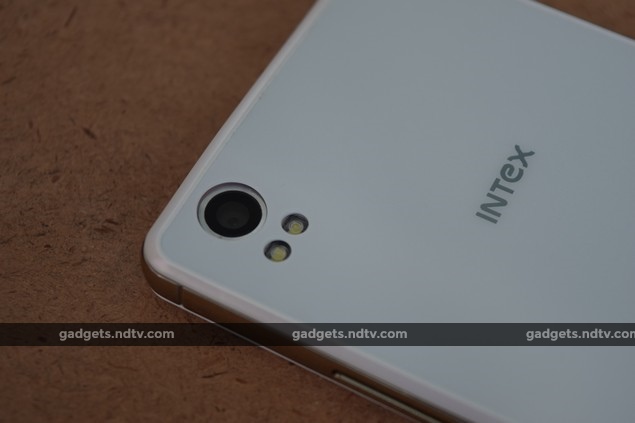 Although the Aqua Speed HD comes running Android 4.4.2, Intex has covered it up with one of the ugliest custom skins we've ever seen. It has plenty of neat functionality, but it's just visually awful - especially the icons, which look like they were designed by a two-year-old. There are useful shortcuts on the lockscreen, and two not-so-useful music and camera widgets that take up an entire homescreen each (but can be disabled). Thankfully there is a distinct app drawer and you can organise icons as you wish.
Intex has gone with a redundant Menu key below the screen rather than a dedicated Recent apps key for multitasking. There's also an iOS-knockoff quick settings menu that can be pulled up by flicking upwards from the bottom of the screen which duplicates the brightness and toggle controls found in the notifications shade. This was particularly annoying as it was too easy to trigger from within full-screen apps, but again at least it can be turned off.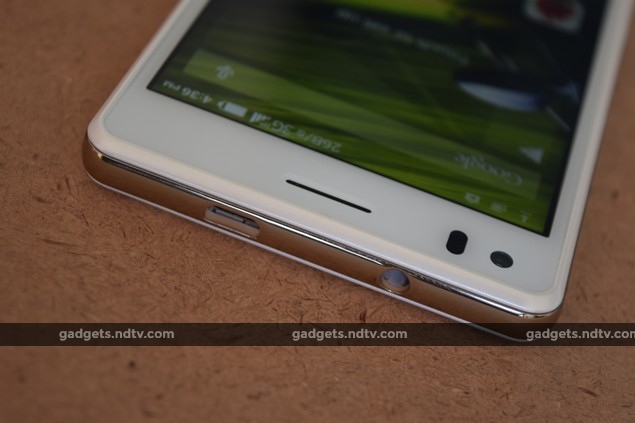 There are also other customisations, including gestures and shortcuts - being able to double-tap the screen to wake the phone somewhat makes up for the inaccessible power button, and you can also swipe in specific patterns to wake and jump directly to some of the preinstalled apps.
Performance
The Intex Aqua Speed HD didn't stutter or struggle with the basic tasks we put it through. Screen transitions were animated smoothly and we didn't have trouble with multitasking. However, benchmark the scores indicate that you won't be able to push this phone very much. AnTuTu and Quadrant gave us 18,478 and 7,067 points overall which are both on the lower end of their scales. 3DMark Ice Storm produced a score of 3,149 which again was below par.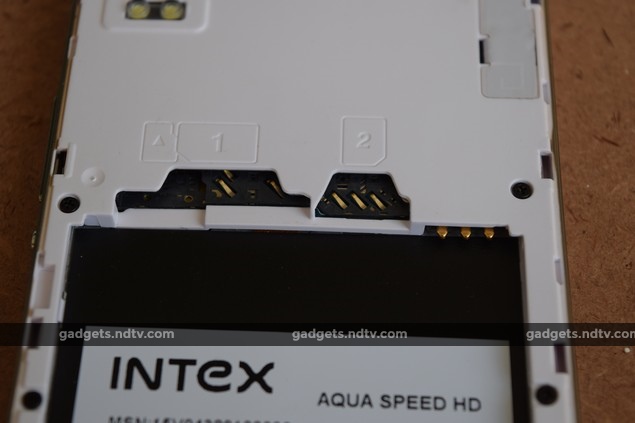 The phone struggled to play our sample 1080p video file, which was smooth but full of artefacts. Furthermore, we found that the rear got a bit too hot when the phone was subjected to any heavy task. Battery life came in at only 4 hours, 19 minutes in our video loop test, confirming our earlier worries. Voices sounded a bit artificial in phone calls, though parties on the other end reported no problems.
As we said earlier, the screen isn't the best we've seen at this level, but it's pretty good. 720x1280 is a decent resolution for a budget 4.7-inch phone and things are sharp and clear enough. Colours are a bit overblown but that's about it. On the other hand, the speaker is absolutely dreadful. Our test tracks sounded like they had been mangled by heavy machinery and even voices in videos were harsh and unrecognisable.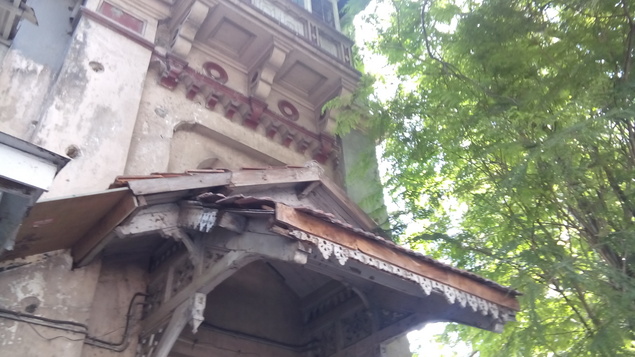 (Click to see full size)

The final disappointment with this phone was its camera. While not entirely awful, we often wound up with shots that were completely unusable. It couldn't judge exposure levels very well and several of our shots had overblown patches. When reviewed on a big screen, photos appeared overcompressed and blotchy, with poor reproduction of details - and the less said about video capture quality, the better. The only positive was that some of the shots came out with nice depth of field effects, especially close-ups of small objects taken in favourable lighting.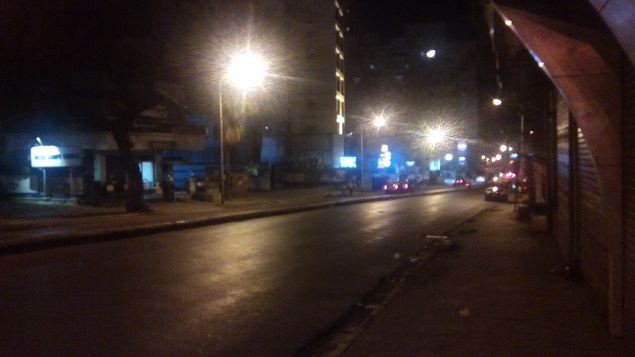 (Click to see full size)
The same issues were magnified when taking photos at night - most subjects came out completely black, but if there was enough direct light, such as the area directly under a streetlamp, things were better. There was still far too much noise and compression though.
Verdict
A year or so ago, the Intex Aqua Speed HD might have been a good phone to buy at this price level. With increasingly sophisticated competitors entering the market, Intex will have to do a lot better to stay in the game. The Xiaomi Redmi 2 and Lenovo A6000 Plus cost a fair bit less and turn out better performance in pretty much every test - and those two are not the only options either.
We're struggling to think of any factor that might be a reason for someone to choose this phone over another, but we're drawing a blank. Perhaps its looks might count, if that's what's important. Even the fact that it's available outside of limited-quantity flash sales doesn't really make up for all its flaws.
This isn't a bad phone by any means, but it is simply outclassed. Those shopping in the value category obviously care about getting their money's worth, and unfortunately for Intex this time, you can get better battery life, better entertainment, a better camera and more power for less money.