Intex is not a name usually associated with high-end, high quality phones. In fact, it's almost exclusively associated with cheap assembled PCs - Intex has been churning out budget-friendly keyboards, mice, cabinets and power supplies since the beginning of the PC revolution in India. Over the years, the company has branched out into accessories such as headphones, routers, webcams, speakers, and MP3 players.
Of late, with the PC industry declining, it should come as no surprise that Intex has jumped into the mobile market. Its strategy seems to be the same as ever: capture the low-end and undercut better known brands with a flood of products that might not look or feel premium, but are cheap enough to make people give them a chance. Intex has over 80 phone models listed on its website; most of them priced below Rs. 7,000. The Aqua Octa is one of only a few models priced above Rs. 12,000 and is second only to the full-HD Intex Aqua i7 model.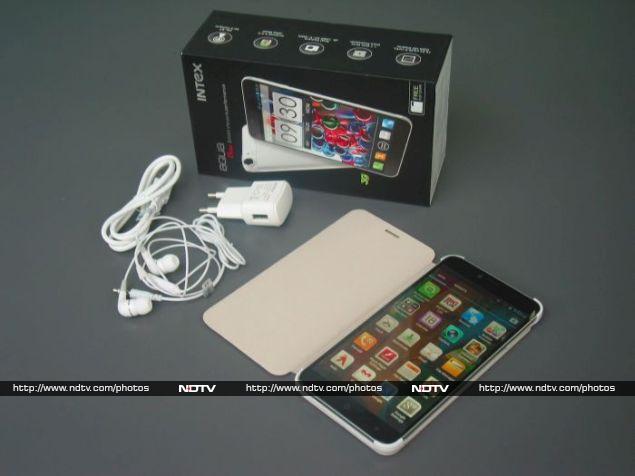 Intex launched the Aqua Octa at Rs. 19,999 and it is currently selling online for only a few hundred rupees less than that. Its defining feature is a "true octa-core processor", which the company claims is a first. While there are already several phones with eight physical CPU cores on the market, these are generally built with a cluster of four high-powered cores and another cluster of four low-powered ones, which do not operate simultaneously.
ARM calls this arrangement big.Little, and it allows phones designed around its Cortex architecture to switch between the two quad-core clusters based on what the user currently requires. When the phone is idle, there's no need for the beefier cores to be sucking up power, so the weaker, more efficient ones take over.
Intex, on the other hand, has found an ARM design in which all eight cores can operate at the same time. While "octa-core" is certainly an impressive advertising line, we didn't have to dig deep to discover that these are not particularly powerful cores, and thus having eight of them is not necessarily going to be a whole lot better than current quad-core processors. Still, we're intrigued about what this will mean for performance and for battery life.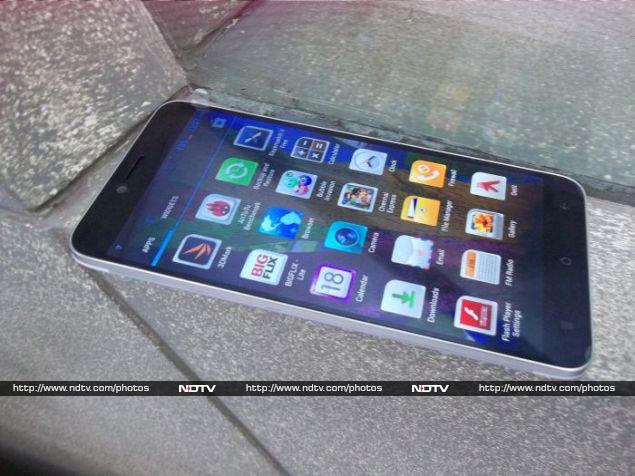 Look and feel
As with most Android phones, the Intex Aqua Octa is a large rectangular slab with rounded corners. The front face is all black with a metallic rim. The screen stretches pretty much from edge to edge on the sides, but there's space for the speaker grille and camera on top and the standard row of capacitive buttons on the bottom. The rear is flat except for a slight bump in the upper left corner where the camera lens protrudes. There are two speaker grilles in opposite corners and an ugly grey and red logo right in the middle.
The Aqua Octa is available in black and white. Our white review unit had a silver back cover with white strips above and below it. The colour combinations might be a bit inspired, but there's no mistaking this for an iPhone. The construction quality is pretty good, but there are a few areas where things could be improved. The phone looks good from the front and feels hefty in the hand, but on closer examination, it's apparent that the plastic is cheap. The buttons, especially the power button, feel crude and flimsy. There's a bit of misalignment where the Micro-USB port is placed, forcing us to wiggle the plug to seat it properly each time. Even the bundled charger, headset and cover feel cheap.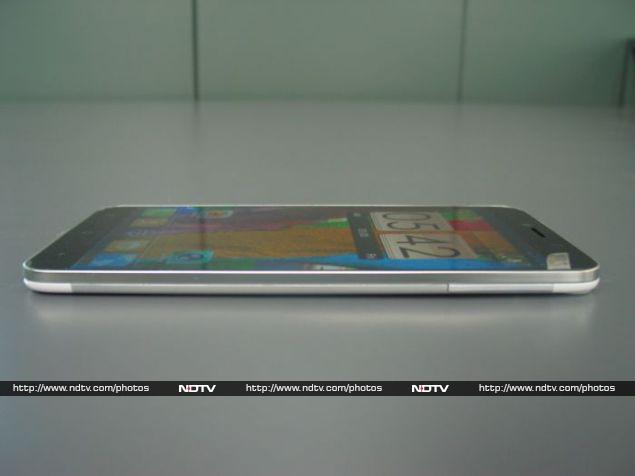 Some phones have thin plastic back covers that peel off, and others have metal ones that require a clasp. The Aqua Octa has both - you need to peel off the bottom plastic strip and then the large metal plate slides out. Beneath it, you see the large battery cavity and slots for the two SIM cards and a microSD card. The primary SIM card slot accepts standard SIMs, but the secondary one needs a Micro-SIM. All three slots are positioned such that you have to take the battery out to get to them.
Bucking the current trend, the Aqua Octa's power/standby button is on the top edge. It isn't too difficult to get to, but its shallowness combined with the general blocky design of the phone make it difficult to wake the phone one hand when it is lying on a table.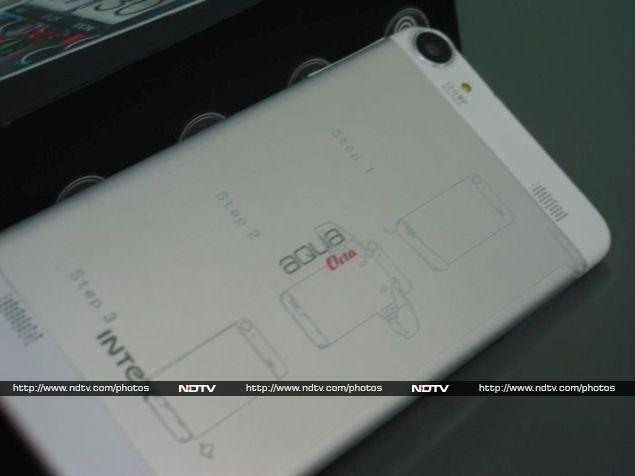 Features and specifications
Intex might be happy to use the phrase "true octa core processor" all over its press and advertising materials, but the name of the chip in question is somewhat downplayed. It's a Mediatek MT6592, which was launched in late November 2013. Bumping up the number of cores should have an immediate effect on multitasking, since individual software threads don't have to compete for CPU time. However that's going to put a huge strain on the battery unless power consumption can be throttled extremely efficiently.
The processor is a complete System-on-a-Chip (SoC). The CPU cores run at 1.7GHz and there's also an integrated Mali 450-MP graphics GPU. Mediatek lists a number of other integrated units, such as 802.11n Wi-Fi, Bluetooth, GPS, FM radio, Miracast, and logic for the phone's sensors and cameras. The cellular modem is also built in, and supports two GSM SIM cards with 3G data.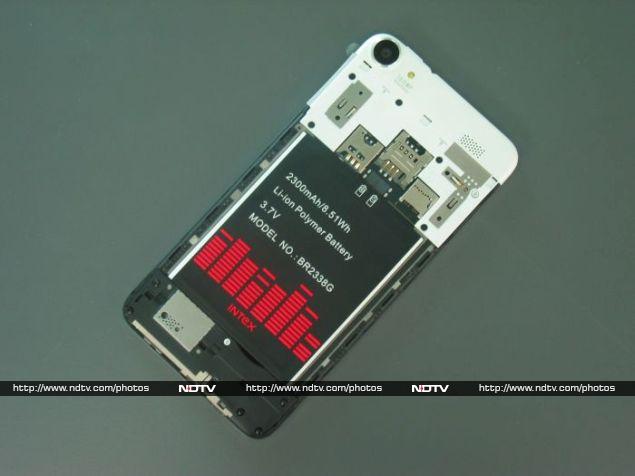 Considering the flagship CPU and price, we were expecting a full-HD 1080p screen, but the Aqua Octa takes a big step backwards for this current generation, and comes with a 720x1280-pixel screen instead. This is the kind of configuration decision that keeps costs down and helps regulate battery life, but it's disappointing.
The 720p screen is fairly crisp, but at 6 inches, 1080p would have made a noticeable difference. The main problem we have with the screen is that Intex hasn't figured out how to scale that resolution to that screen size, which means every part of the Android interface is highly magnified. Icons, buttons, menu entries and even the status bar on top are way too large. In fact it feels like a special interface created for elderly people or those with mobility impairments. In apps such as the messaging app, you can barely see one or two messages on screen and the keyboard is simply massive. It's a huge waste of potential.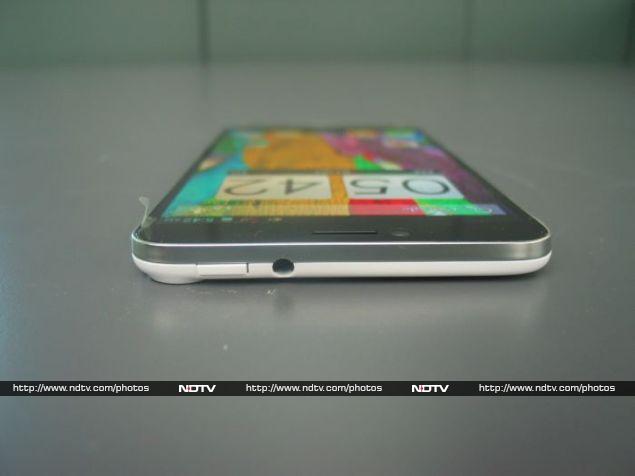 The rest of the specifications are pretty normal for phones in this price range. There's 2GB of RAM and 16GB of built-in storage. microSD cards up to 32GB in capacity are supported. The battery is rated at 2300mAh, which Intex says is good enough for six hours of talktime or 180 hours on standby.
Software
None of the current crop of budget Android phones seems to run anything newer than version 4.2.2 of the operating system, and the Aqua Octa is no exception. Intex has undertaken a fair amount of cosmetic customisation, and you'll notice that the icons are all brightly coloured squares with their top-right corners rounded off. The built-in apps all have their own icons, but anything you download will have its own icon displayed inside a grey square with a matching rounded corner, which is not only visually distracting but adds to the feeling that visual elements are far too large.
A few apps are bundled with the Aqua Octa: NQ Vault, NQ Security, Intex Play, Intex Cloud, Auto Call Record, and several others. NQ Vault lets you password-protect your SMS app, call logs, contacts, photos and videos. NQ Security includes a virus scanner (which pops up offering to scan your device every time you plug it into a PC), a call and message blocker, contacts backup, and anti-theft module which lets you pinpoint your phone's GPS location (but not the usual remote alarm and wipe features, which you have to pay to unlock). There's yet another call blocking app called Firewall, for no apparent reason.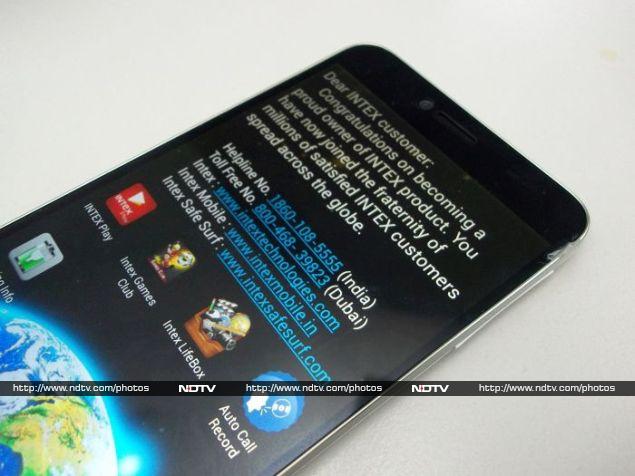 Intex Cloud offers 5GB of free online storage, and there doesn't seem to be any time limit on it. Intex Zone is a simple screen with a few links to Intex's website after sales service line, and shortcuts to a few other apps which for some reason aren't available through the main menu. The first of these is Auto Call Record, which does what its name suggests with zero indication to the person on the other end of the link. The second is Intex Play, a rather crude app store clone which has a number of mediocre-looking titles and no search function. Then there's Intex Lifebox, which is nothing but a list of premium SMS services for things like astrology predictions and sports updates.
If all of that wasn't enough, there are quite a few other bundled apps as well. These include Zapak, Hungama, Getit, Bigflix, GreetZAP, OLX, Newshunt, and WeChat. Opera Mini makes an appearance instead of Google Chrome, and there are a few games that you can play five times before being asked to pay Rs. 50 to purchase.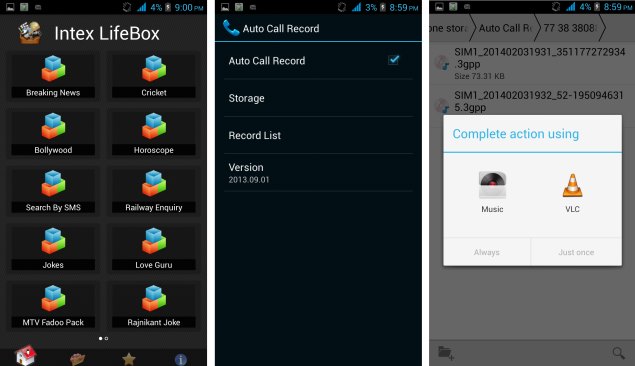 Overall, we were disappointed to see so much software bloat. While the security apps are conceivably useful, very few of the other preloaded ones are. What's worse is that not all of them are removable.
Camera
There isn't much to say about the camera app, which should be familiar to any Android user. You get a panorama mode, motion tracking mode, smile shot, voice-triggered capture, a self timer, and 30-shot burst mode. Photos taken in bright daylight are actually pretty great. Details are sharp and colours are vivid. There is a bit of noise when you look at the full-sized images on a big screen, but these pictures are totally fine for sharing and posting online. Even the front camera is surprisingly good. Fans of selfie-style portraits will appreciate this the most.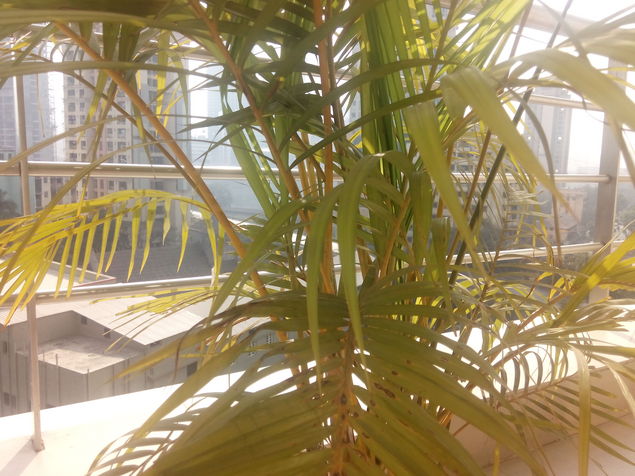 (Click to see full size)
Where the camera falters is in low light. Images are grainy and it really isn't possible to make out any detail at all.
Videos are also surprisingly sharp, although we detected heavy compression in the clips we recorded. The default video resolution is 720p but you can shoot at 1080p after diving into the settings.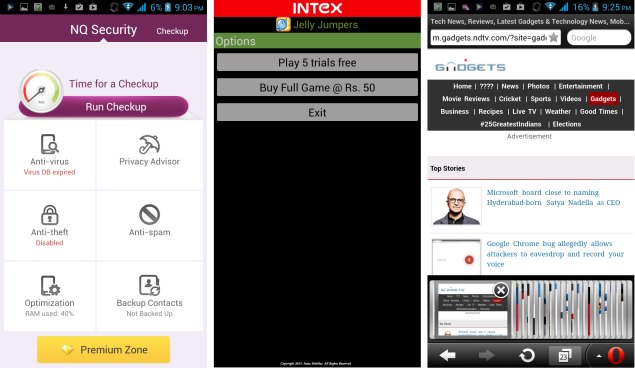 Performance
Phones like the Aqua Octa cost only about half as much as the latest and greatest phones from international brands, and so our expectations are tempered when we test them, no matter which buzzwords get thrown about in their ads and on their spec sheets. In addition, Mediatek processors are generally considered to be less powerful than those from prominent names in the ARM world such as Qualcomm.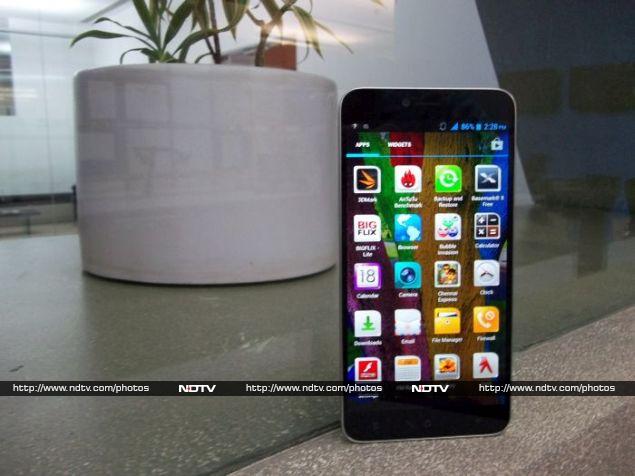 In terms of day-to-day use, we did notice that getting around Android's various screens and menus was consistently zippy, and there wasn't much lag when opening apps such as the camera. We tried going beyond our usual test processes to stress out this CPU, by running loads of apps in the background, playing a few games, and loading up Opera Mini with over 20 tabs open. Even with all that going on, there was barely any hint of a slowdown when switching apps or cycling through browser tabs. It isn't possible to attribute this solely to the fact that the CPU has eight cores, but it does mean that the phone is a strong overall performer and has a decent balance of hardware components - especially considering its price.
The Aqua Octa therefore surprised us all with its test results. This is one fast phone! It scored 27,691 in AnTuTu and 12,289 in Quadrant. The Quadrant CPU sub-score of 48,729 was particularly noteworthy. On the other hand, our graphics tests proved disappointing. The phone scored only 6,641 in 3DMark's 720p Ice Storm runthrough and managed to push out only 13 frames per second in our GFXbench test.
Most of our audio and video playback tests went well. The phone had no problem with 1080p videos except our highest quality H.264 sample clip. Audio from the twin speakers on the rear was loud, but not particularly high quality. All kinds of music sounded harsh and lower frequencies were almost entirely cut off. Voices in video clips weren't too bad. Speaking of sound quality, the bundled headset is one of the worst we've ever had to endure.
Call quality wasn't all that great. In our limited testing both indoors and out, voices seemed to sound muffled on both ends.
The battery lasted for just a shade over five hours in our video loop test, which isn't all that much compared to most of today's higher end handsets.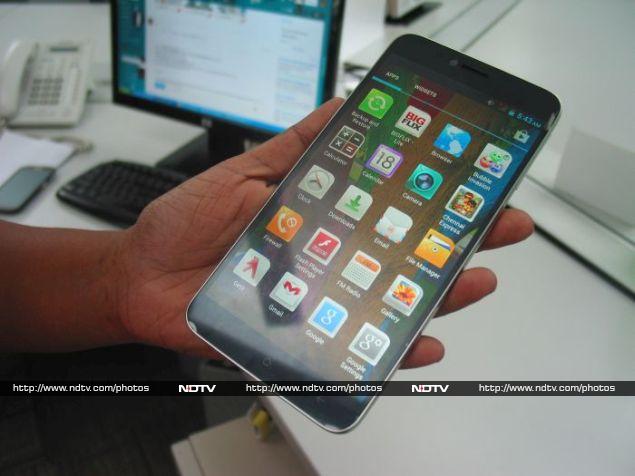 Verdict
There is a lot to like about the Mediatek MT6592 processor, but the product that Intex has created around it is a mixed bag. The step down to a 720x1280 screen might have been necessary because of the battery life or the weak graphics subsystem, but the fact is that it does not do justice to the rest of the hardware. We wish this phone had come with a smaller screen, perhaps something around the 4.7-inch mark. That would have set it apart in its own category, instead of making it look weak next to a wide selection of full-HD phones available from various manufacturers, such as the Xolo Q3000, Micromax Canvas Turbo, and Intex's own Aqua i7. If you're not concerned with large full-HD screens, alternatives at this price point also include the Sony Xperia C and Lenovo Ideaphone S920.
If you want a phone that seriously doesn't lag even under heavy load, you might want to consider this one. It's a relatively affordable phone with a big screen, which is what a lot of people seem to want these days. However its most noteworthy feature isn't one that's really tangible, and so if faced with the choice of an eight-core processor or a full-HD screen at this price point, a lot of people will choose the latter.


Intex Aqua Octa in pictures