While Intex has been making feature phones for a long time, it was only recently that it forayed into the smartphones segment. The company is currently offering 12 mid-segment smartphones under its Aqua range and has drawn out plans to launch 20 more smartphones in the coming quarter. The company is also gearing up to promote its smartphones with a new marketing campaign that suggests that it's serious about selling them.
The
Intex Aqua i-5
is yet another budget Android smartphone, with which the company promises to deliver a feature rich package at an economy price. Does it have what it takes to stand tall in a segment dominated by the likes of Micromax, Karbonn, Xolo and Spice? We try to find out in our review.
Design/ Build
Over the last couple of months, we've seen a deluge of large screen (5-inch and onwards) phones from Indian handset makers and a number of them look identical bearing the same form factor, design elements and even materials. The Intex Aqua i-5 is not really much different except that it's slimmer compared to other budget smartphones in the market.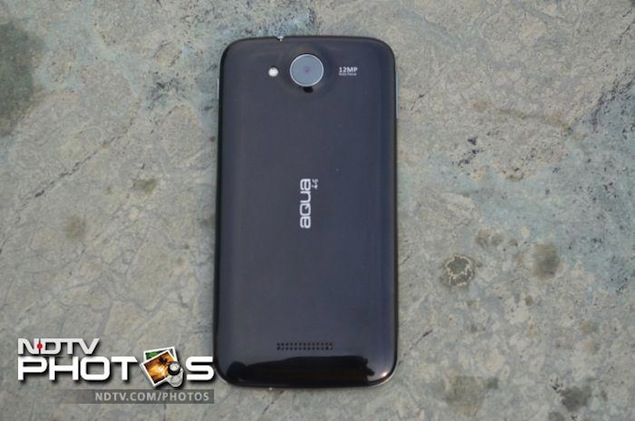 The phone is 8.8mm thin and weighs 155 grams but doesn't feel very bulky. The phone comes in Black and White colour variants and we got a Black one as our review unit.
The front of the phone features a 5-inch display with the three capacitive touch buttons, namely Back, Home and Menu located just below it. Strangely, the Menu button is marked like the 'Task switcher' button that we see in stock Android and HTC's recent Android phones. Also, the markings of these navigation buttons are not visible when the phone's backlight is off.
The earpiece, a 2-megapixel front camera lens and the sensor array are all placed above the display, along with some Intex branding. A chrome frame separates the back cover and the front panel.
The power/ screen lock button is located at the right hand side of the phone towards the top, which is a little inconvenient. We feel it could've been positioned a little bit lower. The button appears to be made of chrome plated plastic and does't offer good tactile feedback. The volume rocker key is located on the left-hand side at almost the same position.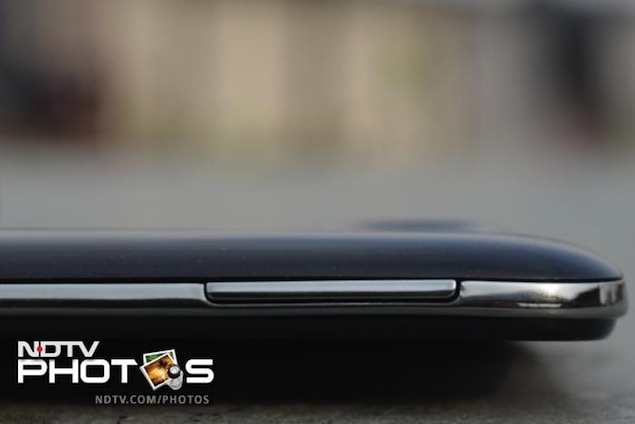 There are no ports at the bottom while the Micro-USB port and the 3.5mm headset jack sit at the top of the phone.
The back features a removable cover that sports a glossy finish and is susceptible to smudges. The 12-megapixel rear camera lens is located towards the upper side of the back and protrudes out a bit. A small round LED flash is located just next to it. There's some more branding and a speaker outlet towards the bottom.
Opening the cover reveals a battery compartment, above which are slots for a conventional SIM card, a micro-SIM card and a microSD card. You'll need to remove the battery to swap SIM cards.
Display
The Intex Aqua i-5 comes with a 5-inch qHD IPS screen that has a resolution of 540x960 pixels and pixel density of 221ppi, which is decent, and graphics and text appear sharp, although a 720p screen could have taken it to the next level. The viewing angles looked good. However, it's difficult to read or take pictures in sunlight, as the screen is extremely reflective. Videos and pictures looked good and colours appeared natural.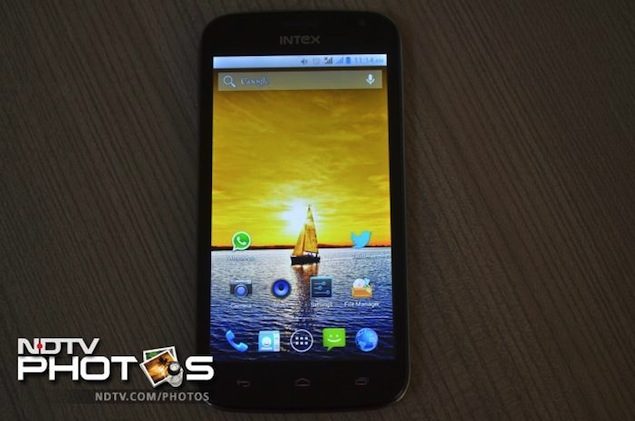 User Interface/ Software
The Intex Aqua i-5 runs Android 4.2 Jelly Bean, the latest iteration of the OS at the time of penning this review. Intex has skinned some UI elements of the OS and also offers a second theme that offers a different icon set. Even the default theme that offers stock icons has undergone some changes with Intex choosing a White colour for the status bar and the notifications tray and the Settings menu.
You also get lock-screen widgets, an Android 4.2 feature. You can choose from the Clock, Camera, Gmail, Google Now and Messaging widgets in addition to widgets offered by third-party apps installed on your phone. These widgets offer glanceable information from the apps and allow users to perform certain app actions even when the phone is locked.
There are seven customisable home screens that can be filled with app shortcuts and widgets. The notification tray also features a settings shortcut and a clear all notifications button, along with expandable notifications (expanded with the two-finger pull gesture). It features the same setting toggles shortcut that's found in stock Android and adds some of its own as well, for quick access to Airplane Mode, Battery status, Wi-Fi, Bluetooth, GPS, Data connection, Data usage, Audio Profiles, Brightness, Screen backlight timeout and Auto rotation.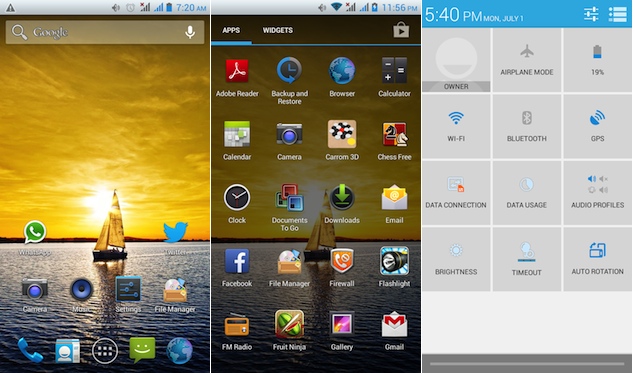 The phone also offers another Android 4.2 feature, Daydream, that displays photo albums or the clock while the phone's charging. The option to wirelessly mirror the phone's display with an HDMI enabled device through a wireless display adapter is also present.
Android 4.2 Jelly Bean also offers Google Now, which needs to be initialised for the first time, before use. For the uninitiated, Google Now is a voice-based information assistant and an extension of Google search. You can ask questions and the tool returns answers or search results. It uses 'cards' which are essentially small boxes that offer different sets of information ranging from weather forecast, directions, traffic information, scores, appointments, and currency conversion, among others. Google Now collects information based on the user's behaviour, location, and even email, to offer information automatically.
Intex has also bundled some apps with the phone including games such as Carrom 3D, Chess and RacingMoto, Documents To Go, a File Manager app, Firewall for blocking unwanted calls, a Flashlight app, Facebook, Skype, Opera Mini, NQ Mobile Vault app for password protecting messages and call logs, and WhatsApp, in addition to an app that's called Intex Zone which allows you to select an option to record all calls automatically, and Intex Play which is the company's own app store.
Camera
The Intex Aqua i-5 comes with a customised Camera app and allows you to capture photos in HDR, Face beauty mode, Panorama modes, Auto scene detection, and best shot modes in addition to an EV bracket mode for taking multiple exposure photos. The app also comes with the usual controls including settings for Exposure, Colour effect, White balance, Scene Modes and ISO, among others. The phone's camera also supports continuous shots taking up to 16 shots in that mode, smile detection and face detection. Some of the options in the camera app's interface are not self-descriptive which makes it a little unintuitive for new smartphone users.
The 12-megapixel autofocus camera takes good quality images in daylight. However, we observed that pictures taken in low-light conditions did not come out well. Pictures taken indoors with less light were also a little grainy. Colour reproduction was pretty accurate though.
The phone can record HD videos and we found that the quality of videos captured through the back camera was good. It also offers EIS or Electronic Image Stabilization to minimize distortions caused by shaking of hands while shooting a video. Unfortunately, the camera saves videos in the archaic .3GP file format.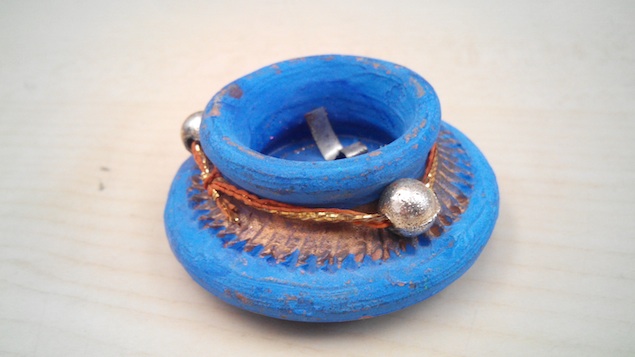 The 2-megapixel front facing camera also takes decent quality shots with good lighting conditions and is great for video calls. Overall, we feel that the phone's pretty good for casual photography.
Performance/ Battery Life
The Intex Aqua i-5 is powered by a 1.2GHz Mediatek MT6589 quad-core processor. It has 1GB RAM onboard, and PowerVR SGX 544MP GPU. There is 4GB of internal storage, which is expandable up to 32GB via a microSD card.
With Android Jelly Bean, the overall experience of navigation through the interface was impressive, thanks to Project Butter and the phone's quad-core processor. We did not experience any lag while launching apps, playing games, scrolling web pages or switching between apps.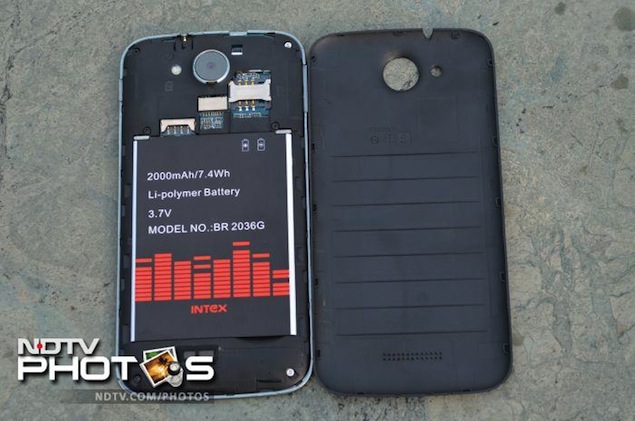 However, we were not able to play full-HD clips and the phone did not support formats like .MOV natively, though third-party apps available on the Play Store easily fixed that. The speaker on the phone delivers decent quality sound at high volume levels, but there's some muffle when the phone lies on its back, as the speaker grill is located at the back. The sound output is also a little low compared to other smartphones reviewed recently. The headphones that come with the phone offer average quality sound output. The phone also offers FM Radio. It also offers Audio Profiles to quickly switch between different sound settings.
Call quality was good, during our testing process, however, we experienced issues using 3G data. We tried using two different SIM cards, a micro-SIM and a conventional SIM card of two different networks, but experienced intermittent connectivity while using 3G data for browsing.
The phone was able to get a GPS lock rather easily while using the Maps app.
The phone comes with a 2000mAh battery, and based on our experience, it will last you a full day with medium to heavy usage, including 1-1.5 hours of phone calls, two email accounts with push notifications, screen at maximum brightness, playing some music and video clips, Twitter notifications and WhatsApp chats. It's also worth pointing out that we had Wi-Fi and auto-brightness turned off and the phone was hooked to a 3G network. Altering these settings might help in running the phone for a longer duration, depending on your usage pattern.
Verdict
The Intex Aqua i-5 is a decent option if you're looking to buy an Android smartphone that costs less than Rs. 12,000, offers a quad-core processor and runs the latest version of Android. Intex is offering a flip cover and screen guard along with the phone, making it a complete value for money proposition.
However, the Aqua i-5's QHD display is a little inferior compared to 720p display of the likes of Zen Ultrafone 701HD.
Another issue we're concerned about is the phone not getting a reliable 3G connection in areas where other phones with the same SIM card were able to latch on to a 3G network. The phone was constantly switching between 3G and EDGE.
Do check out our reviews of
Karbonn S5 Titanium
(
Review
) and the
Zen Ultrafone 701HD
(
Review
) which are available in the same price range.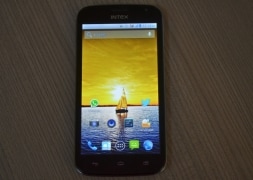 Intex Aqua i-5 in pictures