Huawei has kept a low profile in the Indian market this past year, deciding not to launch its previous flagship phone, the Huawei P8. Although sister brand Honor has been active in the market all this while, the only significant Huawei-branded device to launch in India recently was the Google Nexus 6P (Review). This has now changed, with the launch of the new Huawei P9.
Priced at Rs. 39,999, the Huawei P9 is a flagship phone with a bit more to offer than most in terms of camera performance. It features dual 12-megapixel primary cameras co-engineered with German optics maker Leica. Thanks to this, the P9 promises photography that stands out, beyond offering everything you'd expect from a flagship device. We find out if the Huawei P9 has what it takes to challenge currently popular flagship phones, in our review.

Look and feel
As is now the norm with top-end smartphones, the Huawei P9 features an all-metal unibody. The edges all around the phone are chamfered, and it is slimmer and lighter than other flagships. There are antenna lines running across both the top and the bottom of the phone, and its overall compact shape makes it incredibly easy to hold and use. The front of the phone has the 5.2-inch screen that curves ever-so-slightly off the edges resulting in a rounded feel. The three Android keys are displayed on-screen, which means that the chin of the phone is fairly slim and even has room for a Huawei logo.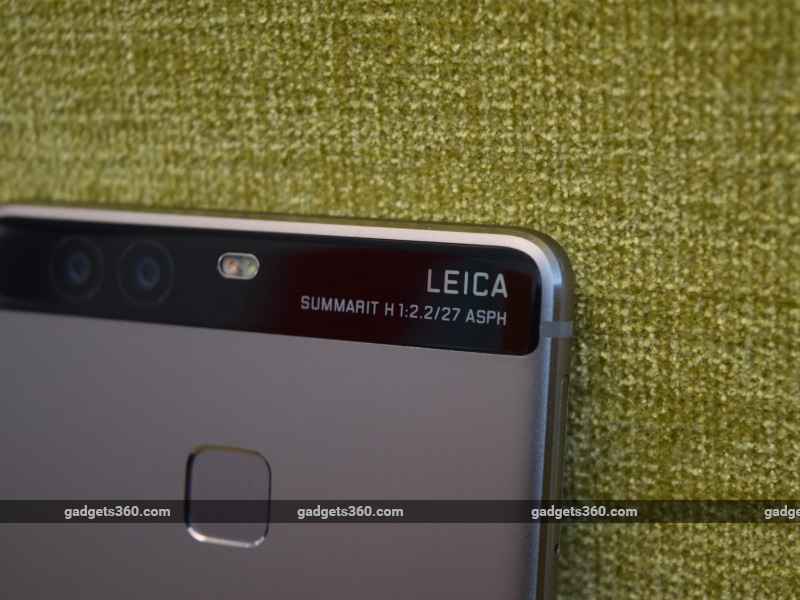 The layout of the buttons and slots is fairly standard, with the power and volume buttons on the left; the SIM and microSD tray on the right; and the 3.5mm socket, speaker grille, and USB Type-C port at the bottom. The back of the phone has the fingerprint sensor and a camera strip at the top, which feels a bit like the one on the Huawei-made Nexus 6P. On the whole, the P9 is a very good looking smartphone, and one that feels every bit as flagship as its competition.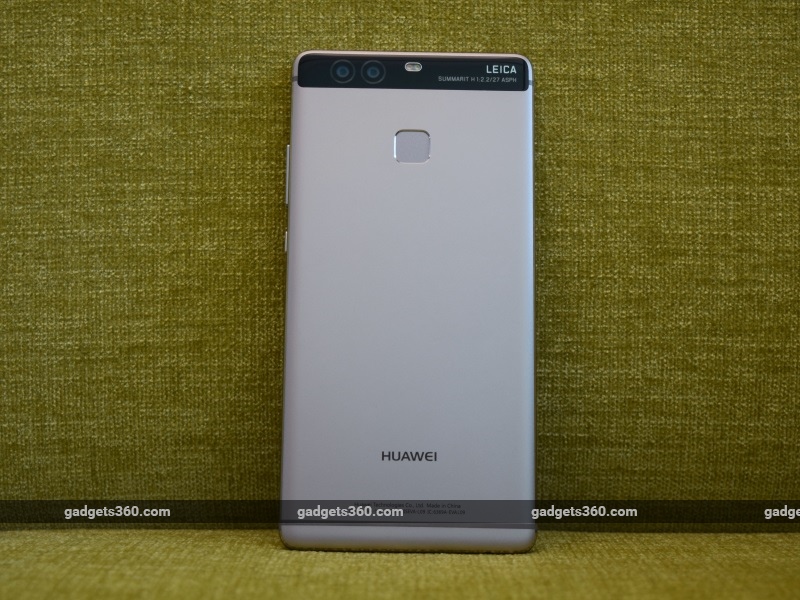 The fingerprint sensor is similar to the typical rear-mounted ones we've seen on many phones, with a slight depression and colour matching the surrounding body. The rear positioning means that you're more likely to use your index fingers to unlock the device. It can be unlocked by touching the sensor even when it's in standby, which is useful. It's fairly accurate and quick as well, although nowhere near as good as the sensor on the OnePlus 3 (Review).
The camera strip at the back of the phone has the twin camera lenses, as well as the dual-tone LED flash and laser autofocus window. The right side of the strip features the Leica branding that makes this phone stand out, and we've gone into the full details on how the camera performs further down in our review.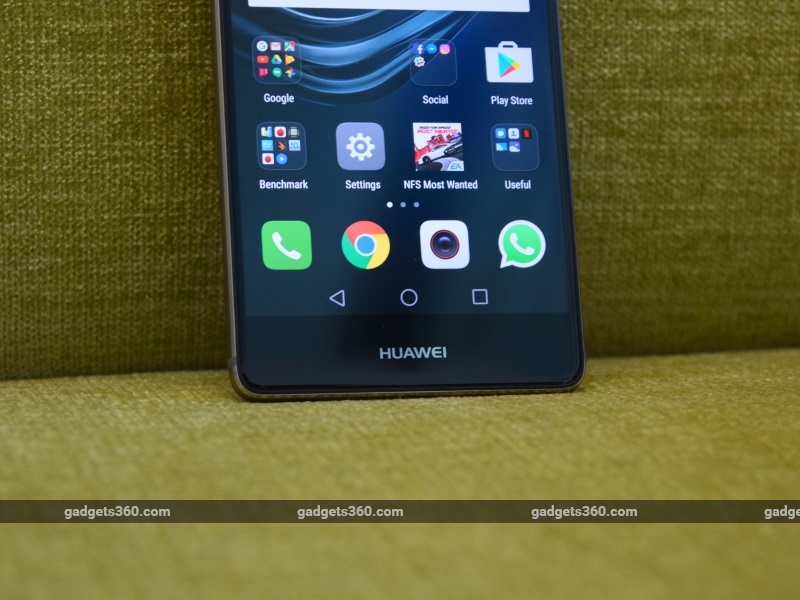 The Huawei P9 has a full-HD IPS LCD screen with Corning Gorilla Glass protection, and a pixel density of 423ppi. It's fairly sharp despite not going for Quad-HD resolution, and you're unlikely to notice any lack of detail or quality. The screen is also moderately bright and has decent black levels for an IPS panel, but we've seen better from many of the current line of flagships, including the LG G5 (Review).
Colour reproduction is good as well, but once again not fantastic. You can set the colour temperature through the settings as per your personal preferences, which is good. It's a decent screen as such, but if display quality is important to you then you can definitely do better.
Specifications and software
Like Samsung, Huawei manufactures its own SoCs for use in its phones through its subsidiary HiSilicon. The vast majority of Huawei and Honor phones use HiSilicon Kirin SoCs, and the Huawei P9 is no different. It's powered by the top-end octa-core Kirin 955 SoC clocked at 2.5GHz for four cores and 1.8GHz for the other four. There is also a 3000mAh battery, 3GB of RAM, and 32GB of internal storage, which is expandable by up to 256GB using a microSD card.
The variant available in India is the single-SIM one, which also sports an NFC chip. Wi-Fi 802.11a/b/g/n/ac are supported, as well as Bluetooth 4.2 and 4G connectivity on both Band 3 and Band 40 which are used by Indian operators. The sales package contains a basic in-ear headset, a power adapter for wall sockets, and a USB-A to USB-C cable. Although the phone does support fast charging with the right adapter, the 10W unit that comes with the phone is a bit too weak for this, taking over two hours to deliver a full charge.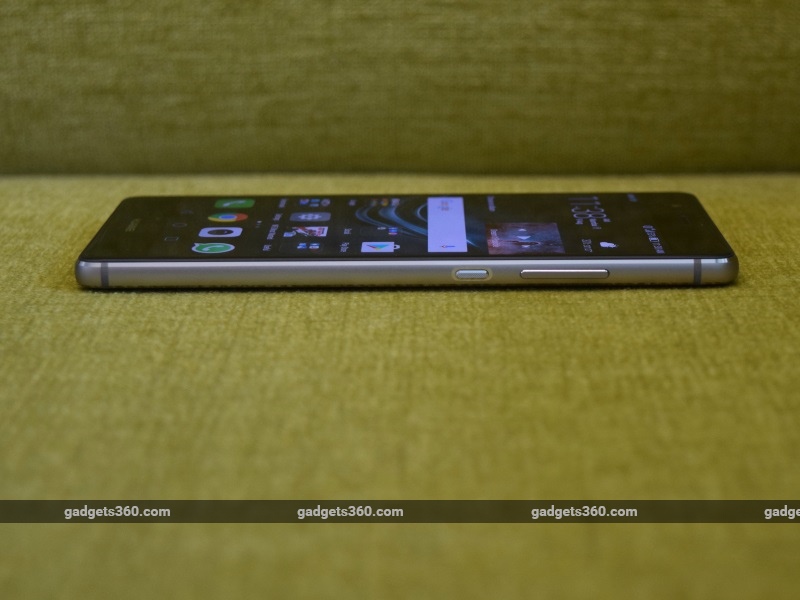 The Huawei P9 runs on Android 6.0, with Huawei's Emotion UI 4.1 on top. Nothing significant has changed in the software between this iteration and the one we saw on the Honor 5C (Review). It remains a single-layered user interface, while Android Marshmallow's signature features including Now On Tap, Doze Mode, and the revamped apps permission system are supported. The magazine lock screen feature is interesting as always, but because the phone doesn't need to first be woken before unlocking it if you use the fingerprint sensor, you're unlikely to be looking at the lock screen a lot.
The excellent phone manager app also makes a return, giving you enhanced control over system optimisation, data usage, battery consumption, and securing apps with the fingerprint sensor. You can use the sensor as a sort of tap button to trigger the camera shutter or scroll through certain screens like flicking through images in the Gallery app. While decent in its own ways, Huawei's Emotion UI does occasionally seem a bit dull and simplistic, compared to other custom skins that are geared either towards customisability or performance.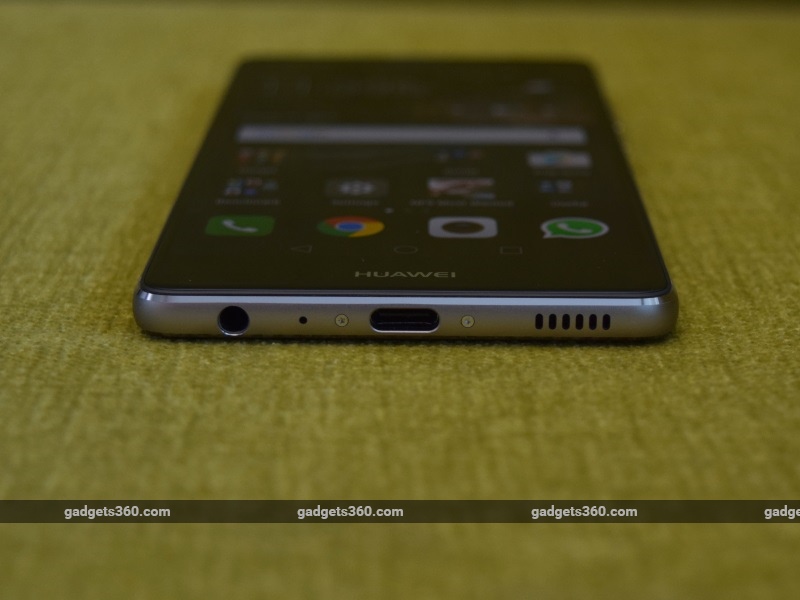 Camera
The camera is the signature feature of Huawei P9, promising better-than-usual performance thanks to its dual cameras and engineering partnership with Leica. Although the phone boasts of its Leica connection prominently, it's important to note that the sensors and lenses aren't built by Leica; the German company has provided inputs in the development of the camera system, and the official terminology for the partnership is 'co-engineered with Leica'.
The P9 uses two 12-megapixel camera sensors sitting side-by-side, with one of them being a normal RGB sensor and the other being a monochrome one. The colour sensor captures the colour information in any scene, while the monochrome sensor is able to capture more light and detail since it's only concerned with how much light is coming in and doesn't need to worry about colour. Software then takes the information from both sensors and creates a single colour image for you. Unfortunately, neither lens has optical image stabilisation.
(Tap to see full-sized Huawei P9 camera sample)
The camera has a hybrid autofocus system that uses the laser and phase-detection autofocus methods together. The use of two sensors also allows for better depth-of-field perception so you can refocus on different parts of the picture after the shot is taken. Additionally, there's support for RAW format pictures, long-exposure night shots, and a detailed pro-shooting mode.
The camera app and software, while appearing to be daunting at first, is actually a breeze once you get the hang of it. It's responsive, well laid-out, and filled with features and settings that give you enhanced control over the camera and your pictures. There is an easily accessible and control-filled pro-mode, as well as toggles for enhanced colours and highly-focused shallow depth-of-field shots.
(Tap to see full-sized Huawei P9 camera sample)
Swiping from left to right brings up a host of modes, including monochrome (and this is true monochrome, not just with a filter applied), HDR, long-exposure night shot, time lapse, slow-motion and more. Swiping from right to left brings up the settings, including GPS tagging, resolution, timer, and others. Interestingly, there's also a toggle to add a 'Leica' watermark to photos taken with the rear cameras, but we preferred to keep this switched off.
What we immediately noticed about pictures was the striking amount of detail. The camera takes excellent pictures which look even better in monochrome mode. Although a bit of grain is visible when you zoom in, the pictures look clean and sharp at normal scales, with great amounts of detail visible even in the darkest areas of the frame.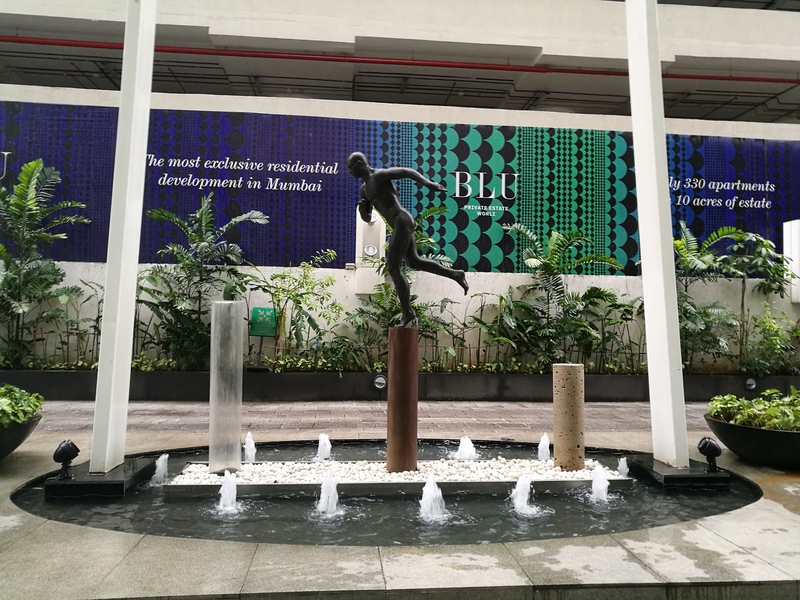 (Tap to see full-sized Huawei P9 camera sample)
Of course, you aren't always going to be using monochrome mode, so it's important to also see how the camera performs with ordinary colour shots. The P9 is combining data from both sensors to create the pictures you take, so there's certainly more detail visible. It isn't quite as good as what you'd see with monochrome pictures, but it's impressive nonetheless. Grain remains visible when zooming in, though.
There are three different colour modes: standard, vivid, and smooth. The first offers the most natural images, while the latter two tend to slightly oversaturate everything to make the images appear more vibrant.
Low-light photography is also absolutely fantastic, thanks to the camera's ability to capture detail no matter what the lighting conditions. When properly composed and focused, the P9 can capture pictures in situations that would defeat pretty much any other phone camera. The pictures are not grain-free, but they are certainly more detailed and accurate for colour than any other smartphone we've used.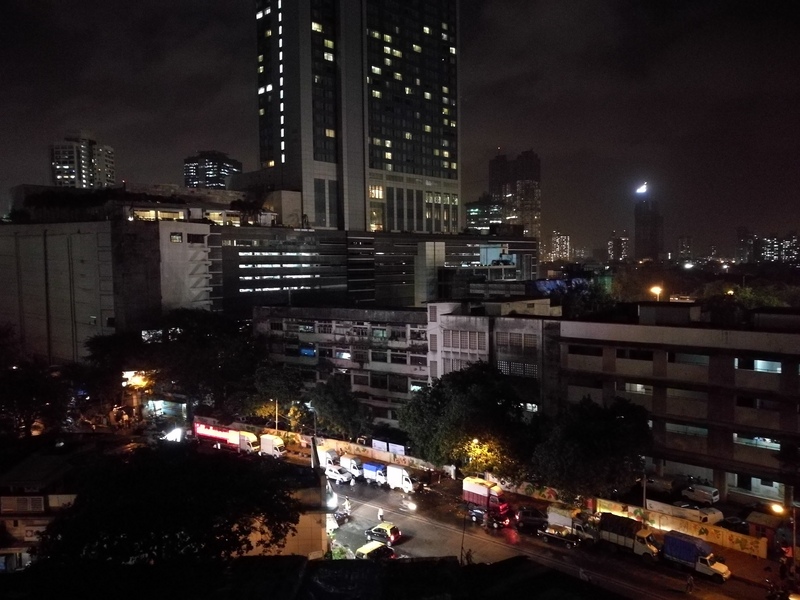 (Tap to see full-sized Huawei P9 camera sample)
The use of two cameras allows for excellent depth-of-field perception, and it's possible to take some great shallow pictures with this mode switched on. Refocused pictures look decent as well. Also worth mentioning is the night shot mode, which lets you modify the ISO and increase exposure time to up to 32 seconds to capture more light and detail in dark settings. It's fair to say that all of these modes work well and ensure good photos no matter what you choose, but slight grain tells us that, overall, the Huawei P9 isn't quite the best modern camera phone we've used recently.
Video quality is decent as well, but the ability to shoot 4K video is sorely missed. Although the large file sizes involved means that you're unlikely to shoot in 4K very often, the 1080p-resolution limit is a downer for a phone that touts its camera as its signature feature. Videos are good nonetheless, as are slow motion and time-lapse videos. Overall, we can safely proclaim that the Huawei P9 is among the better camera phones we've used.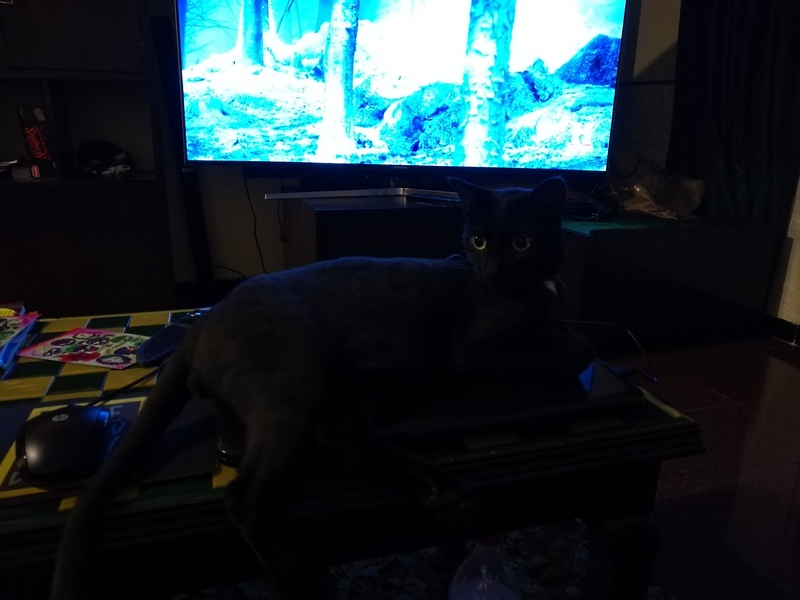 (Tap to see full-sized Huawei P9 camera sample)
Performance
Huawei's Kirin range of SoCs isn't quite as popular and widely used as options from Qualcomm and MediaTek. The Kirin 900 series has been the flagship line, and this year's Kirin 955 finds its way into the Huawei P9. Along with 3GB of RAM, this keeps the phone running smoothly and efficiently, but it isn't quite as fast as some of the other flagship devices we've used this year.
This will make only a small difference to loading times and general efficiency around the system, and we didn't have any serious issues while using the phone. Intensive games work well, most apps load quickly, and we didn't face any lag or stutter when using the phone. Camera performance in particular is quick and snappy, letting you take pictures quickly and not wasting too much of your time in processing, despite the fact that the camera has to process information from two sensors and stitch together a composite shot every time.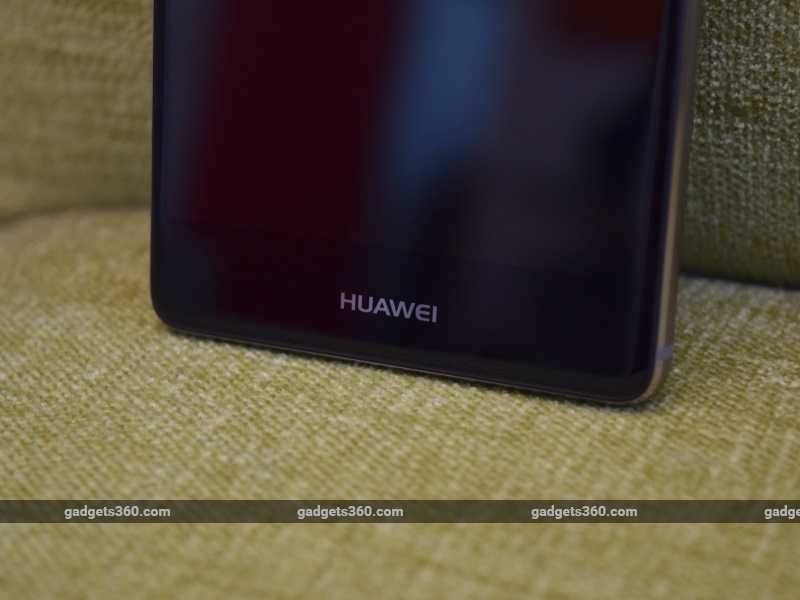 Benchmark scores are decent, with the phone registering 96,605 in AnTuTu, 33,881 in Quadrant, 29fps in GFXBench, and 7818 in 3DMark Ice Storm Extreme. These scores are pretty much in line with upper-mid-range phones, and a lot of flagships such as the OnePlus 3 (Review) and Samsung's Galaxy S7 range.
The phone's single speaker puts out acceptable but not exceptional sound. Using headphones results in decent audio performance. 4G and Wi-Fi connectivity is usually strong, and call quality is decent as well. The phone ran for 10 hours, 24 minutes in our video loop battery test, which is acceptable, but once again not among the best. In ordinary use, the phone will last you through the day, but not a lot more.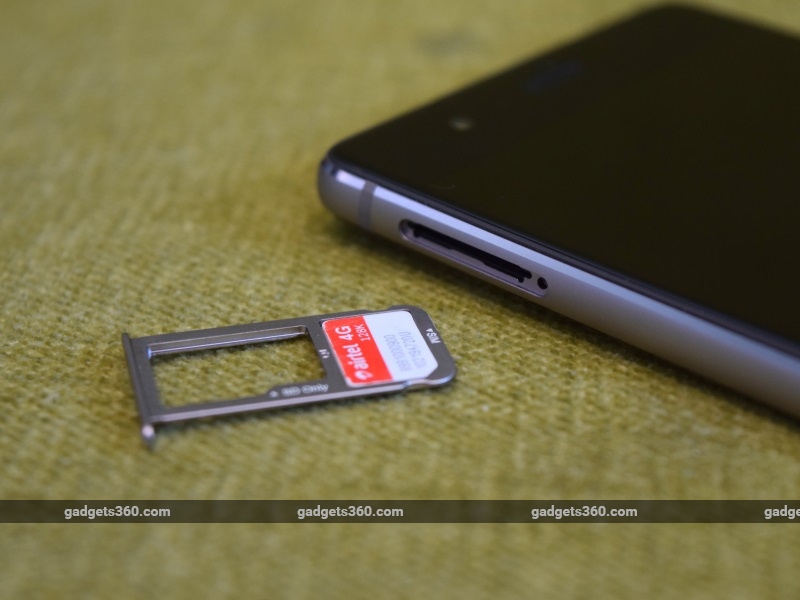 Verdict
The Huawei P9 is a good phone with great looks and an excellent camera, but it isn't quite the all-rounder that other current flagship phones have proven to be. The display and software aren't even among the best we've seen, and the phone is indeed a bit overpriced in our opinion at Rs. 39,999. Additionally, despite the camera being fantastic, it isn't without its shortcomings; there's no optical image stabilisation or 4K video capability.
If a good camera is important to you, the Huawei P9 is certainly worth considering. Its interesting application of two sensors and the Leica branding make this phone a great option for photography enthusiasts who like taking quick photos on the move. If you need a phone that is more of an all-rounder and does well in all departments for a lot less, you would be better off with the excellent OnePlus 3 (Review).