Huawei isn't a very big name in the Indian smartphone space. So far, the Google Nexus 6P (Review) and the Huawei P9 (Review) have been the most recognisable products from this company, but we've seen little else over the years. Now, that might be about to change. The company appears to be instrumental in driving the growth of Android globally and for 2018, it is focusing on expanding its presence in India.
Huawei's sub-brand Honor has been able to make a minor dent in the Indian smartphone market, going by a recent report from Counterpoint Research, so it only makes sense for Huawei to try and get as many of its products here as possible in order to bolster its position. The year started off with the company launching its flagship offerings, the P20 Pro (Review) and P20 Lite (Review), and now for the first time, we have its Nova series in the country too. The Nova 3 and Nova 3i have launched at very competitive price points, both featuring four camera sensors and artificial intelligence (AI) capabilities.
We'll be testing the Nova 3 today, which is priced at Rs. 34,999 and takes on the OnePlus 6 (Review) head-on. The latter has proven to be a formidable offering, so we're going to find out whether the Nova 3's AI chops swing things in its favour.
Huawei Nova 3 design
This year, most new smartphones seem to be sticking to a fixed design mantra - keep the screen borders thin, throw in a taller display, and add a notch. The Nova 3 checks all these boxes, which you might or might not like. Apart from the design, the new Iris Purple colour option is sure to grab eyeballs. The upper portion of the phone's rear is blue, and it gradually fades into purple on the lower half, which gives it a stunning look. The Twilight colour version of the P20 Pro had a similar effect, but sadly, that option didn't make it to India. There's a black version of the Nova 3 too, in case this is too out-there for you.
The build quality of the Huawei Nova 3 is superb and the metal frame on the sides is wide enough to offer good grip, but the glass back is incredibly slippery and picks up smudges very easily. The buttons on the right have good tactile feedback and the power button is textured so it's easy to tell it apart from the volume rocker. There's a hybrid dual-SIM tray on the left, which can accommodate a microSD card in place of a second SIM. Dual 4G VoLTE is also supported. At the bottom, you get a headphone socket, USB Type-C port (USB 2.0 speed) and the speaker grille.
The Iris Purple colour looks absolutely stunning
The 6.3-inch IPS display produces vivid colours and the full-HD+ (2340x1080) resolution ensures a high enough pixel density of 409ppi for smooth colour gradients in pictures and sharp text. Brightness is also good, and the Nova 3 is quite legible under sunlight. However, the display lacks Gorilla Glass or any form of scratch protection, which is not something we expected from a phone at this price. Our unit didn't pick up any scratches during our test period, but you might want to use a screen protector to be on the safer side.
The borders around the display and the notch make this phone resemble the iPhone X a lot, and this is one of the few Android phones with a relatively slim chin at the bottom. The notch houses two cameras, an earpiece, a notification LED, and an infrared emitter. The latter fires up when using face recognition in low light.
Huawei has kept the fingerprint sensor too, which is at the back of the phone. The glass back held up well against scratches and scuffs during the one week we used this phone, but the finish on the edges of the camera bump began to show signs of scuffing. The Nova 3 ships with a quick charger, Type-C cable, headset, TPU case, and SIM eject tool. The quality of the accessories is good, so we have no complaints.
All the ports on the Huawei Nova 3 are placed at the bottom
Huawei Nova 3 specifications, software, and features
The Huawei Nova 3 is well equipped to handle multitasking and relatively heavy usage too. It is built around the company's own top-end SoC, called the Kirin 970. This octa-core chip has been used in the Huawei P20 Pro as well as the Honor 10 (Review) and Honor View 10 (Review). Compared to the Qualcomm Snapdragon 845, the Kirin 970 finds it tough to keep up when it comes to raw CPU and GPU power. The difference is evident in benchmarks, in which Snapdragon 845-based phones post considerably higher scores. The Nova 3 returned 200,950 points in AnTuTu and 31,354 points in 3DMark Ice Storm Unlimited. Meanwhile, the Snapragon 845-based ZenFone 5Z (Review) posted 2,71861 and 64,593 points respectively in the same tests.
Huawei has launched the Nova 3 in India with 6GB of RAM and 128GB of storage, and there are no variants. Sadly, the Indian model doesn't get NFC. FM radio is also missing, for those who care about it. There's no wireless charging, and there's no water-resistant treatment either. You do get a good assortment of sensors, GPS, dual-band Wi-Fi 802.11ac, Bluetooth 4.2, and USB-OTG.
The Huawei Nova 3 runs on EMUI 8.2, which is based on Android 8.1 Oreo
If you prefer custom Android skins to stock Android, then Huawei's EMUI is one of the better ones out there. Now at version 8.2, it's based on Android 8.1 Oreo and our unit had the recent July 1 security patch. The interface feels slick and fluid, which is good. There are plenty of cosmetic changes that you can make with the 'Theme' app. Other elements such as the navigation pane, app layout, etc, can be customised. The notch can be 'hidden' too. You can sign up for Huawei's cloud service, which is free and lets you back up contacts, messages, and call logs.
There are plenty of preinstalled apps, from basic side-scroller games to apps like Truecaller and Camera 360. Thankfully, you can uninstall all of them if needed. The Nova 3 also boasts of a visual search feature, powered by Amazon Assistant. You can access this through the camera app by tapping the 'eye' icon in the viewfinder, after which it scans whatever you point it at and shows you the same or similar items on Amazon. It opens the Amazon app if you have it installed, or if not, it just takes you to Amazon's Web page. This also works when you touch any image with two fingers in the Gallery app or in Chrome. The accuracy rate wasn't very high in our experience, but there are moments when it worked well.
You can use Amazon Assistant to search and buy products
The setup process for face recognition is similar to how it's done on the iPhone X (Review). We initially found it frustratingly inconsistent, but after an OTA update, the accuracy and speed of authentication improved. The infrared sensor aids the front camera in low light. There's a voice control feature that lets you ask the phone to place calls, but we only got to work about once in five tries. We're not sure why anyone would bother with this when Google Assistant is present.
Huawei Nova 3 performance, cameras, and battery life
The Kirin 970 might be a little old now but it's still capable of handling the basics well. Multitasking is smooth, apps in split screen mode work well, and 3D games are handled decently. In PUBG and Asphalt 8, gameplay had slight hints of stutter with the settings cranked up all the way, so we had to drop the quality levels for more consistent frame rates. Surprisingly, we didn't notice this happening too much in Asphalt 9: Legends at the 'High Quality' preset.
Huawei claims that the new Nova 3 and 3i feature the company's GPU Turbo technology, which is a low-level software enhancement designed to boost graphics performance in games. Our test unit didn't have this feature when we first received it, but an OTA update (v8.2.0.105) enabled it. A Huawei India representative told Gadgets 360 that GPU Turbo is designed to improve specific aspects of certain games. For India, the first supported titles include PUBG and Mobile Legends, with more to follow soon.
Luckily, we had been playing PUBG before the update, and we had noticed intermittent jitter and texture pop-ins at the Ultra graphics preset. After the update, the frequency of these issues was considerably lower, but we didn't really see any difference in how the game looked.
The Huawei Nova 3 offers good app performance but hearts up quickly
The one trait that we've noticed about most Kirin SoCs, right from the days of the Honor 8 (Review), is that they tend to heat up quickly. The 970 is no different. Besides playing games and shooting videos, which are the usual causes of heat, we noticed the area of the phone above the fingerprint sensor getting warm rather quickly at times, even with simple tasks such as streaming video or downloading apps from the Play Store.
Whether you have the notch hidden or not, apps generally don't fill up the entire display, so there's no issue with the notch obscuring content. You do have the option to force certain apps to use the entire screen space if you want to. The Nova 3 handles most common media formats well and 4K videos run just fine too. The mono speaker doesn't get too loud and sounds a bit tinny at full volume. The bundled headset isn't the in-ear type which means it doesn't dampen ambient noise, and when using it outdoors, we had to max out the volume to hear audio clearly. Bass is weak, even after tweaking the Histen sound effects in the Settings app.
The 16-megapixel primary rear sensor gets PDAF and a f/1.8 aperture lens, but there's no optical stabilisation (OIS). Just like the P20 Pro, the Nova 3 has the ability to recognise objects and scenes and will automatically enhance colours and set the exposure accordingly. This didn't always work in our favour as the AI program had a tendency to oversaturate colours like greens, which makes scenes look unnatural at times. Thankfully, Huawei has now added an option in the gallery that lets you turn off AI enhancement if you don't like it.
In daylight, landscape shots have good detail and colours, and the camera app is able to detect a number of scenes and objects well. The post-processing algorithms though are too aggressive with sharpening, which often ends up distorting edges around objects. Macros turn out well too, but again, the over-sharpening can make finer details in close-ups, such as flowers, appear blurry. At night, autofocus is a bit slow, and due to the lack of OIS, you need to be extra steady, or images end up having slight motion blur.
There's a second 24-megapixel monochrome sensor with an f/1.8 aperture lens as well, which captures detailed black-and-white shots. Focusing isn't as quick as with the main sensor even under good light, and this sensor is also used for gauging depth for portrait shots. In portrait mode, you can change the type of lighting (just like on the iPhone X), add beautification, and tweak the depth effect. The results are decent with good edge detection. You can use Aperture mode if you want to adjust the level of bokeh.
The Nova 3 has a 24-megapixel selfie camera along with a 2-megapixel sensor for depth data. The AI feature works for selfies too, and portrait mode is once again handled decently. One cool feature that's exclusive to the selfie camera is the HDR Pro toggle. This prevents bright backgrounds from looking overexposed, and it works really well. The front camera also shoots 1080p video at 60fps. The cinematic portrait mode lets you shoot stills with a 21:9 aspect ratio but without AI enhancements.
The phone can shoot up to 4K resolution video at 30fps (limited to 10 minutes per clip) but you don't get any sort of stabilisation, even at lower resolutions such as 1080p. The lack of electronic stabilisation means that videos end up shaky if you're moving about. Huawei tells Gadgets 360 that it is working on adding this feature via a software update soon. Video quality is good during the day but is pretty average in low light. The camera also has some trouble locking focus when you move about, forcing you to tap-to-focus every now and then. You can also shoot short bursts of 480fps slow-motion video, but the quality is quite average.
The AR Lens shooting mode lets you play around with different props for your face and the background. Huawei also has its own version of Apple's Animoji, called 3D Qmoji. You can choose from six different characters but you can't create a Qmoji of yourself. It works well, but without a dot projector, it's nowhere near as accurate as Apple's implementation.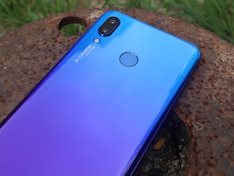 Huawei Nova 3 in pictures
The 3750mAh battery in the Nova 3 holds up pretty well, even with extensive gaming and use of the camera. With moderate usage, which mostly involved chat apps, music streaming and light gaming, we were able to get nearly a full day out of a single charge. Shooting at 4K and playing heavy games such as Asphalt 9 will obviously make a bigger dent in the battery, but even then, you should be able to get through an entire workday with ease.
The Nova 3 supports fast charging but it's not fast enough. It takes roughly an hour to charge the battery halfway, and then another hour to reach 100 percent. On the other hand, competing technologies like Dash Charge and Quick Charge 3.0 offer much faster charging. To save power, Huawei lets you change the screen resolution from Full-HD+ to HD+. This can be done manually or you can set it to automatic, although with the latter, it's hard to tell when and if the resolution is actually changing.
Verdict
It's nice to see Huawei finally bringing more of its products to India, and the Nova 3 is definitely a very interesting option. However, in addition to competition from other brands, the Nova 3 has to contend with some sibling rivalry first. The Honor 10 (Review) and Honor View 10 (Review) offer very similar features as the Nova 3, and are also priced a little below Rs. 35,000. Of these three, the Nova 3 does feel like the best choice even though it's more expensive, as it has a more modern design and strong battery life.
However, with phones like the OnePlus 6 (Review) and Asus ZenFone 5Z (Review) around, the Nova 3 doesn't quite measure up, which is unfortunate. If features like NFC, video stabilisation, and good gaming performance matter, then you'd be happier with either of the other two. The Huawei Nova 3 is a beautifully crafted smartphone with a good display and a capable front camera, but falls a bit short in delivering the knockout punch that's needed to take down the competition.
---
Can Huawei Nova 3 beat OnePlus 6 in India? We discussed this on Orbital, our weekly technology podcast, which you can subscribe to via Apple Podcasts or RSS, download the episode, or just hit the play button below.