When HTC CEO Peter Chou stood at the podium at the Mobile World Congress, his company's investors were expecting something that would stop the downward spiral this Taiwanese manufacturer has seen in the last few quarters. Chou gave them HTC One series smartphones, the company's attempt to reclaim the Android smartphone throne from Samsung.
HTC One series, and specifically One X, brings several firsts to HTC's portfolio like Ice Cream Sandwich and a quad core processor. Launched in India at Rs. 37,899, one surely wonders whether it is really worth this hefty price-tag. We will find out in this review.
Hardware
HTC One X is the company's flagship smartphone for this year and that is clearly visible in the design and looks. It sports a beautiful unibody design with a polycarbonate shell. Being made out of a single block of matte plastic, it surely feels sturdy and durable. The company has certainly stepped up its game with One X; it is better looking than any of the company launches in 2011.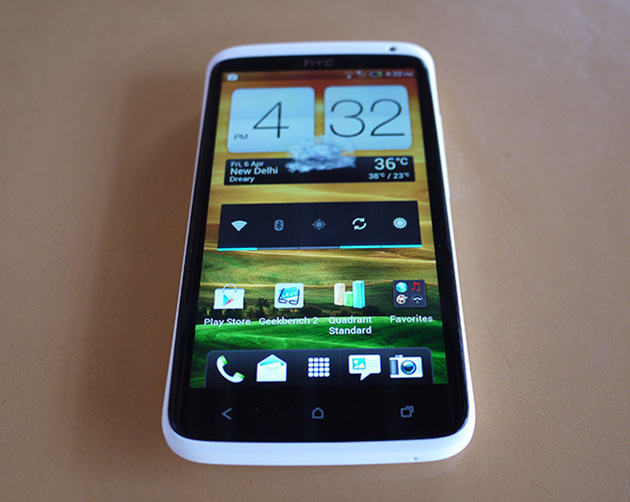 Coming to the specifics - while the One X may remind you of the curved look of Galaxy Nexus, it isn't really curved. It sports a 4.7 inch display, which is carefully covered with one sheet of glass that also drapes the capacitive Android buttons. In other physical characteristics, One X has smoothly rounded, glossy sides, which are really clean apart from the presence of volume rocker on the right, micro-USB port on the left side, microphone on the bottom with another secondary microphone on the top, along with power bottom and 3.5 mm headphone jack. The only omission is a dedicated camera button. Considering HTC has been going gaga about the One X camera to anyone who would care to listen (more on this later), we believe it would have been a welcome addition.
As the battery is non-user-replaceable, the micro-SIM slot is conveniently located at the top. The rear camera is surrounded by an attractive matte silver ring, which also saves it from scratches.
The only issue with our White One X unit was its tendency to retain dirt marks very easily; although some of them could be removed with a damp cloth, we still were left with a few marks.
Overall, HTC One X is a gorgeous smartphone with surprisingly thin and lightweight body, and make no mistake, it is not a flimsy looking smartphone. Thanks to the curved sides, it fits well in the hand compared to the Sony Xperia S, which comes with a rectangular body and sharp edges.
Display
This is one part we really loved about HTC One X. Its 4.7 inch 1280 x 720 SLCD is one of the best displays that you can get in the market right now. We won't call it perfect, but it's certainly a great step in that direction - be the near-perfect 180 degree viewing angles or the great colour reproduction. It is bright and you won't have any issues under the sun. It offers sharp and clear text and individual pixels are invisible.
Camera
Half of the HTC's press conference at the Mobile World Congress was centred around the all new camera technology used in the One series smartphones. With that in mind, we were extra excited to check out its camera and see if it was all that HTC claims it to be.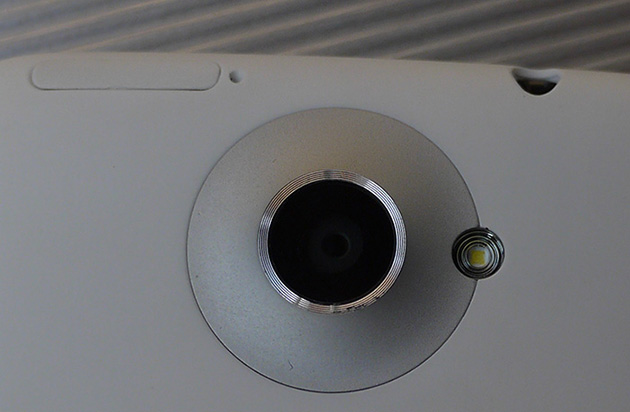 Yes, it performs and performs well! From the low light indoor shots to capturing Delhi after a rainy evening, HTC One X came out trumps. Its 8MP rear camera provides a holistic imaging experience. It may not be out to replace a point and shoot, but for your day-to-day photography needs, you would not need to carry two devices.
It comes with a wide f2.0 aperture, which helps in capturing nice images even in low-light conditions, while the dedicated Imagechip processor for the phone's camera needs, help it being the quickest cameraphone available in the market. HTC has also included all the new burst mode in One series of smartphones, which allows you to take 4 shots per second, reducing the chances of you missing 'The Decisive Moment'.
Coming to the software part of the camera on One X, it features Instagram like real-time filters, HDR, panorama and slow-motion video, ability to take photos while recording a video and more. The camera interface is a big improvement from earlier HTC phones and it gives you a clean UI with direct on-screen buttons to capture an image or record or video anytime you want, so no need to go and change the mode etc. There is almost no shutter-lag while taking stills, but for video recording One X still takes two-three seconds to start recording.
To further sweeten the deal, it also comes with several manual settings like ISO, white balance, exposure level that you can play with.
Software/ Interface
Thanks to Samsung's delays in launching Galaxy Nexus in the country, HTC One X is actually the first smartphone with Ice Cream Sandwich on-board to release in India. It comes with Android 4.0.3 along with company' revamped Sense 4.0. Both of which are clearly a refreshing upgrade from their previous versions, be it Gingerbread or bloated Sense 3.0/3.5.
Talking about ICS first, as HTC has put its own skin on top, you won't really get the Android 4.0 look, but all features are present - from Android Beam to the Task Switcher, Resizable Widgets to Face Unlock. You can read more about ICS features in our Galaxy Nexus review.
One of the major concerns with last year's HTC Android smartphones was the presence of bloated Sense interface. While HTC hasn't removed it, noticeable effort has been made to try and tone it down in the One series of smartphones. So, instead of throwing Google's design completely out of the window, as it had done in the past, the company has created a pleasant mix of ICS and Sense in One X and it no longer puts a burden on smartphone hardware in terms of performance.
Host of Sense bloatware has been removed from the One X, but you can still find the reminiscences in Friend Stream and Task Manager. There are still instances where you feel the Sensification of Android was totally unnecessary - like the Gallery and HTC Task Switcher; both are way better in the Stock version of Android 4.0.
HTC has partnered with Dropbox to provide 25GB of cloud storage to One X users for the duration of 2 years, which is certainly a nice addition and would certainly help a lot of consumers. Although company calls it deeply integrated in Sense, in our experience, the integration was more or less like any other Android device.
In terms of pre-loaded apps, you will find 7digital music store, Bollywood Hungama, eBuddy XMS, HTC's own Locations, Movie Editor, Notes, Polaris Office, SoundHound, Stocks, Teeter, TuneIN Radio and Voice Recorder. That's still a few too many for our liking - we hope the company removes some of these in the next version of Sense.
Overall, Sense 4.0 is a huge improvement over the previous version and HTC has been able to make it lighter, while retaining its unique identity.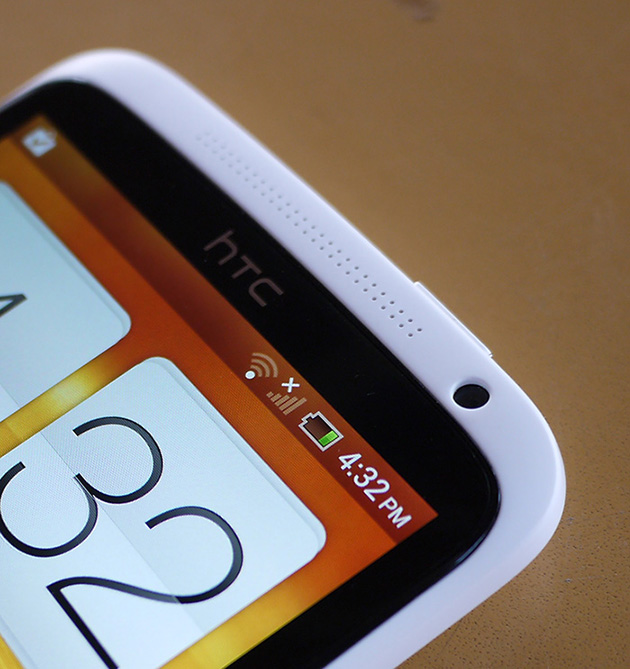 Performance/ Battery Life
Thanks to the 1.5GHz NVIDIA Tegra 3 quad core processor and 1GB RAM inside HTC One X, it performs exceptionally well in day-to-day tasks. There is no lag whatsoever while browsing through apps, home-screens or playing games.
The stock browser also performs up to the mark and we didn't notice any issues while going through image heavy webpages, high-speed scrolling or even viewing the flash content. Any less would certainly be unacceptable with One X.
Coming to the battery, you pay for the awesome display and quad core processor with your phone's battery life. Heavy users would just be able to pass a day with the 1800 mAh battery. As you can't replace it, any hopes for a bigger battery are a no-go.
Verdict
HTC was under a lot of pressure to bring something unique to the Mobile World Congress this year and One X has turned out to be that product. It combines the raw quad core power with Android 4.0 goodness and the refreshing Sense UI. In one line, it is one of best Android smartphones available right now in the market. It might not have the simplicity of ICS stock interface, but Sense 4.0 helps it stand out. Thanks to the some top notch work by folks at HTC, it looks stunning and is backed by some great real life performance. The only part where we are left a little overwhelmed is the Rs 37,899 pricing, but we've never said quality comes cheap.
For more pictures of the HTC One X, please visit our picture gallery.


Pros
Stunning Looks
Gorgeous Display
Tegra 3 Performance
Cons
Price
Non user-replaceable battery
Price: Rs 37,899
Ratings
Design: 4
Display: 4.5
Camera: 4.5
Performance: 4.5
Software: 4
Battery Life: 3.5
Value for Money: 4
Overall: 4