HTC was still on top of the Android game when it launched the original One back in 2013. As the first Android flagship with a metal unibody, it was really the only device that looked and felt as good as an iPhone, which of course was the primary competition. Even so, there were missteps - most notably the low-resolution Ultrapixel camera, which kept it from being a huge success.
Since then, the company has updated the line and launched new models, but hasn't quite managed to replicate the appeal of the original. Each time, something has held us back from wholeheartedly liking HTC's efforts. Last year's HTC One (M8) (Review | Pictures) was hobbled by the unsatisfactory Duo Camera feature, and other variants have been ugly, plasticky and weak.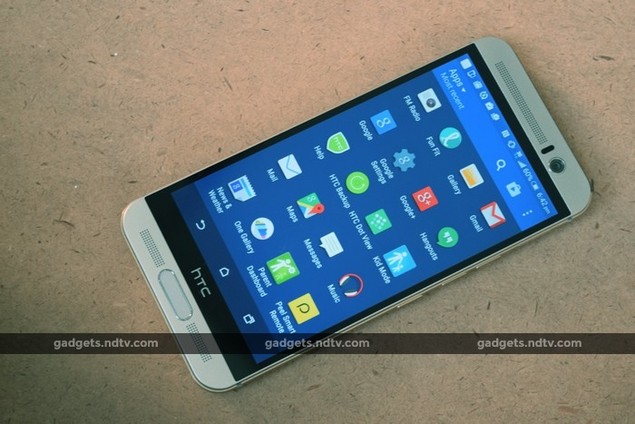 HTC has now brought the One M9+ to India, ahead of (or possibly instead of) the One M9. It has a larger screen, a different processor, a fingerprint sensor and the Duo Camera feature that was dropped from the M9. In that sense, it isn't necessarily better or worse than the M9. We're curious to see how this phone stacks up.
Look and feel
We were expecting to be reminded of the HTC One Max (Review | Pictures), which was an oversized but underwhelming plastic version of the original One, but HTC has clearly learnt from that misstep. The One M9+ is all metal with a premium two-tone finish. It's available in grey, gold, and silver-gold, and we received the unique silver-gold version for review.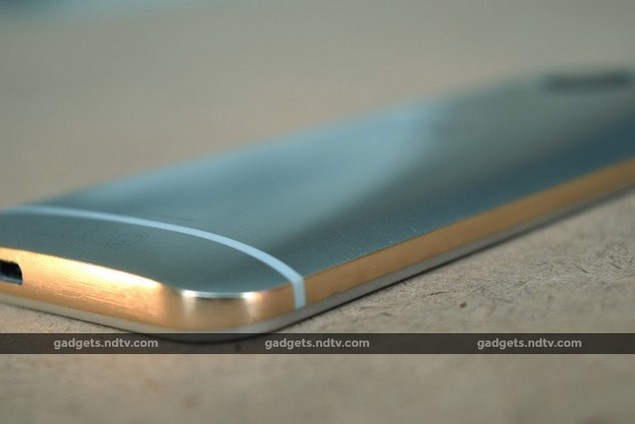 HTC sadly ditched its predecessors' unibody style, and the M9+ looks like two distinct halves jammed together. There's a ridge where the front meets the rear, which we couldn't stop running our fingers over. The front of our review unit was dull silver all over, but the rear half is brushed silver on the back and gold around the sides. We can't say we really like this look - it stands out, but in a garish way. The two other variants are likely to be much more popular.
Black glass extends right to the sides of the front face, but the screen itself is smaller than this and so appears to have black borders. Above and below it are HTC's trademark BoomSound speaker grilles, though this time the one on the bottom is broken up by the fingerprint sensor, which means the speaker itself can't be as big or as centred. On top, the front-facing camera is especially prominent.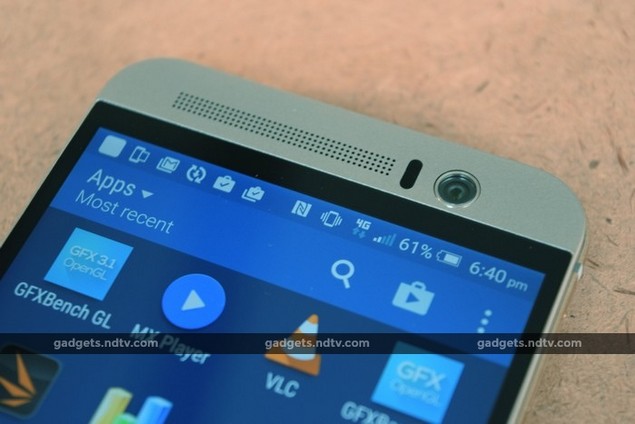 The Nano-SIM slot and microSD slot are on the two sides, with the power and volume buttons in a line down the right. For some reason, even though the buttons are all lower than usual, HTC decided to put the power button on the bottom of the stack. It's extremely annoying, falling neither near your thumb's natural resting palce nor anywhere else you might hope to find it. It has a slight texture but even then we found ourselves hitting the volume button by mistake all the time. Luckily you can wake this phone from sleep by using the fingerprint sensor, but even that placement is awkwardly low.
The Micro-USB and 3.5mm audio ports are on the bottom. The top is occupied by a dark plastic strip - the only plastic visible anywhere on this phone - where the Infrared emitter and assorted antennas are housed, helping them communicate through the metal body. The rear is pretty nondescript apart from the twin cameras and dual-LED flash.
The HTC One M9+ is a little awkward to hold and its 168g weight feels a little unbalanced. The curved back helps a lot, and at least it isn't slippery like some other phones are. However the edges are just a bit too sharp - stretching our thumbs to reach far parts of the screen was uncomfortable, as was holding the phone to our ears.
Specifications and software
As opposed to the Qualcomm Snapdragon 810 SoC in the One M9, HTC went with MediaTek for the M9+. The processor in question is the Helio X10, also known as the MT6795T, with eight ARM Cortex-A53 cores based on the 64-bit ARMv8 instruction set, and an integrated PowerVR G6200 GPU.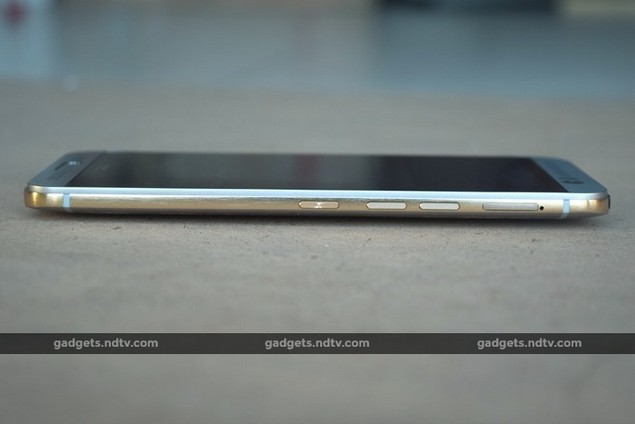 The screen measures 5.2 inches diagonally and has an impressive resolution of 1440x2560 pixels, compared to the One M9's 5-inch 1080x1920 offering.There's 3GB of RAM and 32GB of built-in storage which can be expanded by up a whopping 2TB using a microSD card - though cards of that capacity are highly unlikely to become available in all the years you could own and use this phone. USB-OTG is also supported.
There's dual-band Wi-Fi b/g/n/ac, Bluetooth 4.1, Infrared, NFC, GPS and even FM radio. 4G LTE is supported on the 2300MHz band used in India. The rear 20-megapixel camera is complemented by a secondary sensor for creative 3D effects, while the one in front inherits the Ultrapixel sensor displaced from the One M9's predecessors. One thing that isn't particularly impressive is the battery, which has a relatively ordinary capacity of 2840mAh.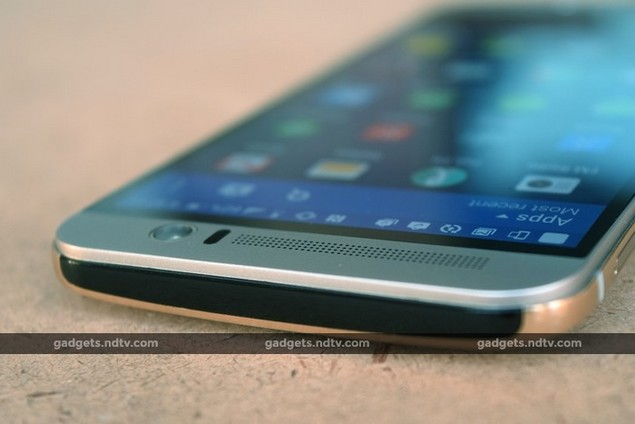 There's a new version of HTC's Sense UI running on top of Android 5.0.2. It doesn't look very different from last year's version but there are some fresh touches, such as a themes app and deeper customisation options. HTC has also integrated location-specific app suggestions, BlinkFeed news items and alerts about events and deals. There's a note-taking app called Scribble, Polaris Office 5, Peel Smart Remote, Fun Fit, and assorted other HTC apps - nothing too annoying.
Performance
We spent quite a bit of time using the HTC One M9+ but never quite managed to get used to the fingerprint sensor. It's placed awkwardly and doesn't work too well if your finger is at an angle. We also kept reaching for it instinctively as if it was a Home button, and thankfully HTC realised this would happen and mapped the sensor to replicate Home when the phone is on.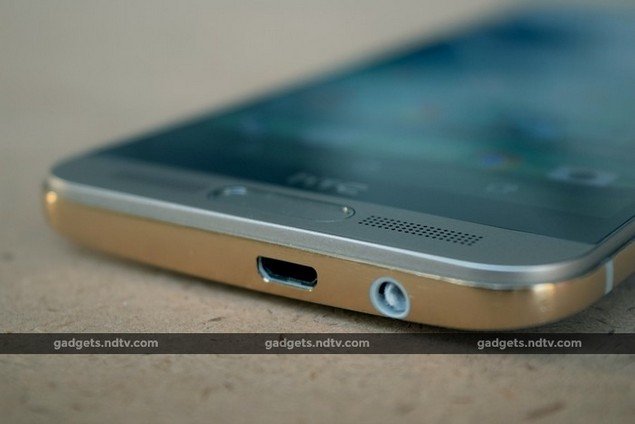 You don't need to swipe though, and setup is a breeze. After four failed attempts the phone will fall back to the pin code or pattern that you have to set as a backup. You can touch the sensor to wake the phone from sleep and unlock it in a single motion, though there's a slight delay. In any case it's still worlds ahead of the sensor on the HTC One Max in terms of implementation.
The screen is nice and crisp, with good colour reproduction and decent viewing angles, though it is very reflective. We had no trouble playing 1080p video clips, but what we were really looking forward to was the BoomSound experience. Just like its predecessor, the One Max, The One M9+ produced some of the loudest sound we've ever heard coming out of a smartphone. Vocals in video clips were crisp and projected well, while all kinds of music from classical to EDM was handled well too. The sound is a bit tinny and there is noticeable distortion at the peak volume level, but this is way better than most phones can hope to achieve.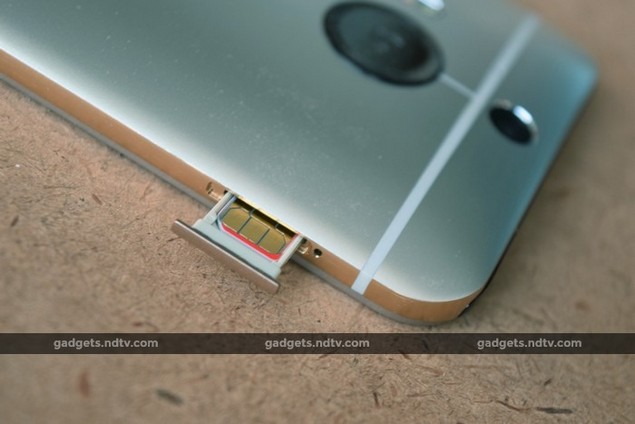 The One M9+ did quite well in terms of benchmarks. We achieved 51,670 points in AnTuTu and 27,401 overall in Quadrant, putting MediaTek's new processor on par with the Qualcomm Snapdragon 805 in the Motorola Google Nexus 6 (Review | Pictures). Graphics scores were weaker though, with only 12,300 in 3DMark Ice Storm Unlimited which is roughly half of what the Nexus 6 got, and 8,549 in the Ice Storm Extreme run which is usually maxed out even by much older phones at this price level.
Day-to-day use didn't give us any problems, but we noticed that the phone got quite hot when stressed with benchmarks and HD videos, and even when using the camera for a while. Call quality was good, but battery life was very disappointing at only 5 hours, 33 minutes in our video loop test. We'd expect about a day's worth of moderate usage from this phone, not more.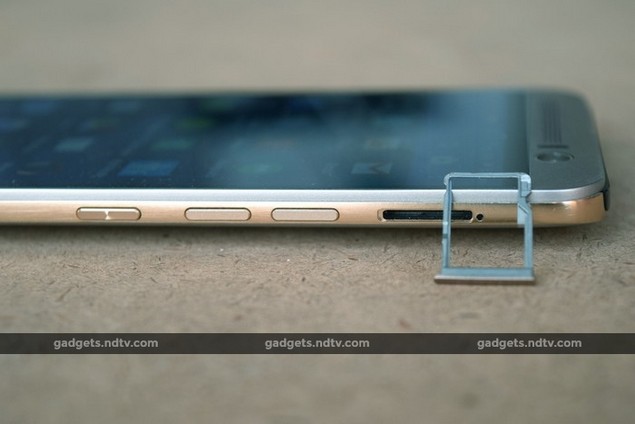 Cameras
We were of course curious to see how the Duo camera setup and front Ultrapixel camera would fare, and if HTC had finally gotten its formula right after years of experimentation. The app lets you switch between a Duo mode and a High-res Mode, with the former using the second sensor to capture additional depth information for later use.
Frankly, we found no use for the Duo Camera features at all. The One M9+ lets you change the focus point after a shot has been taken by blurring out the foreground or background, and has a few other tricks such as a faux 3D shift effect, double exposure, shape and pattern overlays, and "face fusion" which blends two faces. Pretty much all of them gave us poor results, and several just seemed pointless.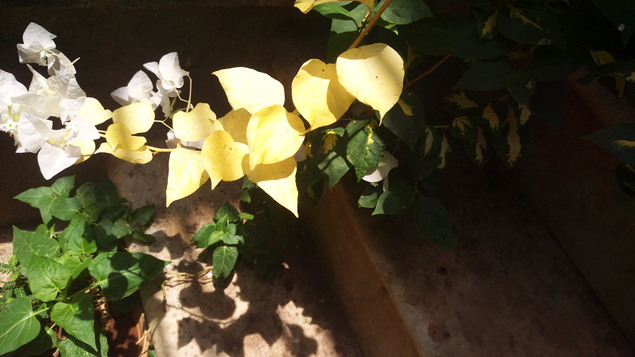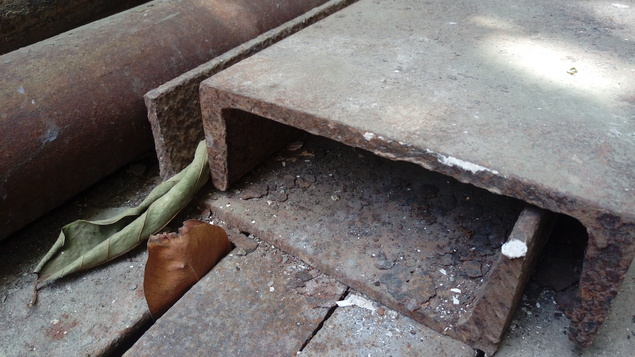 (Click to see full size)

We weren't all that impressed with the High-res mode either. Even when tapping in to the full 20-megapixel resolution, the One M9+ produced mediocre images with far too much compression and a tendency to blow out brightly lit areas. Some of the daylight shots looked great on the phone's screen, but showed their flaws when seen on a large desktop monitor. There were blotchy patches and textures simply did not translate. Low-light shots were predictably worse, with tons of noise and poor subject definition.
Video was also disappointing despite being recorded at 1080p by default. We also had to take the front camera for a spin - the default two-second timer is a nice touch that lets you frame shots and look into the lens, but the "beautification" algorithm is so terrible that we had to turn it off.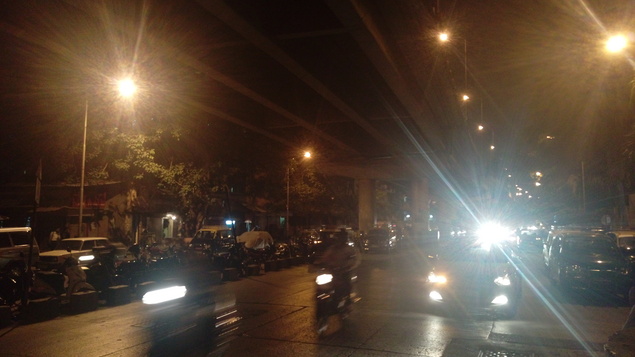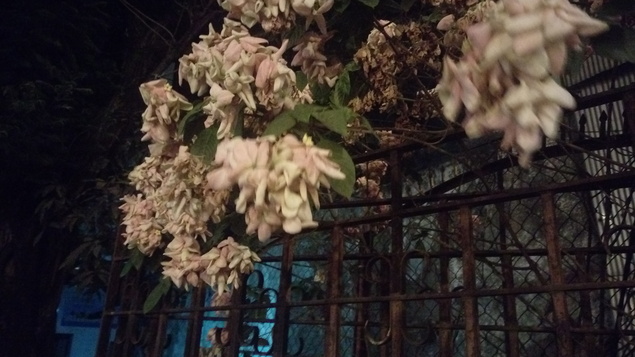 (Click to see full size)
Verdict
The HTC One M9+ goes up against tough competition, mostly in the form of Chinese phones that sell for half as much but offer similar capabilities. Its looks will turn heads and it feels really solid and hefty, but unfortunately it isn't outstandingly good at anything. The Samsung Galaxy S6 (Review | Pictures) and iPhone 6 (Review | Pictures), for example, outclass it in pretty much every department and are both selling for quite a bit less. Contemporaries such as the Nexus 6 and Motorola Moto Turbo (Review | Pictures) are also viable alternatives, as is the lower-priced Oneplus One (Review | Pictures)

The HTC One M9+ is good at looking good, but that's about where its appeal ends for us. We were hoping for HTC to emerge from its experimental phase with a winner, but that wasn't to be. Unless looks are your top priority, chances are you'd be happier with one of the many available alternatives.