There is no denying that today everyone's social media feeds are filled with selfies. We have encountered every kind of pose from duck faces to wide grins to shots taken in drunken hazes. This trend, though narcissistic in nature, is now a global phenomenon we can't escape.Quite opportunistically, smartphone manufacturers are cashing in.
We've seen quite a few phones with 5-megapixel front cameras, but this is the first time we are seeing a 13-megapixel front camera on any smartphone. The HTC Desire Eye is also the first modern device in HTC's Desire lineup we are seeing with flagship-level specifications. Apart from taking a lot of selfies, we also ran our regular suite of tests on the Desire Eye.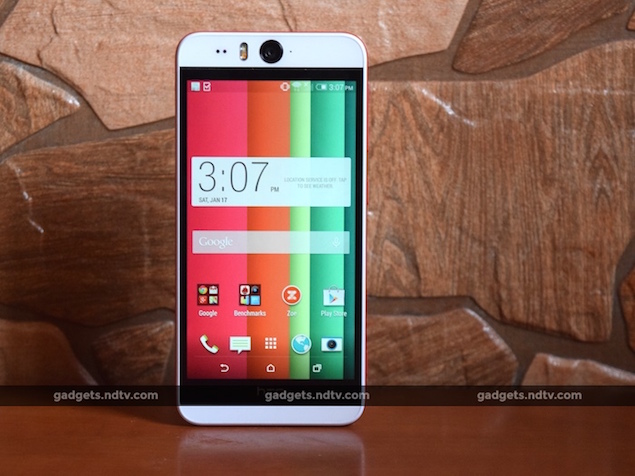 Look and feel
We are accustomed to thinking of metal-bodied smartphones as more beautiful than plastic ones, but frankly HTC - following in Nokia's footsteps - has been making some really gorgeous phones enclosed in polycarbonate shells. The Desire Eye is a looker with its two-tone matte plastic unibody. We got the white-red version for review, but it is also available in black-blue. Here, the accent colours are painted on to the frame of the phone. The phone supports HTC's funky Dot View cover and there is also a special app to configure its functions.
The Desire Eye is IPX7 certified which means that it can be submerged in 1m of water for up to 30 minutes. HTC has managed this without adding a flap to cover the Micro-USB port on the bottom - an achievement in itself. A 3.5mm jack sits on the top. The right edge is crowded with the camera button, power button and volume rocker which are almost flush with the edge, and as result the tactile feedback is not as good as we've come to expect. The left edge houses two trays - one for the microSD card and one for the Nano-SIM card.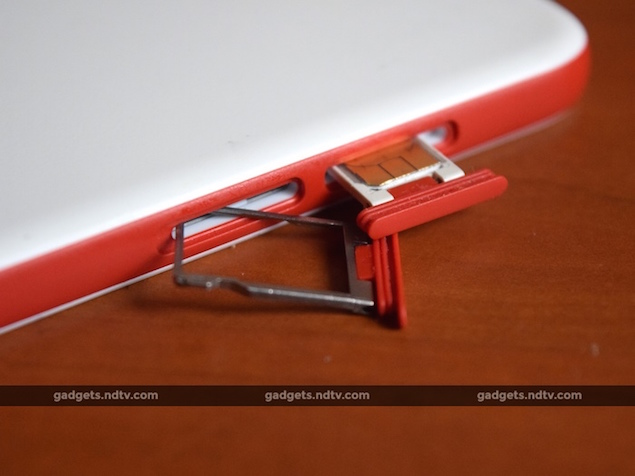 A fairly large 5.2-inch screen takes up most of the front of the device. The BoomSound speakers are hidden from plain sight this time. The huge front camera lens sits above the display, with a dual-LED flash and the sensors next to it. The Desire Eye has a row of on-screen buttons for navigating through the OS.
The 5.2-inch screen has a 1080p resolution and uses Corning Gorilla Glass 3 for protection. As usual, the display is of top-notch quality with great viewing angles and good legibility under direct sunlight. We cannot find any faults with the display.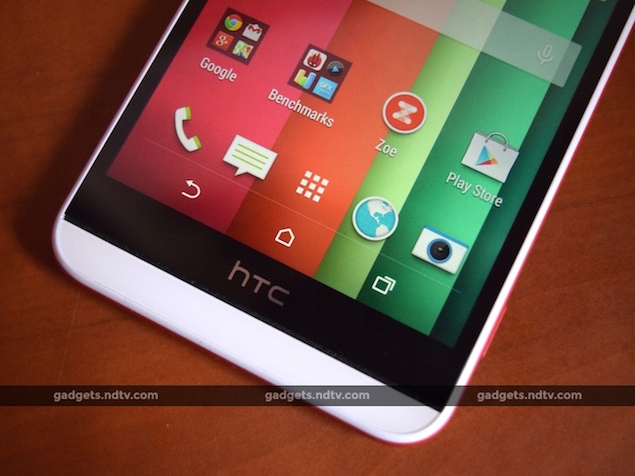 Specifications and software
HTC doesn't skim on the hardware inside the Desire Eye. It has a 2.3GHz quad-core Qualcomm Snapdragon 801 SoC with an Adreno 330 GPU. There is 2GB of RAM and 16GB of internal storage. The Desire Eye accepts microSD cards up to 128GB in capacity.
Just like shooter on the front, the rear camera has a 13-megapixel sensor and a dual-LED flash. Both have BSI sensors but the front camera has a f/2.2 aperture and 22mm wide angle lens, while the primary camera has a much better f/2.0 aperture and lesser 28mm wide angle lens. The Desire Eye has a ton of connectivity options including Bluetooth v4.0, NFC and Wi-Fi a/b/g/n. It can connect to 4G networks on the bands used by Indian telcos.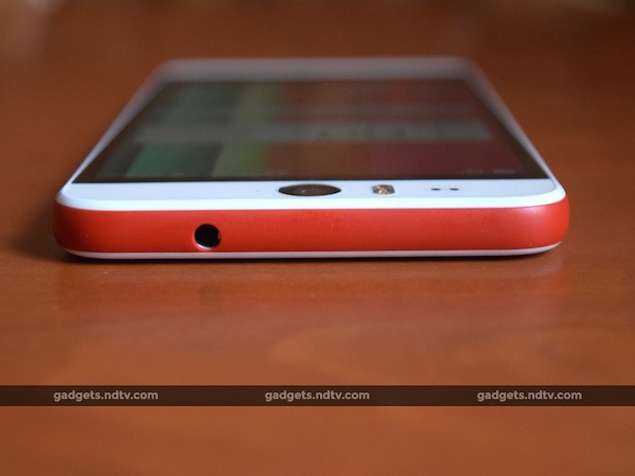 HTC ships the phone with Android 4.4.4 and its Sense UI 6.0 skin on top. The skin is light and unobtrusive. The BlinkFeed news reader continues to be a polished affair compared to other copycats. Even HTC's Zoe video clip app has received updates that make it it slightly more fun to use than before. HTC adds a few third-party applications such as Twitter, Scribble and Polaris Office 5 which we found to be mostly useful.
Camera
First of all, we are glad that HTC decided to go with a physical shutter button for the camera - a rarity these days. Unfortunately, using the camera shutter locks the autofocus. The default camera app by itself is rather easy to use and has quite a few nifty features, from 360-degree panoramas to a Split Capture mode. Some of the more interesting filters and modes are present in the 'Photo Booth' section of the camera app.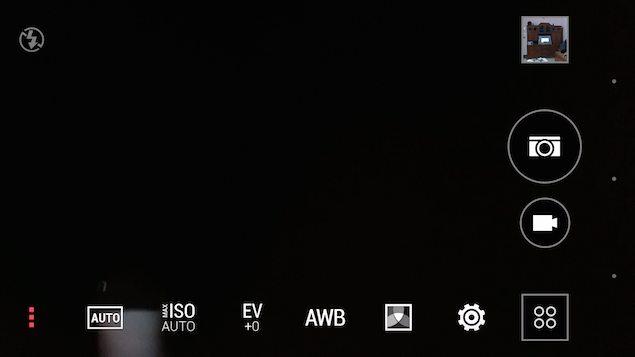 There is an HDR mode which works with both the front and the rear cameras. The front camera needs HDR very badly because we noticed a lot of blown-out highlights that would otherwise have ruined a lot of shots for us. HDR makes the camera slow down but it is worth the tradeoff.C olours looked vibrant and HTC's software algorithms reduce blemishes from your face. HTC provides a slider which you can use to scale from natural selfie shots to dramatically "beautified" ones that make you look like a caricature. Selfie lovers will definitely find this camera great under good lighting conditions, it falters in low light. Our captured shots lacked details and were filled with noise. Thankfully the front flash isn't blinding even when taking photos at only an arm's length.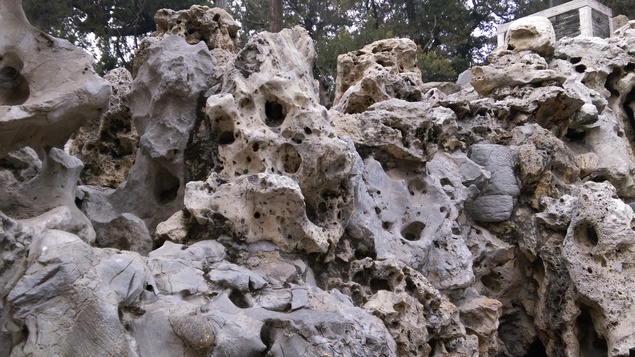 (Click for full size)

On the other hand, the rear camera takes undersaturated shots. The amount of preserved detail is good, but overall image quality is average at best. Even the quality of the 1080p video left us wanting more.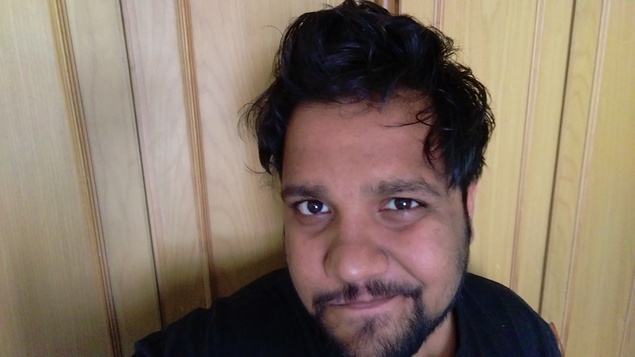 (Click for full size)

Performance
For its price, the HTC Desire Eye packs a punch and it shows. We noticed some really zippy performance and the phone didn't break a sweat in any task we threw at it.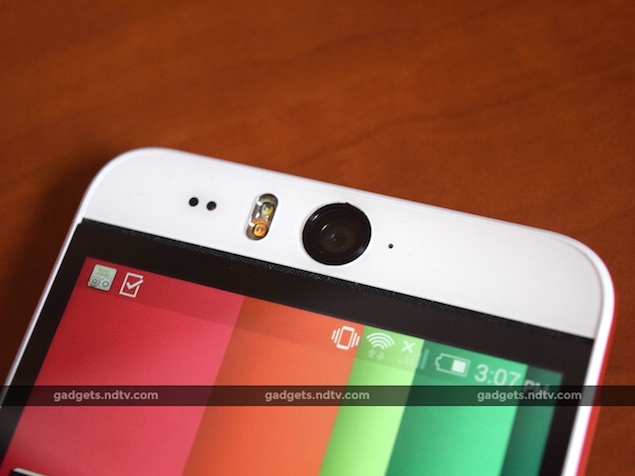 The phone scored 42,867 and 22,871 points in AnTuTu and Quadrant respectively. The Desire Eye also scored 25fps and 16,500 in GFXBench and 3DMark's Ice Storm Unlimited test. All these numbers are great and indicate that there's more than enough power for day-to-day use. The Desire Eye also played all our heavily encoded videos.

The BoomSound speakers are not as loud as the ones we experienced on the HTC One (M8) but are still pretty loud for a smartphone. In-call sound quality is superb as well. If we had one gripe it would be with the battery life of the phone. In our video loop test, the phone lasted only 7 hours and 37 minutes, which is not great when compared to the competition. The Qualcomm processor's QuickCharge 2.0 feature thus comes in handy.
Verdict
Priced at Rs. 35,990, the HTC Desire Eye finds itself competing with its own brethren, the HTC One (E8) (Review) and the HTC One (M8 Eye) (Review | Pictures). Design-wise, the Desire Eye dares to do something different and succeeds. In fact, we'd go as far as to say that quite a few people will find this phone better looking than the other two, which are both modelled around the HTC One (M8).
On the flipside, the HTC One (M8 Eye) has two really good cameras compared to the Desire Eye. If you are looking at a phone solely for great camera performance you'd be better off with the HTC One (M8 Eye). Otherwise, we really think that the Desire Eye is one of the most well-rounded smartphones we've used in the recent past.

HTC Desire Eye in pictures