The Creo Mark 1, designed in Bengaluru, promises to be a new phone every month. When you think of it, that's a somewhat strange premise - the idea of a phone that gets better over time is appealing, but we'd prefer a really good phone today, please. We spent a lot of time with the Creo Mark 1, which launched on April 13 (including a month in its beta testing program) and in this time, we've come away both impressed with the output of the very young company behind it, but also wishing things were just a little bit better.
What's annoying about the Creo Mark 1 is how close it gets to being a really good phone. However, it falls just a little short at some crucial points, and that ends up being much more frustrating than a generally mediocre phone would have been.
The company behind the Mark 1 has previously made only two other products, the Chromecast-like Teewe dongle, and its successor, the Teewe 2. We thought both those products showed promise but fell short of the established competition (Google's Chromecast), and with the case of the Creo Mark 1, it feels the same.
Creo has decided to launch the Mark 1 at the "budget flagship" price of Rs. 20,000, and so it faces tough competition. Read on to see how it measures up.
Look and feel
The Creo Mark 1 looks a lot like the Sony Xperia Z3 - it has similar rounded edges on an otherwise brick-like shape, and features round chrome buttons on the right. Unlike the Xperia Z3, this phone lacks waterproofing and dustproofing, and it's also a fairly chunky phone for 2016.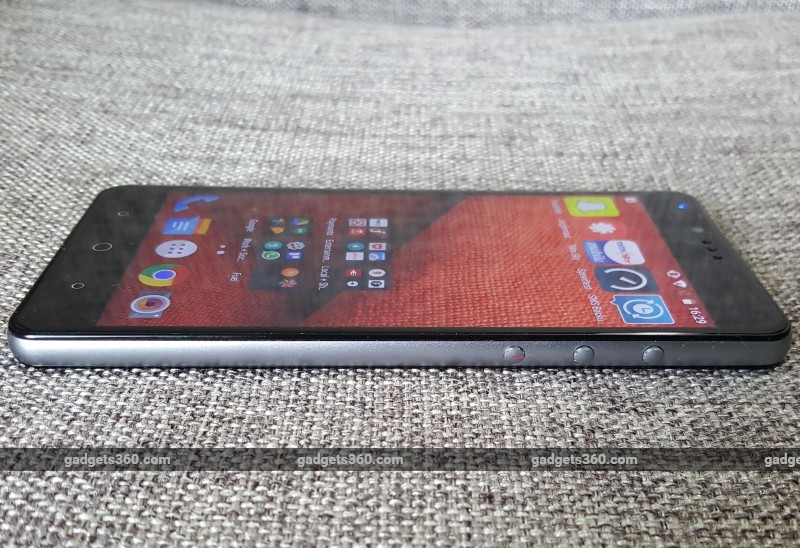 That's not necessarily a drawback - we've been complaining that as phones get thinner, they're less comfortable to hold - but the 5.5-inch display is also pretty broad, with slightly thick side borders. The Mark 1 is closer in size to a typical phablet, which may or may not appeal to you.
The design is otherwise pretty standard for a smartphone - the front is a glossy slab, with three capacitive buttons near the bottom. The functions of the buttons can be customised in the Settings app, which is why they don't have specific icons - all three are just plain circles. There's the front camera near the top, and circular power and volume buttons on the right. The left is plain, with two trays near the top - the first for a Nano-SIM or microSD card, and the second for a Micro-SIM. Lower down on the left, there's space where you can have up to 40 characters of text (such as your name or any message) engraved while buying the device.
The bottom has the Micro-USB charging port, while the 3.5mm audio socket is on top. You have the primary camera and flash in the top left corner of the rear, with a minimal and sleek Creo logo near the middle.
The result looks good - it isn't innovative or path-breaking, but it isn't in your face either, and has a sense of style. What's more, the phone feels well put-together. There are no sharp seams or edges, and no parts that don't feel fitted slickly. The glass front and back collect fingerprints and let the phone slide a little too much when you place it on a table, but they make the phone feel really good to hold, and help sell the idea that it's a premium device.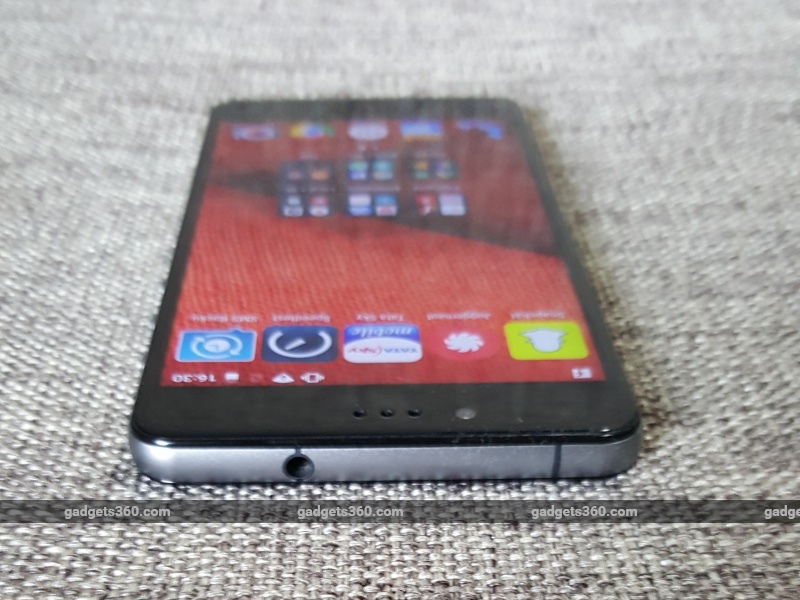 This extends to the display as well - the 5.5-inch screen is bright and colourful, without feeling oversaturated. It's a nice display to watch videos on, particularly considering the QHD (1440x2560) resolution. However, that doesn't come without downsides either, as we'll get to in the performance section.
Specifications and software
Creo's goal of giving you a new phone every month boils down to the promise of delivering monthly firmware updates which bring in features suggested by the community of users. It's a very good goal to hear about, considering how many phone makers seem to think that you should be happy with the software that comes out of the box and never expect any updates.
In terms of hardware, the Mark 1 packs a 1.95GHz octa-core MediaTek Helio X10 SoC, along with 3GB of RAM, and 32GB of storage that can be expanded by up to 128GB if you're willing to forego a second SIM.
The phone has a 21-megapixel rear camera and an 8-megapixel front camera. It's powered by a 3100mAh battery. All of this is pretty standard on paper these days - there's nothing very eye-catching about the spec-sheet other than the QHD display, but Creo's focus has been on software - a custom Android skin it calls Fuel OS.
Fuel OS looks and feels more or less like stock Android (it's running on top of Android 5.1.1) but it comes with a whole range of tweaks that are pretty interesting. For instance, the default SMS app shows your messages sorted into categories, separating ones sent by people and bulk messages sent by businesses (originating from addresses that start with VM/ DZ and so on). Business updates are further categorised as Important (for things such as delivery and bill updates) or Others. It's a small tweak, but a very welcome one that makes the SMS inbox far less cluttered and much more useful. There's a security feature that alerts you if a new SIM card is inserted into your Mark 1, allowing you to track it even if it isn't connected to the Internet, which sounds really helpful - at least for peace of mind.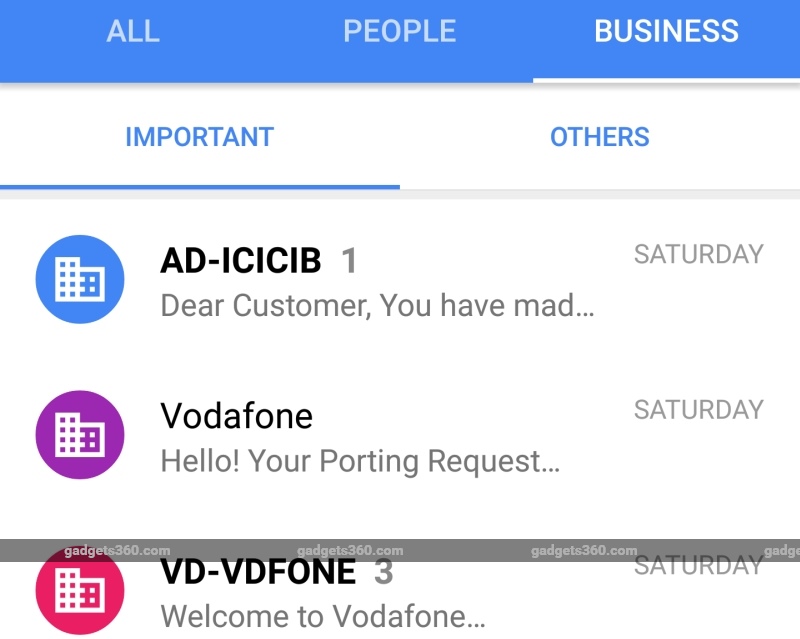 Then there's Sense, a full-fledged local search function that lets you find anything in your phone, whether it's a setting buried deep inside a menu, or a file you've downloaded and forgotten about. The last major feature is Echo, a built in answering machine which stores messages locally so it works even without an Internet connection.
These are all tweaks that could be accomplished with third-party apps quite easily, but together they speak to Creo's overall vision of a phone which comes with all the bells and whistles you might want, saving you the trouble of looking for extras.
That doesn't mean that all of these features are perfect yet, though. For example, Echo is not a substitute for voicemail - it will only work when you're busy or otherwise miss a call, but it can't help if you're out of network coverage or if your battery has run down, which are more typical scenarios in which most of us might require an answering service. It doesn't help that answering machines never really caught on in India, and callers might be confused by your outgoing Echo message and just hang up.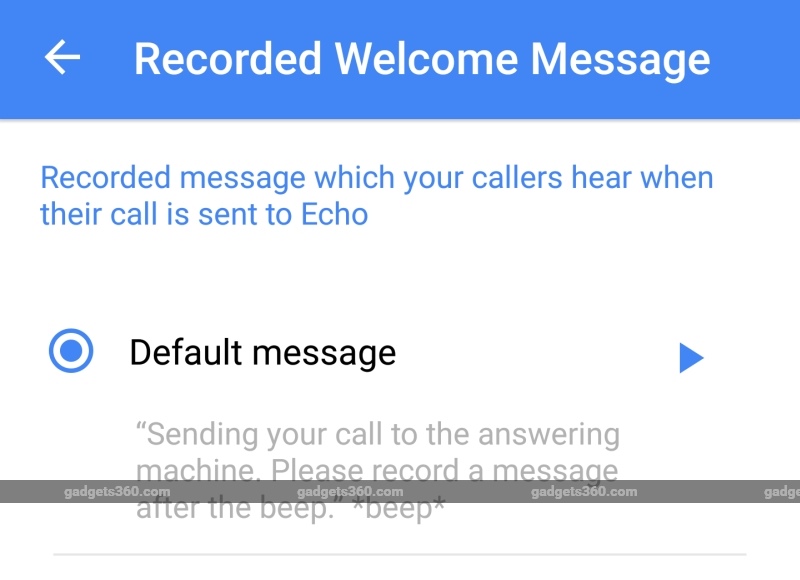 Similarly, while Sense is really great for quickly launching an app or finding a contact or file, you type commands like "send a message to 'contact'" or "set an alarm for 'time'", which makes it a bit less useful than Google Now and more like iOS's Spotlight feature.
That's part of the unique nature of this phone - it's supposed to keep evolving, and the Creo team has made it very clear that there's a roadmap of updates and changes planned that should help address or at least alleviate the concerns we're raising. It's a great idea in theory, but if you're buying a phone, you're buying it for what it is right now, with everything that comes down the line being a bonus. With those expectations in mind, the software - while quite appealing and promising - suffers.
Camera
The camera is one area where the Creo Mark 1 is definitely better on paper than it is in real life. The front camera is fine, with no issues to speak of per se. However, the 21-megapixel rear camera is a little unreliable. In general, we found the camera to work much better outdoors in the daylight than in low-light conditions.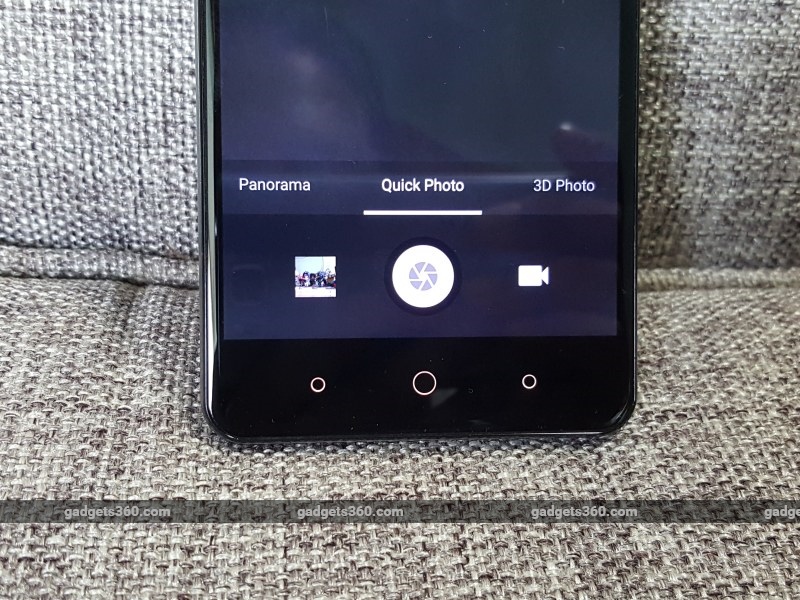 That being said, Creo's default camera app offers some really nice tweaks. It has a number of modes such as 3D photos, slow-motion and panorama. The camera locks focus and takes pictures quickly. Zoom in by clicking on the image, and the picture appears grainy.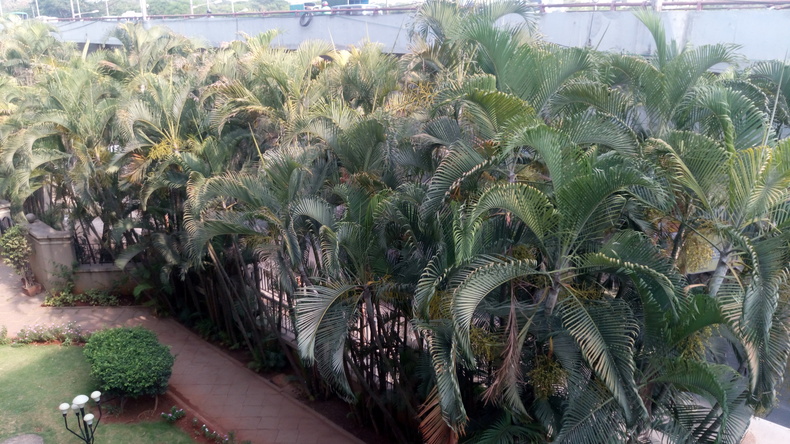 Creo Mark 1 camera sample (tap to see full size)
In lower light, photos become even worse, which is less than ideal considering that a lot of people do take photos indoors with friends. The panorama mode and 3D photos are easy to take, but the results were less appealing in both cases.
Creo Mark 1 camera sample (tap to see full size)
For many people, the camera makes or breaks smartphone, and for that reason, the Creo Mark 1 might not be the top choice.
Performance
The phone has a good set of specifications on paper, but the Creo Mark 1 didn't set our benchmark charts on fire. For example, its AnTuTu benchmark score was 41,206; Quadrant gave us 9,034; and GFXBench T-Rex ran at just 11fps.
It's worth noting though that benchmarks rarely tell the full story. We used the phone for over a month, and never felt that lag was a problem with day-to-day usage. Typical phone usage isn't all that demanding - answering calls and writing emails are functions that really don't tax most modern devices, even budget phones. Gaming wasn't a problem and we tried a number of popular games that all ran perfectly well, and we did not have any problems with long load times.
The downside we faced was a number of random bugs - for instance, the phone froze entirely while ringing, twice during our month-long test period. We could not answer or reject the call, or turn the phone off - all we could do was let it ring and ring and ring, until the caller gave up, at which point the phone suddenly rebooted. There was also a strange bug with notifications - while they worked perfectly most of the time, they would sometimes stop coming through altogether when connected to Wi-Fi, and then suddenly come all in a rush once the connection switched to mobile data.
The battery lasted just under 6 hours in our standard video loop test, which isn't great either. The culprit is likely the QHD screen, which also really hurts the battery life on several flagship phones. The phone will usually kept us going till around 6PM on a typical workday, but doing anything taxing such as playing a lot of games or watching HD movies on Netflix made the battery level drop much more quickly. You'll want to keep the charger with you at all times and fit in a short charge at some point during the day if you want to go out at night.
But there's a reason that Samsung and other companies continue to use QHD, despite the downsides - it's pretty much a must for virtual reality. Samsung's Gear VR headset requires the screen to be of that resolution, and we've often used an LG G3 for VR with a Cardboard headset for the same reason. Split across two eyes, a 1080x1920-pixel display simply doesn't look good enough.
Unfortunately, the Creo Mark 1 cannot be used for VR for now. There seems to be some issue with its gyroscope, at least when used with a Google Cardboard headset. Up becomes down, left becomes right, and the sensor keeps drifting no matter what you do, meaning that it's impossible to use this phone. We didn't have this problem with some games, so it's not entirely clear what's going wrong. Whatever the case, the QHD screen serves only to look good, but it doesn't make a huge difference when you're watching movies or writing emails, and certainly impacts battery life.
The phone also heats up a lot while charging - there's a quick charger, and plugging it in for an hour means you're almost entirely topped up - but this isn't unusual and we've seen almost every other Android device with quick charging warm up quickly.
In terms of general performance, there's a lot to like about the Creo Mark 1, and despite the unimpressive numbers in benchmarks, we didn't really have any issues with it when running apps or in day to day usage.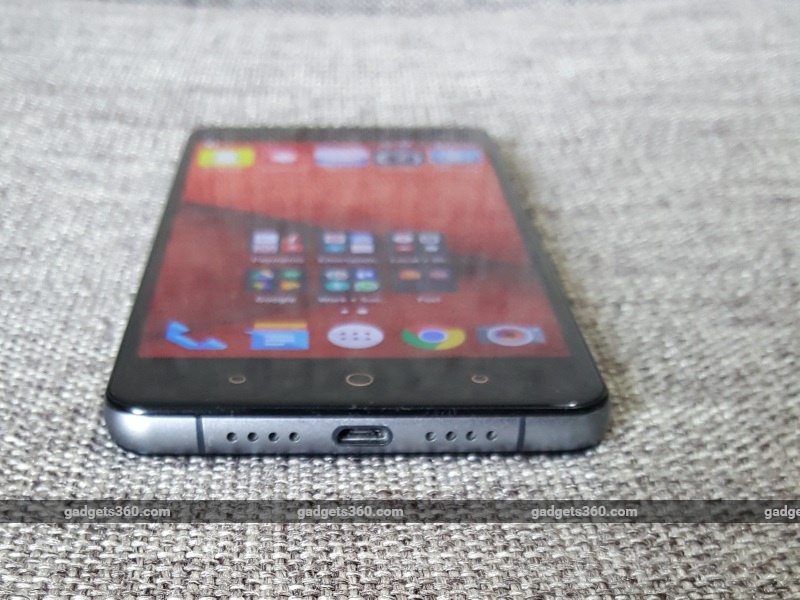 Verdict
The Creo Mark 1 is a phone that's easy to like - it looks physically appealing and the software customisations are thoughtful without detracting from the core Android experience. However, the big selling point of this phone is not hardware, but rather software - and that's where a little more polish is still needed. The Mark 1 has potential, and that makes it all the more frustrating when you come across bugs and issues such as the random freezing or the VR-related problems
The Creo team has a plan in mind for making the phone a lot better as time passes, but as of date it's too soon to say whether that vision will work out or not. That said, the team is promising monthly updates and it has already rolled out improvements to features like the camera and battery life through the course of our test period, so it's clear that Creo is taking its vision seriously for now.
Should you buy this phone? Not if you care for the best specs and best benchmarks. On the other hand, if you're looking for a mostly hassle-free phone that comes with some cool bells and whistles now and the promise of more to come down the line, then the Creo Mark 1 might prove to be quite interesting.