2013 is turning out to be the 'Year of the Phablet' with not just big brand names like Samsung (that started it all with the Galaxy Note) and Huawei launching 5-inch devices but also device manufacturers on home soil. Micromax, Karbonn, Spice have marked their entrance into this territory.
A recent entrant that made its debut in the once-niche segment is Byond Tech that literally carved the category into its device name with the Phablet PIII and the Phablet PII.
While the PIII comes with a massive 6.3-inch display blurring all lines between a smartphone and tablet, the PII sports a 5.7-inch screen. We're reviewing the more recently launched Phablet PII to see how it fairs amongst competition in a similar gene pool.
Design/Hardware
A first look at the device and all you think of is Samsung. It bears an uncanny resemblance to the Galaxy Note II in its entire look and feel, except that the screen is slightly bigger at 5.7-inches, thicker at 9.7mm and there is no S-Pen of course.
Let's begin with the box contents. It comes with a free flip cover (like the Galaxy Grand Duos), a charger/Micro-USB cable, in-ear-earphones (again just like Samsung, but with the Byond branding), 2,200mAh power bank (portable charging device), user manual, warranty card and a 2,500mAh battery.
At 9.7mm thick, it is close to the Galaxy Grand Duos (
Review
I
Pictures
) but is pretty bulky at 215 grams. If users with small hands are planning on buying the device, just carrying it around could become quite cumbersome let alone other tasks such as taking pictures or typing.
The device sports a similar front and back like the Note II and even the 5-inch Galaxy Grand Duos with the front-facing camera, earpiece and other sensors on top, the central physical home button and capacitive touch buttons for back and menu on either side. Unlike Samsung, the company's Byond branding is seen at the bottom of the screen.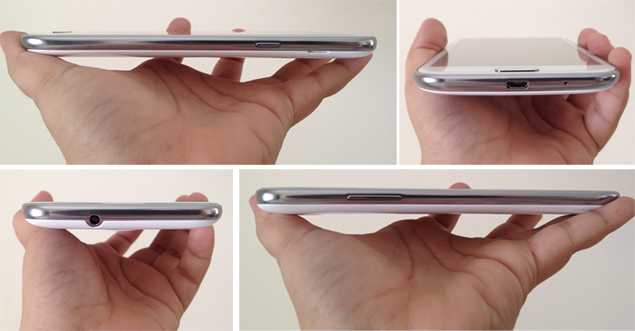 The Phablet PII also has a chromium strip running along the bezel separating the front and the rear. The back panel is plasticky and attracts greasy fingerprints. It features an 8-megapixel camera with LED flash, the Byond branding etched on a silver-stripped background and the bottom has the loudspeaker opening.
Coming to ports, the right side has the power/wake button, the left houses the volume rocker, the top makes room for the earphones jack and the base is reserved for the Micro-USB/charging port along with the microphone.
Opening the back panel was quite a task. We'd advise a word of caution, you might end up chipping your fingernails. It opens from the left and once you've accomplished that, you'd witness the microSD and the dual GSM SIM slots arranged in a linear fashion adjacent to each other.
The company has provided a free scratch guard that comes neatly stuck on the device screen. Overall, the build quality is sturdy and the device does not give you a cheap feeling.
Display
The Phablet PII sports a 5.7-inch HD IPS display and it doesn't disappoint. The device incorporates a PDA Arc touch screen, which supports 5 point multi-touch. Icons, images and videos look sharp and crisp at a 720x1280 pixel resolution. Colours and contrast in the images are rendered well and there is no visible pixilation, despite the low ppi.
Text, however, appears slightly blurry when you open web pages but once you pinch-to-zoom it appears more crisp.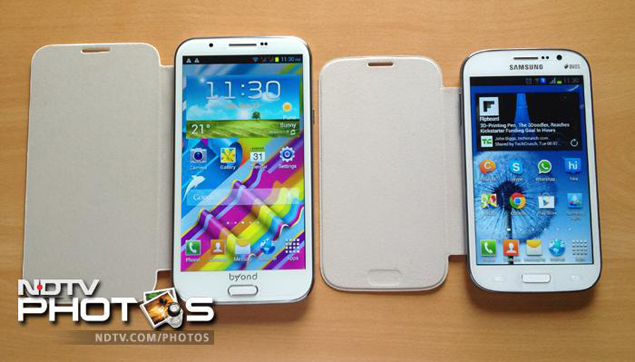 Under sun visibility was better when compared to the Galaxy Grand Duos at full brightness levels even though the screen is reflective. The device has wide viewing angles thereby aiding in the watching experience.
The touch sensitivity however is not that great. At times you find tapping the icons more than once to get somewhere.
Camera
The Phablet PII comes with an 8-megapixel rear camera aided with an LED flash, autofocus capabilities and HD recording.
Outdoor shots, especially macro ones, in broad daylight are pretty decent, though indoor shots appear a bit dull and washed out. Those taken under low light conditions are also average and not that high quality. Colour reproduction is sub par and clearly not the best for a camera of this resolution.
The device offers limited and simple software functions such as White Balance, Flash mode, Scene mode, Panorama and ISO. It also has continuous shot mode that allows you to take upto 16 shots at a time, though there is considerable amount of lag between 2 consecutive shots.

Other camera settings include self-timer, brightness, hue, saturation and more. You can also add filters for different colour effects like sepia, aqua, negative, mono, blackboard and whiteboard.
The device also boats a 3-megapixel front camera that was more than adequate for video calling or decent self-portraits.
Software/UI
The Phablet PII comes with Android 4.1.1 Jelly Bean pre-installed. What is interesting is that it is layered with a similar looking TouchWiz UI like Samsung. Various icons and the overall look bears uncanny resemblance to the TouchWiz UI found in most Samsung devices. We compared it to the screen of the Galaxy Grand Duos and you can see from the screenshots below what we mean.
The notification tray includes toggles for settings such as Wi-Fi, Bluetooth (BT), GPS, Data and Airplane mode. Additional toggles for Brightness, Screen timer, Auto Rotation along with phone profiles for General, Silent, Meeting and Outdoor are also present.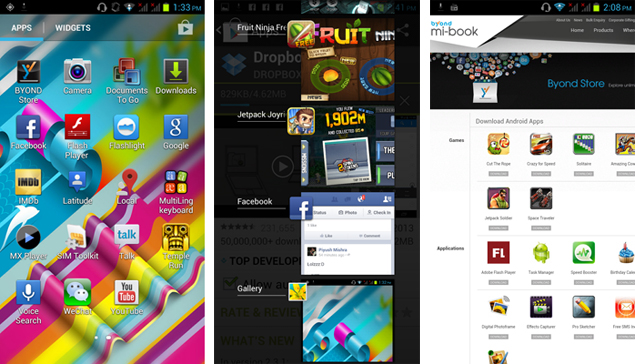 The UI isn't as smooth as you'd expect with a sluggishness that is quite noticeable especially while switching between the five customisable home screens. There is more than sufficient space to populate these screens with apps and widgets as per your convenience and preferences. Pinch zooming on any one home screen offers quick access to other screens listed as tiles.
Switching between apps is possible by long-pressing the physical Home button. Once the app list shows on-screen, you can close background apps by a single left swipe.
Holding the power and lower volume button enables you to take screenshots and the images are imported by the Gallery app, which also lists other pictures in case you choose to sync your Facebook and Google accounts.
The Phablet PII comes with the stock Android browser that allows you to open multiple tabs, save pages as bookmarks and even for offline reading. You can share a page via multiple media options such as Gmail, Bluetooth, Twitter and Facebook amongst others.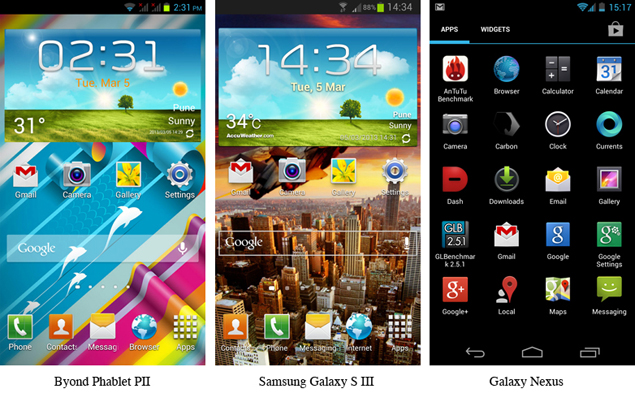 Those who prefer browsing on Chrome, can head over to the Google Play Store as the Chrome browser isn't pre-loaded on the device. Speaking of search, Google Now is definitely an additional advantage based on your usage of the device.
Apart from the Play Store, the device also features the company's own BYOND Store app that redirects you to the web version of the store. It has various apps listed under different genres like Games, Social Networking, Entertainment, News, Kids, Health, Finance, Travel and Local.
Other apps on the device include the usual Google package (Gmail, Maps, YouTube, GTalk), games such as Angry Birds Rio, Temple Run, utility apps like Documents to Go, Flashlight, Adobe Reader, Flash Player, MultiLing Keyboard and Sound Recorder. Music enthusiasts will find the stock Music app and FM Radio. Social networking needs are taken care of with Facebook, Twitter and WeChat.
Performance
The Phablet PII is powered by a 1GHz dual-core processor alongside 1GB RAM. There's 4GB of internal storage expandable upto 32GB via microSD card.
Multitasking on the device isn't a problem and there weren't lags as far as watching videos, browsing the web or playing casual games like Temple Run and Angry Birds was concerned.
The device, however, had a tough time rendering heavy games like Dead Trigger and the experience wasn't smooth, as you'd like for a game like this.
In case you're chatting with a friend, typing messages, especially in the landscape mode for a while can be tedious since the device is pretty heavy. Software wise, the keyboard typing experience is pleasant. You can choose input methods such as Google Voice typing, MultiLing Keyboard or a basic standard English keyboard.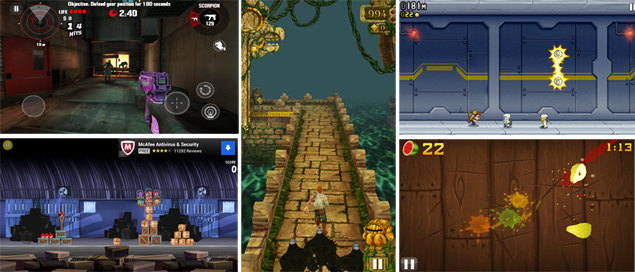 The FM Radio on the phablet has some troubles catching frequencies even when there are decent signals. A big flaw is that you cannot delete the list of unwanted frequencies that seem to be self-proclaimed by the device. You can set only 5 stations as favourites.
The device comes with a 2,500mAh battery that will easily last a day on a single charge all the while you're making calls, watching videos, or playing games. Byond is also bundling a 2,200mAh power bank, which works as a portable charging device in case you forget to carry your charger along.
But make sure that the power bank is adequately charged that can then charge your phone. The power bank has an LED indicator that flashes red when low on charge and a static green when fully charged.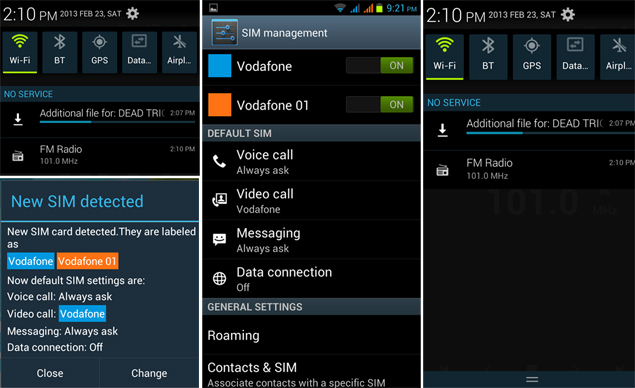 The Phablet PII is a dual-SIM (GSM+GSM) device and supports quad-band GSM networks. It has single active or dual standby functionality, meaning you can choose which number you'd like to keep active at a given point in time.
The call quality on the device is good and we didn't experience any call drops except for a few weak signal areas. It also performed well enough on both Wi-Fi and 3G networks. Other connectivity options supported are GPRS, EDGE, USB, which includes tethering and Bluetooth.
The audio quality is loud enough on both the in-ear earphones and the loudspeaker. The earphones do take some getting used to in terms of fitting into the ears. The video playback was also decent with the device supporting MP4 and 3GP formats. Audio files supported include MIDI and MP3.
Verdict
The Phablet PII seems like a rip off of the Samsung Galaxy Note II and the Galaxy Grand Duos in terms of both hardware and software design. The device is pretty big and bulky at the same time. Though it offers good display and a sturdy build, the camera performance, and the sluggish UI tend to weigh it down. The overall performance is also pretty average.
Google no doubt backs up the app ecosystem, but most Android devices today offer more or less the same and the Phablet PII brings nothing different to the table in that sense.
The MRP of the Phablet PII is Rs. 16,499, though you can acquire it for a best buy price of Rs. 14,999. The company is offering a free flip cover and a 2,200mAh power bank out of the box. It still doesn't seem convincing enough to purchase the device.
Micromax is currently offering the A116 Canvas HD (
Review
I
Pictures
), which has a 5-inch HD display that seems to be the best choice amongst phablets so to speak for an irresistible price of Rs. 13,990.
In case, you're looking to buy a phablet beyond 5-inches, then you could perhaps consider the Spice Stellar Pinnacle, which boasts slightly better specs. on paper at least. It has a 5.3-inch qHD IPS display, a higher 1.2GHz dual-core processor with 1GB RAM, 8-megapixel rear and 5-megapixel front cameras, 1GB RAM, 16GB of internal storage expandable upto 32GB via microSD and a 2,550mAh battery. Though it ships with Android 4.0 out of the box, it is upgradable to Jelly Bean
If you're looking at exploring your options even further, you can check out other
budget phablets for under Rs. 15,000
in our feature section.


Byond Phablet PII in pictures
Price:
Rs. 14,999