It seemed for a long time as though this day might never come, but we're finally able to write about BlackBerry's recovery. After years of battling irrelevance, making bad decisions and watching its market evaporate, the company seems to have found a stable path. It has pivoted from being primarily a handset maker to a provider of services for all platforms, and the strategy seems to be working.
In terms of hardware BlackBerry has narrowed its focus to business users and the enterprise, and is committed to staying out of the sub-Rs. 10,000 consumer market which it clearly cannot compete in. Each product it now releases is crafted for a specific audience and delivers exactly what is demanded of it - the innovative BlackBerry Passport (Review | Pictures) is for those who demand top-notch quality and want to stand out; the BlackBerry Classic (Review | Pictures) is for QWERTY loyalists who could never let go, and now the BlackBerry Leap is for touchscreen natives who feel that there might be something better out there than the current status quo.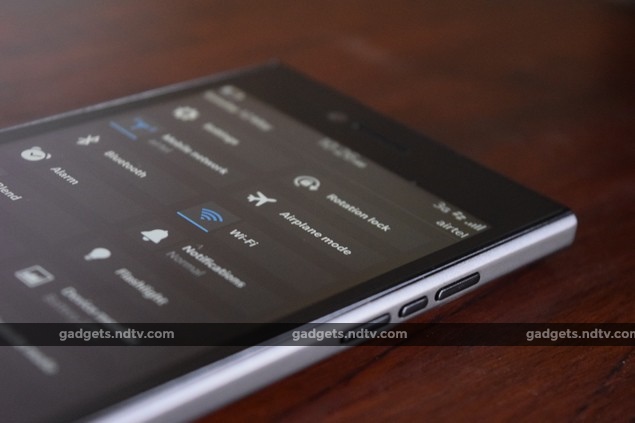 In identifying specific niches and refusing to play the price and popularity games, BlackBerry is missing out on the mainstream. However, it knows that there are a lot of people who want to be better and more responsive at work, and there are companies that are willing to pay good money to ensure their communications are secure.
So with full knowledge that the brand new BlackBerry Leap is not meant for value-conscious mainstream buyers, we embark on our review.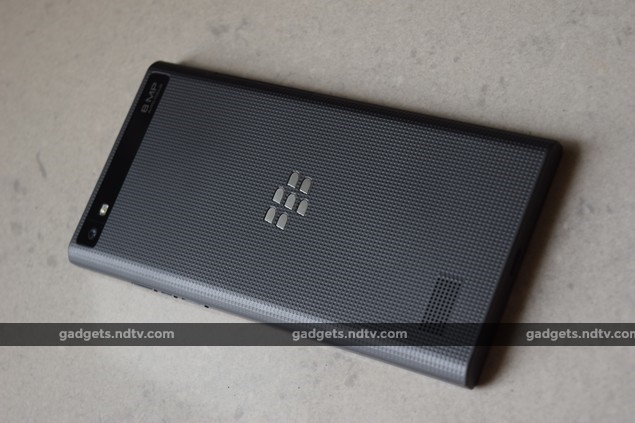 Look and feel
The BlackBerry Leap is an elegant phone, with a slick black front face and strong lines. There's nothing to see with the screen off except a bright silver company logo on the bottom. The sides and back have a very grippy rubber finish which contributes to the overall premium feel. You can't take the back off, so the battery is inaccessible. The only part of it that we didn't like was the huge "8 MP auto focus" label printed near the rear camera which seemed out of place on an otherwise sober, professional-looking device.
The Leap is strikingly similar to last year's BlackBerry Z3 (Review | Pictures) model, and if you didn't know exactly where to look you wouldn't be able to tell the two apart. The Leap is only a few millimetres wider and a few grams heavier, but little things are different, such as the power button being on top rather than the side, and the SIM and microSD card flap swapping places with the volume controls, which are now on the left and right sides respectively. There's still a 3.5mm audio jack on top and a Micro-USB port on the bottom.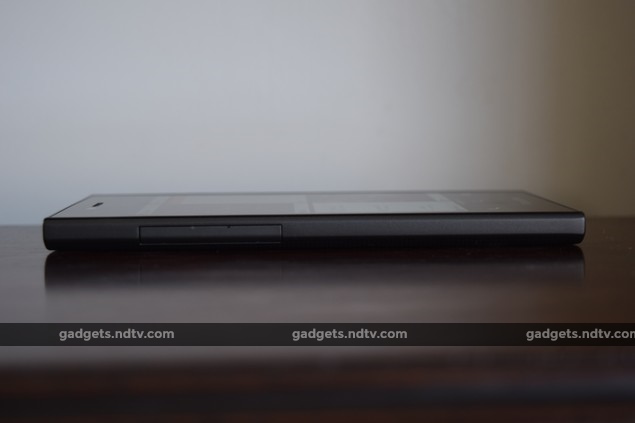 The Leap will be available in dark grey and white, and we much prefer the former. It feels solid and reliable, though it is a bit too large to use comfortably with one hand. Considering the Z3 was launched only in a few Asian markets but was well received for its build quality and style, it makes sense for the company to recycle the look. What's surprising is that the Leap is not built by Foxconn as the Z3 was.
Specifications and software
The two phones have more in common than just looks. While the Z3 was meant to be as affordable as possible (and, in our opinion, cut too many corners to justify its price) the Leap is not quite so constrained. The first thing we noticed was that the display was much improved. The 720x1280 resolution isn't groundbreaking for a 5-inch screen, but it's far better than the atrocious 540x960 screen of the Z3. Text is crisp enough and colours pop nicely without being too harsh, which makes for a pleasant overall experience. Sunlight legibility could have been a bit better, but things are okay as they are.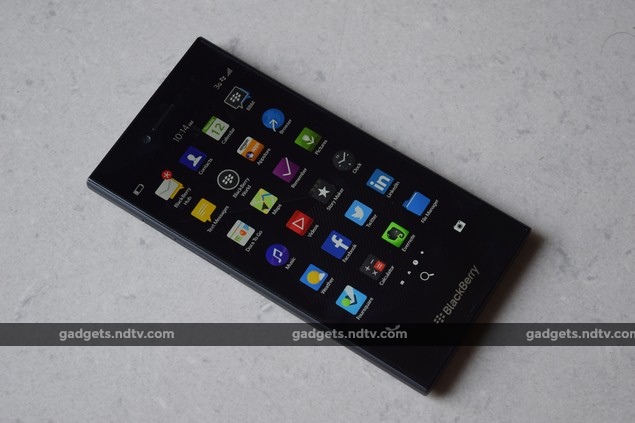 Unfortunately that's pretty much where the improvements end. We are truly amazed that BlackBerry continues to use the now-ancient dual-core 1.5GHz Qualcomm Snapdragon S4 Plus processor - MSM8960 to be precise - which has been in use since the BlackBerry Z10 launched over two years ago. No other company on the planet has such a long lifecycle, and if BlackBerry wants to compete with similarly priced phones in terms of performance, this is not the way to go.
The rest of the specifications are somewhat modern, but definitely not high-end. There's 2GB of RAM, 16GB of internal storage, support for microSD cards of up to 128GB, Wi-Fi b/g/n, and Bluetooth 4.0. Unfortunately, LTE is not supported the 2300MHz Indian band. The non-removable battery has a rated capacity of 2,800mAh. You get only a proximity sensor and a basic accelerometer. Overall, we're unimpressed with BlackBerry's warmed-over offering.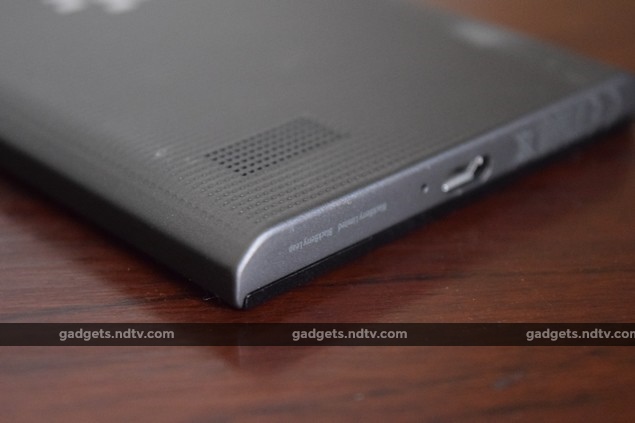 The company claims that the value of its platform lies in software and services. As the only mobile handset player other than Apple to control its hardware and operating system, BlackBerry hopes that people will buy the Leap for its ability to help them get work done. BlackBerry OS 10.3.1 has a lot of neat tricks including the ability to run most Android apps and a central communications hub that lets you quickly see your messages across services and react to them quickly. We still aren't convinced that gestures are the most natural way to get around a smartphone OS, but on the other hand the touch keyboard is one of the best we've ever used.
Not much has changed in terms of features since the Z3 was launched, so you can read all about the platform in our review of that phone. One difference is that the limit of four app tiles on the first menu page has been raised to eight, most likely thanks to the increase in available RAM.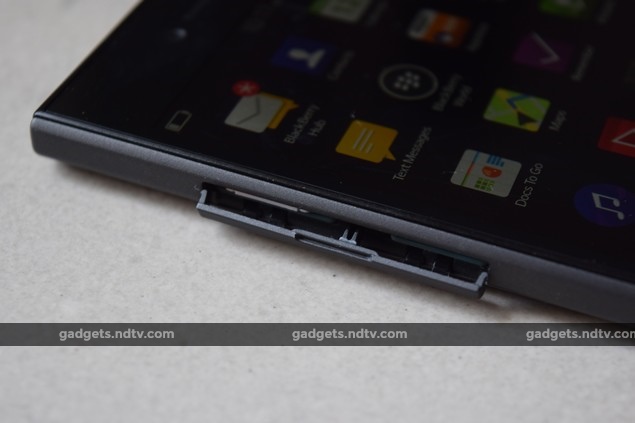 Performance
Predictably, the BlackBerry Leap lagged a little in day-to-day use. There were noticeable pauses when launching and switching between apps, and some of the OS animations seemed to drag on just a bit too long. Flipping around through the interface and using the Hub or other simple apps didn't present any problem though.
Android benchmarks might run, but wouldn't paint a true picture of this phone's capabilities. The cross-platform browser-based SunSpider and Mozilla Kraken tests gave us scores of 1284.8ms and 26889.7ms respectively, which are roughly what we see from ultra-budget Android phones today.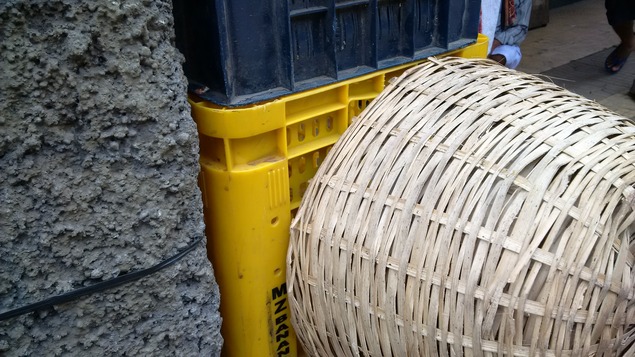 (Click to see full size)

The battery lasted 7 hours, 19 minutes in our video loop test which is respectable but not spectacular. That result represents about a full day's worth of non-intensive usage, but the phone did seem to last longer than that in the real world. Call quality was excellent.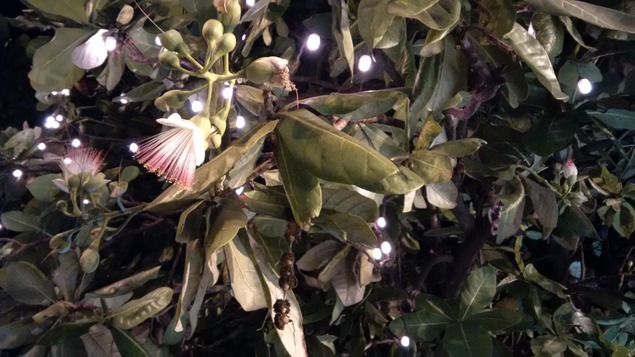 (Click to see full size)
The camera is surprisingly competent - not great, but definitely good enough for casual shots now and then. Textures come out nicely and there's very little noise and compression. The only thing it can't seem to handle well is frames with subjects in motion. Even at night, we were pleased with the photos we were able to take. Video is taken at 720p by default and is sharp but a bit shaky.
Verdict
In terms of price alone, the BlackBerry Leap is up against illustrious Android devices such as the OnePlus One (Review | Pictures). Even Android phones at half this price or less offer a competitive experience. You would really have to be committed to the BlackBerry platform in order to justify a purchase, and BlackBerry's biggest challenge will be to convince people to give it a try.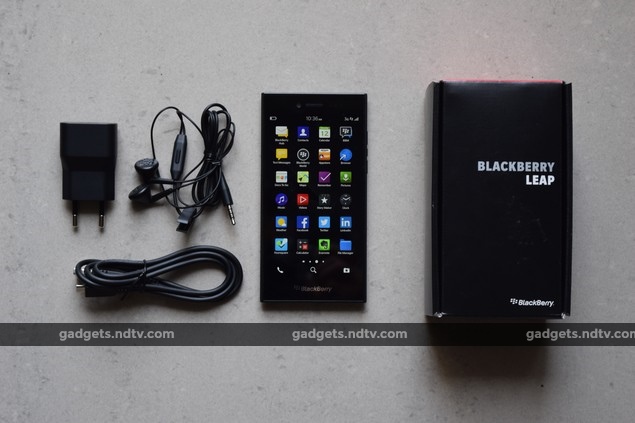 Thankfully, there definitely are people who are that committed and even more who could be. The target audience is young, non-QWERTY-bound professionals who see value in paying for a hardcore business tool that could give them an edge, and this might be the right smartphone for the job. There's also the chance that corporations attracted by the prospect of secure communications and manageability will buy them in large numbers for employees.
Even if the Leap is only ever considered a secondary phone and only ever used for work, BlackBerry still wins. That's enough to sell products, and is enough to keep BlackBerry relevant. Sure, we would like to see the company get aggressive and go for competitive mainstream pricing, but this is the path it's chosen and at least it's still alive.