Earlier this year, BlackBerry unveiled the BlackBerry Z10, Q10 and Q5 smartphones that run on BlackBerry 10 OS, the company's brand new mobile operating system. However, BlackBerry did mention that it will continue to sell phones that were based on its legacy OS, BlackBerry 7 OS.
It's worth pointing out that the Canadian device maker was able to increase its market share in emerging markets like India, South East Asia and Africa by selling cheaper devices running its legacy OS at a time when it was being ditched by customers in mature markets like the US and Europe with the rise of Android and iOS. It priced the BlackBerry 10 devises much higher, positioning them in the premium segment, so new devices based on older versions of its OS were perhaps part of its strategy to take care of the budget and mid-range segments.
The BlackBerry 9720 is the first among these devices. Unlike previous BlackBerry OS 6/ 7/ 7.1 devices, the 9720 doesn't identify its target segment with a prefix such as Bold or Curve. That's probably because we're unlikely to see any high-end (Bold) devices running legacy operating systems. Instead we're likely to see only economy phones in the segment.
We received the review unit of the
BlackBerry 9720
, and have put it through its paces since. Will the 9720 be the much needed saviour to pull the younger crowd back to the brand as BlackBerry goes into crisis mode? Is it the best low cost device for people who need a phone with a hardware keyboard? We try to find out in our review.
Design/ Build
The BlackBerry 9720 looks pretty similar to the new BlackBerry Q5 except for the hardware buttons that sit immediately below the screen. The phone is available in Black and White variants, and we got the latter colour option as our review unit.
The BlackBerry 9720 features a touchscreen as well as a hardware (QWERTY) keyboard. Just like the Q5 the phone is a bit less curved and features a hard plastic keyboard.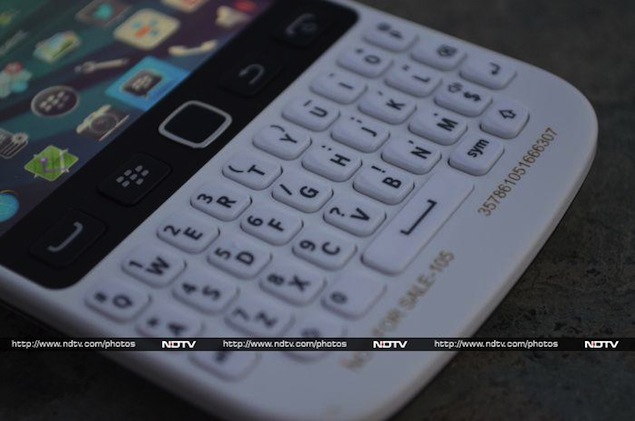 The front of the BlackBerry 9720 features a 2.8-inch touchscreen, 35-key keyboard, notification LED and a visible sensor, sitting above the display. The phone provides the auto-brightness feature as well, so it could be the ambient light sensor that's visible, though with the touchscreen, a proximity sensor would also be fitting. The four usual hardware keys for accepting calls, accessing the menu, going back, and rejecting calls are placed below the display along with the optical trackpad.
Interestingly, the BlackBerry 9720's display panel and the hardware keys are all Black in colour contrasting the phone's White colour.
Just like the BlackBerry Q5, the keyboard on the 9720 is arranged in a more linear fashion (than the previous curved keyboards seen on the Curve series) and the keys are well-spaced out. The keys offer good tactile feedback and are large enough for convenient and quick typing. The keys provide solid tactile response, with a 'click' feel and sound, offering a great typing experience. This is a major plus point, as the hardware keyboard is one of the biggest USPs of this device.
The BlackBerry 9720 features a black-coloured rubberised frame in the middle that also houses some hardware keys and ports. It also helps to make the device easy to grip.
The right-side of the 9720 houses the volume rocker keys with a mute key sitting between, and a camera shortcut key that can also be programmed to perform other functions.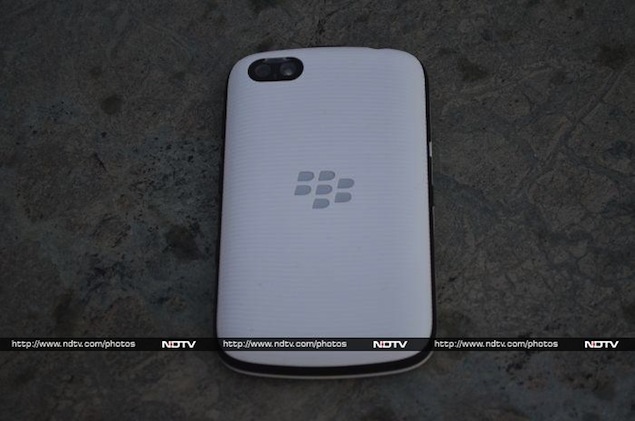 The Micro-USB port and a shortcut key that launches BBM (BlackBerry Messenger) by default are located on the left-side of the 9720. The 3.5mm headset jack and the Screen lock key sit on the top.
The BlackBerry 9720's back features a removable plastic cover that sports a rubberised texture and a design featuring ribbed lines. The silver-coloured BlackBerry logo is embedded in the middle. The back sports a 5-megapixel camera and an LED flash.
We were not happy with the 9720's back cover, as it did not fit securely on the phone, and felt like it will fall off any moment. We're not sure if this issue was just limited to our unit, and the flaw becomes our single biggest gripe with the build quality of BlackBerry's latest entry-level handset.
Display
The BlackBerry 9720 sports a 2.8-inch IPS LCD display with a resolution of 360x480 pixels, boasting of a pixel density of 214ppi, and providing some decent viewing angles.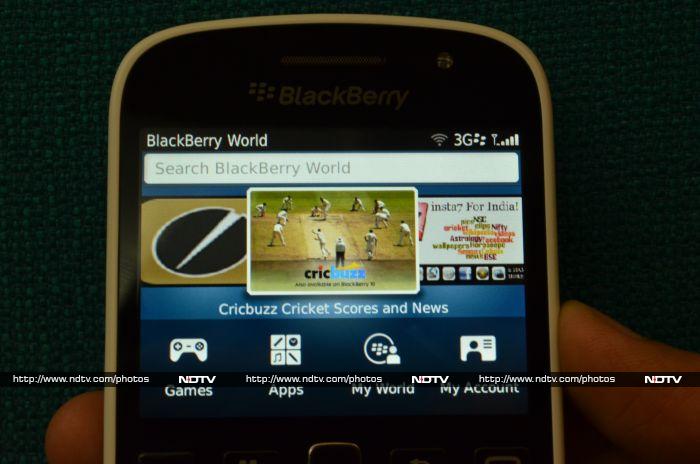 The 9720's display offers good sunlight legibility and text, images and videos appear sharp and clear. However, with its small display, the 9720 is clearly not targeted at people who primarily use their phones for watching multimedia content.
The touchscreen of the BlackBerry 9720 offers a responsive and smooth touch experience, which we did not experience any problems with.
Camera
The BlackBerry 9720 sports a 5-megapixel rear camera that comes with an LED flash.
The BlackBerry 9720 camera app offers different scene modes including auto, face detection, portrait, sports, landscape, party, close-up, snow, beach, night and text.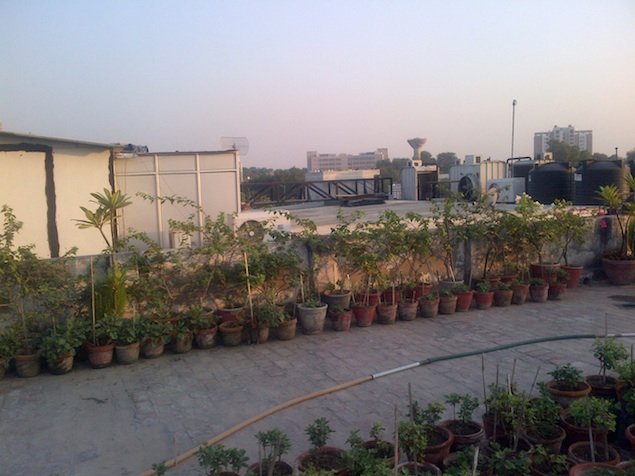 The 9720's camera is fixed focus, which makes close-up and macro shots seem flat. We'd have preferred an autofocus camera instead, offering more options. It's good enough for taking a quick picture and sharing it with your friends via email and social networks.
Pictures taken with the BlackBerry 9720 outdoors in daylight were decent, but the ones taken indoors and in low light conditions were grainy and lacked detail.
The video mode allows you to shoot VGA resolution videos. Videos shot through the phone were of average quality. There's no front camera on the 9720.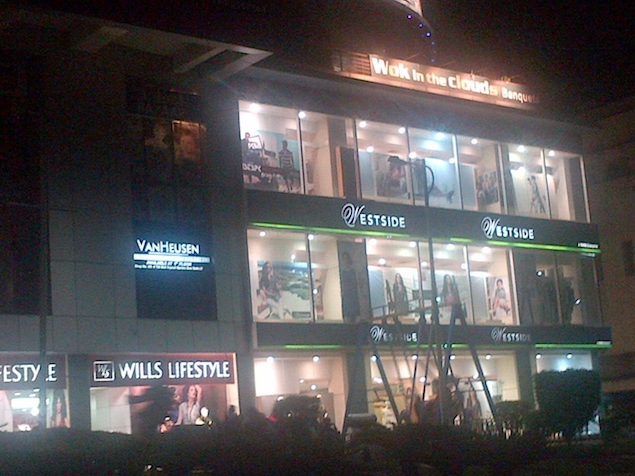 We expected a device in this price range to sport a better camera, and the BlackBerry 9720 disappoints in this regard.
Software/ User Interface
The BlackBerry 9720 runs BlackBerry's legacy OS, BlackBerry 7 OS (version 7.1). If you've used a BlackBerry Curve or Bold device before, than you'd be at home with the 9720's software.
The interface offers a homescreen, a status bar that also offers quick toggles for settings when tapped (or clicked), a notification pane and an app drawer that arranges app icons in various panels.
The build of BB 7.1 OS that comes with the BlackBerry 9720 also features a different BlackBerry 10-style lock screen that has a camera shortcut icon. You can swipe up to unlock the screen.
Universal search is integrated with the OS, so when you type the name of a contact, app or any other keyword when you're at the home screen, the BlackBerry 9720 offers relevant results.
The OS comes with social networking apps like Twitter and Facebook, and Documents to Go and Foursquare. The popular BlackBerry Messenger, which is a major USP of BlackBerry devices, is also present.
It's worth pointing out that you'll need to activate a BlackBerry service plan to access email and BBM on the BlackBerry 9720. Even Facebook and Twitter access require the service to be activated, though some additional tweaks can get them to work with certain data plans.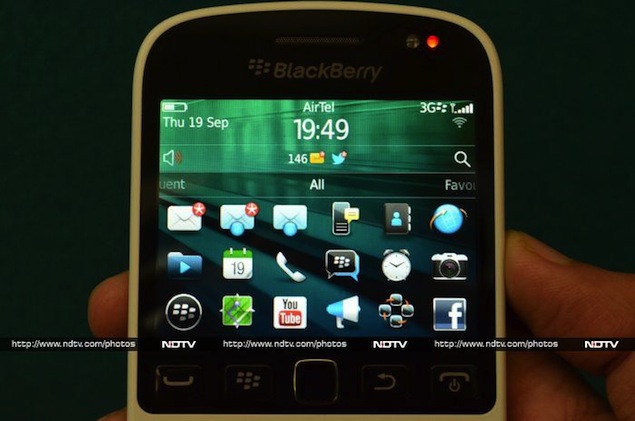 There's also a new app on the 9720 called Multicast, which allows you to post a status update on multiple social networks in addition to the usual Social Feeds app that brings updates from all configured social networks including Twitter, Facebook and BBM.
The BlackBerry 7.1 OS also comes with Wi-Fi Hotspot functionality for sharing the phone's Wi-Fi connection with other devices.
We tested BlackBerry Bridge with a BlackBerry PlayBook tablet and found that it works well. You can connect your PlayBook to the Internet via the phone or control it through the Bridge app's touchpad, and manage and reply to emails, messages and BBM messages, and manage calendar entries through the PlayBook.
Overall, BlackBerry 7.1 OS looks and feels primitive compared to modern smartphone operating systems like Android, iOS and Windows Phone (or for that matter, even BlackBerry 10 OS). The Canadian smartphone manufacturer would do well to abandon the legacy platform altogether, following the current Android example of recent iterations available even for entry-level devices.
Though BB 7.1 OS supports multitasking, apps offer limited functionality and except for chat and social networking, it doesn't offer any unique or value-adding capabilities. Notably, the native web browser doesn't come with Adobe Flash.
Performance
The BlackBerry 9720 is powered by an 806MHz Tavor MG1 processor and has 512MB of RAM, apart from 512MB of built-in storage that's expandable up to 32GB via microSD card. While BB 7.1 OS doesn't need high-end hardware to run smoothly and third party apps are not that demanding, we feel that BlackBerry could have added more memory for smoother multitasking.
The overall experience of navigating through the BlackBerry 9720's interface was satisfactory and we didn't see the spinning clock or hourglass in our use. However, opening multiple tabs on the web browser slowed down things and you'll still see a lot of checker-boarding while browsing graphics-heavy websites. Also, installing certain apps requires the phone to restart, leaving you disconnected for about a minute.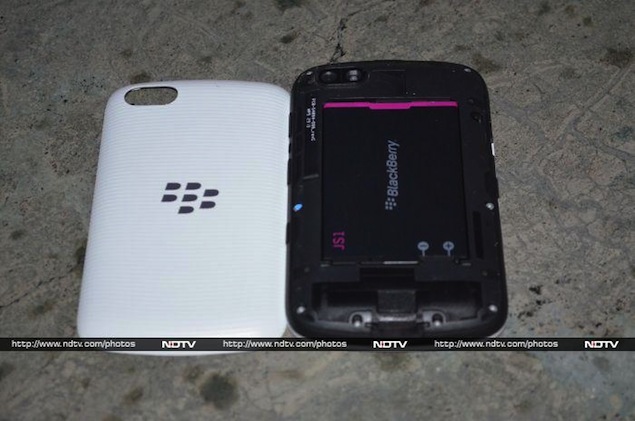 The BlackBerry 9720 is responsive otherwise, and we did not experience any lag while opening apps, navigating the menu, and even playing games like BrickBreaker.
We were not able to play HD (720p and 1080p) clips on the BlackBerry 9720, with formats like MOV and MKV not being supported natively, though some formats like AVI and low-resolution MP4 did play fine, in standard definition.
The speaker outlet on the BlackBerry 9720 delivers good quality sound at high volume levels, thanks to the placement of the speaker outlet.
Call quality was very good and the phone is able to latch on to cellular networks even in weak signal areas.
The BlackBerry 9720 also includes FM radio functionality, which users in India would appreciate. The phone doesn't include NFC functionality however, not too surprising at this price range.
The BlackBerry 9720 comes with a 1,450mAh battery, and in our usage, it lasted us a full workday. We charged the phone in the morning, and with medium to heavy usage, including 1-1.5 hours of phone calls, synching two email accounts, playing some music, gaming, taking some photographs, receiving Twitter notifications, and using BBM and WhatsApp chat, the phone lasted a good 10-11 hours.
It's worth pointing out that we had turned off Wi-Fi and auto-brightness, and the phone was hooked to a 3G network with the screen brightness at the highest level. Altering these settings might help in running the phone for a longer duration, depending on your usage pattern.
Verdict
The BlackBerry 9720 is a decent hardware QWERTY keypad smartphone, but unlike its BlackBerry 10 siblings, it does not deliver when it comes to multimedia consumption, and offers a primitive operating system compared to Android, BB10, iOS and Windows Phone based smartphones.
BlackBerry has obviously tried to reduce the price point of touch-enabled hardware QWERTY phone with the 9720, prior to which, touch functionality was restricted to the Bold and Torch series smartphones.
The 9720 sports a better screen than the Curve 9320, but it enters the market much after. At a price of Rs. 16,000, the 9720 is overpriced if you look at its hardware specifications and feature set. We also don't like the 9720's flimsy back cover.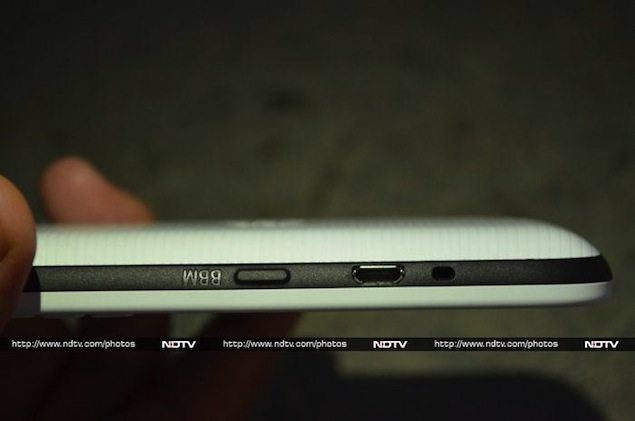 It becomes a difficult to recommend this phone to anyone who is not looking for a QWERTY keyboard and doesn't make heavy use of messaging features majorly, simply because of what's being offered by other handset makers at this price point.
However, if you're a messaging junkie (though BBM is on its way to Android and iOS), like the comfort of a hardware keyboard coupled with a touchscreen, and don't want to spend too much, this phone's a pretty good option for you, excluding a few outdated Android devices.
If you don't need a touchscreen, the
Curve 9320
is a good alternative and is priced around Rs. 2,000 less. If you don't need 3G, then the
Curve 9220
is the cheapest BB 7.1 OS-based phone available, at about just Rs. 9,000.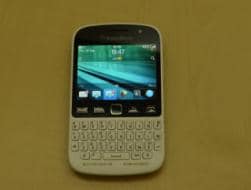 BlackBerry 9720 in pictures