There is no denying that smartphones are evolving at a rapid pace. We constantly see manufacturers release models that are faster and better than the ones that came before. While most companies focus on improving existing features, there are a few who try to take their phones down different paths. We have seen manufacturers like LG and Motorola try modular approaches, Nextbit with cloud storage and Lenovo with Google's Project Tango for augmented reality. Asus seems to have joined the list with the ZenFone AR, the first device to support AR (Augmented Reality) and VR (Virtual Reality).
The ZenFone AR isn't the first AR device, it was the Lenovo Phab 2 Pro which debuted Google's Project Tango on a smartphone. Google picked Asus to make the next Tango phone, and the ZenFone AR is the result of the collaboration. But does this device make a strong case for augmented reality on smartphones? We find out.
Asus ZenFone AR look and feel
While today's flagship devices are all metal and glass, the Asus ZenFone AR stands out thanks to its burnished leather back. The ZenFone AR does not feel slippery and its gunmetal aluminium frame combined with the leather back give this phone a premium feel. It weighs 170 grams and definitely feels solidly built.
The ZenFone AR sports a 5.7-inch display and our review unit came with a glass protector pre-applied, which Asus says will ship in the box for buyers. The capacitive Back and Overview buttons are placed on either side of a physical Home button that has an integrated fingerprint scanner. Above the display is a slightly recessed metal earpiece that picks up pocket lint very easily. Next to that is a notification LED, an ambient light sensor, a proximity sensor, and the 8-megapixel front camera.
The metal frame has antenna bands at the top and bottom, while all the buttons are positioned on the right. Considering the huge footprint of the device, the power button is well positioned but you might have to stretch a little to hit the volume buttons. At the bottom, the ZenFone AR has a USB Type-C port, 3.5mm headphone socket, primary microphone and speaker, while the top has a secondary microphone for noise cancellation. The left side only has the hybrid dual-SIM tray, which we found a little flimsy for an otherwise well-built phone.
The huge camera module on the rear has a brushed finish which goes well with the leather back. It houses what Asus calls a TriCam System consisting of a 23-megapixel camera, plus separate motion sensing and depth sensing cameras. All three are protected by sapphire glass. You can also see the laser autofocus window and triple-LED flash. Lower down at the rear, there are Asus and Tango logos engraved into the leather.
Asus ZenFone AR specifications and software
The front of the ZenFone AR is dominated by a 5.7-inch Super AMOLED display with Corning Gorilla Glass 4. The display resolution is 1440x2560 pixels (QHD) resulting in a density of 515ppi. It is crisp to look at and the higher resolution does help the VR experience. We found the screen to have good viewing angles but its size does make it harder to avoid reflections when using it outdoors.
The Asus ZenFone AR uses a 3300mAh battery with a stepped design to make the most of the space available inside its body. There is support for Bluetooth 4.2, GPS, Wi-Fi 802.11ac, and NFC. The USB Type-C port is capable of USB 2.0 speeds and also DisplayPort output over USB. This is a dual-SIM phone with support for 4G and VoLTE. You can pop in two Nano-SIMs or one Nano-SIM and an SD card.
Powering the smartphone is a Qualcomm Snapdragon 821 quad-core processor with two cores clocked at 2.34GHz and the other two clocked at 1.6GHz. Asus told Gadgets 360 that it had to work with Qualcomm and Google engineers to optimize the processor to run AR and VR. The sensors on the ZenFone AR have a higher polling frequency than usual, which helps the device capture motion more accurately. In addition to vapour cooling, the chassis of the ZenFone AR has been made thicker to help the SoC dissipate heat faster. There's also 8GB of RAM, out of which we found 5GB to be free after using the phone all day. There is 128GB of storage which can be expanded using the hybrid dual-SIM slot. The phone accepts microSD cards of up to 200GB.
In terms of software, the ZenFone AR runs on Android 7.0 Nougat with ZenUI 3.5 on top. The user interface is functionally similar to stock Android, but Asus has customised the icons, and there are themes to change its look. There are gestures that let you wake the device by double tapping on the screen or launch apps by drawing alphabets on the screen. One-handed mode makes it easy to use this big phone. Asus has pre-installed apps such as ZenCircle, a social media app; and ZenTalk, which is a community and support app to help with after-sales service. You also get the Beauty Live app, which launched with the Asus ZenFone Live (Review).
Asus ZenFone AR performance, battery life, AR, and VR
While the competition might offer more powerful specifications in this price range, the ZenFone AR is no slouch. The processor is powerful and we did not encounter any lag or stutter when using the phone. We ran our standard set of benchmarks on the ZenFone AR and it managed 156,658 in AnTuTu, as well as 1,798 and 4354 in Geekbench's single- and multi-core tests. In GFXBench, the ZenFone AR returned 54fps for the T-Rex test. We found that the scores were slightly higher than those of the LG G6 (Review).
We played games like Clash Royale, Need For Speed: No Limits, Asphalt 8, and found that the ZenFone AR could handle them really well. There were no frame drops or stutters during gameplay. The phone ran cool most of the time but it did get a little warm after playing Asphalt 8 for long time. We did not see any abnormal battery drain either. In our HD video loop test, the phone managed to go on for 11 hours, 55 minutes. With light to medium use, the device can manage to get through a full day.
Augmented reality (AR) is a way to display digital information over real-world scenes. The Asus Zenfone AR is capable of doing this and it comes with a couple of preloaded AR apps. BMW i-Visualiser projects the BMW i8 or i3 in whatever space you have, letting you examine it from all angles and even peer inside just by moving this phone around as if you were looking at a real-world object through its camera.
Measure is an app that uses the triple-camera setup to actually measure distances between 3D objects in real-world units. iStaging is a catalogue of products, mainly furniture, that can be seen and placed in a room at their actual size and scale, to let you see how they look and fit. AR Pets is a more fun app that overlays animals on the camera's viewfinder screen making it look like they are with you in real life.
The ZenFone AR does augmented reality very well and it can look very realistic. Virtual objects are quick to respond to hand movements, and you can see them changing size and position on screen as you move the phone around and change your perspective.
While performance is impressive, the ZenFone AR does let you know that it is putting in a lot of work. AR is resource-hungry and despite the aforementioned design enhancements, we found that the device would get quite hot when using AR applications for long periods. The top half of the metal frame would get hot but the leather back remained cool to the touch. We also saw rapid drain in the battery level when using these apps.
The Asus ZenFone AR also works with Google's Daydream platform for virtual reality (VR). Asus claims that the display has a 1ms refresh rate and a 2ms persistence, which helps it deliver smooth experiences. We found the VR experience to be good and the Google Daydream View headset was very comfortable. The screen switches to a 90Hz refresh rate which is easier on the eyes when you launch a VR application, and this should reduce the chance that users could feel motion sick. We tried YouTube VR and Google's Art & Culture VR app, which were both very immersive. The Daydream remote makes it easier to navigate and carry out actions without being able to see it. If you want the best VR experience without spending on a PC-powered headset, a Daydream phone with the Daydream View could make for a good choice.
Asus ZenFone AR camera performance
The ZenFone AR's 23-megapixel camera has laser autofocus along with phase and contrast detection to help the phone lock focus in different situations. Unlike the dual-camera setups that we have been seeing in recent devices such as the OnePlus 5 (Review) and Honor 8 Pro (Review), the ZenFone AR doesn't use its additional sensors for standard photography. The camera app is made by Asus and has several modes. Apart from the usual Panorama, HDR and Filter there are Super Resolution, Low Light, Depth of Field, Slow Motion, and a few other modes. Super Resolution extrapolates the output from multiple exposures resulting in a 92-megapixel image. Low Light mode combines data from multiple pixels dropping the overall resolution but reducing grain. Depth of Field can be used when taking macros, and it lets you edit the blur effect after images are shot. You also get a Manual mode which lets you take control over multiple parameters and even shoot in RAW format.
Photos from the ZenFone AR turned out well, but we did observe that the phone isn't very sure about white balance and gets it wrong sometimes. Macros did require a few taps to focus where we wanted but the output had good separation between subjects and backgrounds. When taking photos of objects at a distance, we found that there was a little loss in detail with grain in the output. Photos taken in low light had noise. However, we found that the phone would recommend using the low-light mode in such conditions, and it did improve photos but at the cost of their lower resolution.
The ZenFone AR can record video at 4K and there is an option for full-HD at 60fps as well. While there is 4-axis OIS for photos, you only get 3-axis EIS for video. Our test footage at 4K and 1080p/ 60fps showed that the EIS did not work very well.
The 8-megapixel selfie camera on the ZenFone AR has a beautification mode which is switched on by default, but there are HDR Pro, Slow Motion, Selfie Panorama, and Low Light modes as well. With the beautification mode enabled the phone returns smoothened images. You can switch to Auto mode for a more natural look. We were happy with the selfies that the ZenFone AR captured.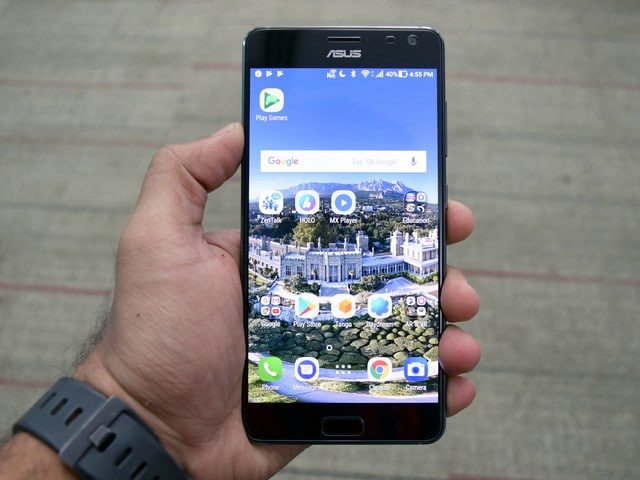 Asus ZenFone AR in pictures
Verdict
The ZenFone AR is an example of a new direction that the smartphone industry could head in. Instead of simply beefing up the internals, Asus offers a set of new experiences on a single smartphone. What the ZenFone AR offers at the moment is unique, but it is a niche product for people who might have a use for AR, rather than a great phone which also has that feature. If you want to be among the first to experience AR, or simply show off, this is the phone for you.
If you are a developer looking to work on AR or VR related apps for Android, the ZenFone AR could be a great tool. The same can be said for individuals or companies looking to leverage augmented reality to demonstrate their products. Apart from this, the specs do make this phone feel a little out of place at its current price. If you want a highly polished flagship experience, look at the HTC U11 (Review), Sony Xperia XZ Premium (Review) or OnePlus 5 instead.