Asus made quite a splash by launching three new phones this month, the Zenfone 4, Zenfone 5 and Zenfone 6. Despite the naming scheme, these are not the same device with different screen sizes. The sizes correspond to significant differences in price and capabilities.
Each of the three has its niche, and the Zenfone 4 is aimed squarely at capturing the bottom end of the smartphone market. Asus has its sights on first-time Android buyers who represent a massive opportunity for smartphone vendors.
There are two versions of the Zenfone 4 - the A400CG model which we have in for review today has a 4-inch screen and a 5-megapixel camera, whereas the A450CG, which hasn't launched here yet, has a 4.5-inch screen and 8-megapixel camera. Most other specifications are the same.
We were pretty impressed by the Zenfone 5 and Zenfone 6, which both provide excellent value at their price points. Now it's time to put the smallest sibling through our review process.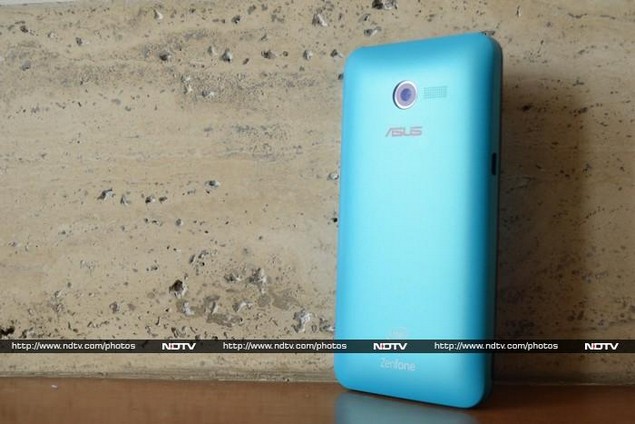 Look and feel
The Zenfone 4 is pretty small by today's standards, which means it's very easy to hold and use. It's very slightly shorter and wider than an iPhone 5, but quite a bit thicker. The bulging back in fact makes it more comfortable in the hand.
Our Zenfone 4 test unit came with a striking satiny blue rear panel, though black, white and red are also available. It's a high-quality finish, but we really wonder why Asus printed its own logo in red, right beneath the camera lens and speaker grille. There are also prominent white Intel Inside and Zenfone logos on the bottom rear.
The front is pretty consistent with the larger two Zenfones - there are three capacitive buttons below the screen and a speaker and camera above it. The lower lip and buttons have the distinct concentric circle texture that all Asus's Zen products have, but in this case it's all plastic and much less apparent.
The power and volume buttons are on the right edge, while the Micro-USB port is on the right and headset socket is on the top. There are two SIM card slots on the left edge, beneath the removable cover. The microSD card slot is to the left of the camera lens, right above the battery cavity. Unlike its bigger siblings, the Zenfone 4 has a removable battery.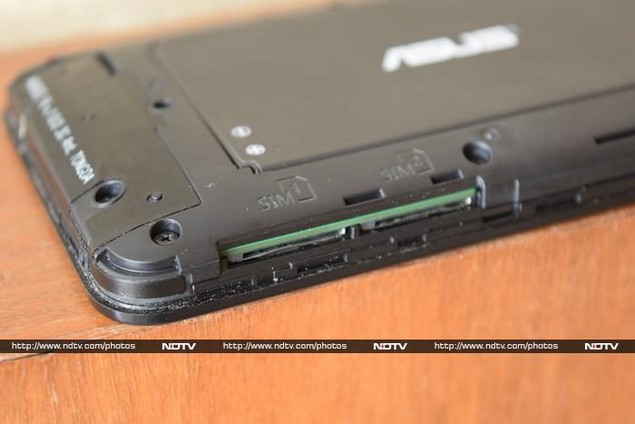 Specifications and Software
With reduced prices come reduced specifications. The screen is a 4-inch 480x800-pixel panel which really isn't very bright and has poor viewing angles. The processor is a relatively low-end Intel Atom Z2520, which is a dual-core 1.2GHz model with Hyper-Threading and integrated PowerVR SGX544MP2 graphics. The 1GB of RAM and 8GB of internal storage space are both on the higher side for phones in this price range, and will help keep things fresh and snappy for a while. You also get Wi-Fi b/g/n, Bluetooth 4.0, A-GPS, an accelerometer and proximity sensor. The essentials are all accounted for, except maybe an ambient light sensor for automatic brightness control.
Asus ships the Zenfone 4 with Android 4.3, and there's quite a heavy skin on it called ZenUI. For the most part, we like Asus' work. The lock screen is clean and simple with all the required functionality - a big clock, weather information, notifications, alarm time, and shortcuts to the phone, messaging and camera apps. The shortcut icons also show the number of missed notifications, but strangely, you can't see who called or messaged.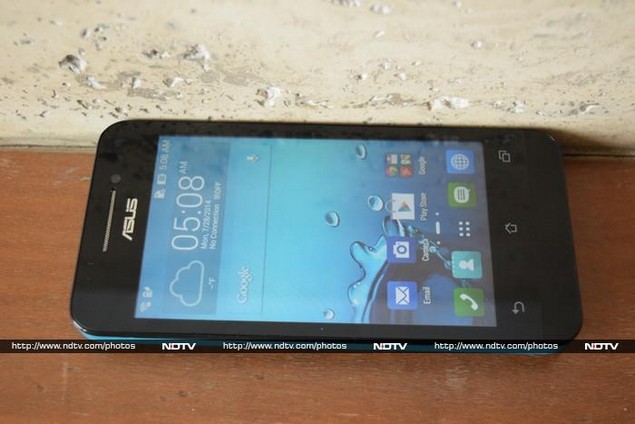 You can have up to nine homescreens. Asus includes a widget called What's Next that shows upcoming appointments and important events. The app drawer has tabs which let you show only your downloaded or frequently used apps.
The notifications shade and quick settings panel are customised. They're both crisp and clear, which is all the more necessary on the Zenfone 4's low-resolution screen. You'll also see visual tweaks in the Settings, Messaging, Music, Email and other apps.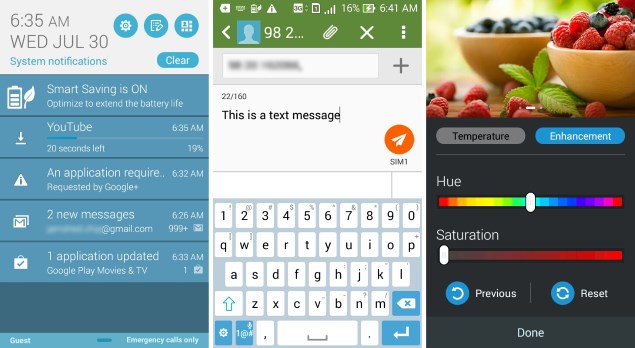 We weren't too happy with the default Asus keyboard - the layout is a bit odd with keys stacked perfectly in a grid rather than the more natural layout with each row offset - but there's no shortage of replacements in the Play store. Also, the decision to stick with capacitive buttons means you won't accidentally hit them while typing.
Asus includes a few interesting apps. SuperNote lets you create multi-page notes, on which you can type or sketch in multiple colours and styles. You can also embed photos, videos, audio clips, shape stamps and more. Do It Later is a reminders app that integrates with cloud services including Google and Exchange accounts. What's Next is the app counterpart of the homescreen widget of the same name.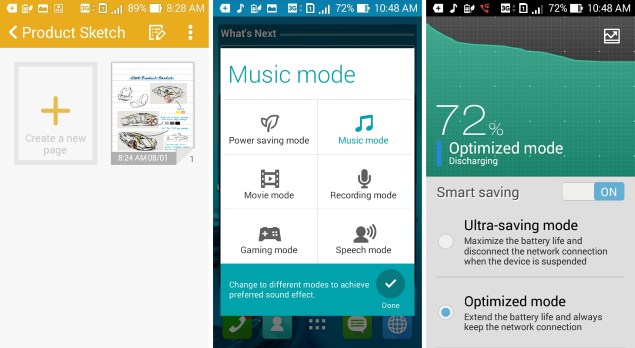 The Splendid app lets you tweak screen parameters such as colour temperature and saturation. You can tweak each of the options by a few steps, but avoid the extremes (unless you want a monochrome screen, which is totally possible). The AudioWizard app only presents six audio EQ presets for different scenarios, including one for saving power. Share Link lets you easily set up a Wi-Fi Direct connection between two devices for file exchanges. Power Saver lets you define a custom profile or use a preset one to make the battery last longer.
Finally, there's the Kindle app, Movie Studio, Omlet Chat, Mirror, and of course assorted Google apps. Since most of the choices are actually quite useful, it doesn't feel like the Zenfone 4 comes with too much bloat.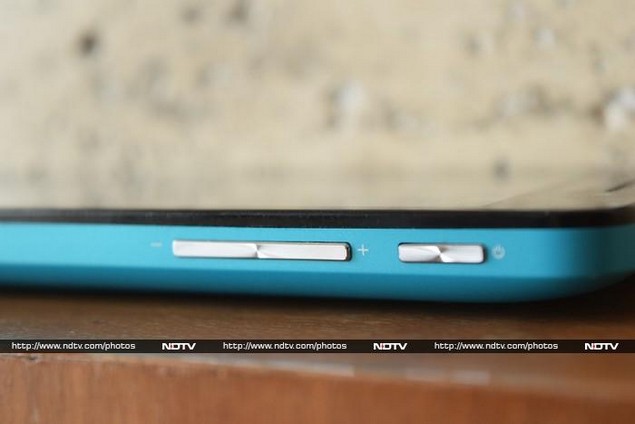 Camera
Asus has packed quite a few filters and effects into its camera app. There are twelve modes to play with, including Time Rewind, Night, Selfie, Miniature, Smart Remove, All Smiles and GIF Animation. A Time Lapse mode is available when recording video. These work to varying degrees, but it takes quite a while to process some effects such as fake depth of field. There are also assorted filters which are applied before taking shots - Pencil, Cartoon, Lomo, Sepia, and more.
Party Link is a feature that uses Wi-Fi to sync photos between Asus phones as soon as they're taken. One person creates a group, and then others in the vicinity can join it. Other options you can adjust include image size, burst, anti-shake, face detection, auto focus mode, face detection, ISO, white balance and EV. It's a pretty broad range of capabilities for such an inexpensive device.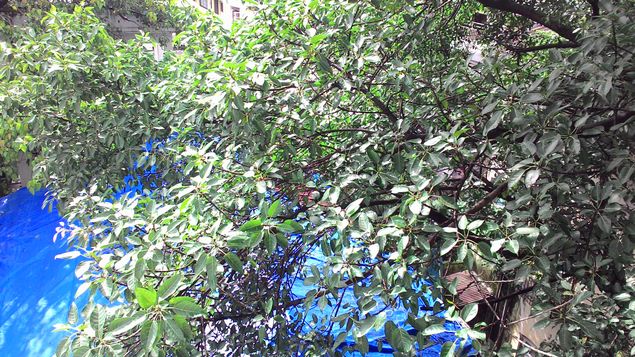 (Click to see full size)

Images measure only 2560x1440 (16:9) by default, but you can choose the larger 2560x1920 (4:3) if you prefer. Despite the low resolution, our test photos came out surprisingly sharp and clear. Other phones in this price range have fixed-focus lenses, but the Zenfone 4 has full autofocus and you can tap anywhere on the screen to change focus and metering. Close-up shots are far better than landscapes, but even so, the amount of detail in shots is remarkable. Even in low light, quality isn't bad at all - there's no flash, but we've seen far worse photos from phones which are twice as expensive or more. Even the front camera does an admirable job - another area in which budget phones typically don't do well at all.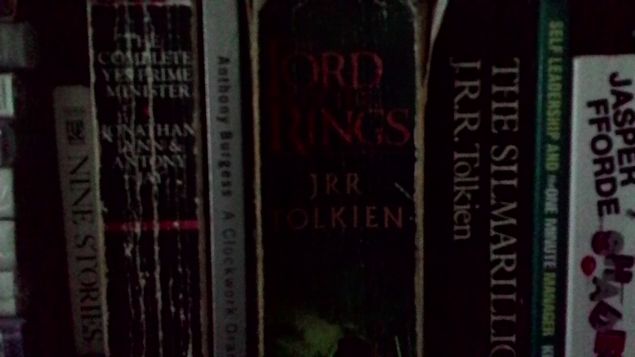 (Click to see full size)

Video was also much better than we had expected. Full HD 1920x1080 clips look surprisingly good. They're definitely not crystal clear, but detail in things such as rustling leaves and curtains flapping in the wind is very good. These are videos that can be shown off and shared anywhere.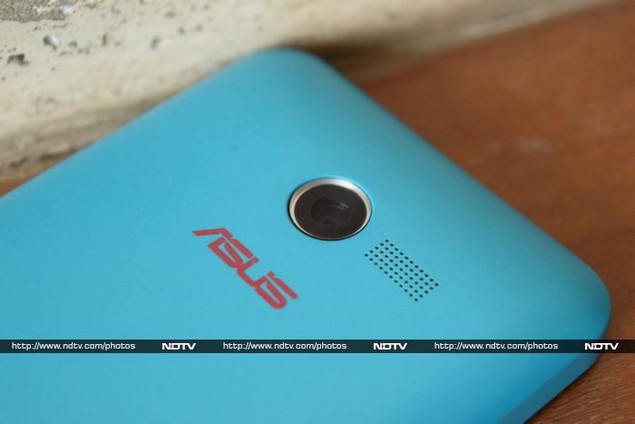 Performance
The Zenfone 4 might be cheap, but it's no slouch when it comes to performance. It managed to edge out the more expensive Motorola Moto E and Sony Xperia E1 Dual in pretty much every test. The score of 15,096 in AnTuTu was significantly better than the 12,546 and 13,200 points achieved by the Moto E and Xperia E1 respectively. Similarly, the Quadrant scores for all three phones were 6,395, 5,234 and 5,109 respectively.
Graphics scores were also higher - we recorded 16.4fps in GFXbench as opposed to 10.7 and 12.8 for the Moto E and Xperia E1 respectively. The three phones traded blows evenly in the more CPU-intensive SunSpider and Mozilla Kraken tests, though.
As far as subjective usage goes, we did find ourselves waiting for apps to load, but at least ZenUI transitions are quick and fluid. Basic games such as Temple Run were good enough - we wouldn't try anything heavier than that.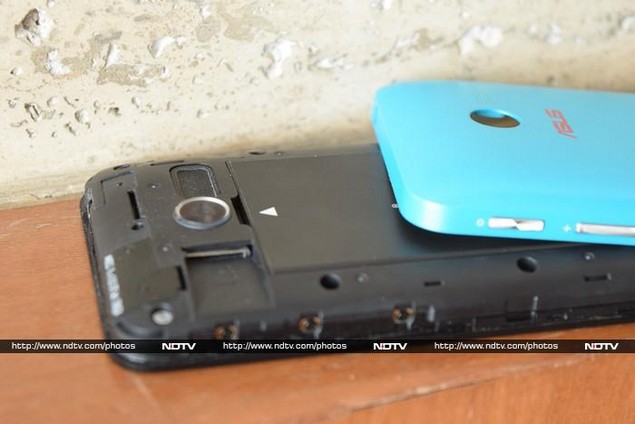 Battery life was also good, at 5 hours, 14 minutes in our video loop test. We would have liked to see a better score here, but it's at par with the competition. This should just about get you through a full day of calls, messages and a little bit of 3G Web usage. We had no complaints about call quality either, but were surprised to see an integrated option to record calls right in the phone app.

The built-in speaker is decently loud. Sound is thin, but it can get pretty loud and at least it doesn't distort. It came as a pleasant surprise that even our heaviest 1080p video sample played flawlessly on the Zenfone 4. However, as stated earlier, the phone's screen itself is pretty awful. We had to push the brightness up to its highest setting and even then, it wasn't always easy to see what was going on. Viewing angles are terrible and reflections on the glass make things that much worse.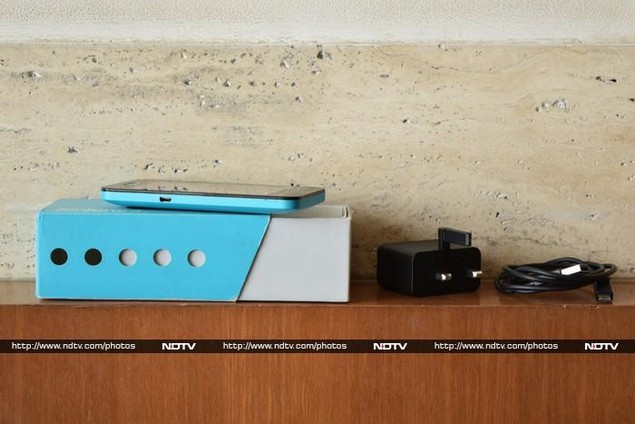 Verdict
It seems that Asus is really on to something here - the Zenfone 4 is a fantastically capable device, considering its price. A lot of that has to do with the choice of an Intel processor - could the company finally be about to crack the mobile market, after struggling to do so for years?
The Zenfone 4's screen is pretty bad but nearly everything else is outstanding. We're particularly impressed with the device's camera capabilities. Full HD video recording is pretty neat, and it's nice to have a front camera - more so one that isn't terrible! We're looking forward to the A450CG revision which has a totally different screen and have high hopes that Asus will improve on this phone's one weakness.
It isn't hard at all to recommend the Zenfone 4. You can weigh your options between this phone, the Moto E and the Sony Xperia E1, but we think a lot of people who are shopping in this price range would be more than happy to save around Rs. 1,000-1,500.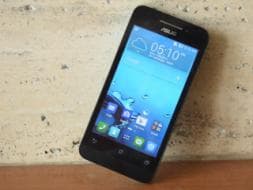 Asus Zenfone 4 in pictures