What is the ideal size for a smartphone? The answer is of course subjective, but there has been an obvious trend towards going larger. Models with 5.5-inch screens have dominated the Android market for quite some time now. In fact, it's pretty hard to find a mainstream Android model with a screen smaller than 5 inches, but there are quite a few larger models at various price levels. We recently reviewed the mid-range Lenovo Phab 2 Plus (Review) and Xiaomi Mi Max (Review), and today we have with us the gargantuan Asus Zenfone 3 Ultra.
Blurring the lines between smartphones and tablets, Asus' latest launch aspires to be a the only digital device you carry around with you. It could replace a lot of the other screens in your life, but is that really what buyers want? We aim to find out, in our review.
Asus ZenFone 3 Ultra look and feel
Obviously, your main consideration with this device should be whether or not you can handle its sheer size. With dimensions of 186.4x93.9x6.8mm and a weight of 233g, it is awkward and difficult both to carry and to handle. It stuck out of all the pockets we tried fitting it into, and will only really work if you carry it around in a handbag or backpack.
You'll also need two hands to hold and use it securely, because there's simply no way to reach every part of the screen with your thumbs, without moving your entire hands up or down. One-handed balance is difficult unless you're just reading or watching a video, and the width and weight of this phone also make long calls fatiguing.
In terms of build quality, Asus has done an excellent job. The ZenFone 3 Ultra could hold its own against any of today's premium smartphones. The front and back are totally flat, and the metal band around the sides is curved for comfort. The body doesn't twist or flex at all, and there's Gorilla Glass 4 over the front. The shiny chamfered metal edges and ring around the Home button remind us of Samsung's designs from a few years ago, but we've seen this look on hundreds of phones by now, and it still works.
The left side is completely blank, while the right has the power button in a very convenient spot. There are also two individual trays; one for a Nano-SIM and the other for either a second Nano-SIM or a microSD card. There's a USB Type-C port between two speaker grilles on the bottom, and a 3.5mm audio socket on top.
The volume buttons are on the back, and while we don't usually like this arrangement, it actually works better on this phone when on voice calls, because it's impossible to both maintain a grip and shuffle your thumb around. No matter which hand you use, your index finger will hit the volume buttons easily. You'll also see the camera with its flash and laser autofocus window on the rear.
The ZenFone 3 Ultra looks expensive, but not especially exciting or modern. Our review unit was silver, which looked like a warm champagne colour in daylight. Asus supplies a bulky 18W charger, a USB Type-C cable, and a set of boxed ZenEar earphones in the package.
Asus ZenFone 3 Ultra specifications
Asus clearly prioritised visual impact with the ZenFone 3 Ultra, because apart from its metal body and massive screen, the specs are decidedly mid-range. You get a Qualcomm Snapdragon 652 SoC, which has four ARM Cortex A53 cores and four A72 cores, all running at 1.8GHz, plus integrated Adreno 510 graphics. You get a generous 4GB of RAM and 64GB of internal storage, while microSD card support goes up to 200GB. You also get 100GB of Google Drive space free for two years.
The giant screen has a relatively low resolution of 1080x1920. Everything on screen is still crisp and clean, but at this price level, we would have liked a 1440x2560 panel instead. Asus promises a 4K TV-grade image processor, 178-degree viewing angles, and 95 percent NTSC colour gamut reproduction. Incidentally, the USB Type-C port allows for DisplayPort video output as an alternate mode.
LTE is supported on Indian bands, and while Asus does list support for VoLTE, we were unable to place calls using a Reliance Jio SIM. When we asked Asus about this, a representative told us that support will be added via an OTA update. You also get Wi-Fi 802.11ac, Bluetooth 4.2, GPS with GLONASS, and a variety of environmental sensors.
With such a large body, there's room for a 4600mAh battery. The phone supports Qualcomm's Quick Charge 3.0 standard as well as reverse charging - charging another device from this phone - as long as the battery level is above 20 percent. The rear camera has a 23-megapixel camera with an f/2.0 aperture lens and boasts of laser as well as phase detection and continuous autofocus, which are applied intelligently depending on the scene you're shooting. There's optical image stabilisation for stills, and electronic stabilisation for video.
Asus ZenFone 3 Ultra software
The first thing that struck us about Asus' ZenUI on the Zenfone 3 Ultra was just how busy it is. Asus seems to have decided that all available screen space should be taken up by control buttons. It seems as though the company expects that those who buy this phone are doing so because they are power users, and would appreciate extraordinarily fine-grained control over every tiny little aspect of their usage experience.
For example, when we first set up the device, we were bombarded with dialog boxes to decide things like whether app icons should be able to display notification badges, and if so, whether those badges should display the number of notifications received. Hiding such information could potentially make sense for some users, but why not show everything by default, which is the standard behaviour across all operating systems, and then allow users to turn off what they like? Non-tech-savvy users would be thrown off, and might not even understand such an option, let alone how to reverse it later.
There are extra buttons in the task switcher – including one that lets you pin an app so that it can't be closed or changed without a PIN. There are at least a dozen choices of buttons to show in the Quick Settings shade. Even the camera app has a gratuitous number of controls around the edges of the screen. The dialler has a tabbed interface with sections for groups and VIP contacts. The default ZenUI keyboard has its own clipboard, cursor, and themes. You can set options for how screenshots are taken, which tap and trace gestures should recognised, and when the phone should automatically switch between its four power-saving modes. A "Game Genie" toolbar pops up when playing full-screen games, and shows options for recording game streams and sharing them with friends.
We've also never seen quite so many UI customisation options. You get not only the usual choices of transition animations and widgets, but also the ability to choose the colour of your icon labels' text, the appearance of folders as well as folder icons, the size and spacing of the homescreen grid, the transparency of the status bar, and whether or not newly installed apps are highlighted. You can download new icon packs and wallapapers. In fact, Asus is so sure you'll enjoy this kind of extreme customisability that there's a tool to take screenshots of your UI choices and post them to social networks.
Asus has also loaded the ZenFone 3 Ultra with a massive number of apps, including several that seem specific to Taiwan, such as KKMusic and the Mandarin Yahoo Super Mall and Kimo Auction apps. Power Boost, Audiowizard, Mobile Manager and Themes control system-level functions as their names suggest, and cannot be removed. Puffin Browser, Amazon Kindle, SimCity BuildIt, iReader, Instagram NFS No Limits and Facebook can be removed if you like.
Asus' own stable includes Quick Memo, Minimovie, PhotoCollage, Do it Later, Laser Ruler, Webstorage, Sharelink, ZenTalk, ZenFone Care, ZenCircle, ZenFlash S, and MyAsus. Some of these are novelties, like Laser Ruler which uses the camera's autofocus laser to measure how far an object is from your phone, but most are just bloat. Needless to say, it takes a lot of time and data to keep all these apps updated.
One other software feature that deserves a mention is the one-handed mode. Double-clicking the Home button shrinks the display down to one corner of the screen. You can resize it freely up to a point, and move it around as well. On-screen navigation buttons appear, so you don't have to balance the phone precariously while trying to use it. Separately, the ZenUI keyboard can be resized and moved around the screen for accessibility.
Asus ZenFone 3 Ultra performance
Other than the jumble of apps we had to deal with, we had very little trouble with the ZenFone 3 Ultra that did not directly relate to its size. The SoC might not be the fastest around, but it's paired well with the display and therefore isn't being pushed beyond its capabilities. The device didn't get too hot at any point, even when running benchmarks one after another.
The screen is an absolute delight, and we weren't too bothered by resolution because movies and YouTube clips consistently looked great. Colours are bright and motion is smooth. Viewing angles are just as good as Asus claims. The only problem was holding this phone up to watch video on for long periods, as it gets tiring really quickly. Games ran smoothly and were more compelling over long periods because two-handed control is necessary.
Everything felt immersive, and while the big screen obviously fills up your field of view, sound is great too. The ZenFone 3 Ultra produced deep, rich sound thanks to its large body. Music was mostly enjoyable, and is loud enough to work for a small group of people. On the downside, the stereo speakers are both on one side, the phone's bottom. Sound also emanates unevenly from the two grilles. That problem is fixed with earphones, and the bundled ones are actually very good. We were impressed with the detailing and perception of space that they created.
Benchmarks ran smoothly. We saw scores of 81,292 in AnTuTu, 2,967 in GeekBench's Multi-Core test, 18,045 in 3DMark Ice Storm Unlimited, and 32fps in GFXBench. That's more than enough to indicate that performance is at the higher end of the scale, but still not what you'd get from more conventional smartphones at this price level.
Tap to see full-size Asus ZenFone 3 Ultra camera samples
We were eager to put Asus' claims of camera performance to the test, and we came away largely impressed with the ZenFone 3 Ultra's capabilities. While very good overall, photos taken with the ZenFone 3 Ultra don't quite match up to the flagship standards set by other phones in this price class. You'll be happy with the camera's autofocus performance, and framing is very easy with the large screen, although poor grip makes it difficult to set options and tap to focus while aiming at an object. Macros looked the best, with fine detailing and vivid colours really popping against blurred-out backgrounds. Night shots were also surprisingly bright and clear, though shots with both light and dark areas weren't defined all that well.
The ZenFone 3 Ultra's battery is one of its strongest points. We went for two days without needing a recharge, even with a lot of video streaming over Wi-Fi and LTE, occasional use of the camera, and a bit of gaming. The screen is a disproportionately huge power draw, and so while our video loop battery test ran for 10 hours, 19 minutes, that represents how many movies you could watch on a long plane ride, for instance, but not necessarily how long this phone will last when performing other tasks.
Verdict
If you like massive phones and have a lot of money to spend, the ZenFone 3 Ultra will be great to show off. We find that devices of this nature aren't practical as everyday smartphones, but you might like to have something like this more as a tablet with a SIM card for mobile data and the occasional voice call.
Performance is good overall, but not at the same level as we'd expect from a flagship device today – that's where the ZenFone 3 Deluxe model comes in. The priorities here are clearly the display and battery, which are both great for an entertainment and media consumption device. However, you'll have to weigh the pros and cons of spending so much, with the Phab 2 Plus and Mi Max costing considerably less and delivering comparable benefits.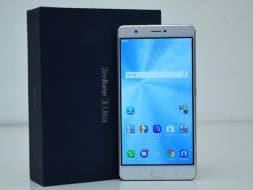 Asus ZenFone 3 Ultra in pictures