Taking a cue from Gionee's Marathon series of smartphones, Asus introduced a new ZenFone Max model at the start of this year. The focus was on delivering the maximum possible battery life without making too many compromises. The result was a decent package that balanced performance and price well enough, while still delivering its key objective.

A few months later, we had a refreshed model, simply called the ZenFone Max (2016) (Review), which added a bit more processing power while maintaining the long battery life. Both were still entry-level offerings though, and now Asus diversifying the Max series and bumping it up to the mid-range segment with two new models with very similar names – the ZenFone 3 Max (ZC520TL) which sits in the sub-Rs. 15,000 price bracket and the ZenFone 3 Max (ZC553KL), which resides in the sub-Rs.20,000 segment. The ZC520TL variant features a smaller 5.2-inch, 720p display; a MediaTek SoC and 13-megapixel and 5-megapixel cameras whereas the higher priced model features a larger, 1080p display, Qualcomm SoC and 16-megapixel and 8-megapixel cameras. We have the latter of the pair in for review today.

This price bracket has some really good value-for-money offerings such as the Samsung Galaxy J7 Prime (Review) and Lenovo Z2 Plus (Review), both of which offer tremendous performance and features under Rs. 20,000. In fact, Asus's very own ZenFone 3 Laser (Review) can be found for just a bit more than the ZC553KL's Rs. 17,999 price tag. So, how does the Asus compare? Let's find out.


Asus ZenFone 3 Max design and build
The design is one of the first things that will catch your attention. It's not as busy as the other higher-end ZenFone 3 models, yet ends up looking really good. It feels sturdy too when you hold it, which is partly thanks to the unibody aluminium chassis. The grip is ergonomic and the buttons lined up nicely against our thumb.

Asus has gone with a 5.5-inch full-HD IPS display which fixes one of the biggest gripes we had with its predecessors. It produces sharp pictures, and brightness is very good, even under direct sunlight. The slim bezel reduces the width of the phone, thereby making it a little easier to use with one hand. There's also a one-handed mode which you can activate in case you wish to do some serious typing on the move. Fingerprints aren't much of an issue as there's an oleophobic coating on the glass. What's dissapointing though, is that there isn't any form of scratch protection for the display, which is something we usually take for granted in this price segment.


The ZC553KL is a hybrid dual-SIM phone, which is a bit of a letdown considering the previous model had true dual-SIM functionality. You can opt for a microSD card of up to 128GB in place of the second SIM. There's a mono speaker on the bottom, just next to the Micro-USB charging port, while the headphones socket is placed on the top. There's a notification LED in the front and capacitive navigation buttons below the screen, which annoyingly, aren't backlit.

Around the back, we have a fingerprint sensor just below the camera module. You can use it to answer incoming calls, launch the camera app, or take a picture - but you can't use it to lock apps or hide files. The bigger issue here is that fingerprint recognition was often not quick enough for us. It didn't misread fingerprints, which is flagged by a slight vibration, but it seemed more to do with the hardware not being able to authenticate fingerprints quickly. The issue was intermittent but was really frustrating when we ran into it.

Asus has done a commendable job in shedding the series' budget image with the new Max. It looks and feels premium and has a much better display which we definitely appreciate. It's not the slimmest phone around at 8.3mm, and is quite heavy at 175g, although you really don't feel the heft too much when you carry it around. The phone ships with a headset, a 10W charger, a data cable, and an OTG cable. You also get 100GB of Google Drive space free for two years as a promotion.


Asus ZenFone 3 Max specifications and features
The last ZenFone Max model used a Snapdragon 615 SoC, so naturally, we expected the new one to feature at least a Snapdragon 652 or a 625. Unfortunately, Asus has gone with the octa-core Snapdragon 430, just like with the ZenFone 3 Laser, which is disappointing. This chip handles day-to-day tasks pretty well but lacks punch when it comes to heavy apps and games. Even Asus's ZenUI keyboard starts lagging after a while.

In benchmarks, the ZenFone 3 Max performs similarly to its predecessor. We got 43,573 points in AnTuTu; 9326 points in 3DMark Ice Storm; and 16fps in GFXbench's T-Rex graphics test. The GPU is the weakest link here, and that means you can't play heavy games like Dead Effect 2 smoothly, with all the settings cranked up. The phone also has 3GB of RAM, 32GB of storage, single-band Wi-Fi b/g/n, Bluetooth 4.1, FM radio, and GPS. There's 4G support on Band 1, 3, 5, 8, and 40 in India as well as VoLTE.


Software is handled by Android Marshmallow but with Asus's own treatment called ZenUI 3.0. The skin is a bit too much for our taste, and will probably be daunting for someone who's never used an Asus phone. There are tons of customisation options to suit your fancy. The 'Themes' app has some decent free themes to choose from and there are also several utilities that come preinstalled and are pretty much identical to those we've discussed in our ZenFone 3 (ZE552KL) review. The Mobile Manager app is one of the more useful ones, letting you manage notifications, clean up unused files and manage permissions for apps – all in one place.

You also get apps like Instagram and Puffin, and games like Need for Speed: No Limits and SimCity pre-installed. The ZenFone 3 Max has what is called the Game Genie toolbar, which can be set to activate automatically in whatever game you choose. You can then use it to close background apps for better framerates, record or stream gameplay live to YouTube or Twitch, or search the Web for guides and walkthrough videos for the game.

Asus ZenFone 3 Max performance
We used the ZenFone 3 Max for the better part of a week and never really faced any major issues. The phone runs pretty smoothly for general tasks and some multitasking. It doesn't have any overheating issues either, whether it is gaming or using the camera. The earpiece has good volume level and 4G works well.


Videos look really good thanks to the vibrant display, and the phone handles high-bitrate videos just fine, at up to 1080p. Audio performance is particularly good through wired and wireless headphones. The volume can get really loud and audio has good separation with punchy bass. Even the bundled headset does a really good job at isolating ambient noise and delivering a good audio experience. The AudioWizard app lets you play around with equaliser settings in order to fine-tune the sound.

Asus's ZenFone Max models have always fared well in the camera department and the same story continues here. The 16-megapixel sensor and f/2.0 aperture lens result in detailed landscapes and macros in daylight. Colour reproduction is fairly accurate too although we could have used a bit more sharpness in captured images, especially around the edges of objects. In the macro shot sample below, notice that the edges of the flower are a bit fuzzy when seen at full size. Low-light shots look good, with little noise, and the low-light shooting mode really helps here.
Tap to see full-sized Asus ZenFone 3 Max camera samples
Recorded 1080p video looks really good too. There's electronic stabilisation for video but only at 720p resolution. The front 8-megapiexel camera captures some pretty detailed selfies under good lighting and you get various different effects and shooting modes including HDR. Manual mode lets you push the shutter speed all the way up to 32 seconds, which we don't see too often in smartphones. Super Resolution mode essentially stiches four instances of the same scene together, resulting in a much higher resolution image. Focusing is quick thanks to the laser autofocus and PDAF, and pictures are saved nearly instantly, unless you're in a special mode.

Battery life has been the hallmark feature of the Max series and it still is, but it's not as impressive as we had hoped. Our HD video loop test ran for 14 hours and 7 minutes, which is really good but we've seen similar results (or better) from phones with more powerful SoCs and smaller batteries. With actual heavy usage, we easily got through up to day and half. There are customisable power modes which can automatically kick in at designated times of the day. There's no fast charging but the 10W charger manages to top up the phone in a couple of hours. Reverse charging i.e. charging another device with the ZenFone 3 Max is also possible using the bundled OTG adapter.

Verdict
The ZenFone Max name no longer means you're getting a one-trick pony, as this new model aims to offer a well-rounded solution to aspiring smartphone buyers. This shows in the new aesthetics, improved display and cameras, and of course, solid battery life. It would have made a perfect rival to Xiaomi's Redmi Note 3, but Asus has priced the ZenFone 3 Max in line with higher aspirations. Keep in mind that the ZC520TL variant does fall in the Redmi's price range but it doesn't seem to match up to it, at least on paper. It's also important that you check the model number behind the box carefully as its easy to confuse the two versions.
At Rs.17,999, the ZC553KL feels a little out of place. It's also priced oddly close to its own sibling, the ZenFone 3 Laser. Asus only recently introduced the Laser into the market, and it now feels a bit redundant as the Max is better looking and has longer battery life, with similar performance. Also, unlike the Laser, the ZenFone 3 Max will be available offline too, which might somewhat explain its higher cost.
However, it's hard to overlook the use of an entry-level SoC for a phone of this calibre, which is a real shame since we feel that Asus wouldn't have lost much in terms of battery performance even with a Snapdragon 625, and the pricing would have made a lot more sense. If you're not into gaming and don't mind forgoing some modern essentials like Wi-Fi 802.11ac, then the ZenFone 3 Max is still a good package. It's just tough to recommend at its launch price.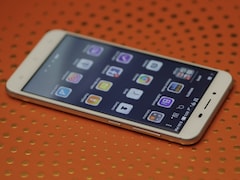 Asus ZenFone 3 Max (ZC553KL) in pictures